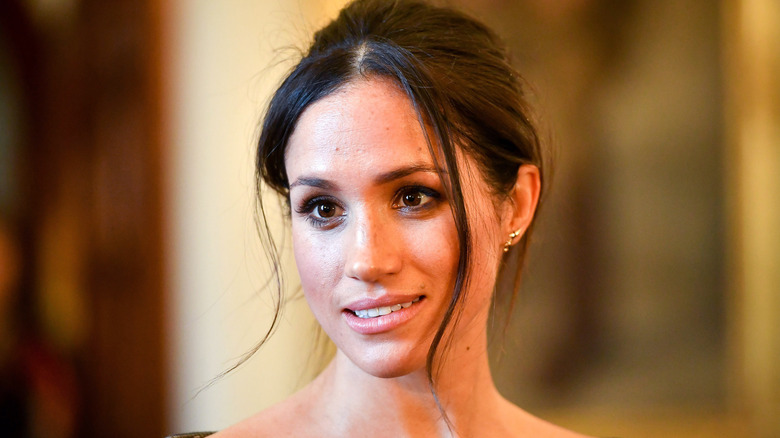 Nearly as soon as Prince Harry and Meghan Markle started dating, Meghan began making big changes to her wardrobe. As their relationship became more and more serious, her apparel changed too. Now that she and Harry are married and she is officially part of the royal family as the Duchess of Sussex, Meghan is subject to lots of scrutiny, especially regarding her appearance.
Proving she is up for the challenge, Meghan is often clad in non-offensive neutral hues these days. Although it seems she is making obvious efforts to appease the masses, that definitely does not mean she's traded in her personal style for good. Meghan still manages to add her own royal flair, while following most of the rules.
Even with all of the refinements Meghan's already made to her fashion, she's still not exempt from being accused of dressing inappropriately. Here are some examples of what royal traditionalists would consider to be Meghan Markle's most inappropriate outfits.
Untraditional and off-the-shoulder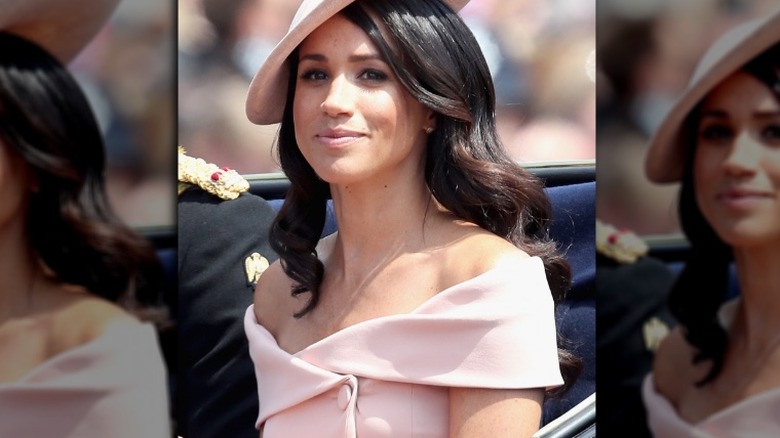 As Harry and Meghan's wedding confirmed, the couple is seriously okay with putting some traditions to rest. However, there will always be people who think traditional is best — especially when it comes to the royal family. When Meghan attended her very first Trooping of the Colour, an annual celebration of the sovereign's birthday, in June 2018, her chosen dress was not exactly traditional. Sitting beside her prince, Meghan arrived to the event in a blush short-sleeve, off-the-shoulder dress by Carolina Herrera. Gasp.
Myka Meier, royal etiquette expert and founder and director of Beaumont Etiquette, explained to People why this was such a big deal, saying, "Traditionally, the Trooping the Colour events is seen as a more formal day event. In the past, we have seen female royals wearing conservative dress, much like that which you would see at a British wedding." That would include dresses with sleeves.
People further pointed out that Kate Middleton has never even worn sleeves shorter than elbow-length at these events — true story. Even Princess Diana, who was quite notorious for her revolutionary fashion, never wore short sleeves, let alone off-the-shoulder dresses, to the Trooping of the Colour.
Wearing black to a wedding: polite or faux pas?
While you probably wouldn't dream of attending a wedding dressed in white — unless you were the bride, of course — the decision to wear black is a bit more nuanced. StyleCaster explained how, in olden times, wedding guests who donned black dresses did so as a "passive-aggressive protest" against the impending union. Although times have changed, not everyone is on board.
When Meghan attended the reception of Kate's sister, Pippa Middleton, she opted for a black dress. As British etiquette expert Jo Bryant told The Daily Telegraph, "Her choice of a black outfit, while untraditional, is still appropriate for an evening wedding reception." According to the report, Meghan paired the dark gown with a white jacket, which means she wore all of the risky colors at once.
While it could be reasoned that her choice was indeed inappropriate, it all really comes down to styling, not color. "The goal [of a wedding guest] is to look sleek and appropriate, not over-the-top or high-drama," Molly Guy, the founder and creative director of hip New York-based bridal boutique Stone Fox Bride, told StyleCaster.
The color of "mourning"
Meghan Markle took another stab at wearing a black dress in April 2018. This time, she sported an LBD to the Women's Empowerment reception held in London. Of all times to be criticized for an outfit choice, an event celebrating female empowerment is perhaps the most ironic.
Noting public "outcry," Alexandra Messervy, etiquette expert and chief executive of The English Manner, told InStyle, "Generally it is thought that black is not usually worn unless in mourning." Protocol dictates that Queen Elizabeth and, by extension, all members of the royal family must always take a black ensemble when traveling. The reason for this is a somber one. In the unfortunate event that there is a death within the family, each person must have a mourning outfit ready to go.
Does this mean black is solely for funerals? Not necessarily, as Princess Diana and now Meghan Markle, have proved. Nevertheless, it didn't stop some folks from crying inappropriate.
Sleeveless and unsuitable?
When Kensington Palace tweeted a photo of Prince Harry and Meghan Markle meeting with young delegates from 53 different countries within the Commonwealth, it didn't take long before the criticism started rolling in. Not of what the couple was doing, no, but about what Meghan was wearing. The $1,197 sleeveless pinstriped Altuzarra dress inspired a slew of comments. "Ok, I love Meghan but someone needs to pull her aside and tell her that she needs to stop thumbing her nose at proper styling for events she attends," one person wrote. "She is too informal," another claimed.
While the commentary may be a bit harsh, there is a reason people noted the dress as inappropriate. "They don't usually wear sleeveless dresses," etiquette expert Alexandra Messervy said of the royal family when speaking to InStyle. Yet and still, even the queen has worn some sleeveless pieces, meaning the style is selectively appropriate.
This dress had one missing detail
Just one month after marrying into the royal family, Meghan Markle attended her first Royal Ascot, an annual five-day horse-racing event. This event also happens to have an incredibly strict dress code with detailed requirements for men, women, and even children. Ladies are required to wear hats, or headpieces with "a solid base of 4 inches or more in diameter," as well as knee-length or longer dresses or skirts and, in some areas of the event, no sleeveless garments.
Meghan played it safe with a monochromatic ensemble. Her collared, long-sleeved white dress by Givenchy and black rimmed Philip Treacy sunhat fit the requirements perfectly. However, there was one important detail missing from her outfit that day. According to Express, the event requires all guests — even royals — to wear a name tag. The only exception to this rule being the Queen of England.
While Meghan did have her name tag in hand, she opted not to affix it to her lapel, which some could argue took her dress from befitting of a duchess to wildly inappropriate.
Too much cleavage?
Before decidedly adopting a more neutral color palatte when it comes to fashion, Meghan Markle stepped out in a low-cut bright green and floral dress paired with a sleek black blazer when attending a meeting about the Invictus Games. Express dubbed the dress both "daring" and "risqué."
Showing some cleavage may not be a big deal for us "commoners," but as a royal, it's not exactly commonplace. In fact, Princess Diana even had handbags designed that she would use to cover up her chest when exiting vehicles. She fittingly dubbed them her "cleavage bags," as handbag designer Anya Hindmarch divulged to The Telegraph.
While low-cut ensembles are not expressly forbidden, you just generally won't see the royal women sporting plunging necklines. Of course, when it does happen — and it does happen — it can inspire some to dub the outfits as inappropriate, or, at the very least, "in poor taste."
Meghan Markle's "sexy" Christmas dress
Meghan Markle's low-cut green dress may have incited some opinions, but that wasn't the only time she wore a plunging neckline. You may not have realized, but the dress (seen in full here) she was wearing when spending her first Christmas with Queen Elizabeth and Prince Philip at their Sandringham estate was even lower in the front.
While walking outside with Harry, Meghan was covered up in a camel-colored trench. Unfortunately for fans and fashionistas alike, only a tiny glimpse of her Christmas attire was actually visible. However, when the brand responsible for the dress, Club Monaco, posted the details of the outfit to their Instagram account (via Express), the "velvet Tay dress" was seen in all it's glory. Express then dubbed the ensemble "sexy" — and, really, they're not wrong.
While the designer suggested wearing the garment "as a dress for nights out or open over jeans and a turtleneck for days off," it seems Meghan chose the former. Oh, to have been a fly on the wall when the queen got a look at this holiday ensemble.
Sheerly inappropriate
In Prince William and Kate Middleton's engagement photos, Kate is dressed very conservatively and traditionally. Clad in cream in both sets of photographs, there's no arguing the tastefulness — and, yes, safeness — of the shoot. When Kensington Palace released Prince Harry and Meghan Markle's untraditional engagement photos, on the other hand, not everyone thought Meghan's outfit to be appropriate. One person weighed in, calling the top of the dress "a bit risqué for an up and coming princess."
In an interview with Entertainment Tonight, the couple's engagement photographer, Alexi Lubomirski, said he was shocked at others' reactions to the dress. "To be honest, we tried on a couple of different things and that was just one that she felt comfortable in," he admitted. "So we weren't really thinking, 'Is it nude?' or anything," he continued. "We just thought, 'Feel comfortable and let's make some nice pictures.'" Outcry aside, they certainly did make some nice pictures.
Pantsuits are not palace-approved
While a tailored pantsuit is trés chic for us normal folks, it's not palace-approved for royals like Meghan Markle. Which is why the Duchess of Sussex committed a royal faux pas when she wore a Givenchy pantsuit on a visit to Croke Park in Dublin, Ireland in the summer of 2018. As reported by Insider, Meghan stepped out in a modern black blazer and matching trousers finished with a crisp white top and smart pumps. She's been known to rock a pantsuit in the past, too. The summer 2018 outfit was especially reminiscent of an Alexander McQueen suit she wore in February of 2018, as per Insider. Meghan's sister-in-law Kate Middleton has also been known to wear pantsuits from time to time.
However stylish and popular with the royal newcomers pantsuits may be, they're still considered off limits, as per the queen's preferences. According to People, a royal source close to Queen Elizabeth revealed that "the Queen prefers women in dresses or skirts rather than trouser suits."
A hat to Wimbledon? How dare Meghan Markle!
As a good friend of tennis star Serena Williams (as per The Sun), it makes sense that Meghan Markle is a frequent attendee of the Wimbledon tennis tournament. But what might not make sense is why, when she attended the tournament in 2018, she brought a sun hat but never actually put it on. According to Insider, the Duchess of Sussex stole the show in elegant-yet-effortless wide-leg ivory trousers and a kicky striped blouse. She also carried a wide-brimmed cream-colored sun hat with a chic black ribbon — never once putting it on her head after she took her spot in the Wimbledon Royal Box.
But why? Meghan has worn hats to plenty of Wimbledon tournaments before! The rules changed once she married Prince Harry and became a royal. As reported by The Sun, Wimbledon attendees who sit in the Royal Box must follow a strict dress code: men must wear a jacket and a tie (no matter how hot it gets in the sun), and all guests must refrain from wearing hats as not to block the view of people sitting behind the box.
No hat to a royal ceremony? The horror!
Poor Meghan Markle can't seem to keep the royal hat rules straight. Before she got in trouble for wearing a hat to Wimbledon in 2018, she got in trouble for not wearing a hat! Per a press release from the Mersey Gateway, Meghan appeared with Queen Elizabeth in their first-ever official engagement together at the ceremony opening the new Mersey Gateway Bridge in June of 2018. The visit appeared to go well, with the pair receiving special greetings by local school children and enjoying a full view of the newly minted bridge.
But, as reported by the Daily Mail, it wasn't all smiles and waves because Meghan wasn't wearing a hat. "Dress code etiquette states that women wear hats for formal events," Diana Mather, a senior tutor at The English Manner, said in a BBC report. So, even though the duchess looked stunning in a taupe dress, her lack of hat made her outfit a big no-no.
Meghan Markle's peek-a-boo bra was widely deemed inappropriate
Meghan Markle attended the wedding of Charlie van Straubenzee (one of Prince Harry's best friends) in August of 2018. As reported by Cosmopolitan, she shined in an elegant black, pink, and blue Club Monaco dress cinched with a black belt, black Philip Treacy hat, and strappy Aquazzura heels. Meghan arrived at the wedding solo, since Harry was in the wedding party, according to Harper's Bazaar, and, at one point, the top button of her dress came undone and showed a peek of her black lace bra. The horror!
It's safe to bet that the palace wasn't pleased about the duchess' little show, especially since it caused quite a stir with the media. Some even went so far as to say Meghan showed her bra on purpose to get attention, with one fashion blogger tweeting, "Did she deliberately flaunt her bra for the camera? … Meghan stole the show with her deliberate wardrobe malfunction." Whether or not she did it deliberately, can't we all just calm down about bras? Women wear them. Even duchesses.
Just say no to skinny jeans if you're a royal
No one can forget that Meghan Markle was a Hollywood celebrity before she was a duchess — even, it seems, Meghan herself. She's certainly held tight to some of her pre-royal fashion preferences, including skinny jeans. She's worn skintight denim quite a few times since becoming a royal. One notable event was the Invictus Games in 2018. As per a report from Town & Country, the duchess wore black skinny jeans, a black turtleneck, and black pumps topped off with a pinstripe blazer. She also wore skinny jeans paired with a navy blue jacket and Manolo Blahnik pumps while watching Prince Harry make a speech at WE Day UK, according to The Zoe Report.
But skinny jeans are not up to palace dress code, no matter how stylish Meghan looks in her trendy denim. According to Diana Mather of The English Manner etiquette consultancy (per a BBC report), the palace prefers that women wear a skirt or a dress, as "many places will not allow jeans as they are still seen as very casual wear, so it is better to play safe for both sexes."
Where were Meghan Markle's stockings at this event?
Any woman will tell you how awful stockings can be. Runs can ruin a night, and tight, uncomfortable tops never seem to say put. Who can blame Meghan Markle for making appearances sans stockings from time to time? Like in August of 2018 when she attended a performance of the musical Hamilton in London. Harper's Bazaar reported that Meghan shone in a Judith & Charles black tuxedo dress, glittering gold clutch, and black stiletto pumps — with no tights. She's gone bare-legged on multiple other occasions as well, like to a polo match with Prince Harry or to the Nelson Mandela Centenary Exhibit.
Is she allowed to go without nylons, though? Interestingly enough, yes. Marlene Koenig, a royal expert and blogger, told Harper's Bazaar, "There are no rules for royal women regarding pantyhose. While most women (royal or commoner) wear pantyhose with suits or gowns for a good slim line, it is not required by any decree from the Queen." But it's definitely breaking from tradition for the duchess to forgo stockings, especially since both Queen Elizabeth and Kate Middleton are almost never seen without nude hosiery.
Ripped jeans are a big no-no for royals like Meghan Markle
Meghan Markle's been breaking royal rules from the very beginning. Literally. Her very first public appearance with Prince Harry was seriously trolled because she wore ripped jeans — a big no-no. Markle and Prince Harry attended the 2017 Invictus Games in Toronto as an official couple, and, as per StyleCaster, the pair made waves not because of their relationship but because of distressed denim. The then-future-duchess wore casually chic ripped jeans from MOTHER and a timeless white button-down shirt with rolled-up sleeves.
Though her outfit would be considered supremely stylish for anyone else, royal trolls thought she needed to step it up. One Twitter user wrote, "I'm thinking that you shouldn't be wearing ripped jeans while out walking in public with a Prince," while another user commented, "Meghan Markle's first official appearance [with] Prince Harry, all eyes on her — and she wears ripped jeans?" Unfortunately, the trolls might have been in the right. According to a BBC report on royal dress code, it's best for royal women to stay away from jeans in favor or skirts, dresses, or trousers.
Take off those wedges, Meghan Markle!
One downside to being a duchess? Having to wear heels all the time. Maybe that's why Meghan Markle was spotted in Cape Town rocking comfortable-yet-chic wedges. The duchess, Prince Harry, and their son, Archie, went on a tour of South Africa in September of 2019, beginning in Cape Town. Women's Health reported on Meghan's style for the trip, including her black canvas and Castañer's Carina espadrille wedges with ribbon ties that she paired with a printed wrap dress and subtle jewelry. It's a safe bet that her wedges were comfy, considering that she was able to take to dance with local women while wearing them.
But sadly, the duchess might have to say goodbye to her comfortable footwear if she wants to please Her Majesty The Queen. "The Queen isn't a fan of wedged shoes," a royal source told Vanity Fair in 2015. "She really doesn't like them and it's well known among the women in the family." Sorry, Meghan.