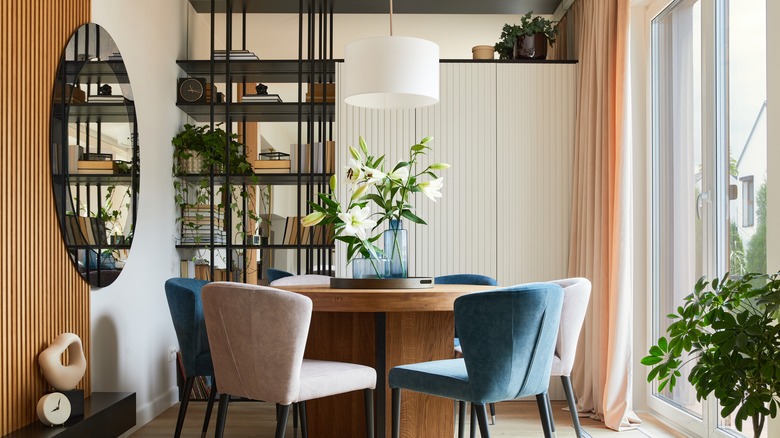 Adding greenery and florals throughout your home injects character and a welcoming feel. No matter what your current aesthetic is, there are some creative ways that you can add elements of plant life. Plus, with the number of stunning faux options on the market, you don't even have to be a green thumb to achieve a natural feel.
However, it's important to be mindful of how you add greenery and flowers to your space. You don't want to create a haphazard, cluttered, and messy look. Instead, The Glitter Guide recommends weaving plants into your decor in ways that complement and play off other elements. This could mean using plants as part of a gallery wall or ensuring that containers aren't just purely functional and designed to enhance the look of the blooms.
When strategically filling your home with flowers and greenery, you can provide a natural vibe that looks effortless. However, a balanced design approach will allow you to retain a polished look. These strategies can help you add a stylish infusion of nature to each area of your home.
Why biophilic design is a key element
It's important to note why it's so beneficial to integrate plants into your home's decor. There are actually other bonuses in addition to looking great. Foliage and flowers can provide you with mood-boosting benefits and mental health perks. Build with Rise explains that this mindful effort to connect interior spaces with the natural world is known as biophilic design. This concept is based on the idea that bringing outdoor elements in will enhance your connection with the environment. And in a time when people spend about 90% of their lives indoors, maintaining this relationship with nature is even more important (via US Environmental Protection Agency).
Studies show that adding plant life to your home can reduce stress and anxiety, making that vase of flowers a welcome addition to your bedroom (via the National Library of Medicine). Research also shows that plants can make you more productive, so adding a cute container garden to your office can be a smart move (via Science Daily). And plants can bring an overall happier vibe to your home, so don't hesitate to sprinkle them strategically throughout living spaces.
Selecting plants for your space
The first challenge of adding plant life to your home is selecting ones that will blend with your style. Look for varieties that align with your decor style to make a cohesive statement. Leon & George suggest some ideal plant species that align with specific styles. A Bird's Nest Fern looks right at home in a farmhouse-styled home, and a statement-making Bird of Paradise is bold enough to stand with modern decor. The oversized leaves of an Elephant Ear plant look striking in minimalist spaces. And a towering fig tree brings height to a room of typically low slug mid-century pieces.
When adding color with cut flowers, look for blooms that accentuate your personal taste. So choose floral varieties that speak to you and your design aesthetic. A simple bouquet of wildflowers plays perfectly off simple Scandanavian decor, while orchids can look at home in an Asian-styled setting. Spaces with classic and traditional decor look stunning with a bouquet of iconic sunflowers. If your room has an eclectic vibe, mix and match flower varieties in an arrangement to reflect your style.
Deciding between real and faux foliage
Of course, real plants and flowers aren't always the best option. VCA Animal Hospitals warns that common house plants like jade and aloe, and popular blooms like lilies, are toxic to pets. So if you have a furry friend in your home, they could be a dangerous choice. Plus, if anyone in your home suffers from allergies, you could create other problems. Houseplants and flowers produce pollen that can aggravate allergy symptoms (via Bodine-Scott Air Conditioning Co.). In fact, the soil that fills plant containers can also harbor mold, another culprit that can cause coughing and sneezing.
Lastly, natural plants and flowers can be a lot of work if you want them to thrive. You'll need to water houseplants and ensure they get adequate sunlight. It's also recommended that you resnip stems and change the water in your vase every three days to keep cut flowers fresh (via Consumer Reports). If the thought of maintaining healthy plants and vases refilled seems daunting to you, don't be afraid to go with faux options.
There are some great quality options on the market; if you know what to look for, you can fool even the keenest eyes. Invest a little more in your faux foliage and florals, and you'll likely receive a much superior quality (via Harlow & Thistle). Check the details carefully and look for things like texture that emulates real-life versions. Pull up a few photos of the actual plant or flower species on your phone and hold them next to faux options for simple comparisons.
Choosing the right containers for your decor style
Selecting containers is just as important — if not more — than choosing the right plants. Again, you'd like these to make sense with your current decor. Luckily, there are many awesome options on the market, and you can even get creative with some DIY versions. When choosing your container materials, consider the other materials in your home. Jay Scotts Planters explains that unglazed terra cotta planters age and flake for a beautiful natural look, perfect for rustic interiors. If you have a lot of matte gold and silver finishes in your contemporary decor scheme, look for brushed metal containers that play off them. Maybe your home is cool and industrial. Sleek concrete plant pots will fit right in. And glossy white or gray ceramic containers are perfect with modern country decor.
Clean, empty tin cans are cheap and adorable when painted coordinating colors for an eclectic look (via Urban Garden Gal). Glass Mason jars with a ribbon tied around the neck also make cute and easy containers for an assortment of herbs. Or, grab a vintage tea cup and fill it with an adorable succulent to complete a boho display.
When selecting vases for cut blooms, consider both your decor color scheme and the types of flowers that you are likely to choose. Keep a few neutral or translucent vases on hand for a perfect vessel for a surprise bouquet. If you're partial to one flower hue, consider investing in a vase in a shade of a complementary color (via Canva). The color contrast turns your cut flowers into a stylish statement. For example, cheery yellow tulips look striking in a vivid violet vase. If you love orange blooms, consider buying a blue-hued vase to make them pop. And if you're partial to neutral bouquets full of foliage, a pretty pink vase will play off the greenery.
Placing plants at various sight lines
When placing plants and flowers around your home, arranging them at various sight lines is important. Becc Burgmann, director and founder of Becc Burgmann Interior Design and Decorating, tells MyDomaine that she displays items together in groups of three and at varying heights around your space. She says, "When they are placed in groups of three, the eye is drawn to the highest piece and works its way down."
Think vertically when decorating with plants. Maybe you have an empty corner where you'd like to add some greenery. Hang a spider plant from the ceiling, place a succulent on a shelf, and set a fern on the floor for height variation. If you're styling a bookshelf, use the zig zag method to place plants on the shelves from the top down (via Mindy Gayer Design Co.). Place a plant on the left side of the top shelf, then one on the right side of the shelf below. Repeat alternating sides for the rest of the shelves to create movement and visual interest with your greenery layout.
Mix up the heights of the actual plants you use
In addition to placing your plants at different sightlines, you also want to mix up the size and shape of the plants and flowers themselves. Combining tall, slender varieties with full, leafy options adds appealing interest to your displays. Treehugger suggests using a mixture of plant sizes and leaf shapes, including rambling and trailing varieties, for a stunning design.
Plants like fig and ficus trees can provide height to your greenery displays, while bamboo and parlor palms can provide fullness at mid-height (via Mindbodygreen). Spiky varieties like snake plants and yucca add another intriguing leaf shape. Trailing plants like pothos and string of pearl succulents grow downward and create stunning interest when draped across mantels and shelves (via By Brittany Goldwyn).
The same theory applies when displaying vases of flowers in your home. You'll want to cut your stems to various lengths for an organic display in a single vase. If you are creating a cluster of vases, use containers of varying heights in a cohesive color for a stylish look. You can also use various shaped blooms in a single color for a chic monochromatic vibe. Then cut the flowers to different heights for added visual interest.
Understand the components of a bouquet
When creating bouquets for your home, it's important to understand the type of flowers you're including. Overnight Flowers points out that there are three main types of flowers to use in your bouquet. These include focus flowers, filler flowers, and line flowers. You can also choose to add greenery to your flower bouquet or allow them to shine on their own.
Your focus flowers are the heart of your bouquet and are likely the most noticeable. These typically include standout blooms like roses, sunflowers, and dahlia. Arrange your focus flowers, then use smaller, daintier filler flowers to accent them. Baby's breath and carnations are two popular choices. Then, if you'd like to add some dramatic height to your bouquet, include some line flowers. Long stems of snapdragon or delphinium blossoms can look stunning emerging from the top of your arrangements.
Adding greenery to your arrangement is a great way to fill it out and tie it together with the house plants in your space. Lemon leaf stems are bright, versatile, and long-lasting (via FTD). Honey bracelet stems can add a delicate touch and soft movement. And leather fern leaves are a bold option that can be used to add fullness and a tropical-inspired feel to your bouquets.
Decide on a floral color scheme
Flowers can provide stunning pops of color throughout your home. You'll want to land on a color scheme when planning your bouquets to avoid a haphazard look. This color palette can be inspired by your home's decor, the holiday or season, or a special event. Starclaire House of Flowers recommends leaning on the artist's color wheel when deciding on your floral arrangement's color palette. For a dynamic look, you can stick with blooms in two high-contrasting complementary colors, like gold and purple. You can also use an analogous color scheme for a more subtle effect. This involves choosing three side-by-side colors on the wheel, like cheery reds, oranges, and yellows. Or, use a triadic scheme with three shades evenly spaced on the color wheel — fuchsia, light blue, and bright yellow, for example.
A monochromatic bouquet is another color scheme option for a sleek and sophisticated look. An all-white bouquet is a beautiful arrangement you can create with ranunculus and sweet peas (via Pansy Maiden). Or, create a scarlet-hued bouquet for a pop of color in a neutral room or a festive touch during the holidays. Roses, hydrangeas, and peonies in shades of red play off each other perfectly. You can also make a cheery bouquet of yellow shades with blooms like sunflowers and daisies to welcome guests to your kitchen.
Creating a professional looking bouquet
After you've narrowed down the types of flowers you'd like to include in your bouquet, it's time to purchase them and arrange them like a seasoned pro. If you're opting for real flowers, head to the local florist or floral department at the grocery store and seek out the freshest bloom. Look for ones that don't have any signs of damage or wilting. Birds and Blooms also suggests finding ones with buds that have barely opened for maximum freshness. Avoid any flowers that are browning or losing petals.
Once home, lay your stems on a workspace and carefully snip about 1 inch from the bottom of each one. Use sharp, quality scissors or garden shears and cut at an angle. You'll also want to snip off any leaves that will sit below the water line in the container to prevent rotting. Then grab your vase and tools for arranging your flowers. One option is to use a Flower Frog, a pin holder that sits at the bottom of the vase and keeps stems in place. You can also use chicken wire cut to the size of the opening of your container to give you an easy grid to secure your flowers. If you find yourself without either of these options on hand, grab a roll of scotch tape (via Home Made Simple). Use strips of tape to criss-cross the top of the vase, leaving gaps between each piece. This will create a grid of openings to slide stems into.
First, arrange your filler flowers so they are evenly spaced (via MasterClass). Then, add your focus flowers, varying the spacing. Fill in your bouquet with greenery and add line flowers for height to achieve the look you're aiming for. Step back and take a look for adjustments. Trim any filler flowers taller than the focus flowers, and make sure your arrangement looks fantastic from every angle.
Combining various plants and flowers
As Ugaoo points out, many plants look great combined in a container. Grouping plants by their watering needs is the best way to ensure their survival. A simple way to do this is to stick with one plant type. An ensemble of succulents makes an adorable garden for a shallow container. You can also create a tropical vibe with a bamboo palm planted alongside a ficus tree. Or, put a pothos and spider plant in the same pot for the unique juxtaposition of upward and downward growth.
One of the best ways to get the best of both the greenery and floral worlds is with flowering plants. These can be easy to care for and bloom regularly, some even year-round (via Treehugger). Combine various flowering options in one container or pair them with other greenery for an interesting look. Orchids look stunning when combined with ferns or rubber trees (via Richmond Times-Dispatch). You can also pot peace lilies and butterfly ginger together for a pretty and fragrant combo.
Group your plants according to their light needs
When displaying your plants, remember to keep their light needs in mind. Stauffers of Kissel Hill Home & Garden Store points out that plants need a specific amount of sunlight to stay healthy and grow. Placing groups of them strategically by their light needs looks great and helps them thrive. Some plants do best with at least six hours of sunlight a day — group trees like fiddle leaf figs and palms near a window for optimal health. Potted orchids and jade look fantastic in pots perched on a window sill. You can also hang your Boston fern in a sunny corner where it can grow and thrive.
Other plants prefer very little sunlight. These are awesome choices to brighten up dark spaces like bathrooms or shadowy nooks. Containers of English ivy and snake plants do well in these light-lacking spaces (via Reader's Digest). Brighten your shaded areas with a collection of low-light-loving air plants dangling from the ceiling. Or, add a container of bamboo to your shady office for a touch of green and a little luck.