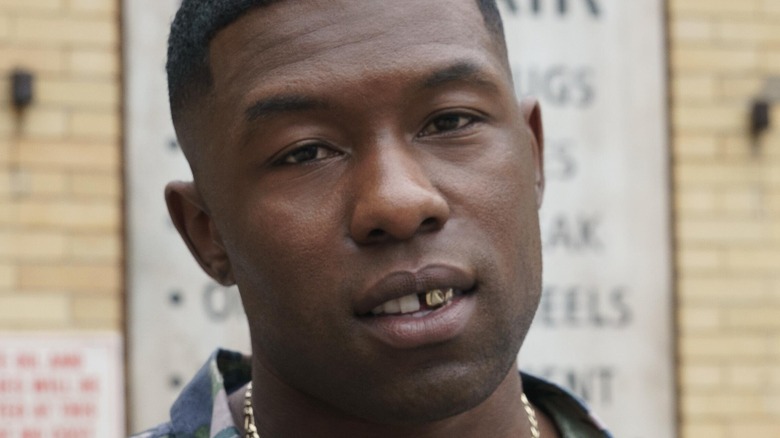 The 2022 Hulu miniseries "Mike" is a kinetic, fourth-wall breaking, time-jumping look at the life of boxer Mike Tyson. Writer and show creator Steven Rogers reunites with his "I, Tonya" director Craig Gillespie to craft another entertaining reconsideration of an often misunderstood 1990s tabloid fixture (that film's star, Margot Robbie, serves as executive producer here). Using the framing device of Tyson's real-life one-man show, "Mike" lets the former heavyweight champ narrate his own life, revisiting the relationships and events that made him one of the most famous men alive. He went from a bullied child in 1970s Brooklyn, to the youngest heavyweight champion in boxing history, to a convicted rapist and ear-biting pariah.
Rogers and Gillespie assembled an impressive cast of actors — from relative unknowns to Oscar-nominated icons — to recreate Tyson's rise, fall, and rise again. The challenge for any actor playing a real-life person is to not only look and sound like that person, but to tap into something essential about their personality and to communicate an entire life, sometimes with just a few minutes of screen time. Let's take a look at the cast of "Mike" and where you might have seen them before.
Laura Harrier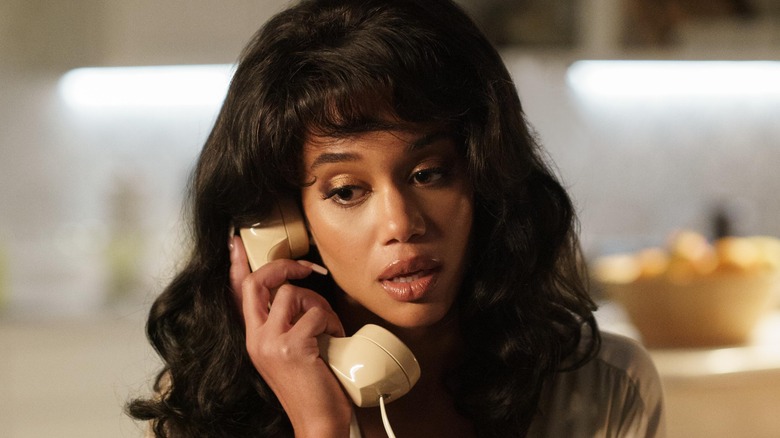 Mike Tyson and Robin Givens were both uncommonly accomplished young people when they first met. Tyson had conquered the boxing world at age 20, while Givens, two years older, was a Harvard graduate and the star of a hit television show, "Head of the Class." Their whirlwind 1988 marriage lasted just eight months, collapsing into public spats and recrimination. Givens accused Tyson of physical abuse while sitting next to him in an infamous interview with Barbara Walters, a moment that "Mike" recreates with Jackie Sanders as Walters and Laura Harrier as Givens. Tyson, in turn, accused Givens and her mother of stealing from him, calling them "the slime of the slime," which led to her filing a libel suit against him for $125 million.
Chicago-born Harrier got her start on the daytime soap "One Life to Live" in 2013, but her breakthrough wouldn't come until 2017, when she played Peter Parker's girlfriend and unsuspecting daughter of the villainous Vulture in "Spider-Man: Homecoming." One year later she starred as campus radical Patrice in Spike Lee's 1970s crowd-pleaser "BlacKkKlansman." Since then she has co-starred in the Ryan Murphy showbiz fable "Hollywood" for Netflix and the Melissa McCarthy indie drama "The Starling." After "Mike," Harrier is set to star in an upcoming remake of the 1992 sports comedy classic "White Men Can't Jump."
Russell Hornsby
For better or worse (mostly worse), the story of Mike Tyson is inseparable from the story of Don King. The larger-than-life manager and promoter — immediately recognizable from his shock of salt-and-pepper hair, fancy suits, and diamond chains — got his start in the 1970s with Muhammad Ali, promoting his famous fights with George Foreman ("The Rumble in the Jungle") and Joe Frazier ("The Thrilla in Manilla"), among many others. When he fixed his star to Tyson, he became a much more visible figure in the world of boxing. But visibility for a man like King, who once ran a numbers racket in Cleveland and is known to have killed two people, isn't always a good thing. He is as well known for allegedly swindling his clients as he is for changing the face of boxing in the last half of the 20th century.
Longtime character actor Russell Hornsby throws himself into the role of King in "Mike." The actor compared the notorious promotor to Darth Vader in an interview with Complex. "Mike wasn't equipped to go up against the Empire, whether it be emotionally, physically, or mentally," Hornsby said. "He wasn't prepared because he hadn't completed his training. It's almost like if Cus [D'Amato] lives five years longer, he gets to see him become heavyweight champion of the world, and just has a little bit more care with him, where I think we might have met a different man." Hornsby has been on television since the early 1990s; his first credited role was on an episode of "Bill Nye the Science Guy." Audiences are more likely to recognize him from his roles on the ABC hospital drama "Gideon's Crossing" and the HBO therapy drama "In Treatment." On film, Hornsby has appeared in "Creed II" and as Amandla Stenberg's father in the 2018 YA adaptation "The Hate U Give."
B.J. Minor
Several young actors play Tyson in his early years growing up in Brownsville, including Ethan Barrett and Zaiden James, but B.J. Minor makes an extremely impressive turn as Mike in his early teen years, when he left Brooklyn behind after his juvie sentence and was essentially adopted into the D'Amato family. Not only does Minor bear a striking resemblance to both Tyson and actor Trevante Rhodes, but their scenes define many of the most important relationships in Tyson's life; they hold their own against acting heavyweights like Olunike Adeliyi and Harvey Keitel. The series leaps from Minor to Rhodes in Episode 2 with a startling jump cut during a training montage — the boy transforms into a man, even if Tyson is still just 14.
Minor has had small and supporting roles in a number of film and television projects, including "I Got the Hook Up 2" and the YouTube series "Queer-ious." In 2019 they appeared in five episodes of the Urbanflix Hollywood satire series "Casting the Net," starring Linara Washington and Ella Joyce. In addition to acting, Minor has worked as a model and appeared in an LGBTQ-centered ad campaign for Ulta Beauty.
Harvey Keitel
Cus D'Amato, played by Oscar nominee Harvey Keitel, saw something in Mike Tyson when no one else did. The show features Cus declaring Tyson the future heavyweight champion of the world after watching the 13-year-old in just one sparring match.
D'Amato was an intense man who was on something of a downslope in his career. He had trained 1960s champions Floyd Patterson and José Torres, but had weathered years of slow prospects, it seems, in order to be ready when Tyson came into his life. He was the architect of Tyson's early career and many of the fighter's best known trademarks. The show reveals that it was his idea to emphasize Tyson's natural fearsomeness as a psychological weapon, to wear all black in the ring, and to enter without a robe. In one scene, D'Amato chastises Tyson for acting too excited after a win: "I want you arrogant," he says. A father-son bond develops between the two men, and D'Amato's death in 1985 creates a hole in Tyson's life.
A consummate actor with over 160 credits, it's hard to pin down exactly what Keitel might be best known for. It could be his decades-long relationship with Martin Scorsese, which has produced films like "Mean Streets," "Taxi Driver," "The Last Temptation of Christ," and "The Irishman." Or it could be his work with Quentin Tarantino in "Reservoir Dogs" and "Pulp Fiction." Art house cinema fans might think of his provocative films directed by Paul Schrader, Abel Ferrara, or Jane Campion, while '90s kids might think of him first as the bad guy from "Sister Act" or Adam Sandler's father in the satanic comedy "Little Nicky." He's a versatile veteran, and he brings his A-game in "Mike."
Olunike Adeliyi
Tyson's relationship with his mother Lorna Mae was fraught, to say the least. A single mother, Lorna Mae raised her children in poverty and often homelessness — what Tyson, in "Undisputed Truth: My Autobiography" (via The New Statesman), refers to as "f****d up poor." While her other children excelled in school despite their circumstances, Mike was in trouble with the law so much that Lorna Mae eventually gave up on him, leaving him to be raised first by the juvenile detention center, and then by Cus D'Amato. In the show, Tyson resents the way his mother never believed in him but is shattered by her death in 1982. The series pairs Lorna Mae's death with Barkim's murder in Episode 2, encapsulating the life that Mike escapes but can never fully leave behind.
A Canadian actor of Jamaican-Nigerian descent, Olunike Adeliyi plays Lorna Mae with bone-deep regrets; she's a smart, resourceful woman who nevertheless is exhausted by the hand she has been dealt in life. Adeliyi has been a near-constant presence in Canadian film and television since the early 2000s when she was making small appearances in films like "New York Minute" starring Mary-Kate and Ashley Olsen. She's received two Canadian Screen Award nominations, in 2018 for the drama "Boost" and in 2021 for the crime series "Coroner." American audiences might know her best for the Netflix comedy "Workin' Moms." Adeliyi has a number of projects coming up in the near future, including playing yet another mother to a famous boxer in the Claressa Shields biopic "Flint Strong."
Johnny Alexander
Tyson and Evander Holyfield circled one another for much of their careers. Both tried out to represent America in the 1984 Olympics, though only Holyfield would compete in the games. As Tyson dominated the heavyweight division, Holyfield did the same (if without as much showmanship) as a cruiserweight. After Buster Douglas shocked the world by defeating Tyson in 1990, Holyfield won the heavyweight crown by beating Douglas later that same year. Their meeting in the ring was scheduled and postponed multiple times over the years, until finally they met in Las Vegas in 1996. Tyson lost that fight by TKO, and when they met for a rematch the next year Tyson got disqualified for biting Holyfield's ear. The "bite fight," as it became known, is one of the most infamous moments in boxing history, and a scene that "Mike" replays multiple times from the first episode onward.
Actor and stuntman Johnny Alexander plays Holyfield, not so much as a character in his own right but as a phantom that haunts Tyson's past, present, and future. His acting credits include small roles on "Shameless," "General Hospital," and the 2019 indie superhero flick "Lazarus." As a stuntman his resume is more extensive, appearing on multiple episodes of "The Terminal List" and "The Orville" in recent years, and working with Marvel on "Luke Cage" as well as the upcoming "Black Panther: Wakanda Forever." He will also appear in James Cameron's "Avatar: The Way of Water," likely in CGI form, and will return to the ring in 2023 for "Creed III."
Trevante Rhodes
Plenty of people have played Mike Tyson before Trevante Rhodes. Michael Jai White played him in the 1995 film "Tyson." Clifford Couser played him in "Don King: Only in America," starring Ving Rhames as King. Jamie Foxx parodied him on "In Living Color" back in the '90s and has been trying to get a legitimate biopic about him off the ground for years. On one hand, Tyson seems like an easy person to play, with the scowl and the lisp, the comically soft voice coming out of such a giant. But something that Rhodes gets at in his scenes, both as the older Tyson narrating his life on stage and the young Tyson conquering the world at age 20, is the playfulness of Tyson, the way he giggles when thinking about how he used to own a tiger, for instance. There's an easy charm to Rhodes that makes it all too easy to be won over by him.
Rhodes was a college athlete at the University of Texas before a required drama class put him on the path to becoming a professional actor. He landed a recurring role on the Tyler Perry drama series "If Loving You is Wrong" in 2015, and a year later he got his breakthrough role as the grown-up Chiron in Barry Jenkins' Oscar-winning film "Moonlight." In 2018, Rhodes appeared in the surprise Netflix hit "Bird Box," as well as Shane Black's "The Predator" and the war drama "12 Strong." In 2021, he co-starred opposite Andra Day in Lee Daniels' overwrought biopic "The United States vs. Billie Holiday," playing the agent Jimmy Fletcher.
Grace Zabriskie
Cus D'Amato was not the only parental figure in Tyson's life as a teen. In the years he spent training at D'Amato's gym in the Catskills, he lived with Cus and a woman named Camille Ewald, played on "Mike" by the great character actor Grace Zabriskie. Many fighters came through that home over the years, and for lost young men like Tyson, it was perhaps their first real taste of stability. After Cus died, Tyson remained close to Ewald and treated her like a second mother. Ewald, in turn, defended Tyson to the press and stood by him when the details of his violent marriage to Robin Givens came to light. She died in 2001 at the age of 96.
With an acting career dating back to the 1970s, Zabriskie has appeared in over 160 film and television projects, plying her trade on everything from Oscar winners like "Norma Rae" to Roger Corman cheapies like "Galaxy of Terror." She is perhaps most recognized, however, for playing the mother of two famous blondes: Murdered prom queen Laura Palmer on David Lynch's legendary mystery series "Twin Peaks," and George Costanza's doomed fiancée Susan Ross on "Seinfeld." In the years since those shows, Zabriskie has not stopped working, appearing as a regular on Showtime's "Ray Donovan" and HBO's "Big Love," while lending her inimitable presence to films like Lynch's "Inland Empire," the American remake of "The Grudge," and the 2019 haunted camera flick "Polaroid."
Li Eubanks
In 1992, Tyson was arrested and convicted for raping 18-year-old Desiree Washington, a Miss Black America Pageant contestant from Rhode Island. The two met in 1991 when he was invited to the pageant as a celebrity guest; according to her testimony, the assault occurred in Tyson's hotel room, and she went to a nearby hospital the following morning to report the attack. Tyson, who has maintained his innocence for decades now, was given a 10-year sentence with four years suspended. Of the remaining six years, he served three in an Indiana penitentiary before being released in 1995.
The incident and Tyson's subsequent prison sentence, including his conversion to Islam, are addressed in the second half of the series, in which Washington is portrayed by actor Li Eubanks. Eubanks got her start in a pair of Lifetime original movies co-starring Vivica A. Fox, "The Wrong Friend" and "The Wrong Tutor," which, despite their similar titles and cast, are not connected to one another. She also appeared in a 2020 episode of the CBS/OWN courtroom drama "All Rise," starring Simone Missick.
If you or anyone you know has been a victim of sexual assault, help is available. Visit the Rape, Abuse & Incest National Network website or contact RAINN's National Helpline at 1-800-656-HOPE (4673).
T.J. Atoms
One of the major themes of "Mike" is just how unlikely Tyson's rise to glory was, and how easily he could have wound up as just another statistic. Growing up in the Brownsville neighborhood of Brooklyn, young Mike is bullied mercilessly until he is taken under the wing of an older boy and small-time gang leader named Barkim. But while Tyson's legal troubles eventually take him to an upstate detention center and into the orbit of Cus D'Amato, Barkim stays in Brooklyn. When the two meet up again for what would be the last time, Barkim is beaming with pride that Mike got out and is on his way as a professional boxer. Two months later, Tyson narrates, Barkim would be shot dead in the street, a cautionary tale.
Barkim is played as an adult by actor and musician T.J. Atoms. The Philadelphia-born entertainer got his start in the mid-2010s with small television roles on "Blue Bloods," the pilot episode of "You," and "Orange is the New Black." His most visible role came in 2019, when he played Ason Unique (aka Ol' Dirty Bastard) in the Hulu biopic series "Wu Tang: An American Saga." He also appeared in Radha Blank's indie hit "The Forty-Year-Old Version" in 2019.
Ethan Dubin
Actor Ethan Dubin plays trainer and future Boxing Hall of Fame member Teddy Atlas, seen here at the start of his career as an assistant to legendary trainer Cus D'Amato. As Tyson at age 14 exhausts the limits of training without actual fight experience, D'Amato instructs Atlas to find a "smoker," a small-time club fight card for the young prospect to get on. Atlas protests, as it would be illegal for the 14-year-old to fight professionally, but D'Amato insists, figuring that no one would believe that the massive young man was just 14. Sure enough, when Atlas tries to register Tyson at a local fight night, the promoters balk when he says he's just 14; it's only when Atlas "admits" that Tyson is actually 18 that they are allowed to register.
Dubin is a California-born actor who is mostly known for his stage work; in 2019 he appeared on Broadway in Jez Butterworth's Tony-winning play "The Ferryman," and he has tread the boards at the Actors Theatre of Louisville, Playwrights Horizons in New York, and many other stages. On the screen, he's had small roles in "Orange is the New Black" and the Coen brothers' Netflix Western "The Ballad of Buster Scruggs." He also appeared in the 2019 Elizabeth Moss crime drama "The Kitchen" as the indelibly named "Loser Guy on 42nd Street."