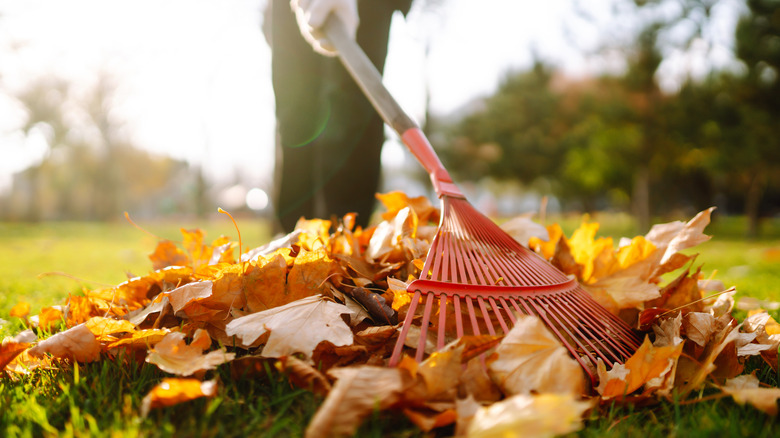 Preparation for beautiful spring landscaping begins in the fall. As the heat of summer passes and the cool breezes of autumn arrive, there are several tasks you can do during this pleasant weather to ensure your landscaping looks tidy throughout the winter and into the early days of spring.
Although it seems like big garden centers prepare more for spring planting than fall, this is actually the best time to plant spring flowering bulbs, trees, and shrubs, according to Illinois Extension. So if you are looking to expand or add interest to your landscape, this is the perfect time to dig out your trowels and shovels. Although local nurseries will have a better selection than the big-box garden centers, you can find some great deals late in the season as retailers are trying to clear out their remaining stock before winter. So while you're working on your landscaping, consider adding a few more items to your autumn to-do list.
1. Clean up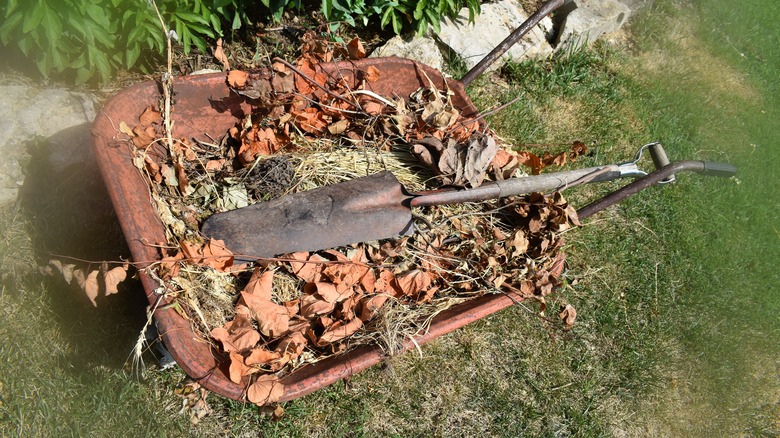 After a long summer, your plants are probably looking pretty ragged. This is the best time to remove spent annuals, and if you live in a warmer climate, plant winter annuals like ornamental kale and pansies. As you work to clean up your beds, leaves from healthy plants can be composted. If you have plants with diseased foliage, throw those away to prevent pathogens from being spread by your compost pile.
This is also a good time of year to give perennials extra attention. Some perennials can be cut back to the ground, including lilies and hostas, but do not trim back semi- or evergreen plants, like heuchera, because they offer winter interest in your landscape, according to Proven Winners. Plants with woody stems, including sage and butterfly bush, should also be left until spring pruning. In fact, fall is not the time for pruning larger woody plants like trees or bushes, either. Pruning before winter can weaken the plant and encourage disease. Only remove damaged or dead branches, if necessary.
2. Divide perennials
If you have perennial plants in your landscaping that are getting crowded, you can divide them now and either fill in other areas of your landscape or share them with friends. This task is best done in early fall, about six weeks before your first expected frost date, states Wallace's Garden Center. Dividing plants a month or so before the first frost allows them to recover from the shock of division and establish roots before the harsh winter weather arrives. Some plants replicate quickly, including daylilies and bleeding hearts. Since this is an excellent time to plant perennials, your new plant divisions will also have time to settle in, and they will appreciate the extra leg room.
To divide your perennials, dig up as much of the plant's root ball as possible. This will lessen transplant shock and help them bounce back more quickly. Leave all greenery in place until it is killed by the first frost to give the plant the energy it needs to grow and secure new roots.
3. Fertilizing
You may have heard that you should not fertilize in the fall, and that's partly true. Fertilizing in the early fall while perennials are still growing can cause a flush of new growth, only to cause the plant to be shocked when cold days arrive. However, fertilizing certain plants when they are dormant or approaching dormancy puts the necessary nutrients in the ground to support healthy root growth and leaves those nutrients to be available when the plants are ready to return in the spring, according to Direct Native Plants.
For your perennials, select a fertilizer high in phosphates and low in nitrogen for optimum flower production. Bulbs also like a lot of phosphorus to stimulate healthy root growth over the winter months. Because fertilization in the fall is meant to help have healthier plants in the spring, choose granules that break down slowly over the winter months rather than a liquid fertilizer, which is great for a quick boost but does not last long in the soil.
4. Weeding
At this point in the year, you may be tired of weeding. And who would blame you? Keeping up with weeds and unwanted grass in your landscaping can be a chore; however, a little weeding now will save you time in the spring (plus, you won't have to look at ugly weeds all winter). At least for your final fall weeding, you won't have to sweat through your clothes.
PennState Extension recommends weeding in the fall to prevent unwanted spring seedlings. In the fall, cool weather weeds bloom and spread their seed if you do not remove them in time. Those seeds wait for the soil to warm to the right temperature to sprout, and suddenly you have a bunch of weeds seemingly out of nowhere. Prevent that frustration by removing all weeds from your landscaping before they bloom. The same rule applies to grass in beds. Remove everything in the fall so that it does not grow and spread in the early spring.
5. Mulching
Now that you have cleaned up your landscaping, fertilized, and divided your perennials, it is time to add a fresh layer of mulch. Not only will mulch help support all the efforts you have taken to prepare your outdoor space for the winter, but it will look nicer than that old, thin, faded mulch from the spring, states Allentuck Landscaping Co. Consider adding a darker tinted mulch to your winter garden or even a bold color like red to add interest to the space.
Mulch is not just pretty. A few inches of fresh wood mulch will help keep weed seeds from sprouting since they are blocked from the sun. It also keeps fertilizer granules in place while acting as a layer of insulation to help keep the soil moist and biologically active. If you already have mulch in your landscaped areas, a thin top layer should be sufficient. You do not want more than 2 inches of mulch — more than that may hinder the emergence of returning perennials or even suffocate them. In the fall, a little mulch goes a long way to prepare your landscaping for a great spring.