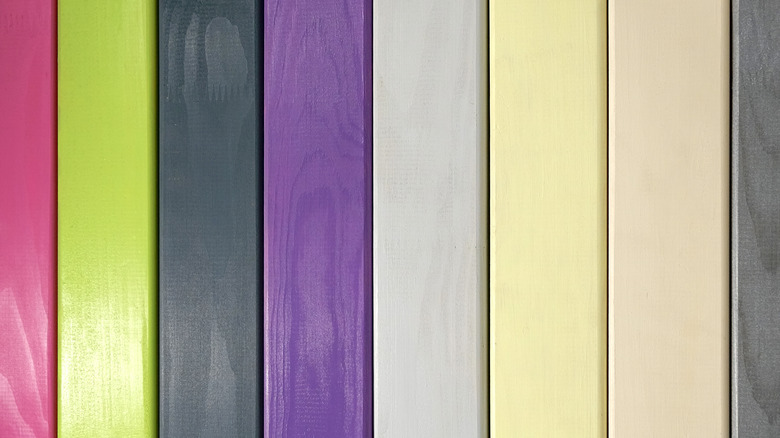 Any remodeling or home renovation decision should require some serious thought. Especially when it comes to your flooring. Although there are numerous types of materials available to redo your floors, such as hardwood, ceramic tiles, vinyl, and natural stone, another popular choice that plenty of people lean toward is wood laminate flooring for its many benefits.
A relatively inexpensive product, laminate floors are essentially made from a manufactured hard particle board substance layered with a coating of resin over an image that is designed to mimic the look of natural wood, according to Best Laminate. These types of floors can be fairly simple to install and pull together, which is why they're so ideal for home DIY projects.
But that doesn't mean the end result has to look cheap. In fact, the finished product can have not only a similar look to real wood but can actually be made with a textured surface as well to feel like the real thing. They can come in a wide variety of patterns and selection that knows no bounds as you can choose from various stains and shades as well as designs that are meant to look like stone.
Although it's incredibly handy to have so many choices, that can be a mixed blessing when it comes to making a final choice. Fortunately, we have some helpful tips that can help you make a decision the next time you need to settle on what color laminate is best for your home.
1. Pick a color that will last
When choosing the color of your laminate floors, you want to make sure it's the type of style that will last. Although having a mixed pattern of alternating pink, yellow, and purple would look amazing in the short run; 10 years down the road, however, it may not seem like such a good idea. Alternatively, there are some colors of laminate flooring that you can be certain will stand the trendy test of time.
When it comes to recent color sensations for this type of flooring there are a few that pop out as ones that could still be popular to both homeowners and buyers for some time to come. White-washed is a color that is meant to portray a worn-in wooden look that has been lightened with a white-wash stain. It gives the appearance of lighter color, balanced by hits of darker shades of natural-looking wood, according to Flooring Inc.
Next, if you want something bright but not too far into the white shade, then you can choose lighter shades of real wood. These types of flooring can mimic maple, oak, or pine and are popular for their ability to soften the feel of a room. This blend of mild and subtle lighter wood styles can be tasteful for almost any design palate. In contrast, darker gray laminate can be a bolder choice to bring a modern industrial vibe to the room, which is a design trend that won't foreseeably be going away.
2. Choose a color that matches your lifestyle
Another factor that comes into play when you're choosing the right color of laminate for your home flooring is what kind of lifestyle your household leads. Single with no children? Then solid-colored flooring with no distinguishable patterns could be best for you. The straightforwardness of the choice could highlight the other decor in your room and bring an air of sophistication to the rest of your home.
If you own a pet that sheds hair constantly, then you may want to opt for a lighter or darker natural wood pattern. This can depend on the color of your pet's fur, but your choice of shade and more prominent pattern can help to hide the mess they bless your house with. The added bonus of using pet-friendly laminate flooring is that it can be stain- and scratch-resistant, durable, and super easy to clean, per Home Depot.
For busy families where children have full reign of the house, this is where a mid-toned natural-looking wood laminate or even a high-variation laminate flooring can be your best bet. A high-variation floor alternates between lighter and darker stains of wood to create a gorgeous pattern. This can also help cover the daily messes, spills, and lived-in look that can happen in high-traffic areas of a family home. Also the more realistic the wood grain you choose, the less likely it is that dust and dirt will show as opposed to a solid colored floor.
3. The flooring should coordinate with your furniture
If you already have the furniture of your dreams and don't see it changing, then this is your chance to match it with a perfectly colored laminate. Because furniture can be a personal and pricey decision, it's always best to coordinate your decor and even your flooring to the pieces you love. As a standard, the flooring shades you're looking for can come in neutral, cooler, or warmer tones. Cooler tones tend to lean toward the gray and bluish types of colors whereas warmer tones are more orange, yellow, or reddish in nature, explains Chestnut Flooring. This leaves your pale, natural, or white-washed laminate colors in the middle.
From here you could go one of two ways. On one hand, it can be safe to match the tone of your floor with that of your furniture. This creates a cohesiveness to the room which could match the mood of the environment you're trying to establish. With red or auburn-colored furniture, you could match it seamlessly with similar oak-style laminate, whereas yellow-toned furniture can be best paired with a floor that uses golden oak as inspiration. However, as far as style goes, having a contrast between your furniture and flooring can look attractive as well. Including a dark-stained countenance can help to balance the lighter walls and pale-toned furniture and may prove to actually highlight your bigger items instead of blending them into the rest of the room.
4. How to pick between lighter or darker shades
When it comes to making the choice between lighter or darker shades of laminate flooring, there are a few things to consider. First of all, you should judge how much natural light is coming into the room you want to re-floor. If the space doesn't have the benefit of large windows for plenty of sunlight, then you might want to opt for lighter-colored floors. Because brighter colors reflect light it can work to utilize that illumination and make it bounce around the room. These shades also can cause a space to appear larger and airier, according to Lowe's. So if you're laying down a new floor in a room that is much smaller, then a lighter-colored laminate could give the room some much-needed depth.
Alternatively, darker-colored laminate, like a rich walnut or a deeper shade of blue or gray, can help to pull in an already large area and make it seem cozier. This can be particularly beneficial in a big open living room as it can bring the room in and create a sense of welcoming intimacy. Also, if the room already has larger windows or a skylight to let in more than its fair share of natural sunlight, then a darker floor can work to absorb and balance that extra light. Deeper-toned laminate floors when matched with adjacent wooden window frames or exposed beams can have a wonderful stylish effect of accenting a room.
5. It should match your interior design
Finally, your flooring decision could be influenced by the design of the room. If you're going for a laid-back country farmhouse look, then you could find that a textured reclaimed wood-style laminate may be more your manner as opposed to a solid jet-black floor. Luckily, because laminate flooring can be easily found in many colors and patterns, you shouldn't have trouble finding the match to your interior design choice.
Modern industrial designs that feature darker furniture and chrome decor highlights could be perfectly balanced by pale to medium-gray or gray-blue flooring. If your industrial room features bright wall paint, then you could get away with a near-black floor to contrast the light and dark. For a bohemian vibe that blends in with the earthy atmosphere and green hues from your indoor plants, then how about light wood, distressed wood, barn oak, or even a tiger maple? These types of laminate really portray the look of the unique grains of wood perfectly as they almost seem real.
Other rooms that are a little more personal like breakfast nooks, offices, or bedrooms might allow you to get wild with your floor colors. You could always go with brighter colors or more intricate patterns like a chevron or herringbone style. Just know that if it doesn't suit your needs a few years down the road, it's possible to sand and re-color your laminate if your taste changes, according to Home Inspection Insider. So have fun with it!