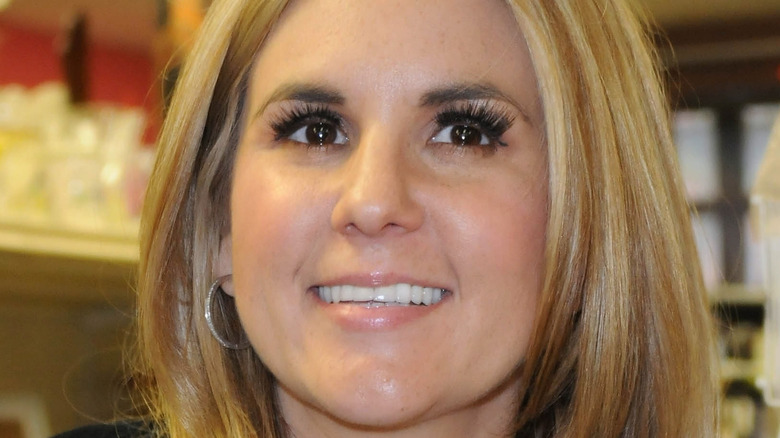 "Storage Wars" — the rock 'em sock 'em robots of auctions. And to be sure, there's plenty of combat, action, and drama on A&E's 13-season-long hit reality TV series. Bidders — the show's characters — risk a lot of money on storage lockers full of grandma's shoelaces, blown tires, and lawn ornaments. In the process, they might come out on top, acquiring fame, acclaim, and a realm of micro-celebrity Instagramming. Such is the case with Brandi Passante, one of the show's most popular faces, especially in its earlier seasons in the early- to mid-2000s.
Along with then-"life partner," Jarrod Schulz, the Texas-born Passante was recruited into "Storage Wars" after the show's producers approached her and Schulz's consignment shop, Now and Then, in Orange Country in 2010, per The Orange County Register. They were one of the show's highlights, an approachable duo full of zingers, banter, and bickering. In 2014, they even got their own single-season spin-off show, the prophetically named "Brandi & Jarrod: Married to the Job," which was supposed to focus on the couple outside "Storage Wars," particularly the preparations for their marriage.
However, like the title of their solo show said, they were indeed "married to the job." The stress and strain of managing their consignment shop plus being on "Storage Wars" led to them breaking it off after 15 years and two children. For a while, "Storage Wars" made their "dysfunction seem a little less dysfunctional," but in the end it proved more of a curse than a blessing.
A temporary hiatus
The long hours of the show took away too much time from Passante's family, so she had to leave the show, according to "The Dad Diary" (via YouTube). However, she would go on to make a comeback to the delight of dedicated fans in Storage Wars' 13th season in 2019, as reported by TV Insider. However, Schulz was welcomed back too, leading to some predictable drama. Although the duo no longer competed as a couple, they certainly got enough chances to interact on the show, probably to the disappointment of both parties, but glee of fans wanting the most drama.
In the first episode of the season, Passante called Schulz "an idiot" and admitted that things were "tense." In one case, Schulz and Passante were competing and the former said "If Brandi bids on [an item], I'll probably bid [too]," indicating he was trying to undermine her, per People Magazine.
All about that single Instagram life
Around 2019, during a "Storage Wars'" two-year hiatus between Seasons 12 and 13, Brandi Passante made it clear that things weren't going well for her and Jarrod Schulz — at least indirectly, through social media. They'd said goodbye to "Storage Wars" in 2018, but then it was becoming clear that they were saying goodbye to each other. Picture after picture of her with other guys, in bikinis, and without her engagement ring were posted, as her Instagram account attests. At the same time, Starcasm reported that neither one of them were appearing in each other's social media, and TV Shows Ace reported that Schulz was seen hanging around with a new girlfriend at his Lake Forest, California, establishment, The Rush Bar & Grill. It took until June 2020 for any official announcement to crop up regarding Passante and Schulz's breakup. At the time, as Newsweek reports, Passante stated that she and Schulz had been separated for two years.
Since then, Passante has continued using Instagram to keep the public apprised of her goings-on. She's posted lots of photos of her newly single life out with friends, a video of her downing a glass of wine out at Gaylord Rockies Resort and Convention, also on Instagram, and commented more than once about being "the third wheel" in a group. At the same time, she's been trying to distance herself from her former partner Schulz, and has called their run-ins "uncomfortable."
She opened up about domestic violence
Passante has also opened up about her experience with domestic violence since leaving "Storage Wars." On Instagram in October 2021, she posted a photo of a tattoo she has on her index finger that says "Free" with a bird flying away from the lettering. No, the tattoo wasn't about the Lynyrd Skynyrd song "Freebird" (although she says she does love that song), but rather about her experience escaping domestic violence. "To me, it means that somehow, by the grace of god, I managed to escape a very difficult situation that so many people fall victim to," she wrote.
It all came to a head in July of 2021 when Schulz showed up while Passante was visiting some friends. When she insisted he leave, he allegedly refused, pushed her, and yelled at her, according to PopCulture. Although Schulz denied the claims, he was charged with domestic violence battery against Passante, per Entertainment Weekly. Meanwhile, Passante helped the Women's Own Worth Foundation, which assists survivors of domestic abuse, to raise $10,000, according to Benton Courier.
Loss, therapy, and the coronavirus
On June 29, 2020, Passante revealed in an interview with "The Dad Diary" (available on YouTube) that she'd contracted the coronavirus. She mentioned headaches, congestion, her loss of taste, but at the time of the interview stated that her symptoms were improving. By July 21, TV Shows Ace reported that Passante was seen in public, seemingly fully recovered. Earlier in March, she'd posted a photo on Instagram holding a bottle of Maker's Mark that she was hunkering down with supplies to ride out the "'rona," stating, "The Rona got me loading up on essentials Such as Costco size Makers Such as…" Bear in mind that all this happened around when Passante officially announced to the public about her breakup with Schulz.
It seems that the breakup itself was taking a toll on her because she later stated in a February 2021 interview with "Spirit Talk Hosted by Shavaun and Sabrina" (posted on YouTube) that she'd been "emotionally dead inside" for a while. She mentioned her ongoing therapy sessions, continuing, "I wasn't really allowed to have an identity for many, many years. … And so these last couple of years I'm kind of coming into my own and figuring out who I am."
To add insult to injury, in October 2020, Passante posted on Instagram under #f***2020 that her father died. She wrote, "Fly on, Fly on past the speed of sound. I'd rather see you up than see you down. So leave me if you need to. I will still remember."
A single mom with things looking up
In between hanging out with friends, enduring her breakup, and other life-changing events (like the death of her father), Brandi Passante has been busy being a single mother. She's stayed aware of the impact social media and fame might have on her kids, and aside from the occasional proud mom post on Instagram — "I am so proud of how beautiful my little is in her winter formal fit" — Passante's wisely kept her children out of the spotlight. Her kids agree with her on this. "I definitely think it's difficult for them, as teenagers. They don't want me putting them on social media at all. Which I don't. I respect that," she told "The Dad Diary" (also on YouTube). Of particular concern to Passante was "creepy ass dudes" on the internet.
As for future prospects? Well, when Passante was on "Spirit Talk Hosted by Shavaun and Sabrina" (via YouTube), she told the show's hosts that she'd be down for collaborating on a script about her life. "I have so many stories, and there's been so many levels, I guess, or chapters of my life. … It has never kind of stayed stagnant, but there's a lot of big stories … tumultuous childhood, tumultuous adulthood. I think maybe that is why I'm funny, because if I'm not, then what else do I have?" she said. She's had a gig on Cameo, where she offered personalized messages to fans for a fee, though at the time of this writing she isn't taking requests.
She's gone into podcasting
Besides returning to "Storage Wars" in recent years, Brandi Passante has built up her presence in another form of media. In June 2021, she appeared on the weekly Newport Beach podcast "Happening Now with Hammer." The YouTube and Apple Podcast pages for "Happening Now" describe it as a show "featuring honest, goofy, and positive conversations with intriguing and brilliant guests changing every time." Regular hosts Hammer and Troy Davis encountered Passante at a bar and, after striking up a friendship with her, invited her on their show (via Outsider).
Since that first encounter, Passante has become a regular co-host of "Happening Now," sitting in with Hammer and Davis whenever she's in town. Not terribly structured, "Happening Now's" topics of conversation range from the best local pizzas and movie reviews to celebrity trials, the Russia/Ukraine conflict, and marijuana. Passante isn't the only "Storage Wars" alum to come into the podcast's orbit either; her friend Kenny Crossley has become a frequent contributor as well.
She's taken up charity work
Before publicly acknowledging the domestic violence in her relationship with Jarrod Schulz, Brandi Passante was volunteering her time to help survivors of abuse. The Women's Own Worth Foundation (WOW) helps women and families rebuild their lives after escaping from abusive relationships. They host an annual event, WOWapalooza, to raise money for the organization, raise awareness, and award a "Woman of the Year."
According to the Benton Courier, Passante became involved with WOW through her friend Cari Cellini, who was also friends with WOW founder Jajuan Archer. After hearing Archer's story of domestic violence, Passante volunteered her time and energy. "I have experienced some things in my life," she said, "and it's a really wonderful cause. It's things that are needed, so I wanted to help in any way possible." She served as emcee for 2019's WOWapalooza. With over $100,000 collected, it was a record-setting fundraiser for WOW.
Passante has helped to promote other causes as well. She appeared with author and disability advocate Danny Jordan on Jordan's "Parenting Countdown Podcast," where she revealed that her daughter was born deaf and with a cleft palate. (Both conditions were corrected by surgery during infancy.) Since her appearance on "Parenting Countdown," Passante has occasionally used her Instagram to share Jordan's public statements on disability rights and to help promote "The Capables," Jordan's children's book series.
Her fight with Hashimoto's Disease
Brandi Passante's quick wit helped make her reputation on "Storage Wars," and it's been part of her social media presence. She hasn't been shy in publicly responding to trolls, creeps, and silly questions sent her way through private messages on Instagram. But in 2022, Passante gave an earnest answer when someone asked why her voice sounded raspy on recently published videos. In an Instagram story, according to Outsider, Passante shared a screenshot of the question with the answer written over it: "I have Hashimoto's Disease. An auto-immune disease that affects my thyroid. Sometimes, it makes my throat raspy."
Hashimoto's disease, also known as Hashimoto's thyroiditis or chronic lymphocytic thyroiditis according to the American Thyroid Association, causes inflammation of the thyroid. It's slow to develop and has no unique symptoms, but can eventually lead to hyperthyroidism, with fatigue, increased temperature sensitivity, weight gain, and the effect on the voice noticed by Passante's questioner. Hashimoto's disease is America's leading cause of hyperthyroidism, but may be mild enough not to require medication and can be managed with levothyroxine otherwise.