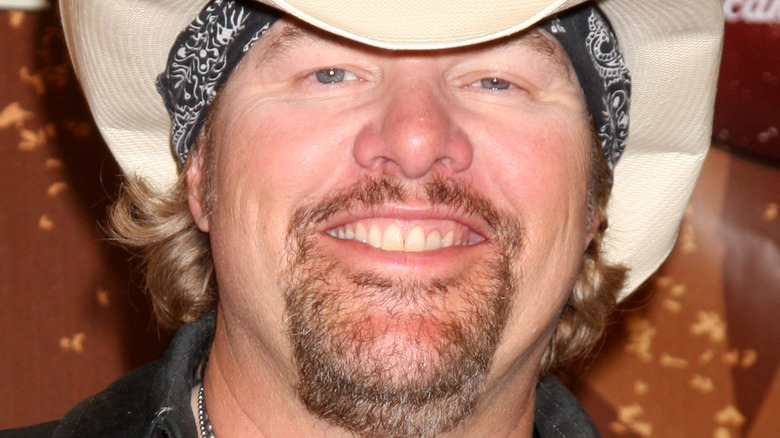 Country music star Toby Keith made a name for himself with hits like "Courtesy of the Red, White and Blue (The Angry American)" and "Should've Been a Cowboy." Keith's music likely resonates with his fans who appreciate that the singer isn't afraid to voice his controversial opinions through his work. Before the Oklahoma native was topping the country music charts, he was a football player, per Fox Sports. Keith even played for the USFL in 1982 when he joined the Oklahoma City Drillers.
The star began his music career by performing with his group, the Easy Money Band, before he was later offered a record deal as a solo artist, per Forbes. Keith was discovered by Mercury Records chief Harold Shedd in an unlikely way — a flight attendant handed a demo record to the record label executive. "It was mainly the quality of what he was writing," Shedd said of hearing Keith's music for the first time, per Forbes. "It was unlike anything on the radio at the time, and it was still really good country music." Shedd took a chance on the aspiring musician, and it luckily paid off.
The "I Wanna Talk About Me" singer's story is full of victories, but he has also faced a great deal of hardship along the way. In 2022, the country music star took to social media to reveal his stomach cancer diagnosis. Keep reading to find out how tragic details about Toby Keith have impacted his career.
He was diagnosed with stomach cancer
In June 2022, Toby Keith announced he had been secretly battling a life-threatening illness. The musician shared a statement across his verified social media platforms that revealed he had been receiving treatment for stomach cancer since 2021. "Last fall, I was diagnosed with stomach cancer," Keith wrote in the announcement that was shared to Instagram. "I've spent the last 6 months receiving chemo, radiation and surgery. So far, so good. I need time to breathe, recover, and relax. I am looking forward to spending this time with my family. But I will see the fans sooner than later. I can't wait."
It seems that the "American Soldier" singer is acting on his words by prioritizing his health, because he also canceled his 2022 tour. According to Taste of Country, Keith's team confirmed all tour dates are canceled indefinitely despite speculation that the musician would only cancel a number of shows. Keith mentioned in his statement that treatment had been going well, but many fans are likely still concerned for the star's well-being. According to the Cleveland Clinic, stomach cancer has a 5-year survival rate spanning 70% to 6%, depending on how far the cancer has spread. For now, we don't know where Keith falls on this spectrum, but hopefully he makes a full recovery.
Toby Keith's hometown experienced tragedy
Toby Keith's hometown of Moore, Oklahoma has experienced a great deal of tragedy over the years, and the musician seemed to be deeply impacted by watching his community suffer. In 2013, Moore was hit by a deadly tornado that killed 24 people and destroyed around 300 homes, per World Vision. Following the tragedy, Keith issued a statement in support of those affected by the tornado. "This storm has devastated the community that I grew up in," the star shared via his publicist, per Billboard. "I rode my bike through those neighborhoods. I have family and friends in Moore." The star later helped raise money for tornado victims by performing at the Oklahoma Twister Relief Concert in 2013. He was joined by a number of other musicians, including fellow Oklahoma natives Garth Brooks and Carrie Underwood.
Keith showed just how close Moore is to his heart again in 2020 when he spoke out in support of victims involved in a deadly car crash in the town. The driver responsible for the hit-and-run accident took the lives of 3 teenagers and injured 3 others, per Oklahoma's News 4. Keith later responded to the incident by tweeting: "Prayers needed for comfort and strength to the families and kids of Moore Oklahoma after a terrible tragedy. -T." The driver who caused the crash, Max Townsend, was sentenced to prison for the rest of his life in 2021.
He almost lost his daughter in a car crash
Toby Keith's father died in a car accident in 2001, so the star was likely terrified after his daughter nearly lost her life the same way. In July 2017, Toby's daughter, Krystal Keith, took to Facebook to detail the scary incident. "Our 4th turned pretty horrific," she wrote. "Hensley, Drew and I were on the way to watch fireworks on the 4th. A drunk driver almost took the lives of my entire family. We all survived the wreck but it's gonna take some time to heal. Keep us in your prayers. Hug your babies and spouses tight. DON'T DRINK AND DRIVE." In that same Facebook post, Krystal also showed photos of the aftermath of the accident, and the vehicle featured in the pictures was destroyed.
Toby later reflected on the crash during an interview with Rare Country. He explained that the build of Krystal's vehicle kept her and her family safe despite the severity of the accident (via Country Rebel). He also shared, "It's good that they weren't on the interstate, were probably only traveling 50 and had time to hit the brakes." This incident was surely traumatizing for Toby and his family, but it seems that the father was relieved to find out the crash wasn't as devastating as it could have been.
The country music star's father died after his vehicle collided with a bus
Toby Keith's father, Hubert Covel Jr., died on the scene of a car accident in 2001 after his vehicle collided with a bus. According to The Oklahoman, Covel was on his way home from a barbeque when the accident occurred. Toby initially thought that his father's vehicle may have collided with the bus after he lost control of the car. "I hate to speculate, but I think he had a stroke," Toby told The Oklahoman. "It was early part of the afternoon, time for him to cat around."
The Keith family later learned that the accident may have been caused by the negligence of Rodriguez Transportes of Tulsa, the company that owned the bus involved in the collision. This resulted in a lawsuit in which the family was awarded $2.8 million. CMT News reported that a jury decided the accident may have not occurred if Rodriguez Transportes of Tulsa had complied after an inspector revealed the vehicle's breaks needed to be changed "urgently." Although the Keith family won this case, they are likely still coping with the tragic loss of a loved one.
Toby Keith lost two band members
Toby Keith lost a loved one once again when his band member, Joey Floyd, died of cancer in 2016. Keith took to Facebook to share a heartfelt message following Floyd's passing. "There will be a hole on stage and a hole in the hearts of all that loved him," the musician wrote in part. "Rest in peace ol' friend." The pair had been friends for years and watched each other's careers blossom.
The musicians first worked together when Floyd joined Keith's Easy Money Band in 1997, according to the late guitar player's obituary. In addition to sharing the stage with Keith, Floyd had also worked on a number of films, including "Honeysuckle Rose," in which he played Willie Nelson's son. The budding actor was only 10 years old at the time, so this was one of his earlier gigs. Floyd went on to obtain roles in films like "Broken Bridges," "Leap of Faith," and "Beer for My Horses," which also starred Keith.
Unfortunately for Keith, this wasn't the first time he'd lost a band member. Prior to Floyd's passing, the country music star's bassist, Chuck Goff, was killed in a car accident. In a since-deleted statement shared to the "Red Solo Cup" singer's website, he wrote: "We are deeply saddened by the sudden death of our band member, Chuck Goff. He was a close friend for over 25 years, the band leader and bass player. Our hearts and prayers go out to his family," (via MusicRow). Goff worked closely with Keith and even helped the star write the hit song "Upstairs Downtown."