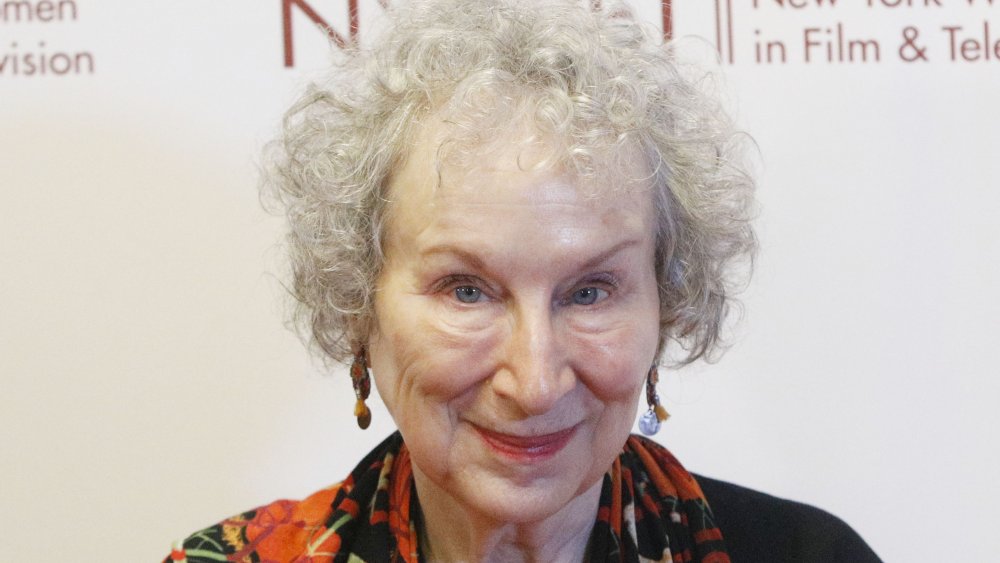 Science fiction writer Margaret Atwood had already penned dozens of books before her dystopian novel, The Handmaid's Tale, was adapted into a TV series for Hulu. The show, which stars Mad Men alum Elizabeth Moss, exploded in popularity, bringing new life to Atwood's 1985 novel and raking in a slew of Emmy and Golden Globe wins. The popularity of the series thrust Atwood back into the spotlight and in 2019, she published a sequel to the novel called The Testaments.
The TV version of The Handmaid's Tale follows the book up to a point, but producers certainly took a few liberties with the story. Atwood, who had already seen The Handmaid's Tale adapted to film in 1990, remained relatively hands-off with the Hulu series. She does make a cameo appearance in the first episode — eagle-eyed viewers can spot her playing the role of an aunt. Though Atwood seems pretty chill about the changes made to her masterpiece, some die-hard fans have had a hard time accepting any departures from the original. Other fans have taken liberties of their own, borrowing imagery from the book for everything from protest movements to party themes.
What does Atwood really think of her Handmaid's Tale fans? You're about to find out.
Margaret Atwood thinks the show does 'a tippety-top job'
Margaret Atwood may have penned The Handmaid's Tale, but the Canadian author doesn't have creative control over the Hulu series. She initially sold the rights for the 1990 film, so MGM had the rights before Hulu bought them, according to The Guardian. When the 2017 rendition of The Handmaid's Tale diverged from the plot of the novel, some purist fans were not pleased. Atwood addressed the predicament during a speech at the Hay Literary Festival in Wales.
"I think I would have to be awfully stupid to resent it because things could have been so much worse," she said, declaring that makers of the streaming series have "done a tippety-top job … the acting is great, they've stuck to the central set of premises." She went on, "It's a television series. If you're going to have a series you can't kill off the central character and you also can't have the central character escape to safety in episode one of season two. It's not going to happen."
Even if Atwood had been opposed to changes in the plot, there wasn't much she could do about it. "None of this was in any way under my control," she said. "Even if I had thrown a tantrum and said you can't do this, that would have had no legal standing."
Margaret Atwood's fans can take it or leave it
Margaret Atwood doesn't have creative control over The Handmaid's Tale series, but now that she's published the novel's sequel, The Testaments, she has been able to influence the direction of the Hulu series.
"What I have given the writers' room, which no one is allowed into including me, is a whole new whiteboard and a bunch of new characters," she told Entertainment Weekly. "The story of the characters in the show is left open at the moment, so it's up to [showrunner] Bruce [Miller] and the highly competent team locked in the room as to how they get those people into position."
Only time will tell how closely the TV series will follow The Testaments and whether die-hard Atwood fans will be delighted or disappointed. After writing the sequel, even Atwood dealt with complaints from some fans of The Handmaid's Tale. She delivered a straightforward message to those folks too: "The thing about a book is it's got these things called covers. If you don't like the book, you can close them." Oh, snap!
Margaret Atwood weighs in on all those costumes
Imagery from The Handmaid's Tale has been utilized to send a powerful message at events advocating for reproductive rights and/or railing against sexual violence. How does author Margaret Atwood feel about the handmaids' bright red dresses and white hats leaping off the page and into the real world?
"I think using the handmaids' costume as a protest mechanism is brilliant," she told The New York Times. "You can't be thrown out, you're not making a disturbance, and you're not saying anything, but you're very visible and everybody knows what you mean. So it has been a brilliant tactic."
The handmaid's costume was a prominent visual at the Women's March in January 2018, and the crimson garb has also been used as a political symbol during health care protests, international protests, and at the confirmation hearing for Supreme Court Justice Brett Kavanaugh, who was accused of sexual misconduct and assault.
In her sequel, The Testaments, Atwood introduces a new look for fans to emulate — a green robe. "There [are] some new costume choices in this book," she told Variety. "Human beings throughout time love outfits that tell you who you're looking at, like football teams and things like that. So yes, we have some new outfits."
Margaret Atwood appreciates her fans' passion
Margaret Atwood admires the passion of her hardcore Handmaid's Tale fans. They lined up in droves to snag a copy of The Testaments when it was released in September 2019. She's also delighted by the, um, creative ways her followers identify with her work. Reality star Kylie Jenner even jumped on the bandwagon by throwing a Handmaid's Tale-themed birthday party. Seriously, what did Atwood think of that particular piece of social commentary?
Not much. "I had to look up who Kylie Jenner was, I'm so old," she told Vulture. "My readers deal with those things … I expect that Kylie Jenner heard from some of them along the lines of 'We appreciate the thought, but you kind of missed it.'"
Atwood seems to maintain a good attitude about the whole handmaid scene. "People often do this in a very well-meaning way; they're not trying to be unpleasant. It has been the occasion when I've been speaking somewhere and I will be greeted with Handmaid's Tale cupcakes because the person doing the catering is such a fan. Will I turn up my nose at such cupcakes? No, I will not. I will not do that.
We don't blame you, Ms. Atwood. Not one bit.