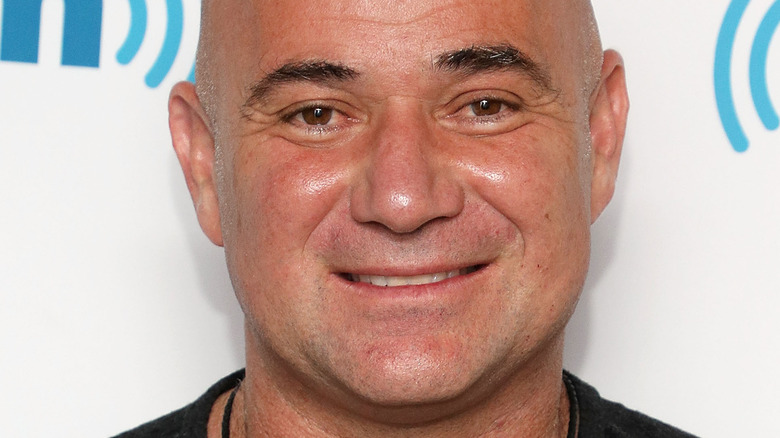 Many people dream of becoming a professional athlete, a chance to get paid millions of dollars for physical activity and delighting fans across the world. Players like NBA superstar Kevin Durant admitted that he began playing from a young age just for the sheer enjoyment of his sport. Others, like New York Yankees legend Derek Jeter, loved his sport so much that he wanted to stay involved in baseball even as he neared retirement. "I think it's the greatest game in the world," Jeter told ESPN about baseball. "So yeah, at some point, I'm sure I'll do something," he said about his continuation in the MLB outside of playing. Sure enough, Jeter became the chief executive and part owner of the Florida Marlins.
Still, there are less glamorous aspects of professional sports. From super shady owners to dark secrets that the biggest sport leagues in the world tried to hide, playing professional sports isn't always a homerun of fun. During his Pro Football Hall of Fame induction speech, former running back Curtis Martin admitted he only signed up to play football to appease his mother, adding "I didn't initially like playing football."
Some athletes admitted the huge paychecks were a reason to keep playing while others felt like it was a fluke they made it to the top of their respective sport. Going further, some athletes, like the ones on this list, even talked trash about their own sport.
Chris Kluwe had other passions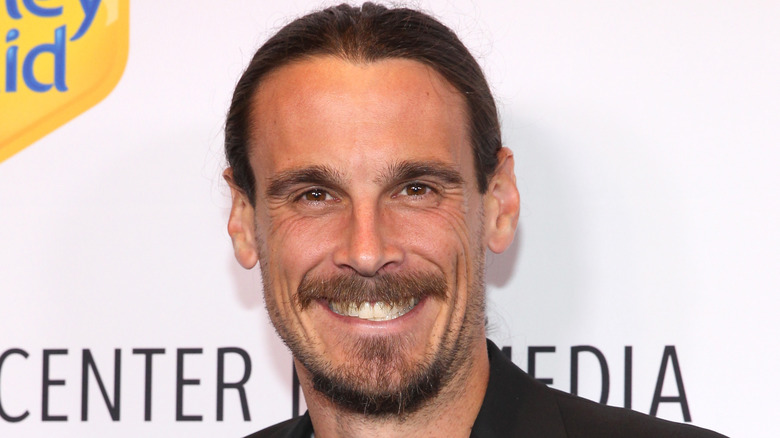 While perhaps not the most glamorous position, a football punter is still an integral part to the team. Chris Kluwe was a professional punter for the Minnesota Vikings but enjoyed many hobbies outside of football, like performing in a band and playing video games. In fact, Kluwe admitted that he was never a big fan of football. Even more, his career as a punter was so slow sometimes that he would use his spare time to paint figurines during practice, The Guardian reported. Yet, one of his most memorable moments in the league was using his celebrity to be an open supporter of same-sex marriage before it became legal.
Kluwe claimed that his work as a spokesperson for the Minnesotans for Marriage Equality group in 2012 didn't sit well with all the coaches and Vikings administration. Head coach Leslie Frazier allegedly told his punter "I needed to be quiet, and stop speaking out on this stuff," Kluwe wrote for Deadspin. He also claimed the Vikings special-teams coordinator Mike Priefer, who Kluwe called a bigot, began using homophobic words in front him. As a result of continuing to be a vocal supporter, Kluwe believed this is the reason the Vikings released him from the team in 2013.
Kluwe became an author and an opinion writer for publications like NBC about controversial matters in sports. For example, he explained why he felt high school coaches should not be allowed to lead in team prayers, for the Star Tribune.
Brock Lesnar took a beating from wrestling
When he entered the ring, Brock Lesnar was one of the most feared men in wrestling. As a newcomer to professional wrestling, he beat Dwayne "The Rock" Johnson in the main event of the 2002 WWE SummerSlam. Showing he was more than a wrestler, Lesnar briefly joined the Minnesota Vikings as a pro football player. Lesnar quickly found himself in brawls on the field, once during a scrimmage against the Kansas City Chiefs, he told CBS. The Vikings dropped Lesnar after a few pre-season games due to injuries, per Chiefs Wire. Part of the reason for Lesnar leaving the WWE may have been due to his relationship with the sport. Even though he was one of wrestling's biggest stars -– both in size and popularity -– Lesnar struggled in his career.
Rey Mysterio, one of Lesnar's fellow wrestlers, claimed that Lesnar was miserable right before he left to join the Vikings in 2004. While on the same flight together, "I just saw Brock biting the f*** out of his nails and looking at a picture of one of his kids. It really hit him, the fact that he had to travel so much," Mysterio told ESPN. "I felt like I was a trapped animal," Lesnar once said on a WWE podcast, via The Big Lead. The travel was one of the hardest parts for Lesnar because he believed, "I was built to be in the ring. I wasn't built to get from ring to ring."
Elena Delle Donne hated her work-life balance
On the court, basketball player Elena Delle Donne is a dominating force in the WNBA. Beyond basketball, she is vocal about her personal life. For example, she is openly gay and talked about her fiancée Amanda Clifton in a 2016 Vogue interview. Donne's time outside of basketball was important to her, and in the past, she felt that life as a basketball star was detrimental to her well-being. Even in college, she became burned out until transferring from the University of Connecticut to the University of Delaware. "The last time I was this happy was in high school before the whole recruiting thing started. Basketball just wasn't basketball anymore," she told the Associated Press in 2009, via ESPN. "I hated the sport … Every time I played basketball I felt sick to my stomach. I didn't realize that feeling was having to leave my family," Donne revealed.
Her time near her family was positive for Donne, and she went on to play professionally until a leg injury nearly ended her career. After winning two Most Valuable Player awards in the WNBA, she needed multiple surgeries to alleviate nerve pain in her back. An unexpected benefit to her tough road to recovery was that she once again felt a passion to play basketball. "It's a newfound me, a newfound joy of the game, knowing that this game was nearly taken from me and could be at any point," she told The Washington Post.
Andrew Bynum blamed a basketball legend
Standing at over 7 feet tall, Andrew Bynum towered over many of his opponents in the NBA. Yet his love for the game may not have been as big. One of Bynum's teammates once said, "I do know that I've never met another player in the league who likes basketball less," than Bynum, per CBS.
Bynum also was vocal about what he disliked when playing. He even went as far as to blame his own teammates, no matter who, for lack of progress in the league. When he played for the Los Angeles Lakers, Bynum said team superstar Kobe Bryant was a helpful teacher at first. Then, as Bynum became more experienced, he claimed Bryant was too selfish on the court. "Later I thought I was able to get the ball more and do more things with the ball, so I could definitely see how at the end it could stunt growth," Bynum told the Los Angeles Times.
Bynum went to the Philadelphia 76ers and later the Cleveland Cavaliers. He seemed to have trouble staying with one team, and his attitude may have been a contributing factor. Bynum's coach with the Cavaliers, Mike Brown, told reporters about the rumor that Bynum doesn't like to play basketball: "That's something that you'd have to catch up with him and ask," Brown told ESPN. Then, the Cavaliers suspended Bynum for poor conduct. Afterwards, the Chicago Bulls acquired Bynum, only to immediately release him, Sports Illustrated reported.
David Bentley never reached his potential
David Bentley was a promising young English soccer player when he started playing for the Arsenal football club in 2008. When he was only 23 years old, Bentley signed a ridiculously lucrative deal with the Tottenham Spurs for a reported £15 million (approximately $18 million), per The Guardian. "All my mates are Tottenham fans and there's a piece of my heart at this club," Bentley said after signing with his new team. "I didn't think they would be interested in me and when it became available there was nowhere else I wanted to go," he added in a statement. Except this turned out to be the peak of Bentley's career, as he bounced around to a handful of other clubs and retired in 2014 before he turned 30 years old. During the press conference when he announced his retirement, Bentley admitted to Sky Sports News, "I've fallen out of love with the game," via the Independent.
Years after stepping away from the game, Bentley explained how he went from a hopeful player to hopeless. "Football; yes, it gives you comfort but in the end it became … it wasn't exciting," he admitted to The Athletic. "I loved football but then it ran its course," Bentley said upon reflection of his career. He also was grateful for his time as a footballer and it helped him live a fulfilling life after retirement, including becoming a businessman and spending more time with his family.
Joe DiMaggio played for one reason
One of the most famous, iconic, proficient — the list goes on — players ever in the MLB was Joe DiMaggio. He played every one of his 13 seasons in the MLB for the New York Yankees and earned the nickname Joltin' Joe for his skills on the diamond. Beyond his induction to the Baseball Hall of Fame in 1955, his record-setting 56-game hitting streak in 1941 became a seemingly impossible feat to ever happen again. Fifty years later, no one matched the streak, but DiMaggio said in a 1991 interview, "All records are made to be broken, and there are quite a few records that had been broken that we didn't think would be broken." As of 2022, his record still stands unbroken in the MLB.
It wasn't his first streak, as he had one in 1933, as a rookie in the Pacific Coast League. "Baseball didn't really get into my blood until I knocked off that hitting streak," DiMaggio once said, via ESPN. It turns out that DiMaggio was perhaps less enthusiastic about his sport than he let on. "Getting a daily hit became more important to me than eating, drinking or sleeping. Overnight I became a personality."
The icon died in 1999 at the age of 84, ESPN reported, and years later, others corroborated DiMaggio's love level for baseball. "It was a means of making money. He didn't think of it as anything other than that," author Jerome Charyn explained to NPR.
Basketball affected Larry Sanders off the court
Larry Sanders was a talented big man in the NBA who was nominated for Defensive Player of the Year following the 2012 – 2013 NBA season, per NBC. As a result, Sanders signed a four-year contract extension with the Bucks worth a reported $44 million. It appeared Sanders would be a key part of the team, but due to a combination of injuries and suspensions, he played with the Bucks for only 50 games by 2015. This prompted his team to buy out the remainder of his contract, ESPN reported. Two of Sanders' suspensions came from violating the league's anti-drug policy, and he admitted just days after the contract buyout that he enrolled in a "program for anxiety and depression, mood disorders" at a Milwaukee hospital, OnMilwaukee reported. While Sanders said he enjoyed playing basketball, he blamed NBA culture for contributing to his personal problems. "There's no one really trying to guide and teach you what you should do and what you shouldn't do. You get lost. You get your money stolen," he explained.
Outside of the NBA, Sanders worked for a marijuana company as a social media manager, but despite his frustrations with the NBA, Sanders still felt he could be an impact player in the league, he told Forbes. Yet, about a year later on the "No Chill with Gilbert Arenas" show, Sanders said of his time in the NBA, "I didn't feel like a human, I felt more like a product."
Andre Agassi reveals his deep secret
In the '90s, Andre Agassi was on top of the tennis world. Known for his wild mullet hairstyle, Agassi joined the professional tennis circuit when he was only 16 years old, according to Biography. His big introduction to the tennis world came after beating Boris Becker in the 1992 Wimbledon Quarter-final round and when Agassi went on to win the entire tournament, also his first Grand Slam. Agassi went on to win several more Grand Slam titles throughout the decade, and he became a star in his personal life too. At one point, Agassi was married to actor and supermodel Brooke Shields before tying the knot with another famous tennis player, Steffi Graf, in 2001.
In his 2009 memoir "Open," Agassi shocked fans when he revealed that while he was smiling on the court and taking down opponents, in reality, there was little joy in playing. According to Agassi, he only stayed with tennis because of his dad's intense training. While he clearly had natural talent and worked hard to make it as a top professional, Agassi's mindset toward the game never changed. "I play tennis for a living though I hate tennis, hate it with a dark and secret passion, always have," Agassi wrote. Agassi's dad later admitted to Republicca, "maybe I was a tyrant, hard and severe. But I repeat, it is better (to have) father beside his son in the sport, than a coach," via Tennis World.
Chris Eubank felt punched by pro boxing
Chris Eubank was once a fighter who excelled at taking down his opponents during boxing bouts. The British boxer began fighting in the mid '80s and really started to hit his stride rolling into the next decade. He was the challenger for the World Boxing Organization middleweight title against Nigel Benn in a 1990 match. Eubank won in the 9th round, as seen in a video by Classic Boxing Matches. While clearly talented, Eubank apparently wanted to be anything except a professional boxer. He even called boxing "a mug's game" — that is, futile or dumb. "If there was an easier way to make money, I would have done it but there wasn't. I had no choice," Eubank told the Independent about his difficult upbringing. "Maybe if I'd had a choice, I might not have become a boxer," he admitted about the sport that made him famous.
Eubank had an occasional nice thing to say about boxing, but he was completely open about the aspects he hated. "It is noble to box but it's a fact that 99.9 percent of boxers get disfigured, used, abused, manipulated, and ultimately discarded," Eubank said, per the Independent. For example, he criticized managers and promoters for using the boxing talent and also claimed that some boxing matches are fixed. Given his attitude toward boxing, it's astounding that his own son became a boxer. Even more, Eubank Sr. went so far as to promote his son, the BBC reported.
Benoit Assou-Ekotto explains what it's like to play soccer
Benoit Assou-Ekotto is one of many excellent former players for the Tottenham Hotspurs. Born in Cameroon, Assou-Ekotto moved to France and became a pro player at the age of 16 before ending up in England with Tottenham. While players dream of such an opportunity, Assou-Ekotto explained why he made the move. "Why did I come here? For a job. A career is only 10, 15 years. It's only a job," he admitted to The Guardian. "Yes, it's a good, good job and I don't say that I hate football but it's not my passion," Assou-Ekotto elaborated. While he claimed that he put in maximum effort anytime playing or practicing, Assou-Ekotto treated soccer strictly as work. "After, I am like a tourist in London … I take the tube. I eat."
After retiring, Assou-Ekotto said he rediscovered his passion for the game by playing as an amateur in France with no remuneration. Still, Assou-Ekotto maintains that many professional soccer players are interested in a contract's value instead of a certain team or location. He also conceded that his comments in 2010 may not have been the smartest move of his career. "I don't think it helped me being so honest, but I am like that," Assou-Ekotto told The Athletic. "It's good for business to say, 'I love the club, I love the fans, blah blah blah… oh s*** (I've moved to) another club'. I'm not like that," he explained.
Serena Williams' thoughts on tennis are changing
Serena Williams began playing tennis at a young age with her older sister Venus. With their dad Richard as the coach, both sisters would become two of the greatest tennis players ever. Their incredible story was dramatized in the movie "King Richard," with Will Smith playing the title character. Williams debuted as a professional in 1995 when she was only 14 years old, per Tennis. After stepping away for a few years, Williams returned to tennis, and by 1999, she won her first Grand Slam at the U.S. Open.
Williams kept winning more and more titles, but the longer she stayed on the tour, her love of the sport began to wane. "I mean, I don't love tennis today, but I'm here, and I can't live without it … so I'm still here and I don't want to go anywhere any time soon," she told TennisNow in 2012. "It's not that I've fallen out of love; I've actually never liked sports, and I never understood how I became an athlete," Williams said. More than just not liking tennis, Williams admitted that she would prefer a less active lifestyle. "I don't like working out; I don't like anything that has to do with working physically."
She continued to play, became a mom, and after nearly a year off, Williams returned to play at Wimbledon in 2022 as a 40-year-old. After losing, Williams hinted that she wouldn't retire just yet, per NBC.
Gary Lockett would rather be doing something else
It's hard to deny that boxing is a brutal sport. Yet, there is something inspiring about going head-to-head with someone in the ring, as evidenced by famous films like Sylvester Stallone's "Rocky" franchise which delves into the struggles and triumphs of boxing. The Welsh boxer Gary Lockett felt no such inspiration. "On Saturday nights you won't find me traveling the length and breadth of Britain watching boxing shows," he told the BBC about his free time. Instead, "you'll find me at home having a meal with my wife and playing with my young son." In fact, Lockett claimed he was only in boxing for the money. Still, he was grateful for his career as a boxer to earn enough money to spend this time with his family after retiring. "I'm fortunate enough to have no financial worries as I invested all the money I earned from boxing into property," he explained.
Lockett never fully stepped away from the sport and became the trainer for boxer Nick Blackwell. Ironically, Blackwell went up against Chris Eubank Jr., whose dad openly talked trash about boxing. Even after Blackwell recovered from a career-ending coma as a result of the fight with Eubank Jr., Lockett still viewed boxing in a positive way and said training never felt like work to him. "I've been involved in boxing 30 years and, even with kids who've never boxed, you see the difference it makes. It's a wonderful, wonderful sport," he told The Guardian.
Teams didn't want Adam Dunn
Adam Dunn was a power hitter who was inducted into the Cincinnati Reds Hall of Fame for his outstanding output, including 270 home runs in his eight seasons with the baseball team. Dunn said he was honored: "To be able to go show my kids one day, if they even care … it's really cool" that he is among other Reds greats. Back when he was a player, Dunn had a mixed reputation beyond his high strikeout rate. A caller asked Toronto GM J.P. Ricciardi during a radio show if Dunn's powerful bat would be a good addition to the team. "Do you know the guy doesn't like baseball that much? Do you know he doesn't have a passion to play the game that much?" Ricciardi responded, via the Toronto Star. Ricciardi continued that fans wouldn't like to have Dunn on the team because allegedly, "We've done our homework on guys like Adam Dunn, and there's a reason why we don't want Adam Dunn."
Dunn refuted the claims and looks back fondly on his time as a pro. "I loved being on the field. I wanted to play every single game, and I never asked for days off," Dunn told ESPN. Though once he retired, Dunn confessed, "I'm gonna be honest -– I do not watch much baseball." He also admitted that toward the tail of his career, he felt no respect from younger players. "Team chemistry. That part of the game is dead, in my opinion," Dunn explained.
Colin Kaepernick's complicated relationship with the NFL
A biracial orphan, Colin Kaepernick grew up with his adoptive parents and embraced the family's diversity. "We were always very open about the skin colors," his mom told The New York Times about Kaepernick's upbringing. This openness about race became a national conversation when the QB famously kneeled to protest racial inequality and police brutality during the playing of the national anthem at NFL games. Others followed Kaepernick's lead, and many players joined in the protest, per Sports Illustrated. This started to create an even bigger distance between some players and the NFL, especially during Black Lives Matter protests. "We, the NFL, admit we were wrong for not listening to NFL players earlier and encourage all to speak out and peacefully protest. We, the NFL, believe Black Lives Matter," the NFL posted on Twitter in 2020, almost four years after Kaepernick first began his protest. Even with the statement, Kaepernick still appeared blacklisted from the league for many years, seemingly as a result of his actions.
Looking back at his time in the league, the former pro compared the NFL to slavery. "Before they put you on the field, teams poke, prod and examine you searching for any defect that might affect your performance," Kaepernick said in a Netflix documentary, via NBC. He elaborated that in his opinion, the NFL gives its players "no boundary respect. No dignity left intact." Still, it appeared the QB was planning a comeback by working out with the Las Vegas Raiders in 2022.
Erik Dickerson lost respect for football
Coming out of his college football years at Southern Methodist, Eric Dickerson was one of the most promising young players entering the NFL in 1983. With his combination of speed and power at the running back position, Dickerson became Rookie of the Year, then later a Pro-Bowler, and ultimately an inductee into the Pro Football Hall of Fame. Away from the game, Dickerson began to reveal what it was like to be in the NFL. "I bet if you talked to 100 players, I bet you 85 to 90 of them are going to say they hate the NFL. I just think that's sad," Dickerson told The New York Times. According to the former pro, it wasn't just Black players who were against the league, but most of the athletes shared a similar belief to his own. "They [the NFL] just want you to go somewhere and die. They don't want to help you, they don't give a damn about you." In summary, Dickerson noted: "The NFL is another no-good entity."
Though he didn't receive any health coverage during his years in the league, he continued to push for rights he felt players deserved and became a supporter of introducing mandatory health care for former players. As chairman of the Hall of Fame board, Dickerson wrote a letter to NFL commissioner Roger Goodell, demanding the league provide all the football Hall of Famers with health insurance plus an annual salary, via ESPN.