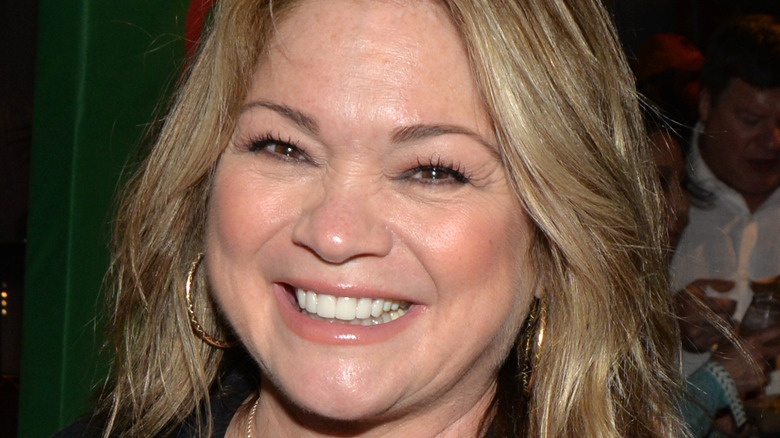 We may receive a commission on purchases made from links.
"One Day at a Time" star Valerie Bertinelli has been acting since she was a child. After scoring a role on the beloved sitcom, she became a household name in the mid-1970s. The actor then went on to marry one of the most famous musicians of all time and cultivated a multifaceted career in showbiz that has spanned decades. Indeed, Bertinelli's stayed very busy since she first stepped on the "One Day at a Time" set — and she has, of course, changed in looks, too. The star grew up in front of America and later experienced heartbreak and extreme shifts in her weight, keeping a good attitude through it all and not letting life's difficulties keep her down — but more on all of that below.
These days, Bertinelli's career is as bountiful as ever, as she told Forbes in January 2022, "I'm really excited! I have a lot of work ahead of me but it's all fun." However, she's been through a lot to get here, particularly when it comes to recognizing how her own self-worth has nothing to do with her appearance or others' opinions. "I think I'm just so old right now that I just don't give a flying f***," the "Enough Already: Learning to Love the Way I Am Today" author quipped to the outlet. "… I care more about what I think about myself."
Let's follow the multi-talent's empowering journey with the transformation of Valerie Bertinelli from age 15 to 61.
Inside Valerie Bertinelli's life as a child actor
As an admittedly "shy" kid, Valerie Bertinelli's mother had her take some acting classes to help bolster her confidence — and by the time she was 11 years old, the future star started scoring commercials, including a starring gig in a JC Penney ad, per People. However, the star's fans were really introduced to Bertinelli on a much larger scale when she was a teenager. She first landed a televised guest role on "Apple's Way," and at just 15 years old, the actor was cast as Barbara Cooper on the hit sitcom "One Day at a Time." With that longtime acting job, Bertinelli grew up on camera, staying with the show for its full 209 episodes until it ended in 1984.
"It was wonderful to grow up on that set. I learned so much," she told Entertainment Weekly in 2020. "… I knew at the time, before I made my entrance [in the pilot episode taping], as a young 15-year-old girl I was thinking, 'This is going to change my life. This is real.'"
But "One Day at a Time" wasn't Bertinelli's only gig at the time. Per IMDb, her acting credits while filming the show also included roles on a couple other television series, as well as several made-for-TV movies. And although she was one of the most famous teenagers in 1970s America, Bertinelli still managed to maintain a normal childhood — at least by Hollywood standards — spending her time off-set in high school, with friends, or helping out with chores.
Details on her marriage with Eddie Van Halen
Valerie Bertinelli didn't just grow up in front of America's eyes, she got married during her "One Day at a Time" days, too. Per an interview with Oprah.com, Bertinelli met Eddie Van Halen, guitarist and songwriter for rock band Van Halen, at one of the group's concerts after the actor's brothers enlisted her star-power help to achieve their goal in going backstage. "I saw a picture of Ed, and I went, 'Oh yeah, I'll be going. He's a cutie,'" she said, quipping that after meeting in person, "You had to peel me off the floor."
Van Halen was clearly taken with Bertinelli, too, but seemingly followed the popular three-day dating rule before calling her up. As the actor put it, "We never separated from then on." Indeed, less than a year later, the pair wed in April 1981, just days before her 21st birthday.
The beginning of Bertinelli and Van Halen's marriage was seemingly idyllic. "I love it. Best thing I've ever done," Van Halen told People of his marriage. And Bertinelli agreed. "I've never felt better or more happy," she said, adding the two soon wanted to have children, but planned to wait until their careers allowed them both to be present.
Valerie Bertinelli became a mother
As previously mentioned, Valerie Bertinelli's marriage to Eddie Van Halen seemed perfect on the outside, but the two were unfortunately struggling internally. Both Bertinelli and Van Halen were using drugs, and each cheated on the other at different times in their marriage. As Bertinelli told the "Today" show, "I did, four years into our marriage, cheat, and it was a shame and it was a guilt that I carried with me for a very long time."
Despite their marital issues, the two stayed together for two decades. In 1991, after 10 years of marriage, Bertinelli gave birth to their son, Wolfgang "Wolfie" Van Halen, as told by Page Six, and her main focus quickly became less about her Hollywood prospects and more about raising her child. As she later told Good Housekeeping, "When he was little … I would hate to put him down — my whole world was him."
Although the birth of their child didn't improve their marriage, the two adored their son. In 1993, the longtime couple even appeared on an episode of "The Arsenio Hall Show" and brought their toddler son along. They doted on him the entire segment, noting the musical talent they saw already at a young age.
All about her divorce from Eddie Van Halen
Throughout the 1990s, Valerie Bertinelli was busy with motherhood. As she told the Toronto Star, "I pretty much took myself out of the business to raise Wolfie, with the odd job here and there." Per IMDb, some of those odd jobs included multiple made-for-TV movies, and she starred in the short-lived television show "Cafe Americain," on which Eddie Van Halen once guest-starred. At the time of filming his episode, their marriage was still intact, with Bertinelli telling the Chicago Tribune, "We laugh because we're always hearing we're unhappy … every six months, some tabloid comes out and says we're breaking up."
Unfortunately, about eight years after sharing that insight with the paper, rumors of Bertinelli and Van Halen's marital demise were more than just tabloid fodder. In 2001, the two separated. "One of the many reasons that Ed and I split up is to give Wolfie a better version of what two people who are supposedly in love treat each other like," Bertinelli told Oprah.com of their divorce.
However, the former couple's divorce was not finalized until 2007. During that time, Bertinelli kept working, even playing a role in the later seasons of popular television drama "Touched by an Angel."
Valerie Bertinelli struggled with her weight
After her separation from Eddie Van Halen, Valerie Bertinelli struggled with weight gain. Having used food as a way to cope with the emotions stemming from their divorce, she shared with Oprah.com, "Those were some of the darkest days of my life, and I was eating my way through them. I became a hermit." Bertinelli wasn't a total hermit, though, as she kept working post-separation. But after seeing herself in the Hallmark Channel's 2007 film "Claire," the actor felt embarrassed by her appearance — however, her change in weight affected more than just her looks.
Opening up to the Toronto Star, Bertinelli revealed, "My knees were hurting. I couldn't run. I couldn't play football, which we love to do. … I wasn't comfortable in my skin." After seeing herself on television and losing the ability to participate in a favorite activity, Bertinelli set out to lose weight, eventually shedding 40 pounds. The actor even detailed her weight loss in her 2008 memoir "Losing It: And Gaining My Life Back One Pound at a Time."
While her headline-making divorce exacerbated her weight struggles, the star revealed that her body image issues actually stemmed from childhood. Having grown up in an industry hyper-focused on looking a certain way, Bertinelli noted to Forbes in January 2022 that if she could tell her younger self anything it would be this: "You're not fat. You're beautiful, just as you are."
She became a spokesperson for Jenny Craig
Valerie Bertinelli did what all good celebrities do: She capitalized on a major life event. For the former child actor, that meant becoming a spokesperson for Jenny Craig. She told Oprah.com how she thought "this might be just what I need to kick myself in the butt and be accountable because I'm certainly not accountable to myself."
Bertinelli appeared in several commercials while performing her spokesperson duties, often noting how much she enjoyed the food. In an interview with ABC News' "Nightline," the actor explained the role food played in her life, saying, "I could still be on coke right now but that isn't my love. Food is my love. … That's how I was feeding my fears and calming my emotions, was through food." She culminated her weight loss journey by appearing on the cover of People magazine in a bikini in 2009, sharing how it took her two years of dieting and exercise to reach her new weight.
Sadly, it seems Bertinelli's physical transformation at the time ultimately did little to help her work through her longtime body image issues. "I bought into all the diet industry and all of it. I was on the cover of a magazine in a bikini, and it still didn't make me happy," Bertinelli admitted to Forbes over a decade later, having previously noted that "from a very young age, I learned that weight gain makes you unlovable, which is a lie, but I'm still at this age trying to dig it all out."
Valerie Bertinelli found new love and a new sitcom
After debuting her new body, it was announced that Valerie Bertinelli would be returning to the sitcom world with "Hot in Cleveland," per Cleveland.com. She starred alongside Jane Leeves, Wendie Malick, and the late Betty White in the series from 2010 to 2015, but only had one other acting gig while shooting the show, per IMDb.
However, Bertinelli didn't just get a new job in 2010 — she got a fiancé, too. After separating from ex-husband Eddie Van Halen, Bertinelli began dating Tom Vitale in 2004. The two had an instant connection, with the businessmen later telling AARP, "We just understood each other completely. … It wasn't love at first sight; it was family at first sight." With the early days of their relationship falling smack-dab in the middle of Bertinelli's weight loss journey, she told the outlet, "He loved me no matter what. In his way, he's teaching me to love myself just as I am." However, she still didn't see their engagement coming six years after their initial meet-cute, admitting, "We'd talked about getting married, but I was still shocked."
Months after Vitale popped the question, 2011 saw the two marry in an intimate ceremony at Bertinelli's home in Malibu, California, per The Hollywood Reporter, with both Bertinelli's son, Wolfie, and her musician ex-husband in attendance.
The actor also found a new home on Food Network
After wrapping "Hot in Cleveland," Valerie Bertinelli took on a new career venture. In 2015, the actor landed her own show on Food Network, "Valerie's Home Cooking," where the star shares what she makes for her friends and family. "I've been a Food Network fan for way too many years. And to actually be on the network now and [be a] part of the family is just a dream come true," she told FN Dish of the opportunity.
As previously mentioned, Bertinelli had been very open about her love for food in the past, so the transition seemed natural. Fans may have been a bit surprised to learn, though, that the longtime actor felt more at home showing off her culinary skills. As Closer Weekly reported, Bertinelli opened up at the TCA Winter Press Tour about her shift from acting to cooking, saying, "I was never quite comfortable acting. Now, I'm just able to be me and cook."
The actor-turned-chef has since established a good relationship with her new home network, starring on additional shows like "Kids Baking Championship," per her Food Network bio. As of this writing, Bertinelli can still be found cooking on Food Network, and in 2021, per Deadline, signed a new deal extending her contract with the channel.
What's Valerie Bertinelli's life like today?
At the time of this writing, Valerie Bertinelli is as busy as ever. Not only did she re-up her contract with Food Network in 2021, but she's also slated to return to acting and star in another sitcom called "Hungry" alongside Demi Lovato, per Variety. The TV chef also released a third memoir, "Enough Already: Learning to Love the Way I Am Today," in 2022, and she's worked with the "Today" show to share healthy recipes while working to change her own relationship with food.
Unfortunately, Bertinelli has also experienced more heartache in recent years. In 2021, she filed for separation from her second husband, Tom Vitale, per ET; and in 2020, she lost her first husband, Eddie Van Halen, following his throat cancer diagnosis. Bertinelli has since opened up about her relationship with Van Halen following their divorce, sharing on the "Today" show, "I'm so happy that we were able to come to a beautiful place by the end of his life. I wish he was still here."
Although she's suffered loss, Bertinelli has maintained a strong relationship with son Wolfie, whose 30th birthday she celebrated in May 2021. "I'm so ridiculously proud of the man you are," she gushed on Instagram. Meanwhile, the star celebrated her own milestone birthday the previous year. Upon turning 60, Bertinelli opened up about the "gratitude" she feels for her life, telling Hoda Kotb, "I want to bring happiness to this world." She certainly does.