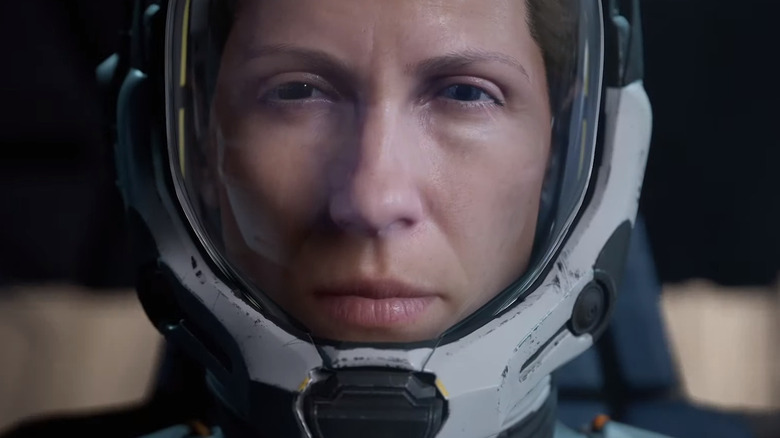 "Returnal" released in 2021 and quickly earned a place among the best games of the year. The sci-fi roguelike centers on the tale of Selene, an explorer stranded on a hostile alien world and caught in a time loop. Players enjoyed unraveling the mysteries of the strange planet as they fought monsters, explored an ever-changing environment, and tried to make it to the end without dying and being sent back to the start of the loop again. The dark and suspenseful story combined with tense gameplay made for a winning combination that kept gamers coming back for more and hoping for a "Returnal 2."
"Returnal" likely felt familiar to more than a few fans due in large part to the heavy influence of the "Metroid" series evident in the mechanics and protagonist. In addition to the "Metroid" vibes, it may have struck a chord because of the main character's voice, provided by Jane Perry. If Selene sounded familiar to you, there's a reason. Prior to bringing the lead of "Returnal" to life, Perry enjoyed a long and successful career as an actor, appearing in numerous movies, shows, and games. She drew on this experience and a dark approach to prepare for her role in "Returnal."
Perry got her start with smaller TV roles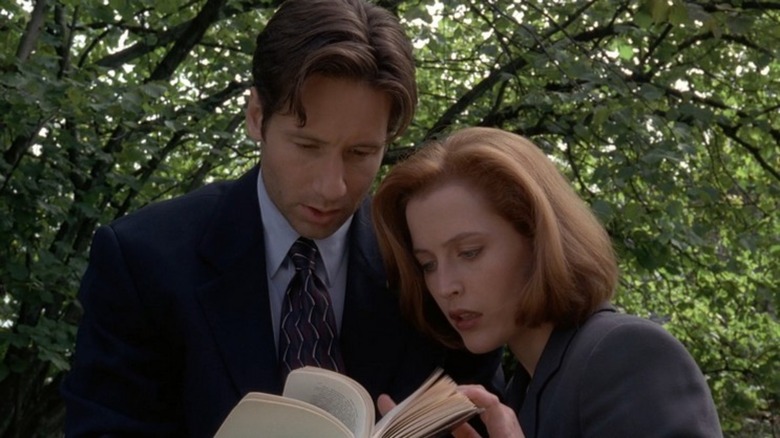 While Jane Perry's acting career kicked off in the late '70s, she didn't land parts in major series until the '90s and early 2000s. Starting with two minor roles in "The X-Files," she went on to appear in "Millennium," another show developed by "The X-Files" creator Chris Carter. She performed in two episodes of both series, playing a different character for each appearance. These two shows share a deeper connection — they officially take place in the same universe, with the Season 7 "The X-Files" episode "Millennium" serving as a finale to the "Millennium" series due to its cancellation before it could complete its story.
Perry also got into voice acting during this time, lending her voice to English dubs of "Dragon Ball Z." In seven episodes spanning three years, she played Mrs. Briefs, also known as Bikini. While these were fairly minor appearances, they served as stepping stones to larger projects, including voice acting in video games.
Transition to video games with Hitman and others
Following up her TV successes, Jane Perry branched out into video games. In 2013, Perry appeared in "Crysis 3" as Tara Strickland, the CIA operative turned U.S. Senator fighting the influence of C.E.L.L in the government. While the character plays a less prominent role in the title than in "Crysis 2," it still helped establish Perry in the industry.
In the following years, Perry got lots of practice acting in sci-fi and horror entries, voicing Captain Diane Verlaine in "Alien: Isolation" in 2014 and several supporting characters in "SOMA" in 2015. Both of these offerings were hits with critics and horror fans and rank among the greatest horror games of all time, as well as the scariest games popular streamer Markiplier has ever played.
Perry also landed the role of Diana Burnwood, Agent 47's handler, in the 2016 revival of the "Hitman" series. Perry told Dan Allen that it was her performance as the tutorial voice in "Hitman: Absolution" that earned her a bigger presence in the franchise going forward. She later reprised this role in the sequels, landed more video games, and even made the jump to major films.
More supporting roles in films and games
In the mid to late 2010s, Jane Perry ventured into the realm of major motion pictures. She appeared briefly in "Fantastic Beasts and Where to Find Them" in 2016 and played Mrs. Vaughan in "Phantom Thread" the following year. Perry had nothing but positive things to say about her experience on "Phantom Thread" while speaking on the Dan Allen Gaming podcast, praising Paul Thomas Anderson's directing style and expressing her joy at getting to work with Daniel Day Lewis.
Perry also continued her work in video games, reprising her role in "Hitman 2," voicing another tutorial with "Assassin's Creed: Odyssey," and portraying Jayne Johnson, the exposition-delivering news anchor in "LEGO The Incredibles." In 2019, she got more experience in mystery and psychological suspense when she voiced Betty in the indie title "Draugen." While it didn't receive much mainstream attention, this tale of a man searching for his sister in a strange town was still well-received and is a great fit for players looking for games like "The Dark Pictures Anthology: Little Hope."
Perry brokeout as Rogue in Cyberpunk 2077
2020 was a bit of a breakthrough for Perry. She portrayed a major supporting character in a highly anticipated AAA release, voicing Rogue, the former ally and lover of Johnny Silverhand, in "Cyberpunk 2077." The character has a long history in the lore of "Cyberpunk" and, during the time period of the game, is considered the best fixer in Night City.
Rogue plays a prominent role in "Cyberpunk 2077," taking part in the main plot, as well as offering the player several gigs and side jobs to complete. Further, she's a possible romance option if V plays their cards right and completes the requisite jobs. Rogue interacts with Keanu Reeve's Silverhand, which Perry found particularly thrilling. Unfortunately, unlike with "Phantom Thread," Perry never got to meet the star. The voice work, which Perry described as "a lonely experience" in a 2021 interview, didn't involve motion capture or any collaboration with other actors.
While "Cyberpunk 2077" had its problems at launch, Rogue was one of the biggest roles of Perry's career up to that point.
Challenging players as Sharon in As Dusk Falls
2021 brought Jane Perry's first chance to play a leading role with "Returnal." Since then, she's followed up with more video game work, voicing Sharon in "As Dusk Falls." The premier title from Interior/Night innovated on the standard interactive drama formula by including a more robust form of multiplayer. The release received acclaim from critics, with special attention paid to its dialogue and voice acting.
In July of 2022, Perry attended a party to celebrate the launch of "As Dusk Falls." She tweeted her gratitude at getting to meet the team that developed the experience, something voice actors don't always have the opportunity to do. With Perry taking on major roles in two well-received games in a relatively short period of time, it appears her star is on the rise. Look and listen for her to make an appearance in more big titles in the years ahead.