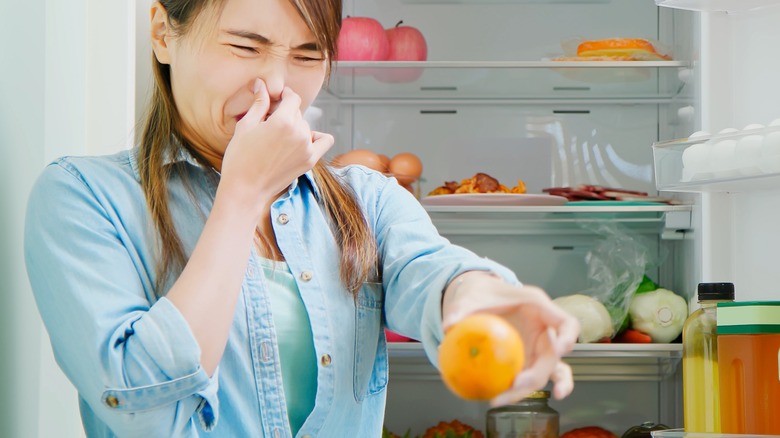 We've all done it: It's been a few days since you've been to the store, and some of the things that you bought are still sitting at the back of your fridge, waiting to be eaten. You open up the package, take a sniff, and it doesn't smell bad, but things are definitely a little … well … unusual. But what's the worst that can happen, right?
Unfortunately, playing with fire around old food can leave you burnt pretty quick. Food poisoning affects almost 50 million per year in the U.S. (that's roughly one in six people), with well over 125,000 people ending up hospitalized (and roughly 3,000 deaths) as a result of eating contaminated food (per the CDC). For this reason, expiration dates are industry-standard, to ensure that you have a guideline around how long you can expect your food to last safely.
But in a world of preservatives and long-life products, how do we differentiate the foods that are actually bad for us when we eat them from the foods that aren't? That's where we come in, folks. Let's take a look at the foods that are firmly off-limits once they're expired.
First things first: What do all the different dates mean on your food packaging?
If you've ever looked at the back of food packaging expecting to see a single date that'll tell you when you eat it and instead seen two or three numbers, you're not alone. Different manufacturers will mark their products with different dates to guide consumers and stores on when food should be sold, used, or enjoyed optimally, according to EatingWell.
It's useful to know exactly what date to be looking for, while also taking in all the numbers. "Sell-by" dates are usually least relevant to the buyer, and instead instruct the seller on when they should be shifting items off their shelves. Eating food past the sell-by date is usually not a problem, and it's more of an indicator of quality. "Best if used by" dates are more consumer-focused, and will generally tell you when your food is going to be at its peak condition.
"Use-by" dates, though, are the ones that you really need to look out for. Although these dates will tell you when your food items will start to lose their quality more significantly — but won't really indicate that food has gone off — it's the last checkpoint before some things start to get less safe to eat.
If your eggs are past their expiration date, it's best to throw them away
In some ways, eggs are pretty problematic, folks. Not because of any dietary aspects (or because of anything they've Tweeted), but because thanks to the egg yolk and white nestling inside a shell, it can be difficult to tell when they've gone off. It's important to figure out how to do so, though, because when eggs do go off, they can pose some pretty serious health problems, with infection from Salmonella being a real possibility (via Medical News Today). Salmonella infections can last up to a week, and in serious cases may require medical intervention, with vomiting, diarrhea, and fever being common symptoms.
Luckily, there are a few ways to tell whether an egg's bad or not, even if you're not planning on cracking it. Egg shells can appear powdery or slimy on their surface, indicating spoilage, says Healthline. You can also perform a simple float test by pouring out a bucket or tub of water, then placing your eggs in it so that it's completely submerged. If they stay at the bottom of the water, they're still okay to eat. Eggs that tilt upwards or float, however, have generated additional air in the shell, indicating that they could be past their prime. If you're cracking your eggs before eating them, you can also try sniffing them — any strange smells will indicate that they're not good to eat anymore.
Meat is very risky past its expiration date
Of all the foods you should be throwing away once they're past their expiration date, meat is probably the top one. Meat can quickly turn from fresh to rancid, with a grey discoloration or tint occurring, alongside a noticeably "off" smell that can be reminiscent of ammonia or sulfur, according to Livestrong. The meat can also feel slimy to the touch.
When this starts to happen, it's time to get rid of it, because some pretty harmful consequences can happen if you don't. Although meat that's past its prime may not make you sick (and cooking it thoroughly will reduce your chances of this further), there's a range of bacteria that can reside and thrive in old meat that could prove troublesome. E. coli, Staphylococcus, Salmonella, and Clostridium can all contaminate your meat and lead to food poisoning, the symptoms of which can include vomiting, diarrhea, and fever.
Aside from the expiration date on your food, it's useful to have a general idea of how long uncooked meat can stay fresh. Poultry and ground meat will generally go off the fastest, lasting just a few days in your fridge. Steaks may last a little longer, and will generally stay fresh for five days or so.
Make sure to throw away your milk once it's past its expiration date
Milk shouldn't be messed with. A refreshing glass of something white can quickly turn into something more troublesome, and if your milk has passed its expiration date, it's best to throw it away. Milk starts to spoil when it grows bacteria, and this can happen even if it has undergone a pasteurization process — especially since, once it's opened, it can take on the bacteria in the open air (via Healthline).
When milk starts to spoil, you'll generally know pretty quickly, as it will start to smell pretty foul. It may also have an unpleasant taste if you drink it, with an acidic or sour undertone. Luckily, for these reasons, you'll generally be able to avoid drinking it unintentionally (and we'd wager that you'd be pretty unlikely to want to drink it intentionally!), but if for any reason you do, you should be aware that it can lead to food poisoning.
Most milk will generally be good to drink for up to a week if it hasn't been opened; once opened, milk should be consumed within a few days (per Healthline).
If you don't eat fish before it expires, it can cause food poisoning
A fillet of fresh fish can make a perfect evening meal, but once that fish starts to turn, it may become problematic pretty quickly.
Food poisoning from fish can be especially nasty, with scombroid and ciguatera food poisoning being the two most common types, according to Family Doctor. Scombroid food poisoning generally comes on pretty quickly and may cause symptoms that can be mistaken for an allergic reaction, with hives, stomach pain, and vomiting being pretty common. Ciguatera food poisoning can cause similar symptoms, with gastrointestinal symptoms being the most common. Ciguatera poisoning will also generally announce itself with unusual symptoms or feelings around the mouth area, with your tongue, lips, and teeth feeling different and potentially numb.
That's why you should always be checking the expiration date, as well as having a good general sense of how long fish can last safely after being bought. Fresh fish and shellfish generally have a pretty short lifespan in your fridge (only 1-2 days), says the USDA. If you're freezing your fish, however, they'll last longer, with lifespans ranging from a few months to up to a year for frozen shellfish.
Soft cheeses can be dangerous if you're eating them past their expiry date
There are few things more pleasurable in life than biting into a bagel smothered in cream cheese. But unless you want to put your health at risk, it's important to be aware of what can happen to soft cheeses after their expiration date has passed.
Spreadable and soft cheeses like ricotta, cream cheese, and cottage cheese have a higher water content than hard cheese. This can create opportunities for microbes to thrive, as "anything with a high moisture content will allow the bacteria and mold to move easily from one section of the food to another," says registered dietitian nutritionist and Academy of Nutrition and Dietetics spokesperson Isabel Maples via Prevention.
The list of bacteria that can grow on soft cheese and potentially harm your health is pretty long, too. Listeria, Salmonella, Campylobacter, E. coli, and Cryptosporidium are all bacteria that could potentially cause infection from cheeses made from unpasteurized milk products, all of which may lead to food poisoning. It's for this reason why you should generally keep a close eye on your food and throw away anything that looks like it's started to turn, says Maples. You should generally keep your soft cheese in the fridge for no longer than a week.
Keep an eye on your jarred goods and condiments
It's pretty easy to assume that jarred goods will keep pretty much forever, especially if they're in the fridge. And it makes sense to think so: Heat-treated foods that end up in a jar or can, when unopened, have an incredibly extensive shelf life, with some of them lasting for several years without spoilage (via the USDA).
Where problems occur, however, is when these jars are opened, allowing air to come into the product and bacteria to start to thrive — and that's when you have to be a little more careful with any use-by or expiration dates. Take tartare sauce, for example. As a sauce that you may only use now and again, jars of tartare sauce can sit in your fridge for weeks on end between spoonfuls on your fried fish, and as it contains egg, this can lead to it becoming unsafe to eat, advises dietitian Sarah Schenker (via Which). Likewise, jarred pesto can quickly generate mold thanks to the nuts in it, and may provide a site for aflatoxin to grow, which can harm your liver.
If your oil is past its expiration date, throw it away
We all have that bottle of oil sitting at the back of our pantry somewhere. You know, the one you bought at a market or on holiday on some gorgeous Greek island, and you've used a grand total of one time? Surely it'll be okay to use again, right?
Well, while oil may seem like a safe bet to use gradually for years on end, you might want to pay attention to its expiry date. Oils can become rancid surprisingly quickly, which leads to them developing a pretty unpleasant taste and smell, according to Livestrong. And while rancid oils may not lead to food poisoning as other past-their-prime foods do, they may be more damaging to your health in the long term, according to a study published in the Journal of Food and Nutrition Sciences. The researchers conducting the study found that when oils become rancid, they can develop free radicals — molecules that can wreak havoc in your system — leading to oxidative stress and contributing to a range of long-term chronic conditions.
Be careful with any lettuce that's past its expiry date
Fresh lettuce is a thing of beauty. Crisp and crunchy, these refreshing leaves are the perfect thing to toss into a salad for an immediate health kick. Unfortunately, though, lettuce can go from tasty to terrifying pretty quickly. It's important to keep an eye on when your lettuce's expiration date is and to throw it out once it's passed, says Livestrong. Lettuce is an especially common vehicle for E. coli food poisoning (per the CDC). This nasty bacteria can sit in your system for days without doing any damage, before suddenly making itself known by causing stomach cramps, vomiting, and fever.
This is why it's imperative to throw away any lettuce that's gone bad or is starting to feel a little too old. You can tell when lettuce is on the turn because it can start to emit an unpleasant odor or feel a little slimy to the touch. Bear in mind that different varieties of lettuce will keep for different lengths of time. Loose-leaf and butterhead lettuces will stay fresh for around five days, whereas romaine lettuce will last a little longer, potentially up to a week (per EatingWell).
Potato salad that's gone past its expiration date is pretty risky to eat
It's a tale as old as time. You get home from a barbeque or a buffet, and a few hours later, you start to feel a little bit worse for wear. As you're hunching over the toilet bowl, you cast your mind back to what you ate. That potato salad … You knew it.
Unfortunately, there's a reason why potato salad is so often blamed as the culprit for food poisoning, as once it's past its prime, it can become pretty dangerous. This happens through the process of combining potatoes (which are low-acidity) with the higher-acidity mayonnaise, says NC State University. When this occurs, bacteria like Clostridium perfringens and Staphylococcus aureus can thrive. This is generally not a problem when potato salad is kept in a cold environment (below 5 degrees Celsius), but when it's put on a table on a hot day, things get bad fast. "For example, above 90°F, foodborne pathogens in potato salad increase tenfold in as quickly as an hour. In ideal temperatures for bacteria, such as body temperature, bacterial populations can double in less than 20 minutes," says NC State University food safety researcher Ben Chapman. That's why it's essential to keep an eye on it and throw out once it's past its expiration date.
Your canned foods will probably last longer than you think — but never eat from a can that's compromised
You'd be hard-pressed to find a pantry around the country that didn't have some can lurking at the back of it, bought years ago and forgotten about forever. When it comes to canned food, though, they're pretty much one of the only types of food that you can eat past their expiry date safely. Canned foods that have high acidity, like most fruits and types of pickles, can survive for up to 18 months, which may be much longer than their given expiration date (per Good Housekeeping). Foods that have low acidity, like Spam or canned potatoes, will last even longer, and could potentially be acceptable to eat up to five years after purchase.
But — and this is a big but — you shouldn't assume this is the case for all cans of food. If your can shows any sign of deterioration or damage, it may not last. This is especially the case if your can is swollen or bulging, which can suggest that the food inside has become spoiled, thanks to microbes growing inside, either through them getting in via damage to the can or through the food inside not being preserved properly (per the FDA).
Any cold-pressed or fresh juices you buy need to be drunk pretty quick
Cold-pressed juices are everywhere right now, and we can see why: As well as being super refreshing and tasty, they're also packed with vitamins, minerals, and antioxidants, says Harvard Health Publishing. Regrettably, though, those health benefits can quickly turn into health burdens. Given that cold-pressed juices can often skip steps in the process that shelf-stable juice products might undergo (such as adding preservatives or pasteurization), they can be particularly attractive for microbes to thrive and become harmful, according to the Centre for Food Safety. Microorganisms may also remain on the fruit of vegetables from being harvested, and make their way directly into your bottle.
That's why, if you're looking for a juice that will last longer, opting for pasteurized products is the way forward. The heat-treating process of pasteurization will help destroy harmful bacteria and make the juice last longer. If you do opt for a cold-pressed juice, it's worth keeping in mind that it will likely last a maximum of 3-4 days in the fridge, according to inBloom Juicery.
Cooked deli meats may not be as safe as you think
Thanks to images of salami and prosciutto hanging in deli windows, lasting seemingly forever, it's easy to have the sense that all deli meats will be able to last longer than you think they would. But in the case of some deli meats, it's highly advisable to throw them out once they're past their expiration date.
Deli meats are especially prone to carrying Listeria, with an outbreak caused directly by spoiled meat in 2021 leading to 12 hospitalizations and one death, per the CDC. Listeria infections (listeriosis) are highly dangerous and (in addition to regular food poisoning symptoms like vomiting and nausea) can, in more serious cases, lead to life-threatening bacterial meningitis (per the Mayo Clinic).
So, making sure you store your deli meats properly, as well as throwing them out when they're past their prime, is crucial. Unopened packs of deli meat will last two weeks maximum, but it's important to check the expiration date to confirm when the manufacturer suggests you eat them. Once deli meat is opened, consume it within 3-5 days.
Keep an eye out for fruit that's past its expiration date
Staying well-stocked in fruit and vegetables is one of the keys to a wholesome diet, but be careful with how long you're keeping your fruit before you eat it.
Fruit is especially prone to spoilage and bacteria growing on and inside it, and eating it after its expiration date may lead to some harmful consequences, as Livestrong states. While eating gone-off fruit may not necessarily lead to food poisoning, as is the case with meat and dairy products, they can harbor dangerous molds, fungi, and viruses that might harm your health.
So, how can you tell when the fruit has gone bad? Most likely, you'll know. Spoiled fruits will generally start to look discolored and overly soft, and in some cases (like cherries) have a slimy texture. They may also start to emit a sour or foul smell. If you're trying to prolong the life of your fruit, keeping it in the refrigerator can help.