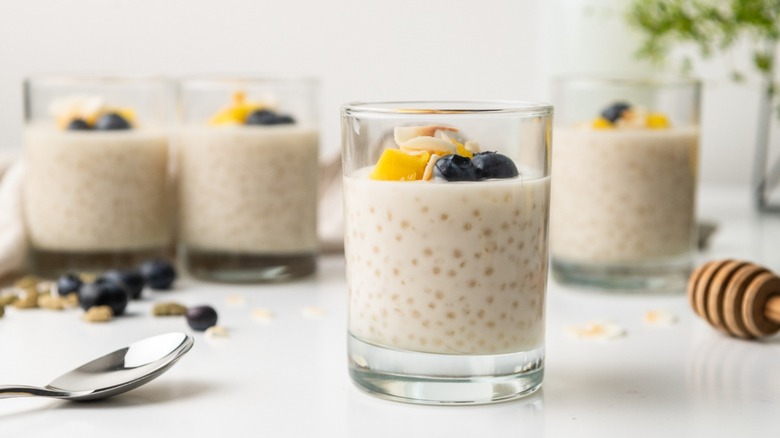 Tapioca pudding is a dessert that doesn't have the best reputation. It's often portrayed as being very bland — the kind of thing you'd maybe be served in a hospital, but aren't likely to make for yourself or order at a restaurant. In fact, if you did want to try it, you'd probably have to seek out an old-fashioned diner or cafeteria to even find it on the menu. Recipe developer Bryant notes that while plain tapioca isn't too exciting, she says "it's all about what you do with it," and she feels that the way it's prepared here makes for "a beautiful, quick, and delicious pudding" that is "soft, light, and creamy."
What makes this tapioca pudding more flavorful than the plain variety is the fact that it's made with coconut milk as well as the not-so-secret ingredient of cardamom. Bryant says this spice is "quite an on-trend flavor right now" and one that "gives the pudding a more modern twist." She also feels that it "pairs beautifully with coconut."
Gather the ingredients for the coconut-cardamom tapioca pudding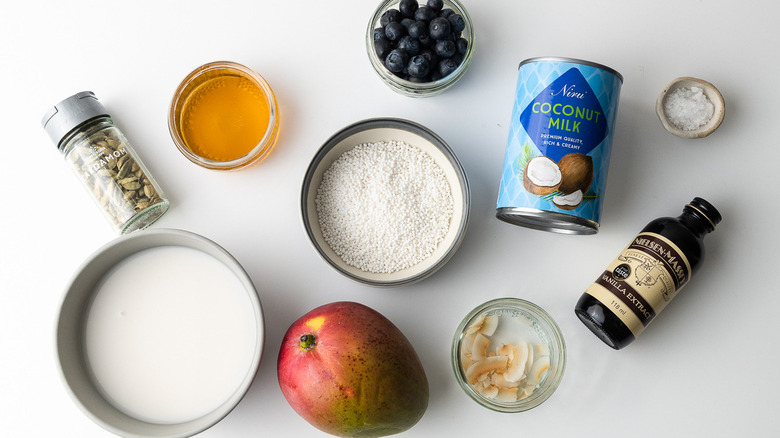 The tapioca you'll need for this pudding is the common pearl kind. You'll also need milk (either dairy or plant-based), plus some canned coconut milk. The pudding is flavored with salt, honey, vanilla extract, and the aforementioned cardamom. You can either use cardamom pods as Bryant did, or else use the ground kind. In fact, Bryant admits she "actually searched high and low for cardamom powder," but was only able to find the pods at her local stores.
Bryant garnishes her pudding with fresh mango, blueberries, and toasted coconut, but she suggests that other types of fruit will work, as well.
Make the tapioca pudding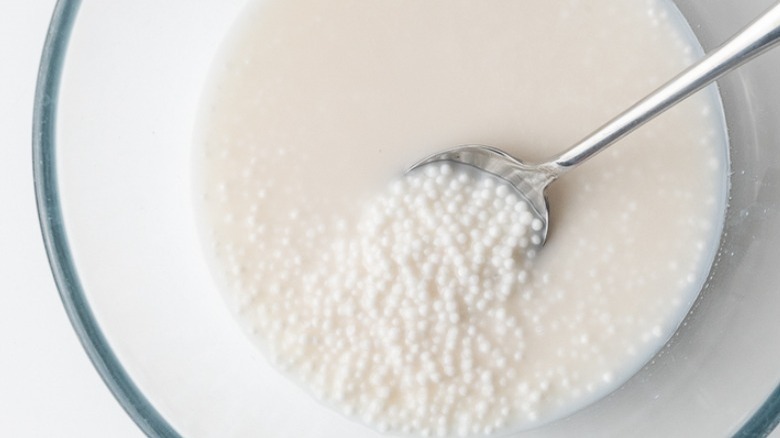 Mix the tapioca with the milk (not the coconut milk), and let it sit for an hour. In a medium-sized saucepan, combine the tapioca with the coconut milk, honey, vanilla, cardamom, and salt, and bring the mixture to a simmer over medium heat. Cook and stir the tapioca for 20 minutes.
Cool the pudding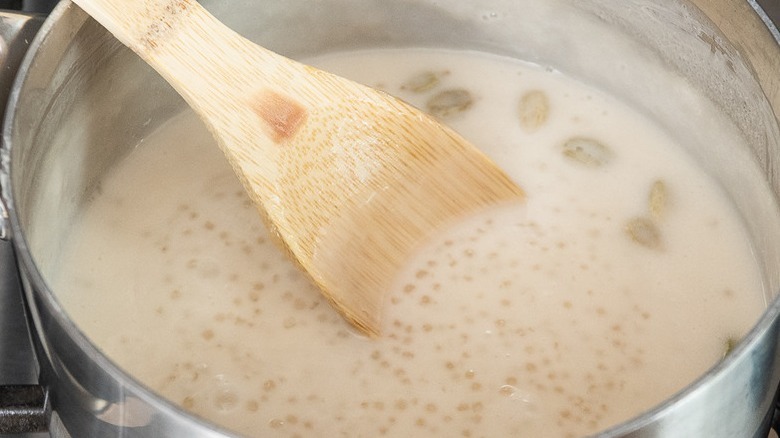 Once the tapioca pudding has thickened, turn off the heat and let it sit in the pan until it reaches room temperature. At this point, divide it between 4 dishes or cups. Refrigerate the pudding for at least 2 hours, until it is completely chilled and has set up.
Garnish the pudding as desired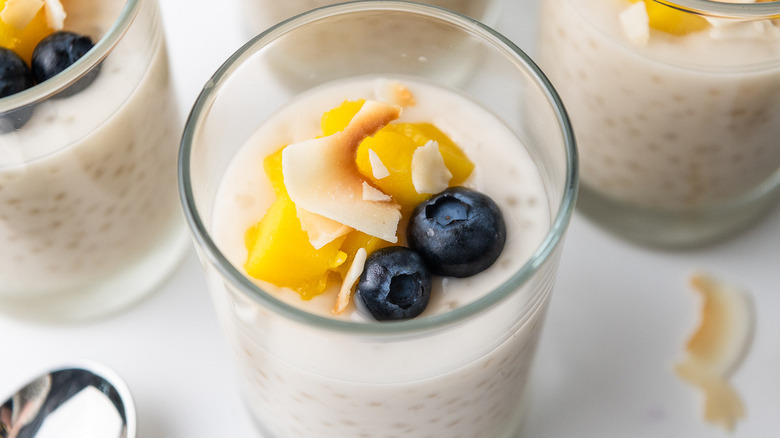 Bryant garnishes the pudding with fresh blueberries, diced mango, and shredded coconut. She does say, though, that "Any fresh fruit would be wonderful as a topping" and suggests strawberries or peaches as an alternate to the mango/blueberry/coconut combo. You could also try sprinkling the pudding with chopped almonds or pistachios to add a little crunch.
⅓ cup pearl tapioca pearl
1 cup milk
1 14-ounce can coconut milk
⅓ cup honey
1 teaspoon vanilla extract
1 teaspoon cardamom pods
½ teaspoon salt
2 tablespoons fresh mango, diced
8 blueberries
1 tablespoon toasted coconut
Combine the tapioca and milk in a medium-sized bowl and let the mixture sit for 1 hour.
Pour the mixture into a saucepan. Add the coconut milk, honey, vanilla, cardamom, and salt.
Bring the pudding ingredients to a simmer over medium heat. Once simmering, cook the tapioca for 20 minutes, stirring regularly.
Turn the heat off and allow the tapioca to cool. Once it has reached room temperature, divide the mixture between four dessert glasses and place these in the fridge for at least 2 hours to chill.
Top the tapioca pudding with fresh diced mango, two blueberries, and a pinch of toasted coconut, to serve.