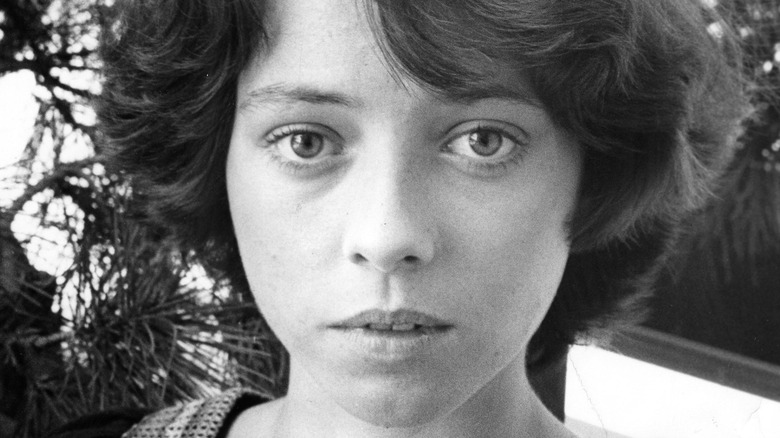 On the surface, young actress Mackenzie Phillips had a charmed life. The daughter of folk musician John Phillips of The Mamas and the Papa" fame, Mackenzie was chasing her dreams of stardom. At 14, she broke into acting with a role in the 1973 made-for-TV movie "Go Ask Alice" before being cast in the George Lucas feature film "American Graffiti" (via IMDb). After several TV appearances and minor roles in several films, Mackenzie was cast in the part of Julie Cooper in the hit 1975-1983 sitcom "One Day at a Time." Playing the role of the older daughter of a single mother of two, Mackenzie Phillips soon became a household name.
"One Day at a Time" proved to be a leader for the CBS network, consistently being in the top 10 television shows during the majority of its nine seasons (per The TV Ratings Guide). The show was a favorite of fans and critics alike and was the winner of two Emmy Awards. Pat Harrington Jr. won the Emmy for Outstanding Supporting Actor in a Comedy Series in 1984, while Alan Rafkin took home his own Emmy in 1982 for Outstanding Directing in a Comedy Series (per IMDb).
Despite the show's phenomenal successes, the accolades were sometimes overshadowed by the troubles that followed Mackenzie off the set. Once a sought-after actress with a promising career ahead of her, she found herself on the chopping block, losing her job on the TV series that vaulted her to fame.
Phillips was using drugs at the age of 10
Factsverse tells us that Mackenzie faced turmoil from an early age. Her father, John, and her mother, Susan, were divorced when Mackenzie was 3 years old. From that age on, the life she led with one parent was drastically different from the one she had with the other. While life with her mother was ordinary, the party lifestyle embraced by her dear old dad was the yin to Susan's yang. Though her mother tried her best to give Mackenzie a normal life, John Phillips exposed the young girl to the world of sex, drugs, and rock 'n roll when she was still a pre-teen.
The outlet tells of how Phillips was able to roll a joint by the time she was 10, and had tried hard drugs by the age of 11. Sadly, Mackenzie's introduction to sex also occurred when she was very young, her first time happening when she was only 12 years old.
Though she was beginning to develop some pretty bad habits before her teenage years, Mackenzie didn't let these vices keep her from acting. Her role in "One Day at a Time" led to fame and the money that accompanies it. Earning a reported $50,000 a week for her part in the show was a tidy sum in the mid-1970s. Already a budding alcoholic with a cocaine addiction, the massive income provided a seemingly endless source of capital for the habits she learned when in the custody of her father. Eventually, drug addiction would lead to her departure from the show that made her.
Phillips was first fired from the show in 1981
Mackenzie began to show some cracks in her armor before she turned 18. People Magazine reports that police found her semi-conscious on the streets of West Hollywood, arresting her for being under the influence and drunk and disorderly conduct. She was given six months probation for her first offense, and an order to undergo psychiatric treatment. Factsverse tells us that her father (above) didn't respond in the way you might think a father would if his child was arrested for drug use. Rather than a lecture, the musician congratulated his daughter on what he seemed to feel was a rite of passage into adulthood.
But Mackenzie did not have her problems with drugs or the law stop there. She was arrested soon after, for cocaine possession, an event that one would hope would serve as a signal for her to reevaluate her situation. Sadly, she continued to spiral out of control.
Though her friends and some family members were pushing her to get help for her addictions, Mackenzie refused. Her drug and alcohol abuse were coming to a head, with a negative impact on her career and the series. On set, it was noticeable that she had lost an unhealthy amount of weight. Her behind-the-scenes behavior wasn't stellar, either. She would often be late to the set and was sometimes incoherent. Showrunners caught her sleeping on the job, fanning the flames of a fire that was about to consume her career. When she prematurely left a rehab center, producers suspended her for six weeks. At the end of that suspension, they fired her.
Phillips returned to the show, only to be fired a second time
In what might be considered a gesture that came too late from her father, Mackenzie entered Fair Oaks Rehabilitation Center after she was fired from "One Day at a Time" in 1980. Her father had entered the facility after serving a one-month jail sentence for a drug charge. After a stint in rehab that involved a lot of counseling, Mackenzie was declared clean. And she was ready to move on with her life. Factsverse reports that the producers on her former show learned of her successful drug rehab and wanted to give her another shot at being on the series. She returned to the set in 1981, ready to work.
Unfortunately, she suffered a relapse. In 1983, one of the producers caught her sleeping backstage on the set. After she refused to take a drug test, she was fired from the show for a second time, never to return. Her acting career ground to all but a halt after being released from the series. Phillips acted sporadically throughout the rest of the 1980s, appearing in an episode of "Murder, She Wrote" in 1985 and the made-for-TV movie, "Kate's Secret," in 1986 (per IMDb).
After a hiatus from acting, Mackenzie began her career anew in the mid-1990s. She made guest appearances on multiple TV shows, including "Beverly Hills 90210" and "Melrose Place" before landing a starring role in the 1999-2001 series "So Weird." Her substance abuse issues were not behind her completely, however.
Phillips' 2009 memoir is full of shocking revelations
With more roles being thrown her way, one would hope that the demons from Phillips' past would be well behind her. Unfortunately, the actress suffered a relapse that got her into trouble with the law again. People Magazine reports that on August 27, 2008, Phillips was stopped going through a security checkpoint at Los Angeles International Airport. Airport personnel discovered balloons containing what appeared to be cocaine and heroin in Phillips' possession, resulting in her immediate arrest. She ultimately pleaded guilty to two felony charges and one misdemeanor charge, but a judge gave her a chance. She was allowed to complete an 18-month drug deferment program, the completion of which would end in her charges being dismissed (via another report by People Magazine). She successfully completed the program in 2010, USA Today reported.
Of her 2008 arrest, Mackenzie claimed that it proved to be a good thing. At her sentencing hearing, she told Judge Keith L. Schwartz that she "wanted to take the opportunity to thank [law enforcement] for stopping me, and probably saving my life."
In a memoir released in 2009 titled "High on Arrival," she chronicled the history of her drug abuse. She also made some pretty serious allegations toward her father, claiming that he had groomed her and sexually assaulted her for 10 years, beginning when she was 18 (also via People Magazine).
If you or anyone you know has been a victim of sexual assault, help is available. Visit the Rape, Abuse & Incest National Network website or contact RAINN's National Helpline at 1-800-656-HOPE (4673).
Phillips has continued to work after her recovery
Now clean, Mackenzie continues to act. After her last stint in rehab, she went on to roles in film, including "Hercules Saves Christmas" and "Suburban Gothic" (via IMDb). In 2017, she appeared in nine episodes of the reboot of the series that she will always be remembered for. "One Day at a Time" ran for four seasons until it concluded after 46 episodes in 2020 (per IMDb). Phillips played the part of Pam in nine of those episodes.
Variety reports that Phillips was also able to garner an important role in the popular Netflix series "Orange is the New Black." In the sixth season of the hit show, Phillips plays Barbara Denning, a woman who, along with her sister, was sent to prison for murdering their youngest sibling. While incarcerated, Denning becomes addicted to oxycontin, which she is selling to other inmates.
When asked if playing the role had any traumatic experiences for her, Phillips replied that a scene in which she was to snort drugs was one that made her reflect on how far she had come from her years of addiction. She told Variety that after filming that scene she thought, "Thank God I don't live that way anymore." She added that she "wasn't traumatized by it. I wasn't even triggered by it. It brought me an enormous amount of gratitude." In addition to acting, she also works as Director of Referral Relations for Breathe Life Healing Centers.
If you or anyone you know is struggling with addiction issues, help is available. Visit the Substance Abuse and Mental Health Services Administration website or contact SAMHSA's National Helpline at 1-800-662-HELP (4357).