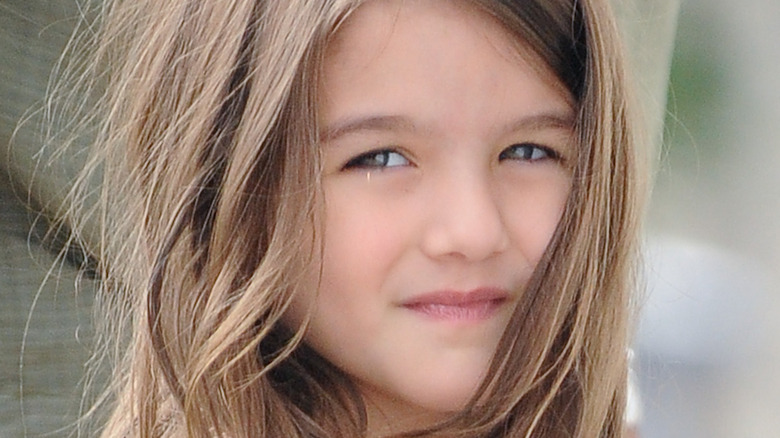 What is it about celebrity kids that make us go gaga? Is it the adorable clothes, the glamorous inner circle of A-list family and friends, or the 24/7 paparazzi documenting their every move? One person who encapsulates all this and more wrapped in a sparkly bow of mystery is Suri Cruise.
Suri, the daughter of "Top Gun: Maverick" star Tom Cruise and "Dawson's Creek" actress Katie Holmes, has been a household name since her birth in 2006. While her mom intentionally keeps Suri's private life under wraps — as of this writing, Suri does not have any verified social media accounts — the public has remained captivated by the young celebrity's style, background, ties with Scientology, and future endeavors.
Check out how Suri has transformed throughout the years right before our eyes, starting with her parents' very public whirlwind romance, continuing through their equally public divorce, and where that leaves Suri today.
Suri Cruise's birth was 'powerful' and 'spiritual'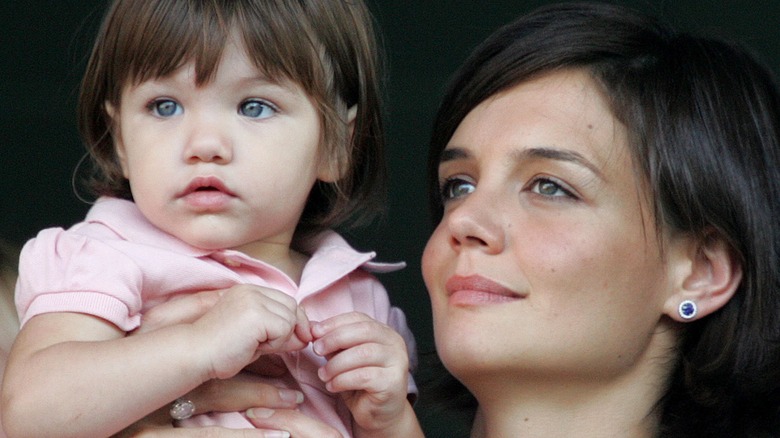 On April 18, 2006, Suri Cruise was born in Santa Monica, California, to Hollywood superstar couple Tom Cruise and Katie Holmes, at the time publicly known as "TomKat." Holmes had been previously told Seventeen magazine that she "used to think that I was going to marry Tom Cruise," so the public became enchanted as Holmes and Cruise, over the course of a year and some enthusiastic couch-jumping, eventually did begin to date in 2005. The couple quickly become engaged and announced they were expecting a child together in October 2005, according to People. Cruise was reportedly so excited that he even bought a sonogram machine in order to see baby Suri in utero.
The name Suri, according to Cruise in an interview with Vanity Fair, came from a baby-naming book, and means "red rose." CBS News reported that Suri was born weighing 7 pounds, 7 ounces, and measuring 20 inches long.
"It was everything that we wanted it to be," Cruise said in an interview days after the birth with "20/20's" Deborah Roberts (via ABC News). "It was spiritual. It was powerful. It was indescribable. What words can you use? It's still something that I'm processing and keep reliving."
She was the most special guest at her parents' wedding
Suri was the guest of honor at Cruise and Holmes' wedding on November 18, 2006. The new parents shared nuptials in a star-studded ceremony inside the 15th-century Italian Odescalchi Castle outside Rome (per Us Weekly). The lavish celebration reportedly cost upwards of $3 million, and featured a dinner serenade by Andrea Bocelli, and not one but two Armani wedding gowns worn by Holmes throughout the night.
According to Hello! Magazine, Katie wore one of the two gowns as she arrived to the castle, carrying a 7-month-old Suri. The celebrity guest list included Will and Jada Pinkett Smith, David and Victoria Beckham, Jennifer Lopez, Marc Anthony, and Leah Remini. According to E! Online, also in attendance were Cruise's two older kids Connor and Isabella (whom he adopted with Nicole Kidman); Holmes' maid of honor, her sister Nancy Blaylock; and Cruise's best man, Scientology leader David Miscavige.
Suri Cruise was a trendsetter before she could walk
Throughout the course of their six-year marriage, Tom Cruise and Katie Holmes became persistent tabloid icons — as did Suri Cruise. The family had the constant attention of paparazzi, whether they were walking down the street for a family outing in NYC or on the red carpet while promoting a film release.
Suri quickly became a style icon — even before she could walk. By the time she was five years old, Suri had already accrued a wardrobe worth approximately $3.2 million, including $150,000 worth of shoes alone (as reported by the Daily Mail). Her collection included high fashion brands such as Dolce and Gabbana and Ferragamo. According to Marie Claire UK, Suri even became the subject of the eponymous "Suri Cruise Effect," in which parents were influenced by the chic wardrobes of A-list celebrity children and spent top dollar on the latest fashions for their own toddlers. The young influencer's parents generated media buzz concerning questionable fashion choices, including allowing Suri to dress in high heels and letting their young child wear lipstick and manicured nails.
What happened to Suri during TomKat's divorce?
Tom and Katie called it quits in the summer of 2012. According to CBS News, Cruise said he "didn't expect" Holmes to file for divorce. He received the news while on set for his film, "Oblivion," per People. Proceedings moved swiftly, and the couple reached a settlement after just 11 days (per InStyle). Holmes was awarded primary custody of Suri in the divorce, with Cruise gaining visitation rights. While Holmes did not receive spousal support in the settlement with Cruise, according to The Hollywood Reporter, Suri is set to receive $400,000 in child support per year until her 18th birthday. Cruise is also required to pay for Suri's expenses, including medical, dental, insurance, education, college and other extracurricular costs.
"We are committed to working together as parents to accomplish what is in our daughter Suri's best interests," a joint statement read (via The Hollywood Reporter). "We want to keep matters affecting our family private and express our respect for each other's commitment to each of our respective beliefs and support each other's roles as parents."
Suri has a complicated relationship with father Tom Cruise
Tom and Suri Cruise haven't been seen in public together since a visit to Disneyland in 2012, as reported by Yahoo. According to Us Weekly, the "Mission: Impossible" leading man has the right to see his daughter up to ten days a month, but chooses not to, allegedly because of Holmes and Suri's distance from the Church of Scientology. According to Huff Post, Tom admitted that post-divorce, Holmes and Suri were no longer practicing Scientologists.
In a deposition with Bauer Media, Cruise was asked whether he and the church considered Holmes a "Suppressive Person," or someone who tries to keep others down. "That is a distortion and a simplification of the matter. I don't want to just give an oversimplification of religious doctrine," Cruise said. According to Scientology expert Rick Ross, Church followers are taught to avoid Suppressive Persons (SPs) and "Potential Trouble Sources," (PTS). "Tom Cruise would not want to come in contact with an SP. And if he views his daughter as a PTS, which is very likely, he would not be that excited about dealing with her either," Ross told Hollywood Life.
In June 2014, InTouch reported that Cruise had not seen or spoken to his daughter in 1,000 days. In April 2019, an insider told Hollywood Life that Tom "still loves" Suri and that "Tom never intended to be estranged from his daughter," and "looks forward to repairing the relationship one day."
Suri Cruise and Katie Holmes delight in mother-daughter bonding
After the divorce, Katie Holmes was granted primary custody, and immediately uprooted Suri Cruise from California to NYC. According to the NY Daily News, Holmes enrolled Suri, then 6 years old, in first grade at Avenues, a Chelsea private school with a $40,000 tuition. In an interview with InStyle, Holmes opened up and confessed that the time post-divorce was "intense" as a newly single mom. "It was a lot of attention, and I had a little child on top of it. We had some funny moments out and about in public. So many people I didn't know became my friends and helped us out, and that's what I love about the city," Holmes said.
While Suri's digital presence is highly curated and limited, even on Holmes' own Instagram, the mother-daughter duo doesn't hold back when it comes to displaying their close relationship during public appearances. Suri and her mom have been seen at each others' hips at events such as the Nickelodeon Kids' Choice Awards and the Z100 Jingle Ball introducing Taylor Swift, and have even been spotted strutting the streets of Manhattan wearing matching outfits.
"I was happy to become a mum in my twenties. It's been nice that our ages fit … how do I put this? Every age that my child has been and my age at that time has been a good match. We kind of grew up together," Holmes said in an interview with Elle.
She's been called 'one of Hollywood's most iconic teens'
Suri Cruise turned 13 in April 2019, and was immediately labeled by ET Online as "One of Hollywood's Most Iconic Teens." Through glimpses of Suri's life on her mom's Instagram page, we can tell she's already becoming a stylish and confident young lady. The proud mama shared a rare video on her Instagram of Suri in black-and-white bounding through an empty street. In an interview with "Today," Katie Holmes said her parenting secret for raising a down-to-earth teen is to "listen" to her daily and "reward her for hard work."
"I do a lot to put perspective on life," Holmes said. "We help out the homeless. We do small acts of kindness. I don't over-gift. I don't inundate my child with a lot of things. We're trying to raise good humans and some days we're better at it than others. We just focus on what she's passionate about and how you feel when you achieve your goals." She continued, joking, "I also demand a 100 on a spelling test!"
She quarantined with mom in NYC during the pandemic
Katie Holmes said she and Suri Cruise were in and out of New York during the beginning of the COVID-19 pandemic in the spring of 2020, according to Yahoo Entertainment. The duo remained quarantined in their NYC apartment during lockdown. Holmes even shared a candid photo of Suri celebrating her 14th birthday on her Instagram. "This lockdown has had a lot of silver linings. It was a beautiful moment. I think when you have less, you are more creative," Holmes told "Entertainment Tonight" in an interview. "This year has also been a reminder that the simple things are really beautiful and that is, those are the gifts of life," she said.
In an interview with Yahoo Entertainment, Holmes was asked about how she felt about Suri (and her NYC classmates) possibly re-entering school in a post-COVID pandemic environment. "I want everyone to be safe as possible," she said. "It's a hard one: I have no expertise on this in terms of health measures, but I just want to be as smart as possible for the whole community and to really prevent anyone from getting sick. My heart really goes out to all the people who have lost people."
Teen Suri stuts the streets of NYC like a runway
As an independent teen, Suri sightings are becoming more frequent in public as the teen explores NYC with her friends. According to Hollywood Life, Suri Cruise is looking more and more like her mom Katie Holmes every day — and becoming a Gen-Z style icon. During a visit to the Harry Potter store in the Flatiron district of Manhattan, Suri and friends were seen rocking Slytherin house colors and bringing back 2000s clothing staples like floral midi skirts and converse sneakers (possibly raiding her mom's "Dawson Creek" character Joey Potter's closet?). This wasn't the first time the young starlet stepped out in vintage threads: She's been spotted bringing low rider flare jeans back in style, too (per Hollywood Life). Holmes and Suri's mother-daughter bond is still going strong as well, with Momma Holmes showing off their adventures in tie-dye together on Instagram.
"I love her so much. My biggest goal has always been to nurture her into her individuality. To make sure she is 100 percent herself and strong, confident, and able. And to know it. She came out very strong — she's always been a strong personality. She'll pick an activity and work her butt off until she's really good at it. Then she's like, 'OK, I'm going to try the next thing.' She's very focused and a hard worker," Holmes said in an interview with InStyle.
Suri celebrates her sweet sixteenth
Suri Cruise celebrated her sweet sixteenth birthday in April 2022. The teen still keeps a low profile online, but every now and then proud mom Katie Holmes will send out a loving post on Instagram to celebrate with fans. Holmes' last Instagram post featuring Suri was for her daughter's birthday the year before, with the caption, "Happy 15th Birthday Sweetheart! I love you!!!!!!!! I can't believe you are already 15!"
Nevertheless, witnessing her daughter transform and grow over the years hasn't always been easy for Katie Holmes. "Every day, kids get a little further away from you," she told Town & Country (via HuffPost). "That's a positive thing. They should be becoming more independent, but it's heartbreaking." She continued, saying, "You want them to stay with you forever, but they're these amazing beings, and you have to do everything you can to give them what they need ― and then they're going to go. And that's going to be very, very sad for me."
In June 2022, Katie Holmes introduced Suri to her new boyfriend, Bobby Wooten III (via Stylecaster). According to Elle, Wooten, a musician and composer, made his public debut as a couple with Holmes in May at The Moth's 25th Anniversary gala, The Silver Ball, held at Spring Studios in New York City. An insider revealed to Hollywood Life that Suri "absolutely approves" of Wooten. "Bobby treats Suri like an adult, which she likes and Suri thinks it is great to see her mom happy," the insider said.