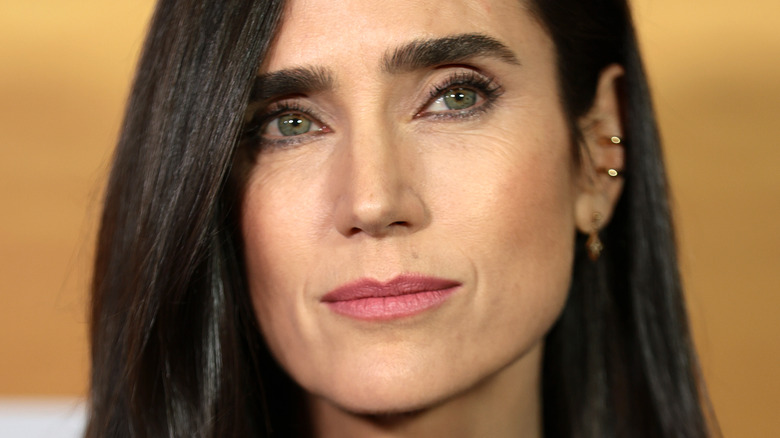 Actor, dancer, singer, model, Oscar-winner. These are some of the titles Jennifer Connelly has earned over her almost four-decade-long career in the entertainment business. A born and raised New Yorker, Connelly seemed to shoot right to stardom from the moment she was discovered at the age of ten by a family friend who was also an advertising executive, according to the Independent.
She immediately began modeling and doing commercials, and like one of those unattainable fairytale stories about being discovered, her star power slowly rose when a casting director connected her with director Sergio Leone for his next film. At the time, pre-teen Connelly probably didn't realize a role in the epic crime drama "Once Upon a Time in America" — working with Robert De Nero, no less — would be the jump start to a long acting career. Yet Connelly went on to star in dozens of movies including "Labyrinth," "The Rocketeer," "Requiem for a Dream," and more recently, the 2022 sequel to "Top Gun," the Tom Cruise blockbuster film "Top Gun: Maverick," in which Connelly plays his love interest.
The highly sought after and talented actor not only made a name for herself in her art but was thought of all over the world as one of the most beautiful women, appearing on several publication rankings. She's also a mother of three and has been married since 2003 to the same man, Paul Bettany—that story could be its own Hollywood movie. So, read on to find out why and discover more untold truths about Jennifer Connelly.
She was a child model
There's no doubt that Jennifer Connelly is beautiful, with her green eyes flecked with gold, and jet-black hair with thick brows to match. Even as a child, people were drawn to her beauty — which is why she became a model before she even hit her teens, and, according to the Independent, she was signed with Ford Models, which led to commercials and magazines. She appeared multiple times on the cover of Seventeen, too.
Though she was young, the actor does remember that time as she told New York magazine, "I worked so much when I was a kid. But I did some city crawling. In New York, you do everything really fast, really early."
Another nod on her modeling resume was appearing on several Young Adult book covers. This was revealed in 2016 while Connelly was being interviewed on "Jimmy Kimmel Live" (via Daily Mail). Kimmel actually had some examples to share with viewers and an apparently blushing Connelly, including "The Two of Us" by Janet Quin-Harkin. Upon seeing the covers, she told Kimmel, "The scary thing is these are real, these pictures." She went on to explain how she would get a little synopsis of the book so she could get the feel of what she needed to portray.
She and her son both went to Yale
Being in the limelight has its perks, but for Jennifer Connelly, there were points in her life where being recognized was simply, well, awkward. Unfortunately, since she started her career at a young age, some of these moments happened in high school and college. She shared with Rolling Stone that a boy she was dating in high school was part of a bet to see how fast he could get her into bed. She also told The Sun in 2013, that a professor at Yale had seen one of her movie posters — where she was on top of a rocking horse — and mentioned it to her. Connelly didn't say whether this was part of the reason she transferred to Stanford after her sophomore year, but she did say, "I wish I had not been a complete nerd. I had no sense of humor and took myself so seriously."
By 1997 she still hadn't graduated, but she admitted on "The Rosie O'Donnell Show" during the promotion of her film "Inventing the Abbotts," "I still have like a year left to graduate, and I sort of toy with going back every once in a while."
Connelly's son Kai also attended Yale, and the "Top Gun: Maverick" actor admitted on "Live with Kelly and Michael" that she cried the moment she dropped her son off. She'd been so worried, she drove there the next weekend and found him thriving. "It all kind of went away. I mean, yes, I miss him, but I actually, it completely overrides my feelings," she said.
She traveled to Tibet in her 20s
Jennifer Connelly might be famously talented and beautiful, but her persona and outlook on life have always been very down-to-earth. And she hasn't made it a secret that she wasn't about all the glitz and glamor. "With Jennifer, there's a sense of a person who's not a joiner, who follows her own path," said producer/director Ron Howard, whom she worked with on "Inventing the Abbotts" and "A Beautiful Mind." (via Marie Claire)
In 1995, Connelly appeared in the movie "Higher Learning" starring Omar Epps. One of her promotion appearances was on "Late Night with Conan O'Brien" where she revealed that after the movie shoot wrapped, she went to Tibet for a month-long camping trip. There she did a lot of hiking, including to the east face of Mount Everest. Casually, she told O'Brien, "I didn't take a shower for a month, which I'd never done before." Not only that, but she liked the experience, calling it "spectacular." Though she remarked on how the elements and lack of grooming affected her looks, if anyone could shine in those conditions, it's Connelly.
During the interview, it also becomes clear that having made a name for herself in film for the previous ten years had taken a toll on her, and the break from the pressures of everyday life was well-received. "All these layers of things that seemed to be important but really aren't, sort of fall away," she said. She also found visiting the monasteries to be very rewarding and the monks to be delightful.
Inventing the Abbotts was the first movie of hers she loved
In 1997's "Inventing the Abbotts," Jennifer Connelly plays Eleanor, one of three sisters in the well-to-do Abbott family. Of the three girls (the other two are played by Joanna Going and Liv Tyler), Connelly's character is the most rebellious and promiscuous. Rolling Stone called the acting in the film — which was directed by Pat O'Connor and produced by the dynamic duo of Ron Howard and Brian Grazer — "exemplary." Of Connelly specifically, they said, "Connelly slyly blends eroticism and humor."
At this point in her career, Connelly had been in more than a dozen films, including the star-studded "Mulholland Falls" the previous year. When the actor appeared on "The Rosie O'Donnell Show" to promote the film, she opened up about her character and her love of the film. "I've seen it twice now and I, actually, it's so nice to do a movie that I can look at and say I actually love this movie," she said. She went on to talk about the character's free spirit and how she wished she was more like that, adding, "It was like such a joy playing someone so uninhibited."
But it wasn't just the wild and free character that she was drawn to as the future Oscar winner told O'Donnell, "It's nice because it sort of like takes time to look at families and things that are important and things that are stupid that we strive for, and it's a really moving kind of story."
Philanthropy is important to her
Oftentimes celebrities make the news for things they're not proud of. So, it's likely when things are going well or when they make a positive impact, they'd want that highlighted, as well. That doesn't seem to be the case for Jennifer Connelly — at least not when it comes to her philanthropy. It's difficult to determine just how far back her passions toward giving back to humanity actually started, but Connelly has been involved in numerous charitable organizations.
A 2006 Marie Claire article revealed that while filming "Blood Diamond" in Mozambique, Connelly spent time at a local orphanage, and according to the magazine, there was no press about it. Of seeing the children in this difficult and unacceptable situation they were living in, the actor said, "It was horrendous. So we started doing as much as we could, but it was difficult." In 2008, the actor appeared in a PSA about the lack of safe water in Africa. The commercial was for Charity: Water, which aims to provide clean drinking water for people in impoverished communities all over the world. That same year, the beautiful actor signed on as a Revlon spokesperson, which would get her involved in the company's various charities.
In 2012, Connelly signed on to be Artist Ambassador for Save the Children, which helps children all over the world who are dealing with the effects of poverty, poor healthcare, and economic struggles. "I'm honored to be an Artist Ambassador for Save the Children, working to ensure all children receive an equal start in life," Connelly said.
She's been named one of the most beautiful women numerous times
Whether she was modeling, dancing, or acting, for most of her life, Jennifer Connelly has turned heads with her stunning looks. Of course, fans appreciate her talent as an actor and admire her for who she is, but in the business of entertainment, beauty is the icing on the cake. And this actor's beauty has helped her land on many of the "most beautiful" and "sexiest" lists in the industry.
In 2011 the Los Angeles Times published their list of the 50 Most Beautiful Women in film (via Film Industry Network), with Connelly gracing the ninth spot. In 2019, Empire Online ranked the "100 Sexiest Movie Stars," and Connelly was selected as one of the 50 women on the list, which included both current and past stars like Grace Kelly and Angelina Jolie. And according to the publication, Connelly has appeared on lists from Vanity Fair, Esquire, and Time magazine. She even made TheTrendSpotter's list of the "50 Most Beautiful Women Over 40."
In 2014, Connelly was on the cover of Allure and in her cover story she talked about the real meaning of beauty. She doesn't like the idea of torturing yourself to fit into the confines of society's beauty standards. "The thing that really matters to me is well-being and happiness," she declared.
She's an Academy Award winner
In 2002, "A Beautiful Mind" took home four of the top five Academy Awards, including an Oscar statue for Jennifer Connelly in the Best Supporting Actress category. The biographical drama, which was based on the life of mathematician John Nash, was directed by Ron Howard and had Russel Crow in the leading role. Connelly played his wife, Alicia.
Entertainment Weekly wrote at the time, "The movie is also a bona fide career-catapulter for 'Requiem for a Dream' player Connelly, 31. As the never-quietly suffering wife of a genius, she finds a brilliance all her own." Connelly also took home a Golden Globe and a BAFTA award for her performance.
At the time of film, the actor had only one child, her son, Kai, whom she brought on the set with her. "I don't think I would be doing this quality of work if it hadn't been for my son," she said (via Hello!). She also mentioned Kai in her acceptance speech, saying, "My son Kai is for me the greatest messenger, and so thank you to him for all of our days." And if bringing home the coveted golden statue wasn't enough of a prize for the actor, she also got a husband out of it, as the movie was where the two met. Paul Bettany appeared in "A Beautiful Mind" as John Nash's roommate.
She didn't realize she had a hit song in Japan
Yes, Jennifer Connelly does appear to be a woman who can do it all —but singing in Japanese? Apparently, she not only sang in Japanese, but either didn't remember that it happened or didn't want to admit it. During an appearance on "The Graham Norton Show" alongside actors Chris Pratt, Elizabeth Banks, and Paul Whitehouse, the fellow A-listers seemed intrigued when Norton brought up the interesting tidbit from Connelly's past.
As Connelly explained it to the captive audience, when she was a young girl doing commercials, she appeared in a Japanese ad for Panasonic in which she had to sing, even though she never desired to do so. And apparently, the song for the commercial was also released as a single. "I vaguely remember recording a song," she said reluctantly. Norton kept filling in the blanks. "And it was a hit, so modest," he chimed in. "If I'd had a number one song in Japan, it'd be the first thing I'd tell people."
Crazy as it sounds, when Norton cued up the commercial, Connelly admitted she'd never heard it before, shocking Elizabeth Banks. The ad starts with a closeup on the young Connelly signing, then strangely shows a plate of fruit before showing a CD going into a boombox. But the best part is the ending, when Connelly comes back on the screen, donning a headset. After a phone rings, she says, "This is Jennifer." A blushing Connelly laughed and covered her face, as everyone in the studio clapped.
She likes to stand on piers in her movies
They say Tom Cruise runs in all of his movies. Someday, Jennifer Connelly might give him a run for his money with her own trademark stamp on movies: standing on the ends of piers. Apparently, someone noticed that the actor has appeared in three movies (so far) that have a scene where she's standing at the end of a pier, looking out to the water.
First we have "Dark City," a thriller/sci-fi flick released back in 1998, where Connelly starred alongside Rufus Sewell and Kiefer Sutherland. Next is psychological drama "Requiem for a Dream" in 2000, starring Ellen Burstyn and Jared Leto. And finally 2003's "House of Sand and Fog," which had Connelly in the lead role, alongside with Ben Kingsley.
Now the coincidences here are more than just her on the pier, or even her looking at the water. In two of the scenes, the shot of Connelly starts pretty far behind her and then there's movement toward her. Not just with the camera, either. While in one of the films, she's alone, the other two have a male approaching her, but she doesn't notice because her back is turned. There's actually a pretty hilarious Reddit thread about this, with one poster saying, "She can stand wherever the f*** she wants … You're talking about the woman I love." Another joked from a Connelly POV, "Can you please stop putting me at the end of piers? I don't want to be type-cast!"
Her husband crushed on her since he was young
Most people remember where they were when the tragic details of 9/11 unfolded. Many remember it as a day that would forever change their lives. For Paul Bettany, it was the case for more than one reason, as he shared with Larry King in 2015. It was at that moment, consumed with worry for Jennifer Connelly, that he realized he was in love with her, despite the fact that the two hadn't officially been dating, and at the time were actually in two different countries.
Bettany and Connelly met on the set of "A Beautiful Mind," which was released a few months after the attacks. But Bettany had known about Connelly long before that. The two are close in age, and Bettany admitted he started noticing Connelly when he saw her in "Labyrinth" and "Once Upon a Time in America," and overtime, his admiration turned into a full-on crush.
When the two finally laid eyes on each other during the first table read for "A Beautiful Mind" sparks flew in both directions. Connelly told ET she was at first impressed with Bettany's acting, adding, "He started playing guitar and it was all over." However, nothing happened between the two, and they went their separate ways. But when Bettany had his epiphany, he called Connelly (something that took two days) and straight out asked her to marry him. "And that's really what happened," Bettany stated, still seemingly in disbelief. As astounding as that would be for anyone, Connelly said yes immediately.
What she thinks of Tom Cruise
When the original "Top Gun" released in 1986, Jennifer Connelly was waiting for her movie with David Bowie, "Labyrinth," to come out, and was probably looking forward to her sixteenth birthday. And though Connelly explained on "Jimmy Kimmel Live" that she did see the first "Top Gun," it's safe to assume she had no idea she'd someday play Penny Benjamin, who is briefly mentioned as one of Maverick's female conquests.
Watching publicity for the movie release, it's hard to say whether Connelly was more impressed with Cruise's acting skills or his motorcycle riding, but clearly she was awestruck with her co-star in the film. Connelly told "Kelly and Ryan," "He's extraordinary. I've never met anyone like him. He has so much enthusiasm, so much passion, for everything that he does." While being interviewed at Comic Con, she came up with the perfect response to the ET Canada interviewer, who almost seemed to hint that Cruise might be "difficult" on set, using the words "extra" and "meticulous." Connelly replied, "I thought he was kind of extra everything."
And about those rides on the motorcycle with Cruise? While chatting to Kimmel, Connelly said Cruise was an excellent driver. She described a specific scene in which Cruise was driving fast and then had to stop on a mark, which he did perfectly every time. "I felt pretty comfortable with him," she added. "I trusted him."