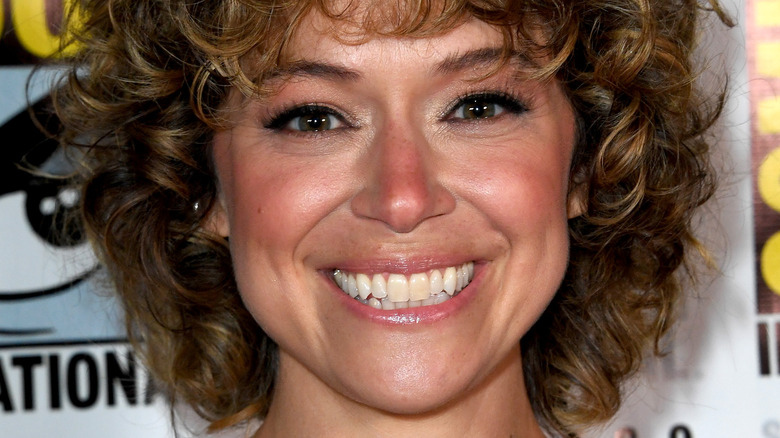 Although she has nearly 75 acting credits to her name, including roles in "Perry Mason" and the film "Stronger," Tatiana Maslany is perhaps best known for her role on BBC America's hit show "Orphan Black." On the sci-fi drama, Maslany played upwards of a dozen clones, each with different accents, mannerisms, and distinct physical characteristics. She didn't so much as play these roles as she embodied them, earning her die-hard fans, accolades from critics, and an Emmy award in 2016.
Still, the actor is not a household name, but that may be about to change. Maslany is now starring in the Disney+ series "She-Hulk: Attorney at Law" as lawyer-turned-Hulk Jennifer Walters, a role she knew would challenge her. "It just spoke to me in a way that I was like, 'I don't know that I can do this,'" Maslany told Elle. "And that's exciting to me." Now that Maslany has undertaken a starring role on a mainstream show within the popular Marvel Cinematic Universe, her fame is sure to rise as high as a She-Hulk's hair.
Tatiana Maslany commits to her characters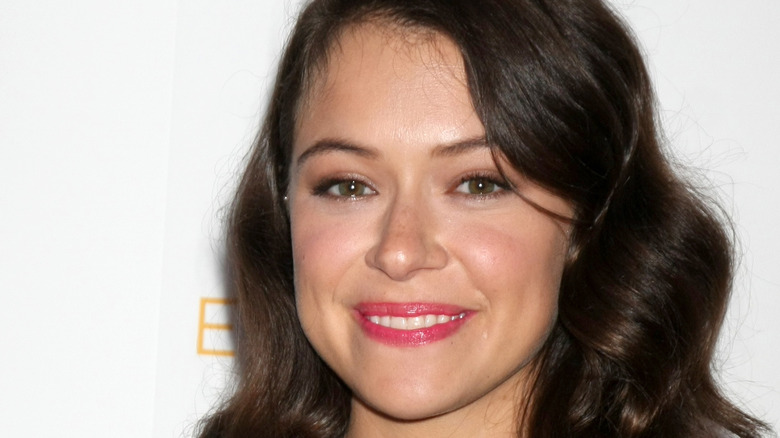 Tatiana Maslany takes her job seriously, and the results are stellar. In an interview with The New York Times Magazine, she is referred to as having "a fearsome work ethic," something she'd have to have in order to keep up with the demanding nature of her roles. To better understand her characters on "Orphan Black," she made a playlist for each one of them. During filming of the first few seasons of the show, Maslany opted to stay in character between takes, speaking in Helena's growly Ukrainian accent or Sarah Manning's brooding British, or Alison Hendrix's chipper soccer mom voice. There was a time Maslany's own mother was watching her film a scene and didn't recognize her, so convincing were her portrayals of these characters, and so different from herself.
In preparation for her role as Erin Hurley in the film "Stronger," based on a real-life couple dealing with the aftermath of the tragic 2013 Boston Marathon bombing, Maslany took up running. At the Toronto International Film Festival in 2017, Maslany spoke about spending time with the real Erin Hurley, and how running helped her take on the difficult role. "I ran every morning, and that was this meditative time that I could just be in that character and daydream and imagine," she said. "Every time I do, she invariably pops into my head -– the character and [the] real Erin."
She started acting at an early age
Tatiana Maslany was born and raised in Regina, Saskatchewan, Canada, where she began acting in local plays and musicals as early as elementary school. Her time at Dr. Martin LeBoldus High School was strange, as Maslany had begun landing professional acting gigs by then. "Being in high school was weirder to me than being on set," she told The New York Times Magazine. "I'd go away for two months and shoot something and be totally at home, and then come back to school and be like, How do I talk to people?"
She was initially unsure about improv, even though she excelled. "I was on the improv team, but it didn't feel like my thing. I hid behind bangs and glasses." Nevertheless, Maslany went on to join Regina-based General Fools Improvisational Theatre where she honed her craft to perfection. John Fawcett, who would later go on to co-create "Orphan Black," cast Maslany for one of her first film roles, "Ginger Snaps 2: Unleashed."
Her low-key, private wedding
In August 2022, Tatiana Maslany revealed on "The Late Show With Stephen Colbert" that she had married actor Brendan Hines. The couple, who are rumored to have started dating in December 2020 (via ET Canada), were wed in a private ceremony with their dog, Earl, acting as the ringbearer. Maslany told Stephen Colbert that Earl lost the rings amid the excitement of the day. "We looked down and we were 'Oh, hey Earl … oh no, Earl,'" she said. "And then we found the rings in this field of sheep." During the interview, Maslany said she kept her marriage under wraps because "It felt like there are certain things you want to keep private."
The couple had been spotted together at the premiere of "X" and again at "Everything Everywhere All at Once" in April 2022, but kept mum about their relationship. Maslany didn't reveal exactly when the nuptials took place, aside from sometime during the pandemic. Fans spotted a ring on Maslany's finger during Comic Con in July 2022, prior to her official announcement.
Tatiana Maslany is an LGBTQIA+ advocate
Tatiana Maslany has long been an ally for the LGBTQIA+ community. In 2018, she was the recipient of the Human Rights Campaign's Ally for Equality Award and gave an emotional acceptance speech. Maslany spoke to Out Magazine about her role as an alcoholic lesbian in the 2017 short film "Apart From Everything," stating, "Even though I'm not a member of the LGBT community, I've always felt a connection there, and a connection to my friends who are queer. Most of them are."
Maslany can be seen wearing a shirt that reads "Support Trans Futures" in a featurette promoting "She-Hulk" and she sported a Trevor Project tee shirt at the premiere of "Doctor Strange and the Multiverse of Madness." Maslany told The Los Angeles Times, "I know how little it costs me to do something like that. I'm incredibly privileged and I'm very fortunate to have the platform I do." She points to anti-gay legislation passed by Florida officials and Disney's involvement, telling Elle, "I felt, as an employee of Disney, that I had to speak."
The star was unprepared for her Emmy win
Although she had been nominated the year prior for Outstanding Actress in a Drama Series and fans felt the recognition was overdue, Tatiana Maslany was utterly shocked to win the coveted award at the 2016 Emmys. Maslany was nominated for the roles of "Orphan Black" clones Sarah, Krystal, Alison, Cosima, Rachel, and Helena. She accepted her award with her phone in her hand, lamenting the fact that she didn't have a speech written down.
She later told Stephen Colbert she hadn't written a speech because she never thought she was going to win. Instead, she typed a few notes on her phone, which proved to be a problem once she was onstage. Friends and family were texting her nonstop, making it almost impossible to read her notes. She handled it gracefully, however, laughing it off and managing to thank her "Orphan Black" cast mates and crew.
When asked by Colbert where she had been keeping her Emmy, Maslany admitted she hadn't taken it out of the box it came in. "I don't feel like I'll be like, 'yes, I deserve this, everyone look at this,'" she said. Stephen Colbert replied, "But you do!" and Maslany answered, "No." Presumably, thousands of fans heartily disagree.
Tatiana Maslany hones her comedic skills
"Orphan Black" is a sci-fi drama centering on clones, but part of its charm is its moments of levity. Fan-favorite characters Alison Hendrix, played of course by Tatiana Maslany, and her husband Donnie, played by Kristian Bruun, were a reliable source of humor on the show. Maslany and Bruun had great chemistry and played off one another well. During their tenure on "Orphan Black," the pair appeared on popular podcast "Comedy Bang Bang" with host Scott Aukerman. The two would take part in improv sketches and interviews. It was clear they were a dynamic comedic match, and their chemistry was not limited to their "Orphan Black" alter-egos.
Maslany continues to show up on "Comedy Bang Bang," sometimes playing a character, sometimes just doing improv alongside popular comics such as Paul F. Tompkins, Lauren Lapkus, and Paul Scheer. Maslany even appeared on the live broadcast of the show performed at the SXSW festival in 2018, which for sure lends her lots of cred in the comedy world.
The actor is a vocal feminist
During Tatiana Maslany's Emmy acceptance speech, she said, "I feel so lucky to be on a show that puts women at the center." It's true that "Orphan Black" was unique in its female-driven sci-fi narrative. This was not the only time Maslany has been outspoken about feminist issues, particularly in the entertainment industry. In a 2016 interview with CBC, Maslany was asked about the rise of feminism among female celebrities. She stated, "People are kind of fed up with the way things have been," adding, "It's something I've discovered through experience … The more that I've been thrust into this space of being a leader on set and being a voice on set and having more say … it's become an important thing to me."
In 2022, things have not changed much, evidenced by some of the discourse surrounding "She-Hulk: Attorney at Law," particularly the criticism of what the superhero should look like. "It's such a chosen body. So, it asks for commentary," Maslany said in her Elle interview. "Obviously, I have no say over how she presents. But I do think we are thirsty for women's bodies that don't conform to an idealized feminine image." In an interview with The Sun Showbiz, Maslany said of "She-Hulk," "Why do we have to hit it over the head that it's, like, a female series?" Perhaps Maslany's portrayal of the Marvel character will provide a new perspective through which fans can view the female superhero archetype.
Her She-Hulk character has some interesting influences
Tatiana Maslany's character Jennifer Walters in "She-Hulk: Attorney at Law" is a lawyer before she is accidentally endowed with the ability to transform into She-Hulk. The show follows Jennifer as she balances the demands of her profession with her newly acquired superpower. The show is as much of a send-up of legal dramas as it is a typical superhero romp. One might expect that Maslany drew some inspo from shows such as "Law & Order" or Calista Flockhart's "Ally McBeal." But no, Maslany has never even seen "Ally McBeal," she admitted to Variety.
It turns out a different fictional female lawyer was more Maslany's inspiration. "I did watch 'Legally Blonde,'" she said, "That felt in line somehow to me. Elle Woods is perceived a certain way and always fighting to be seen for who she really is, and also fighting to know herself for who she really is." Maslany also drew from an iconic character from the beloved series "Seinfeld." Maslany told Variety, "… I feel like Elaine Benes was more of a touchstone to me. Just in terms of, she's obviously an incredibly capable person, but she also gets in her own way and has hang ups or rigidities that make her a mess. I also just love Elaine. She was who I grew up watching."
She stands up for workers behind the scenes
Tatiana Maslany is a champion of the artists and other behind-the-scenes workers on her shows. Early trailers of "She-Hulk: Attorney at Law" drew criticism from some outlets, claiming the show's CGI looked bad. Almost in tandem with these critiques, some information came to light about how visual effects artists are treated by Disney.
During a panel at the Television Critics Association in the summer of 2022, Maslany spoke up and said, "I feel incredibly deferential to how talented these artists are and how quickly they have to work." She added, "I know there's lots of eyes on the CG and critique or whatever. I do think we have to be super conscious of how work conditions aren't always optimal …" (via Variety).
Head writer Jessica Gao, and director Kat Coiro, chimed in during the panel discussion to defend the show's visual effects and the artists behind the work. Gao stated, "I think everybody on this panel stands in solidarity with all workers and is very pro-good working conditions."
A loyal fanbase
Tatiana Maslany has some die-hard fans, due mostly to her stellar performance on "Orphan Black." The show, which aired on BBC America for five seasons between 2013 and 2017, earned many awards and garnered a solid fanbase known as Clone Club. The term originated from the show itself, initially uttered by Cosima, the super brainy clone of the bunch played by Maslany. Clone Club has its own Facebook page, with fans posting updates regarding anything having to do with the show and with Maslany as well.
Clone Club was ever-present at Comic Con, especially during "Orphan Black" panel discussions. Maslany herself was unaware of Comic Con until she was first invited to attend in 2014. John Fawcett, co-creator of "Orphan Black," recalls in an Elle interview, "I'd never been to Comic-Con. I'd never had a show that had gone to Comic-Con. And [Maslany] goes, 'What's Comic-Con?'" When Maslany appeared that year at the convention in San Diego, she was met with a standing ovation from her adoring fans.
Tatiana Maslany's favorite clone
Tatiana Maslany played over a dozen clones during her time on "Orphan Black." While many of them appeared only briefly, some of them had several-episode character arcs, and then there were the core clones. Sarah Manning was the show's central character, a gritty British punk who witnesses the suicide of a young woman who looks exactly like her. In her quest to find the truth about who she is, she connects with chipper Canadian soccer mom, Alison Hendrix, bespectacled American PhD student, Cosima Neihaus, and wild-haired Ukrainian killer with a heart of gold, Helena. Naturally, Maslany has a favorite.
She told Andy Cohen on an episode of "Watch What Happens Live" that Helena was her favorite and described her as "A serial killer from the Ukraine who ate everything in sight." It seems Maslany formed an emotional bond with her Helena character that went deeper than the others. She told "The Gould Standard," "… putting the wig on and having the makeup, I looked in the mirror and I immediately, like, burst into tears … I felt her, and I didn't know what it was, and I just knew that there was a deep well of pain there that was screaming out and that's why she was so violent."
She is a Broadway actor
Tatiana Maslany has a background in theater, but her breakout Broadway role came in 2018 when she starred alongside Bryan Cranston in the stage adaptation of "Network." Maslany played Diana Christensen, a role originated in the film by legendary actor Faye Dunaway. When asked by Andy Cohen on "WWHL" what she would do if Dunaway showed up in the audience, Maslany joked, "I hope she throws a tomato at my face."
While no fruit was thrown, Maslany did have a wardrobe malfunction one night during the play's run. "I was goofing off backstage one day and squatted as a joke and ripped my pants open completely, all the way up the front, and then had to go on and be a cool business exec," she told Playbill. Like a true professional, she was savvy enough to pull it off. "I had a newspaper. I just held it on my butt and then backed up offstage like a cartoon. I changed a bunch of blocking, a news desk almost mowed me down," she explained, laughing.
Awards and an impressive net worth
Tatiana Maslany's Emmy may still be in its box, but where does she keep her myriad other awards? The list of Maslany's nominations and wins is too long to fit on a single page. The actor has been recognized for her work on "Orphan Black" by the Primetime Emmy Awards, the ACTRA Awards, the Broadcast Film Critic Association, the Canadian Screen Awards, the Critic's Choice Awards, GALECA: The Society of LGBTQ Entertainment Critics, the Golden Derby Awards, The Golden Globes, the Gracie Allen Awards, the People's Choice Awards, the TV Guide Awards, and more.
Additionally, Maslany has been nominated and won awards for her performances in "Perry Mason," "Stronger," and other roles such as "Picture Day," Grown Up Movie Star," "Cas & Dylan," "The Other Half," and more. But do all of these accolades translate to dollar signs? According to Celebrity Net Worth, Maslany's net worth as of August 2022 was $3 million, part of which was due to her reported $50,000 per "Orphan Black" episode, per E News.
Tatiana Maslany is a delight to work with
"You'll like her when she's angry," the trailer for "She-Hulk: Attorney at Law" claims of its titular character. The same might be said for Tatiana Maslany, but good luck catching her on a bad day. According to co-stars and showrunners, Maslany is a consummate professional and a wonderful actor to work with. Ari Millen, who played the male clones on "Orphan Black," praised his co-star, telling The New York Times Magazine, "What I really like about Tat is that I sense that she trusts what she's doing." She clearly impressed "She-Hulk" co-star Mark Ruffalo as well, since he told The Hollywood Reporter, "No, she's in now, there's not going to be another 'Avengers' without her."
"Orphan Black" director and co-creator John Fawcett spoke about Maslany's grueling filming routine and noted to Elle, "But she never came to set grumpy. She never came to set not enthusiastic or with a smile. She was f***ing happy, all the time." All the time? Perhaps Tatiana Maslany is an actual superhero after all.