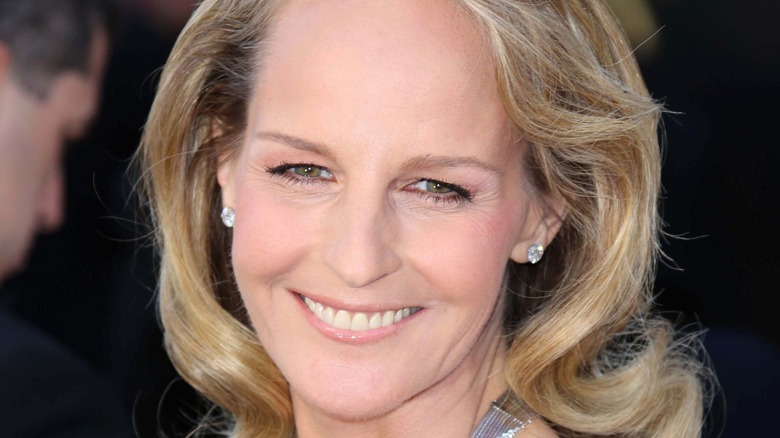 Helen Hunt began her career as a child actress in the 1970s, appearing in minor roles on television shows and the occasional film. She eventually moved on to starring in multiple made for television films before landing her breakout role as Jamie Buchman on NBC's "Mad About You," earning her three Golden Globe and four Primetime Emmy wins.
She soon transferred her talent to the big screen, appearing in various films ranging from award-winning indie films like 2012's "The Sessions" to box office blockbusters like 1996's "Twister." Along the way, she would expand even further and step behind the camera to write and direct her own successful films as well, including 2007's "Then She Found Me" and 2014's "Ride."
Of all these incredible film performances, which were the ones that showcased Helen Hunt's award-winning talent and which ones were perhaps a little less thrilling? Read below to find out what the 50 most memorable Helen Hunt movies are, ranked from worst to best.
50. Trancers III (1992)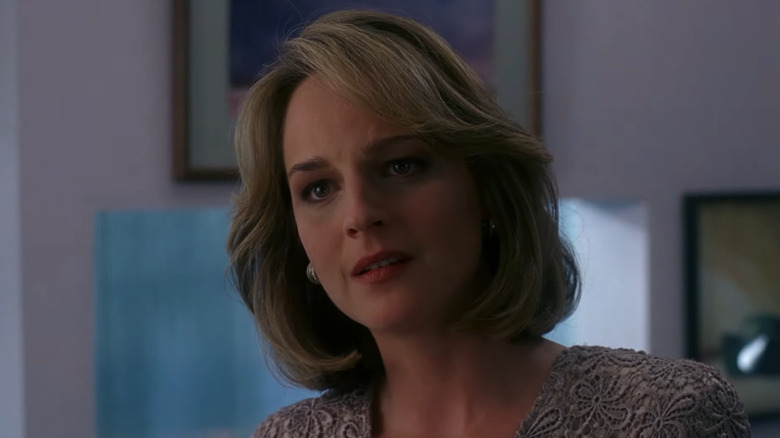 The final installment of the "Trancers" franchise featuring Helen Hunt, 1992's "Trancers III" sees private detective Jack Deth (Tim Thomerson) on the edge of divorce with his wife Lena (Helen Hunt). After being transported to the future of 2352 by his future wife Alice (Megan Ward) and then sent back to 2005 to stop the initiation of a new military Trancers program, Jack learns that Lena has remarried but remains vital to saving the world.
While some viewers thought the story in this straight-to-video sequel was an improvement over "Trancers II," others thought the film was a little too dark, too convoluted, and missing the chemistry of Helen Hunt and Tim Thomerson. Hunt's role was minimized to little more than a few scenes due to her new role on the popular television show "Mad About You."
Her minor role in a B-movie franchise might rank "Trancers III" as Helen Hunt's worst movie, but it's nice to know she still took some time to appear as a fan-favorite character while her career was taking off elsewhere.
49. Trancers II (1991)
Future cop Jack Deth (Tim Thomerson) has settled into life in the 90s with his wife Lena (Helen Hunt) and his friend Hap Ashby (Biff Manard). However, all that changes when his future wife Alice (Megan Ward) arrives and warns him of a new Trancer farm operated by E.D. Wardo (Richard Lynch) and Dr. Pyle (Jeffrey Combs). While Lena is worried about losing Jack to Alice, Jack is concerned about sending Alice back to the future to her potential demise while also worrying about stopping the new Trancer threat.
The 1991 straight-to-video sequel "Trancers II" felt like an overly complex and poorly acted retread of the original. However, some thought the subplot involving Jack's complicated love life with his past and future wives was an interesting twist in an otherwise forgettable film.
Hovering around the bottom of Helen Hunt's filmography, this B-movie follow-up fails to leave the audience in a spell-bound trance.
48. Every Day (2010)
2010's "Every Day" follows Ned Freed (Liev Schreiber), a television writer who has been having trouble at work and home. His wife Jeannie (Helen Hunt) struggles to take care of her alcoholic father Ernie (Brian Dennehy), his son Jonah (Ezra Miller) just came out, and his boss Garrett (Eddie Izzard) has assigned Robin (Carla Gugino) to spice up his scripts. In addition, Robin begins flirting with Ned, threatening to break up his marriage. Will Ned and his family be able to come together to surmount their issues?
Many critics said that "Every Day" felt like an extra-long television pilot with half of the plot. The all-star cast does their best with the material but isn't given much meat with which to work. Only released in a handful of theaters, the film grossed less than $50,000 against its $3 million budget.
A critical and financial flop, it seems like the Helen Hunt film "Every Day" failed in every way.
47. The Spell (1977)
Rita Matchett (Susan Myers) is a 15-year-old who is bullied for her weight at school by her classmates, as well as at home by her distant father Glenn (James Olson) and her mean younger sister Kris (Helen Hunt). Rita teams up with the school gym teacher Jo Standish (Lelia Goldoni) to learn telekinesis and various other spells to hurt those who mistreat her. After a series of violent incidents, the only person who may be able to stop Rita is her mother, Marilyn (Lee Grant).
Compared unfavorably to the prior year's Brian De Palma classic "Carrie," the 1977 made-for-television film "The Spell" was criticized for being slow, boring, and forgettable. Perhaps the most memorable thing about the film is that it features a young Helen Hunt in one of her earliest roles.
Despite a solid performance by Hunt, it's doubtful this second-rate horror film will cast a spell on you.
46. The Night Clerk (2020)
Bart Bromley (Tye Sheridan) lives with his mother, Ethel (Helen Hunt), and works as a night clerk at a hotel. Bart has placed hidden cameras in the rooms to study people and help him mask his Asperger's syndrome. When he witnesses the murder of a woman on one of his camera feeds, he soon finds himself being looked into by Detective Espada (John Leguizamo) and a mysterious new tenant Andrea Rivera (Ana de Armas) — whose romantic interest in Bart may be a deceptive cover for more nefarious plans.
"The Night Clerk" attempts to tell a dark and twisty crime story but fails to do anything thrilling or captivating. Despite its talented and capable cast, the film isn't able to overcome its lackluster script and pedestrian direction.
A thriller that fails to thrill, "The Night Clerk" is a Helen Hunt performance you won't want to check out.
45. Murder in New Hampshire: The Pamela Smart Story (1991)
The 1991 made-for-television film "Murder in New Hampshire: The Pamela Smart Story" tells the true story of high school teacher Pamela Smart (Helen Hunt), who seduces her 15-year-old student Billy Flynn (Chad Allen) into murdering her husband Gregg (Hank Stratton). Pamela soon finds herself on a publicly televised trial led by prosecuting attorney Paul Maggiotto (Howard Hesseman).
While the movie gets the basics of the crime down and features a delightfully dark turn from Helen Hunt, it fails to explore the reasons behind the murder. This lack of depth coupled with less-than-stellar performances from the younger cast makes for a frustrating experience for many viewers.
The true story would go on to inspire more films, most notably the 2014 documentary "Captivated: The Trials of Pamela Smart" and the 1995 Gus Van Sant film "To Die For," both of which were better received than this television movie.
44. Dr. T & the Women (2000)
The love life of Dr. Sully Travis (Richard Gere) gets shaken up when his wife Kate (Farrah Fawcett) mentally reverts to her childhood due to a rare complex. While shunning the advances of his secretary Carolyn (Shelley Long), he begins having an affair with his golf partner Bree Davis (Helen Hunt). At the same time, he has to deal with the wedding of his daughter Dee Dee (Kate Hudson) which, according to his other daughter Connie (Tara Reid), is in jeopardy due to Dee Dee secretly being in love with her maid of honor Marilyn (Liv Tyler).
Critics felt that the 2000 Robert Altman comedy "Dr. T & the Women" featured strong comedic performances from the predominantly female cast, but its uneven story and the off-putting ending left audiences cold. This indifference led to the film coming up $100,000 shy of its $23 million budget.
While Helen Hunt performs admirably in "Dr. T & the Women," the film as a whole could have used a checkup.
43. Only You (1992)
Shortly before they are due to head out on vacation to Mexico, Clifford Godfrey (Andrew McCarthy) is dumped by his fiancée. When he tries to get a refund on his tickets, the travel agent, Clare Enfield (Helen Hunt), informs him that they are non-refundable. At a nearby bar, Clifford meets the attractive but intoxicated Amanda Hughes (Kelly Preston) and convinces her to come to Mexico with him. Once at their Mexican resort, Amanda begins to toy with Clifford's emotions while Clifford starts to fall for Clare, who has come to photograph the resort for a travel brochure.
A fairly typical and forgettable romantic comedy, 1992's "Only You" falls prey to cliches and tired tropes. However, many viewers praised Helen Hunt as the best actor in the film, especially compared to McCarthy's completely unaware and naive performance and Preston's two-dimensional stereotype of a ditzy blonde.
If you're looking for a light and breezy romantic comedy, "Only You" isn't the worst thing you could watch, but there's definitely better.
42. A Good Woman (2004)
Based on the Oscar Wilde play "Lady Windermere's Fan," 2004's dramatic comedy "A Good Woman" follows serial mistress Mrs. Erlynne (Helen Hunt) as her multiple suitors' wives discover her affairs. Erlynne flees to Italy, where she seemingly pursues Robert Windermere (Mark Umbers), husband of Meg (Scarlett Johansson). When Meg thinks Robert is having an affair, she begins to seek out the company of Lord Darlington (Stephen Campbell Moore) while Erlynne seeks out a real relationship with Lord "Tuppy" Augustus (Tom Wilkinson).
Lacking the spark and wit of the play it's based on, many critics thought Helen Hunt and Scarlett Johansson were miscast and out of place in this underwhelming film. While featuring beautiful Italian vistas, "A Good Woman" seemed to ground out the original's social commentary and stylistic touches, leaving the film feeling empty and lifeless.
A rare misstep for Helen Hunt, "A Good Woman" is simply not good.
41. I Love You, Daddy (2017)
Written and directed by Louis C.K., 2017's "I Love You, Daddy" begins with television writer Glen Topher (Louis C.K.) telling his ex-wife Aura (Helen Hunt) that their 17-year-old daughter China (Chloë Grace Moretz) wants to move in with him. Glen takes his daughter to a party where they both meet Glen's film director idol Leslie Goodwin (John Malkovich). However, Glen becomes increasingly concerned when the much older man begins showing a romantic interest in his underage daughter.
Entertainment Weekly reported that the film premiered at the Toronto International Film Festival. However, shortly after that, allegations of sexual misconduct were revealed against the film's writer, director, and star, leading to the film's official release being canceled. Though some reviews of the film acknowledged its artsy black-and-white cinematography and clever dialogue, many more were shocked at the hypocrisy of the film's message while also noting the film's uneven tone.
"I Love You, Daddy" is a mediocre film that seems to be rightfully overshadowed by the behind-the-scenes scandal of its creator.
If you or anyone you know has been a victim of sexual assault, help is available. Visit the Rape, Abuse & Incest National Network website or contact RAINN's National Helpline at 1-800-656-HOPE (4673).
40. Ride (2014)
Book editor Jackie (Helen Hunt) is disappointed when she learns that her son Angelo (Brenton Thwaites) has dropped out of college to live and surf in Los Angeles. Flying to California from New York, Jackie proceeds to hire a limo driver named Ramon (David Zayas) and track down her son. She then attempts to learn how to surf with instructor Ian (Luke Wilson) to better understand her son — but instead learns to better understand herself.
Written and directed by Helen Hunt, 2014's "Ride" was praised for Hunt's performance and the film's dialogue, though some criticism was placed on the uneven structure and direction typical of new directors. Though rough around the edges, the film still conveys real emotions and a handful of surprises.
While formulaic in places, this heartwarming film showcases the incredible acting talent of Helen Hunt while also hinting at a promising future behind the camera.
39. Then She Found Me (2007)
The directorial debut of Helen Hunt, 2007's "Then She Found Me," tells the story of school teacher April Epner (Helen Hunt) whose husband Ben (Matthew Broderick) leaves her because he doesn't want children. Then April's adoptive mother Trudy (Lynn Cohen) passes away, and shortly thereafter the brash talk show host Bernice Graves (Bette Midler) storms into her life, claiming to be her biological mother. Things become even more complicated when April begins dating Frank (Colin Firth), only to find out she's pregnant with Ben's baby.
While the film was praised for the strong acting performances by everyone involved, "Then She Found Me" suffered from a romantically cliched plot and first-time filmmaker hiccups. Bland cinematography and production errors detracted from what could have been a much better film. However, the low-budget film passionately put together by Hunt managed to earn over double its budget back worldwide.
Despite its sloppy production, "Then She Found Me" proves that not only is Helen Hunt great at acting, but she can also get great performances from other actors as well.
38. How It Ends (2021)
On the day the Earth is to be destroyed by a meteorite, Liza (Zoe Lister-Jones) and a physical manifestation of her younger self (Cailee Spaeny) make their way to a party hosted by their friend Mandy (Whitney Cummings). Along the way, Liza attempts to make amends with her parents Lucinda (Helen Hunt) and Kenny (Bradley Whitford), her former friend Alay (Olivia Wilde), and her ex-boyfriend Larry (Lamorne Morris). In addition, she runs into a cavalcade of characters on their way to the end of the world, played by Fred Armisen, Nick Kroll, Logan Marshall-Green, Finn Wolfhard, Paul Scheer, Colin Hanks, Charlie Day, and Pauly Shore.
Filmed during the pandemic with multiple celebrity cameos, critics noted that 2021's end of the world comedy "How It Ends" feels more like a collection of loosely connected sketches than an actual film. While critics found the film to be funny, thoughtful, and interesting, others found the "How It Ends" aimless, disjointed, and disappointing.
This anthology of comedic characters waiting for the apocalypse might make for a pleasant distraction, but you might just be waiting for it to the end.
37. Mr. Saturday Night (1992)
Stand-up comedian Buddy Young Jr. (Billy Crystal) rises from a Catskills comedian to a television star. As the game begins to go to his head, Buddy begins to alienate his family, including his wife Elaine (Julie Warner) and his brother Stan (David Paymer). As his comedy gets more offensive, he begins to alienate his audience. Now an old man, a redemptive opportunity is brought to him by agent Annie Wells (Helen Hunt), but he might be too far gone to seize it.
The directorial debut of Billy Crystal, 1992's "Mr. Saturday Night" features a wonderfully exceptional cast that earned Crystal a Golden Globe nomination for best actor and David Paymer both a Golden Globe and an Oscar nomination for best supporting actor. However, the script's mix of comedy and drama received mixed reviews from the critics, with most finding the humor enjoyable but the dramatic self-destruction by Crystal's character uneven.
Unfortunately, the film was also a financial flop, earning far less than its $23 million budget. However, Variety notes the story had more success when Billy Crystal and co-writers Babaloo Mandel and Lowell Ganz adapted the film into a Broadway musical.
36. Next of Kin (1989)
Kentucky-born Truman Gates (Patrick Swayze) is a Chicago police officer, living a perfect life with his pregnant wife Jessie (Helen Hunt). He convinces his brother Gerald (Bill Paxton) to move to Chicago where he gets a job as a truck driver. Unfortunately, Gerald is soon murdered by mobster Joey Rosellini (Adam Baldwin). Truman attempts to negotiate with the head of the mob Papa John Isabella (Andreas Katsulas) before his revenge-driven brother Briar (Liam Neeson) takes matters into his own hands. When Papa John's son Lawrence (Ben Stiller) also winds up murdered, a battle between Truman's Kentucky family and the Chicago mob ensues.
A decent action film, 1989's "Next of Kin" seemed to entertain critics well enough with its straightforward pulpy narrative, but its lack of depth beyond its basic premise did little to recommend it further. This middle-of-the-road reaction extended to the box office where the film earned almost $4 million over its $12 million budget.
Neither a huge hit nor a big disappointment, "Next of Kin" is good for a night of mindless popcorn-munching action film viewing.
35. Sweet Revenge (1984)
When Major Joe Cheever (Kevin Dobson) winds up impregnating Debbie Markham (Helen Hunt), the daughter of General George Markham (Richard Bradford), he convinces Debbie to end the pregnancy. However, Debbie winds up dying in the process. A panicked Cheever shifts the blame onto Captain Paul Dennison (Merritt Butrick), who ends up taking his own life. Fourteen years later, Dennison's sister Katherine (Kelly McGillis) marries Major Alex Breen (Alec Baldwin) and discovers he is working with Cheevers who has now made his way up the ranks to Colonel. Katherine now makes it her mission to get revenge on Cheevers for the death of her brother.
The 1984 made-for-television movie "Sweet Revenge" is a decent enough drama that is more memorable for its young soon-to-be stars than its story of revenge and betrayal. Though well-acted, the story is occasionally padded and formulaic, though competent.
A fairly standard television film, "Sweet Revenge" is worth checking out to see not only Helen Hunt before she became a star, but also Alec Baldwin and Alfre Woodard as well.
If you or anyone you know is having suicidal thoughts, please call the National Suicide Prevention Lifeline​ at​ 1-800-273-TALK (8255)​.
34. Decoding Annie Parker (2013)
Based on a true story, 2013's "Decoding Annie Parker" tells the dual stories of breast cancer researcher Mary-Claire King (Helen Hunt) and breast cancer survivor Annie Parker (Samantha Morton). King believes that certain forms of breast cancer can be inherited genetically, though many of her contemporaries disagree. Meanwhile, Annie struggles through life with her dimwitted husband Paul (Aaron Paul), while attempting to deal with the same type of cancer that claimed both the lives of her mother and her sister Joan (Marley Shelton).
The film was praised for its two lead performances and strong emotional content, though the shuffling of storylines could occasionally lead to conflicting tones. However, the incredible acting proved good enough to earn Helen Hunt and Aaron Paul best supporting acting awards from the 2014 Milan International Film Festival.
A slightly uneven tearjerker, "Decoding Annie Parker" still makes for a memorable Helen Hunt movie.
33. The Curse of the Jade Scorpion (2001)
In the 2001 comedy "The Curse of the Jade Scorpion," 1940s insurance investigator C.W. Briggs (Woody Allen) butts heads with new efficiency expert Betty Ann Fitzgerald (Helen Hunt) who is butting heads with her boss and secret boyfriend, Chris Magruder (Dan Aykroyd). When C.W. and Betty Ann both wind up as volunteers in a magic show, they are hypnotized into loving each other by Voltan (David Ogden Stiers). Later, Voltan begins using the hypnotized pair to pull off heists for him, unintentionally continuing their love affair at the same time.
Although the film featured beautiful design and era-appropriate visuals, the story, jokes, and acting chemistry left a lot to be desired. Critics complained that the film felt like it was on autopilot, resulting in a dull and uninteresting experience with a stream of jokes that mostly fell flat and a romantic pairing between Hunt and Allen that did not seem to work.
This uninspired outing happened to feature Woody Allen's highest budget at $33 million, which ultimately made it one of his biggest box office failures as "The Curse of the Jade Scorpion" only earned a little under $19 million worldwide.
32. Child Bride of Short Creek (1981)
Teenage Jessie Jacobs (Diane Lane) and her friend Naomi (Helen Hunt) have grown up in a secluded old-fashioned religious community known as Short Creek led by Frank King (Conrad Bain). When Frank's son Isaac (Christopher Atkins) returns from the Korean War, he begins to develop feelings for Jessie while losing faith in the community's outdated ways. Isaac is further upset when his father announces that he will be taking the underage Jessie as his fourth wife.
The 1981 made-for-television film "Child Bride of Short Creek" is loosely based on the 1953 Short Creek raid, which resulted in one of the largest mass arrests in American history with roughly 400 Mormon fundamentalists taken into custody, per Slate. A 1981 review from The New York Times review said the film was "unusual in maintaining a balance, in evoking thought and sympathy and, above all, in sustaining interest."
A compelling look into the intricacies of a small religious community grounded in the love story between a young girl and a man trying to escape it, "Child Bride of Short Creek" is worth seeking out.
31. Kiss of Death (1995)
After ex-con Jimmy Kilmartin (David Caruso) gets arrested for stealing cars, crime boss Little Junior Brown (Nicolas Cage) convinces him to take all of the heat in exchange for protecting Jimmy's wife Bev (Helen Hunt). However, after one of Little Junior's men, Jimmy's cousin Ronnie Gannon (Michael Rapaport), gets Bev killed, Jimmy rats out everyone except for Ronnie. This leads Little Junior to suspect that Ronnie ratted them out. Years later, District Attorney Frank Zioli (Stanley Tucci) and Detective Calvin Hart (Samuel L. Jackson) want Jimmy to help them take down a drug dealer named Omar (Ving Rhames) as well as Little Junior.
A captivating cast with an especially eccentric performance by Nicolas Cage in 1995's crime thriller "Kiss of Death" won over critics, though its noir-soaked charms didn't particularly wow the theater-going audiences. The underperforming film only grossed a little over $14 million against its $40 million budget.
If the critics are right, "Kiss of Death" is a solid film that was unfortunately overlooked at the time.
30. Rollercoaster (1977)
Safety inspector Harry Calder (George Segal) is called to investigate a series of roller coaster disasters perpetrated by an unknown man (Timothy Bottoms). When Calder gets too close to discovering the truth, he finds himself personally targeted by the mysterious bomber.
While reactions to 1977's "Rollercoaster" were a bit up and down – with some loving the entertaining thrill ride and others criticizing the lack of depth — the film has a lot of interesting things going for it. It's the feature film debut of Helen Hunt, wonderfully playing Calder's witty daughter Tracy. "Rollercoaster" also features an appearance by the quirky band Sparks, playing a pair of their songs at the grand opening of one of the titular roller coasters. Lastly, the film was enhanced by a rarely used technique called Sensurround, which utilized low-frequency bass speakers to intensify the roller coaster sequences.
As it was her first feature film, "Rollercoaster" is a Helen Hunt film you'll definitely want to get a ticket to ride.
29. Into the Badlands (1991)
The 1991 made-for-cable western horror film "Into the Badlands" follows a mysterious bounty hunter named T. L. Barston (Bruce Dern) who is tracking down the villainous Red Roundtree (Michael J. Metzger). Along the way, he tells a series of tales. The first involves a handsome gunslinger, McComas (Dylan McDermott), who falls for a sickly saloon woman, Blossom (Helen Hunt). Another concerns a pair of women, Alma Heusser (Mariel Hemingway) and Sarah Carstairs (Lisa Pelikan), defending themselves against a pack of ravenous wolves.
While not an incredibly well-known film, "Into the Badlands" features amazing performances from its all-star cast and a stylized filming style that many viewers feel wonderfully blends Western iconography with horror movie tension and thrills.
While the film's anthology nature lends some of the stories to be weaker than others, and its television budget can occasionally betray its lofty ambitions, "Into the Badlands" is a fun genre-twisting film that's definitely worth your time.
28. What Women Want (2000)
Misogynistic advertising executive Nick Marshall (Mel Gibson) suddenly finds himself stuck with his teenage daughter Alex (Ashley Johnson) and a new boss, Darcy Maguire (Helen Hunt). After an electrifying accident with some feminine products, Nick suddenly discovers he has the ability to hear women's thoughts. He quickly learns that most of the women in his life (Marisa Tomei, Sarah Paulson, Bette Midler) vehemently dislike him. Initially using this newfound ability to steal Darcy's advertising ideas, Nick soon begins to learn the error of his arrogant ways.
While critics were mixed on this high concept comedy, 2000's "What Women Want" was a box office smash earning over $300 million more than its $70 million budget. Though the film is admittedly fluffy, the comedic performances are top-notch, the romantic chemistry between the leads is charming, and the film as a whole leaves you feeling warm and fulfilled.
If you're looking for a fun romantic comedy with a twist, watch "What Women Want." It's what Helen Hunt would want.
27. In the Company of Darkness (1993)
After a series of child murders occur, rookie cop Gina Pulasky (Helen Hunt) is recruited to help investigate, much to the concern of her fellow officer and lover Will McCaid (Jeff Fahey). Gina soon finds herself going undercover to get closer to the suspected murderer, Kyle Timler (Steven Weber). However, as Gina gets closer and closer to Kyle, the case begins to take its toll on her mind.
Inspired by a true story, the 1993 made for television movie "In the Company of Darkness" is a tense thriller featuring a wonderfully complex performance by Helen Hunt as a police officer forced to examine her past trauma to take down a killer. Surrounded by an equally as talented cast, the well-written film keeps you on the edge of your seat.
"In the Company of Darkness" is yet another television movie elevated by the presence of Helen Hunt.
26. Girls Just Want to Have Fun (1985)
When Janey Glenn (Sarah Jessica Parker) moves to Chicago, she quickly makes friends with her Catholic schoolmate Lynne Stone (Helen Hunt). They both want to be dancers on a locally filmed show called "Dance TV" and sneak off to the auditions. Janey aces the audition but finds herself at odds with her dance partner Jeff Malene (Lee Montgomery), her strict father Colonel Robert Glenn (Ed Lauter), and her competitive nemesis Natalie Sands (Holly Gagnier).
Based on the Cyndi Lauper hit song (although The New York Times notes that only a cover of the song is featured in the film due to legal reasons), 1985's musical comedy "Girls Just Want to Have Fun" was poorly received by critics, leading to a fairly low Rotten Tomatoes score. However, the film has received a big nostalgic boost from fans who loved its 80s charm, earning it a much, much higher audience score.
While it may not be high art, sometimes you just want to have fun.
25. Miles from Home (1988)
Frank Roberts (Richard Gere) and his brother Terry (Kevin Anderson) go on a bank-robbing spree in an act of revenge against the banks foreclosing on farms much like their own. Along the way, Terry begins a romance with a woman named Sally (Penelope Ann Miller), while Frank dates her friend Jennifer (Helen Hunt). They soon find that their Robin Hood behavior has earned the respect of a wide variety of people ranging from an exotic dancer (Laurie Metcalf) to a reporter named Barry Maxwell (John Malkovich), but their fame might not hold out forever.
1988's "Miles from Home" is incredibly directed by actor Gary Sinise, pulling out amazingly real performances from the cast. A potent showcase of emotionally charged scenes makes this a film worth checking out.
Helen Hunt and Richard Gere would again romantically team up for the 2000 comedy "Dr. T & the Women," but their initial spark in "Miles from Home" makes for a far better film.
24. Pioneer Woman (1973)
In the 1973 made-for-television western film "Pioneer Woman," John Sergeant (William Shatner) decides to move his family to Oregon and quickly learns that it may be harder than it seems. When John is murdered, his widow Maggie (Joanna Pettet) is left to take care of her children, Sarah (Helen Hunt) and Jeremy (Russell Baer). With some help from her neighbors, Robert Douglas (David Janssen) and Joe Wormser (Lance LeGault), she might just be able to make her way in the Wild West.
Initially intended as a pilot for a television series, the only real flaw that results is a slightly open ending. Otherwise, "Pioneer Woman" is a solid film about the harshness and struggles attached to moving to the West in the 19th century, counterbalanced by a somewhat hammy performance by Shatner. It's also notable for being the first on-screen acting role for a young Helen Hunt.
Even at the age of 10, Helen Hunt turns in a star performance in this exceptional made-for-TV film.
23. Twister (1996)
Bill Harding (Bill Paxton) brings his fiancée Melissa Reeves (Jami Gertz) to Oklahoma to ask his wife, tornado chaser Jo Harding (Helen Hunt), to sign their divorce papers. However, Bill is distracted by the fact that Jo has built a tornado-studying prototype device based on his ideas. When he further learns that a rival tornado chaser, Jonas Miller (Cary Elwes), has made his own prototype, it soon becomes a race to see who can get theirs into an active tornado first. Accompanied by Jo's ragtag team (Philip Seymour Hoffman, Alan Ruck, Sean Whalen), Jo and Bill begin to reconnect while chasing twisters.
1996's "Twister" was a huge hit, earning nearly $500 million worldwide and breaking numerous box office records. While some critics were a little harsh on the plot, almost everyone could agree that the computer wizardry bringing the tornadoes to life was top of the line. The film even earned two Oscar nominations, one for sound and one for the truly impressive special effects. The massive success of the film even led to Helen Hunt pitching a sequel that she offered to write and direct, featuring a more diverse cast.
Though the proposed sequel never took off the ground, the original "Twister" is still an absolute whirlwind of fun.
22. Pay It Forward (2000)
When 7th grader Trevor McKinney (Haley Joel Osment) is assigned a project by his social studies teacher Eugene Simonet (Kevin Spacey), Trevor comes up with an idea called "Pay It Forward," wherein someone does a kind favor for three people and those three people pay it forward by helping three more people. Trevor's initial attempts, which include helping a homeless man named Jerry (James Caviezel) and steering his stripper mother Arlene (Helen Hunt) away from his abusive father Ricky (Jon Bon Jovi), seem to fail. But when reporter Chris Chandler (Jay Mohr) shows up to interview him, he realizes his project may have had a far wider reach than he realized.
While critics claimed 2000's "Pay It Forward" was manipulatively nice with clumsy moralizing, general audiences were more forgiving and enjoyed the message of being nice to each other. Despite the harsher reviews, many were still impressed by the incredible acting by the young Haley Joel Osment, as well as the depth imbued in the characters played by Helen Hunt and Kevin Spacey.
If you disagree with the critics and find the film to be an emotionally engaging film with a potent message, consider paying it forward to your friends.
21. Quarterback Princess (1983)
Based on a true story, the 1983 made for television film "Quarterback Princess" tells the story of Canadian teenager Tami Maida (Helen Hunt) who moves to Oregon and expresses a desire to try out for the football team. She is met with resistance from nearly everyone, except for her struggling boyfriend, Scott Massey (John Stockwell), and her supportive teammates (including a young Tim Robbins). After making the team, Tami's next goal is to win the state championship and quite possibly become the homecoming princess as well.
Bucking gender norms and inspiring young girls to pursue their dreams, "Quarterback Princess" is an enjoyable family film with themes that are still relevant today. Even at a young age, Helen Hunt delivers a strong performance as the lead character, carrying most of the movie on her padded shoulders.
Not only does the film prove that girls can grow up to do whatever they want, but that Helen Hunt is capable of tackling any role.
20. Bobby (2006)
In the hours preceding the assassination of United States Senator Robert F. Kennedy, the Ambassador Hotel is full of people preparing for Kennedy's speech or just living their lives. There are campaign donors (Helen Hunt, Martin Sheen), a couple getting married (Lindsay Lohan, Elijah Wood), a singer (Demi Moore) and her management team (Emilio Estevez, David Krumholtz), the doorman (Anthony Hopkins), and his chess-playing friend (Harry Belafonte), campaign volunteers (Brian Geraghty, Shia LaBeouf) and their drug dealer (Ashton Kutcher), hotel employees (Sharon Stone, William H. Macy, Heather Graham, Christian Slater, Laurence Fishburne, Freddy Rodriguez, Mary Elizabeth Winstead), and campaign staff (Joshua Jackson, Nick Cannon). Their stories and more all intertwine on this fateful night.
Written and directed by Emilio Estevez, 2006's "Bobby" is an ambitious film that doesn't quite pull off juggling its multiple plotlines but is nevertheless a worthy attempt at showcasing the feelings of the time and how they are still relevant to the more modern era. In addition to the fictionalized cast of characters, the film also incorporates real footage of Robert F. Kennedy to tremendous effect.
Though a little jumbled, "Bobby" is filled to the brim with amazing talent and passionate energy.
19. Angel Dusted (1981)
Under severe pressure from his family and school, Owen Eaton (John Putch) turns to drugs to cope. When he becomes violent after smoking marijuana laced with PCP, his mother Betty (Jean Stapleton), his father Michael (Arthur Hill), and his sister Lizzie (Helen Hunt) find themselves questioning how this could happen to the poster child Owen. The family proceeds to try and help Owen while dealing with their own shortcomings.
Based on a true story, the 1981 made-for-television film "Angel Dusted" features great performances all around, especially from Jean Stapleton and her real-life son John Putch. Though its after-school special plot could be seen as cheesy, "Angel Dusted" focuses more on the underlying struggles already present in the family that eventually leads to the drug abuse, making for a far less preachy film than it could have been.
Another strong television movie outing for Helen Hunt, "Angel Dusted" is a surprisingly thoughtful film with fully developed characters.
18. Death Scream (1975)
Based on the infamous murder of Kitty Genovese, the 1975 made-for-television film "Death Scream" takes the story of a woman murdered while multiple witnesses fail to intervene and turns into a star-studded crime drama. The film stars Raul Julia as Detective Nick Rodriguez, the man investigating the murder and tracking down a potential serial killer. Shaken by the callousness of the witnesses, Rodriguez soon begins to worry that even his daughter Teila (Helen Hunt) might not be safe from the horrors of the world.
While the large number of bystander witnesses involved in the Genovese murder have since been debunked, "Death Scream" manages to pull a tense thriller story out of it. While the detective plot is the strongest aspect of the film, some were critical of the number of cameos used to fill out the roles of the witnesses, especially considering many of these subplots are dropped unsatisfactorily. These uneven cameos included Ed Asner, Cloris Leachman, Art Carney, Kate Jackson, Tina Louise, and Lucie Arnaz.
While it may have been a little overcrowded, "Death Scream" features an effective plotline involving a detective's work being affected by his concern for his daughter.
17. Bill: On His Own (1983)
In this made-for-television sequel to the Golden Globe-winning 1981 film "Bill," Mickey Rooney returns to continue the real-life story of Bill Sackter, a man in his sixties living with an intellectual disability. After Bill's friends Barry (Dennis Quaid) and Beverly Morrow (Largo Woodruff) move to California, Bill moves into a boarding home run by Mae Driscoll (Teresa Wright). When Bill's presence causes some legal concerns, social worker Jenny Wells (Helen Hunt) steps in to help Bill.
Though some felt 1983's "Bill: On His Own" was an unnecessary sequel, the talented cast and heartwarming story still managed to make the film a delight to watch. Decent storyline additions of Bill discovering his Jewish heritage and boarding house tenant Angela (Edie McClurg) developing a crush on Bill help round out the somewhat thin plot.
Though inferior to the original film, "Bill: On His Own" still provides entertainment all on its own.
16. Desperate Lives (1982)
When Sandy Cameron (Helen Hunt) is talked into trying some homemade angel dust, she proceeds to jump out of a two-story window and winds up paralyzed. With her brother Scott (Doug McKeon) and other students seemingly going down the same path, guidance counselor Eileen Phillips (Diana Scarwid) makes it her personal mission to put a stop to this rampant drug use.
While some enjoyed the 1982 television film "Desperate Lives" for its anti-drug message, more found it to be hilariously cheesy and over-the-top. Though Diana Scarwid's scenery-chewing performance is delightful, what is most memorable is Helen Hunt's window dive moment. The scene was not only made viral in a Keyboard Cat meme but was also mocked by Helen Hunt herself when she hosted "Saturday Night Live" in 1994.
Whether you take the film sincerely or enjoy it for its camp value, there's something for everyone in "Desperate Lives."
15. Soul Surfer (2011)
The 2011 film "Soul Surfer" tells the amazing true story of Bethany Hamilton (AnnaSophia Robb), who was attacked by a shark off the coast of Hawaii. Losing her left arm, Bethany's dreams of becoming a professional surfer seem to be unattainable. However, with the encouragement of her mother Cheri (Helen Hunt), her father Tom (Dennis Quaid), and her church youth leader Sarah Hill (Carrie Underwood), Bethany learns she can not only surf, but she can inspire others while doing so.
While some critics seemed to dislike the melodramatic nature of "Soul Surfer" and complained that it lost narrative momentum after the shark attack, general moviegoers found Bethany's faith-based story to be inspirational and well told. In addition, the biographical film was a financial success, earning over twice its $18 million budget.
Complemented by a stellar performance by Helen Hunt, "Soul Surfer" is a quality film the whole family can enjoy.
14. Choices of the Heart (1983)
This 1983 made for television film "Choices of the Heart" tells the true story of Jean Donovan (Melissa Gilbert). The film tracks Jean from her time in college with her roommate Cathy (Helen Hunt) to her pursuit of missionary work at the encouragement of Father Matt Phelan (Martin Sheen), which eventually leads her to El Salvador where she works with young children caught in the middle of a war. Struggling with love, faith, and her purpose in life, Jean will soon face unimaginable tragedies.
Centered around a complex and grounded performance by Melissa Gilbert, the film does not shy away from the emotionally difficult trials that Jean Donovan faced nor their tragic consequences. With a great supporting cast that also includes Peter Horton as Jean's worried boyfriend and Mike Farrell as the United States Ambassador investigating Donovan's story, it all adds up to a powerfully moving film.
"Choices of the Heart" shows that sometimes making the right choice can have bad outcomes, but that still doesn't make the choice any less honorable.
13. Project X (1987)
Airman Jimmy Garrett (Matthew Broderick) is assigned to a project training chimpanzees in flight simulators. Befriending a particular chimp named Virgil, Jimmy soon realizes that something is off when Virgil begins to use sign language to communicate with him, saying, "Help." Once Jimmy learns that the project's supervisor, Dr. Carroll (William Sadler), plans to expose the chimpanzees to radiation, Jimmy enlists the help of Virgil's former handler Teri MacDonald (Helen Hunt) to help him rescue the chimps before they can be tested.
Despite a somewhat unbelievable plot, 1987's "Project X" more than makes up for it with likable performances by its human cast and heartstring-tugging performances by its simian cast. An exciting adventure with plenty of heart, it's hard not to find this tale of a man emotionally connecting with a chimp entertaining.
With Helen Hunt saving the day for a group of chimpanzees, "Project X" is a successfully fun family film.
12. Candy Jar (2018)
Lona Skinner (Sami Gayle) is competing to be the president of the debate club with fellow club member Bennett Russell (Jacob Latimore), a rivalry that is only made more intense by their respective mothers, Amy (Christina Hendricks) and Julia (Uzo Aduba). However, when the school principal Nelson (Tom Bergeron) makes them co-presidents, they must learn to work together. Along with the help of their supportive guidance counselor Kathy (Helen Hunt), they might even be able to win the debate state championship.
A well-written film that is also wonderfully directed, 2018's Netflix original "Candy Jar" features top-notch talent who bring their realistic characters to life. Though somewhat predictable, the film's excellent craftsmanship elevates the movie to a higher and thoroughly enjoyable level. Even the debate scenes, which could easily be a dry and tedious affair, are brought to vivid life with interesting filmmaking techniques to heighten the excitement.
There's no debate about it, "Candy Jar" is a delightful treat featuring a fantastic performance by Helen Hunt.
11. Pulse Pounders (1988)
The 1988 anthology film "Pulse Pounders" features three short films. The first is an H.P. Lovecraft adaptation called "The Evil Clergyman" starring Jeffrey Combs, Barbara Crampton, and David Warner, which is followed by sequels to 1984's "The Dungeonmaster" and 1984's "Trancers." The latter sequel sees Jack Deth (Tim Thomerson) settling into life in the '80s, much to the annoyance of his girlfriend Leena (Helen Hunt). However, when his future partner McNulty (Art LaFleur) travels back in the form of his female teenage ancestor (Alyson Croft) to warn Jack about Edlin Shock (Velvet Rhodes), an escaped assassin seeking revenge, things begin to heat up.
Sadly, the film was never released as the company that produced it went bankrupt. In the aftermath, the film was assumed to be lost forever. However, a workprint was discovered in 2011, and two of the three individual segments have been released on DVD. "The Evil Clergyman" was released in 2012, and the "Trancers" sequel, now renamed "Trancers: City of Lost Angels," was released in 2013.
"Trancers: City of Lost Angels" received a positive reception, comparing it favorably to the original film, with fans noting that with its shorter runtime, it could have been an interesting start to a television series.
10. Trancers (1984)
In the 23rd century, police detective Jack Deth (Tim Thomerson) tracks down evil psychic Martin Whistler (Michael Stefani) to stop him from using his powers to turn people into zombie-like killers called Trancers. When Whistler takes a drug that sends his consciousness into his 1985 ancestor Detective Weisling, Jack soon follows and winds up in his 1985 ancestor Phil Dethton. As Whistler begins killing the ancestors of future political members, Jack is joined by his ancestor's punk girlfriend Leena (Helen Hunt) in protecting one of those political ancestors, Hap Ashby (Biff Manard).
A B-movie classic, 1984's "Trancers" smashes together a futuristic sci-fi thriller, action-packed zombie horror, 80's punk rock fish-out-of-water comedy, and a neo-noir detective story all into one impressive film. Critics loved its mash-up of genres and its low-budgeted fun. The popular film received five sequels and a short film follow-up, making it a bonafide cult favorite franchise.
Helen Hunt would appear in the first three films and the short film, but the original "Trancers" is undoubtedly the best.
9. The Miracle Season (2018)
When Iowa City West High School's captain of the volleyball team, Caroline "Line" Found (Danika Yarosh), dies in a moped accident, followed shortly by the death of her mother Ellyn (Jillian Fargey), Line's father Ernie (William Hurt) is left alone to grieve. Line's best friend and fellow volleyball player Kelley Fliehler (Erin Moriarty) is also grieving and struggling as her coach Kathy Bresnahan (Helen Hunt) has made her the new team captain. After a rough start, the team draws on their love and inspiration from the beloved Line to make their way to the state championship.
2018's "The Miracle Season" reunited Helen Hunt with "Soul Surfer" director Sean McNamara for another sports film based on an inspirational true story. Though a handful of critics found some of the characters a little two-dimensional, the audience enjoyed the heartwarming underdog story of a volleyball team rising against the odds to honor their fallen captain.
A powerful tale of triumph over tragedy, "The Miracle Season" is a Helen Hunt film you won't want to miss.
8. Peggy Sue Got Married (1986)
Peggy Sue Bodell (Kathleen Turner) is on the verge of divorce from her cheating husband Charlie (Nicolas Cage), so she decides to attend her 25-year high school reunion with her daughter Beth (Helen Hunt). When her husband shows up as she is crowned reunion queen along with former geek turned tech billionaire Richard Norvik (Barry Miller), she passes out on stage. When Peggy Sue wakes up, she finds herself back in 1960. With the ability to change her future, will she run off with the motorcycle driving Michael Fitzsimmons (Kevin J. O'Connor), or will she be again swayed by Charlie's charms?
Directed by Francis Ford Coppola, 1986's "Peggy Sue Got Married" features a high concept plot that still intimately focuses on one woman's journey and her choices, all while still managing to be funny and entertaining. The film earned three Academy Award nominations, including best actress for Kathleen Turner.
Featuring not only Helen Hunt before she was famous but also Jim Carrey in a memorable role, "Peggy Sue Got Married" is an absolute delight you'll want to watch time and time again.
7. The Frog Prince (1986)
When King William (Clive Revill) is informed that only one of his two nieces can be the true princess, the older sister Henrietta (Helen Hunt) will stop at nothing to ensure that it's her. Meanwhile, her younger sister Zora (Aileen Quinn) makes friends with a very tall frog named Ribbit (John Paragon), who might actually be a cursed prince. Ribbit helps Zora learn how to be a proper princess, while Henrietta plans to dispose of the overgrown frog.
The 1986 musical based on the classic fairytale "The Frog Prince" is a charming family movie featuring Helen Hunt as a decidedly uncharming princess. With plenty of delightful songs and a heartwarming story about the value of friendship, it's hard not to enjoy this fun fantasy film.
Despite its low budget and offbeat character design, "The Frog Prince" manages to be a sweet film that the whole family will enjoy.
6. The Miracle of Kathy Miller (1981)
After being hit by a car, teenager Kathy Miller (Helen Hunt) goes into a seven-week-long coma. While the reaction to her accident threatens to tear her mother, Barbara (Sharon Gless), and her father, Larry (Frank Converse), apart, Kathy finally goes into recovery and begins to push herself to train for a long-distance race.
Based on a true story, the 1981 made-for-television film "The Miracle of Kathy Miller" is an inspiring story of an unbelievably strong young woman beating the odds and participating in the sport she loves. Helen Hunt perfectly conveys the reality and struggle of the real-life athlete in this emotionally charged film. Hunt is also backed up by a wonderful supporting cast that includes heavy-hitters like Sharon Gless, John de Lancie, and Rance Howard.
In a long line of television films based on true stories, "The Miracle of Kathy Miller" might just be Helen Hunt's best.
5. I See You (2019)
When children begin to go missing, Detective Greg Harper (Jon Tenney) is assigned to investigate the disappearances. However, his home life begins to interfere when he discovers his wife Jackie (Helen Hunt) has been having an affair with a man named Todd (Sam Trammell). In addition, his son Connor (Judah Lewis) notices strange happenings around their home that might be supernatural or might have something to do with a homeless couple from Greg's past (Owen Teague, Libe Barer).
2019's "I See You" is a genre-bending horror film filled with unexpected twists and turns that only enhance the terror rather than distract from it. Masterfully directed, expertly written, and wonderfully acted, this delightfully dark film will keep you on your toes and keep you looking over your shoulder.
If you're in the mood to watch a fantastic Helen Hunt horror film, then you should see "I See You."
4. The Waterdance (1992)
After a hiking accident, writer Joel Garcia (Eric Stoltz) is fully paralyzed. Staying at a rehabilitation center, he forms bonds with his fellow patients, the romantic Raymond Hill (Wesley Snipes) and the intimidating biker Bloss (William Forsythe). In addition, Joel tries to make things work with the married woman he's been seeing, Anna (Helen Hunt). Will Joel be able to balance the aspects of his former life with his new life as a paraplegic man?
Loosely based on the writer and director Neal Jimenez's own experiences in rehabilitation, 1992's "The Waterdance" is an intimate and realistic look at what it's like to suffer a spinal cord injury. Filled with humor, beauty, and an extremely talented cast, the film wowed viewers and earned universal praise from critics on Rotten Tomatoes.
A wonderfully subtle yet complex film, "The Waterdance" easily makes its way to the top of Helen Hunt's best films.
3. Cast Away (2000)
FedEx employee Chuck Noland (Tom Hanks) has been letting his job get in the way of his relationship with his girlfriend, Kelly Frears (Helen Hunt). When Chuck is called away to Malaysia in the middle of a Christmas dinner, he chooses his work over Kelly. In an unfortunate twist of fate, the cargo plane crashes into the ocean and Chuck soon finds himself the sole survivor on a deserted island. With nothing to aid him other than a few FedEx packages and a Wilson volleyball, Chuck struggles to survive while planning to escape. But if he ever gets back home, will Kelly still be waiting for him?
The epic 2000 tale of survival "Cast Away" was an enormous hit, making over $420 million worldwide and earning star Tom Hanks a Golden Globe win and an Oscar nomination. Though Helen Hunt's role was minimal, it was still memorable enough to earn her and Hanks a nomination for best kiss at the 2001 MTV Movie Awards. In addition to the multiple awards, the film received critical acclaim for roughly two-thirds of the movie being carried by a captivating Tom Hanks and a blood-smeared volleyball.
While the film is mostly focused on Tom Hanks, "Cast Away" wouldn't have the same impact without an emotionally grounding performance by Helen Hunt.
2. The Sessions (2012)
A 38-year-old journalist and poet, Mark O'Brien (John Hawkes), spends his life in an iron lung as a result of having polio. Deciding he wants to finally lose his virginity before his inevitable death, Mark turns to his priest Father Brendan (William H. Macy) for advice. Father Brendan assists Mark in setting up a series of sessions with sex surrogate Cheryl Cohen-Greene (Helen Hunt). As the two open up to each other, both sexually and emotionally, they begin to discover they have real feelings for each other that might jeopardize Cheryl's marriage.
Based on a remarkable true story, 2012's "The Sessions" is a surprisingly funny and touching film with incredible performances from its two leads. Though featuring numerous scenes in which the actors are fully exposed, the film handles those moments in a delicate and believable way that tells the story in an honest manner. Helen Hunt's performance, in particular, was singled out as wonderfully complex and fascinating, earning her a well-deserved Oscar nomination for best supporting actress.
A beautiful and thoughtful film, "The Sessions" features Helen Hunt in one of her greatest roles.
1. As Good as It Gets (1997)
Romance novelist Melvin Udall (Jack Nicholson) is a fairly despicable man suffering from obsessive-compulsive disorder. When his neighbor, a gay artist named Simon Bishop (Greg Kinnear) is attacked during a robbery, Simon's agent Frank Sachs (Cuba Gooding Jr.) convinces Melvin to take care of Simon's dog while he's in the hospital. Growing surprisingly attached to the dog, Melvin also finds himself falling for Carol Connelly (Helen Hunt), the waitress at the restaurant he goes to every morning. Melvin, Carol, and Simon's lives all begin to intersect in ways that are surprisingly beneficial to each other.
1997's "As Good as It Gets" was a hit with critics, who praised the complex characters, charming humor, and top-notch performances from the entire cast. The film earned both Jack Nicholson and Helen Hunt Golden Globes and Oscars for their performances, as well as numerous other prestigious wins and nominations. Not just critically acclaimed but a box office smash as well, the movie earned over $300 million worldwide against its $50 million budget.
When looking for the most memorable Helen Hunt movie, it seems like "As Good as It Gets" is definitely as good as it gets.