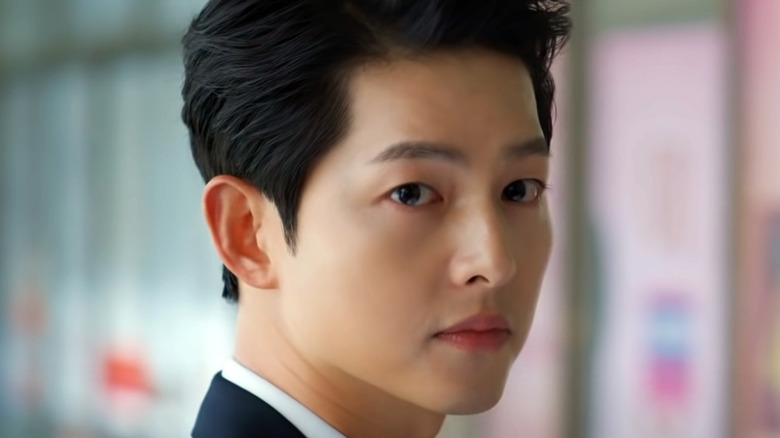 Korean dramas, aka K-dramas, have taken streaming platforms like Netflix by storm. It's no mystery as to why: These television series are known for high-quality production values, engrossing stories, captivating characters, and top-notch acting. They also range far and wide in terms of genre, to the point that there truly is a K-drama for everyone. Looking for a cutesy rom-com to relax with? How about a suspense-filled thriller that will have you on the edge of your seat? Interested in crime sagas that take you from the back alleys to the penthouse? K-dramas have you covered.
Unsurprisingly, international viewers are gobbling these series up like never before. Netflix makes it easy to do so: The streaming service boasts a massive slate of K-dramas that grows larger by the week. Looking to leap into this wide world of entertainment? You're in luck. These are the best K-drama shows currently available on Netflix.
Updated on September 6, 2022: Netflix is constantly adding new K-dramas to its catalogue. Whenever a fresh classic emerges, we'll be sure to add it to this list. Be sure to check back often to discover your next K-drama obsession.
100 Days My Prince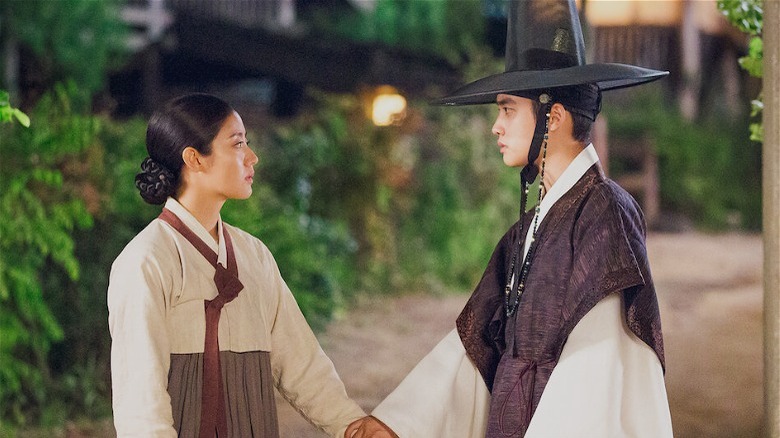 After surviving a failed assassination attempt, a crown prince finds himself in a strange environment, with no recollection of his identity. Soon after, he marries a 28-year-old spinster and private detective, who must wed to avoid punishment from a new law. Ironically, this law was created by none other than the crown prince himself. This enthralling romantic comedy is led by K-Pop star Doh Kyung-soo and acclaimed actress Nam Ji-Hyun, who both deliver charming performances as Yul/Won-deuk and Hong-shim. Their chemistry is adorable and heartwarming — you're sure to swoon during their scenes together. This series also deals with intriguing political dilemmas and serious issues concerning the lead characters' pasts, which soon bubble to the surface.
Starring: Doh Kyung-soo, Nam Ji-hyun, Han So-hee
Director: Lee Jong-jae, Nam Sung-woo
Year: 2018
Runtime: 16 episodes
Rating: TV-14
A Korean Odyssey
An interesting mixture of fantasy, romance, horror, and dramedy, "A Korean Odyssey" is a story about immortal beings and Seon-mi, the seemingly ordinary woman who can see them. Through this gift, she's able to meet the Monkey King, Son Oh-gong, in the mansion which serves as his eternal prison. In order to escape, he tricks Seon-mi into a deal. He'll protect her whenever she calls his name — but as soon as Seon-mi frees him, he erases his name from her memory. 25 years later, Oh-gong is forced to finally fulfill his end of the bargain. This engrossing series comes from the Hong sisters, best known for their work on many popular rom-coms. True to their reputation, "A Korean Odyssey" boasts another spellbinding plot full of wonderfully eccentric characters.
Starring: Lee Seung-gi, Oh Yeon-seo, Lee Hong-gi
Director: Park Hong-kyun, Kim Jung-hyun, Kim Byung-soo
Year: 2017 – 2018
Runtime: 20 episodes
Rating: TV-MA
All of Us Are Dead
This exhilarating coming-of-age story follows a group of teenagers trapped inside their school during a zombie outbreak. Every episode is more unpredictable and surprising than the last: Thrilling action sequences, intense gore, searing moral dilemmas, and immense grief are all on offer here. An incredibly talented young cast takes things to further heights by delivering honest and powerful performances. These teenagers face unbelievable loss as they try their best to keep their humanity intact in a world dominated by monsters. You'll root for them with all your heart.
Starring: Park Ji-hu, Yoon Chan-young, Cho Yi-hyun
Director: Lee Jae-kyoo, Kim Nam-su
Year: 2022 – Present
Runtime: 12 episodes
Rating: TV-MA
The Beauty Inside
Actress Han Se-gye has a secret ability: Every month, her entire appearance changes, rendering her a completely different person for a week — at least in terms of looks. However, this is more of a curse than a gift, as she has no way of controlling it. As you might imagine, this makes managing a personal life and career rather difficult. But everything changes when she meets Seo Do-jae, an airline executive secretly suffering from face blindness. This oddball set-up turns out to be the perfect recipe for a sweet and unconventional romance. Due to the female lead's shapeshifting, viewers should also expect special appearances from a variety of famous Korean actors.
Starring: Seo Hyun-jin, Lee Min-ki, Lee Da-hee
Director: Song Hyun-wook
Year: 2018
Runtime: 16 episodes
Rating: TV-14
Beyond Evil
This award-winning crime drama follows seasoned cop Lee Dong-Sik, who gets paired up with privileged-but-capable junior detective Han Joo-won. They investigate a string of murders connected to the unsolved death of Dong-Sik's younger sister, which happened 20 years ago. Who is the crazed killer stalking the streets? Why is he doing this? And how on Earth are they going to stop him? Featuring superb acting from stars Shin Ha-kyun and Yeo Jin-goo, this series instantly pulls the viewer into its gripping story. And, unlike other mystery dramas, "Beyond Evil" makes sure to cleverly answer all the questions it lays out.
Starring: Shin Ha-kyun, Yeo Jin-goo, Choi Sung-eun
Director: Shim Na-yeon
Year: 2021
Runtime: 16 episodes
Rating: TV-MA
Business Proposal
Shin Ha-ri unknowingly goes on a blind date with her boss, Kang Tae-mo, after agreeing to a favor for a friend. Despite finding out the truth, the man in charge is interested in this young researcher — to the point that he suddenly asks her to pretend to be his fiancée. This isn't the only romance on offer in "Business Proposal," either: Ha-ri's friend's love story is so good, it threatens to run off with the entire series. A light-hearted story full of likable characters, "Business Proposal" is a stand-out production thanks to its perfect casting and consistent storytelling.
Starring: Ahn Hyo-seop, Kim Se-jeong, Seol In-ah
Director: Park Seon-ho
Year: 2022
Runtime: 12 episodes
Rating: TV-14
Chief of Staff
Fans of "Squid Game" will enjoy seeing Lee Jung-jae portray the clever and cunning Jang Tae-joon in this political thriller. "Chief of Staff" offers viewers a look into the competitive and treacherous world of South Korean politics, from the point of view of an ambitious man who plans to disrupt the government's corruption system. Tae-joon easily uses his wit, steadfastness, and sharp intuition to influence the decisions of people in power. To rise through the ranks, however, he'll have to resort to less principled strategies.
Starring: Lee Jung-jae, Shin Min-a, Lee Elijah
Director: Kwak Jung-hwan
Year: 2019
Runtime: 20 episodes
Rating: TV-14
Crash Landing on You
Led by South Korean A-listers Hyun Bin and Son Ye-jin, "Crash Landing on You" is a romantic comedy-drama revolving around a wealthy businesswoman, Yoon Se-ri, who accidentally lands on the border of North Korea after a sudden storm messes up her paraglider. With the help of the capable Captain Ri and his team of loyal soldiers, she must find her way back to South Korea. This incredibly well-written series is packed with lots of memorable scenes, which range from charmingly sweet to pulse-poundingly intense to absolutely hilarious. On top of its epic love story, it also deals with genuine geopolitical conflict in a satisfying way.
Starring: Hyun Bin, Son Ye-jin, Seo Ji-hye
Director: Lee Jung-hyo
Year: 2019 – 2020
Runtime: 16 episodes
Rating: TV-14
D.P.
"D.P." is a fast-paced thriller centered around a small military unit dedicated to catching army deserters. Private Ahn Joon-ho's perseverance and attention to detail lands him a spot on the D.P. (Deserter Pursuit) team, where he works with the easygoing Corporal Han Ho-yul. Together, they go on suspense-filled missions to capture dangerous deserters. Jung Hae-in delivers one of his best dramatic performances to date in this series, which takes him far afield from his fan-favorite romantic roles. His chemistry with Koo Kyo-hwan is a major highlight and one of the series' few bright spots. This is a dark and heart-wrenching drama that fearlessly exposes the military's culture of abuse.
Starring: Jung Hae-in, Koo Kyo-hwan, Kim Sung-kyun
Director: Han Jun-hee
Year: 2021
Runtime: 6 episodes
Rating: TV-MA
Dear My Friends
Gathering together some of South Korea's most well-known and respected veteran actors, "Dear My Friends" is a sentimental comedy-drama about long-time friends living out their golden years. This series offers a well-balanced mix of humor and pathos that capably tackles the existential crises, major realizations, and unexpected joys of seniority. Every episode offers a masterclass in acting and practically bursts with chemistry. Reunions take place, adult children take surprising paths, and loneliness is never far away. But "Dear My Friends" always comes back to a moving moral: It's never too late to live out your dreams, regardless of your age.
Starring: Na Moon-hee, Kim Hye-ja, Youn Yuh-jung
Director: Hong Jong-chan
Year: 2016
Runtime: 16 episodes
Rating: TV-MA
Designated Survivor: 60 Days
Based on the Kiefer Sutherland-led series "Designated Survivor," "Designated Survivor: 60 Days" is a political thriller that begins with a shocking tragedy: South Korea's highest-ranking officials, including the president, are all killed in an explosion. Thus, the presidency passes to Minister of Environment Park Mu-jin, who was actually fired right before the disaster took place — an act which saved his life. He's in charge for 60 days, which forces him to grapple with major responsibilities in a very tight time frame … and investigate the truth behind the horrific bombing. This take on "Designated Survivor" firmly establishes itself as its own work, thanks to its great character development and compelling storyline.
Starring: Ji Jin-hee, Lee Joon-hyuk, Huh Joon-ho
Director: Yoo Jong-sun
Year: 2019
Runtime: 16 episodes
Rating: TV-14
Extracurricular
This dark coming-of-age thriller isn't your average high school drama — it's a vivid work of commentary about societal class, competition, and the young people caught in between. Model student Oh Ji-soo's only "flaw" is his poverty. Despite having the brains to get into college, he doesn't have the money — so he resorts to working security for an illegal sex work operation in order to fund his dreams. His after-school activities get even more difficult to handle once the rich and privileged Bae Gyu-ri gets involved.
Starring: Kim Dong-hee, Jung Da-bin, Park Ju-hyun
Director: Kim Jin-min
Year: 2020
Runtime: 10 episodes
Rating: TV-MA
Her Private Life
"Her Private Life" is a romantic comedy-drama which gives viewers an interesting look into K-pop fan culture. Sung Deok-mi is a capable museum curator who secretly manages a popular fan site dedicated to her undying love for K-Pop idol Cha Shi-an. Through the museum's newest art director, Ryan Gold — a former artist turned strict art critic — Deok-mi finally gets to meet Shi-an. Unfortunately, a misunderstanding leads frighteningly hardcore fans to believe she's dating the star. In order to debunk rumors, Ryan and Deok-mi pretend to date … but as time goes on, it feels less and less like make believe.
Starring: Park Min-young, Kim Jae-wook, Ahn Bo-hyun
Director: Hong Jong-chan
Year: 2019
Runtime: 16 episodes
Rating: TV-14
Hi Bye, Mama!
Led by one of South Korea's top actresses, this heartfelt comedy-drama is about a woman who has been living as a wandering ghost for the past five years. Due to divine intervention, deceased Cha Yu-ri is given the chance to become human again for 49 days. If she fails to reclaim her place in her family's life within that period, she must finally go through reincarnation. The problem is, her husband has married once more. The new wife is a wonderful woman, who has become a loving mother to Yu-ri's daughter, Seo-woo. This moving story is elevated by its brilliant cast, which excels in both comedic and tear-jerking moments.
Starring: Kim Tae-hee, Lee Kyu-hyung, Seo Woo-jin
Director: Yoo Je-won
Year: 2020
Runtime: 16 episodes
Rating: TV-14
Hometown Cha-Cha-Cha
After she's forced out of her job, talented dentist Yoon Hye-jin moves to a bucolic seaside village, where she meets the unusual and ultra-capable Hong Du-Sik. Always helping residents out, no matter how large or small the task, he's a vital part of community. He does not, however, look impressive on paper, as a technically unemployed all-around handyman — but that might not matter when it comes to love, as Hye-jin discovers. Apart from the swoon-worthy central romance, this series does a great job of exploring the trials, tribulations, and triumphs that bring a community together.
Starring: Shin Min-a, Kim Seon-ho, Lee Sang-yi
Director: Yoo Je-won
Year: 2021
Runtime: 16 episodes
Rating: TV-14
Hospital Playlist
A uniquely grounded medical dramedy, "Hospital Playlist" centers around the friendship between five talented doctors who became best buds in medical school. Whenever they're off-duty, this quintet is in band practice, where they cover hit Korean songs. This may sound like odd ground for a medical drama to cover, but "Hospital Playlist" makes it look easy. The main cast's chemistry is undoubtedly the highlight: From their childish banter to their relentless support for each other, you'll be instantly invested in the bond between these five unforgettable characters.
Starring: Jeon Mi-do, Jo Jung-suk, Jung Kyung-ho
Director: Shin Won-ho
Year: 2020 – 2021
Runtime: 24 episodes
Rating: TV-14
Hotel del Luna
K-Pop superstar IU, aka Lee Ji-eun, shines as Jang Man-wol, owner of the titular Hotel del Luna. This unique establishment caters to wandering spirits, who are looking to complete their unfinished business before they pass on to the afterlife. Because of her tragic and mysterious past, Man-wol is bound to the hotel for eternity. Following the retirement of the hotel's general manager, she enlists the responsible but cowardly Gu Chan-sung. This refreshing take on the genre puts the male lead in the "damsel in distress" role, allowing for an entirely new sort of supernatural story.
Starring: Lee Ji-eun, Yeo Jin-goo, Shin Jung-geun
Director: Oh Choong-hwan
Year: 2019
Runtime: 16 episodes
Rating: TV-14
The K2
Former mercenary Kim Je-ha escapes to Korea after being framed for murder. He soon finds himself in the middle of the war between presidential candidates Jang Se-joon and Park Kwan-soo — the latter being the person responsible for his lover's death. He becomes an ally to Se-joon's powerful wife Choi Yoo-jin, who promises to help him get his revenge. Thus, Je-ha becomes a bodyguard to Se-joon's illegitimate daughter Anna, who suffers from PTSD. Their budding romance further complicates Je-ha's mission. Apart from the central romance, "The K2" boasts political rivalries, intense espionage, and family conspiracies. It also offers many thrilling action sequences which allow star Ji Chang-wook to show off his martial arts skills. The MVP of the series is Song Yoon-ah, however: She is brilliant as Yoo-jin.
Starring: Ji Chang-wook, Im Yoon-ah, Song Yoon-ah
Director: Kwak Jung-hwan
Year: 2016
Runtime: 16 episodes
Rating: TV-14
The Inheritors
"The Inheritors," also known as "The Heirs," revolves around wealthy teens attending an elite high school. At the center of it all is the love story between the simple and courageous Cha Eun-sang and the rebellious Kim Tan, who are from dramatically different socioeconomic backgrounds. Their romance is challenged by their status, Tan's dysfunctional family, and constant antagonization from bully Choi Young-do and snobby Yoo Rachel, who's in an arranged engagement with Tan. This soapy series is enlivened by its sparkling cast, solid writing, and multifaceted portrayal of life at the top of the heap.
Starring: Lee Min-ho, Park Shin-hye, Kim Woo-bin
Directors: Kang Shin-hyo, Boo Sung-chul
Year: 2013
Runtime: 20 episodes
Rating: TV-14
It's Okay to Not Be Okay
This groundbreaking series explores the complex world of mental health. Psych ward employee Moon Gang-tae takes care of his brother Sang-tae, whose struggles with autism and the trauma of their mother's murder force the pair to frequently move. Their travels bring Gang-tae to the OK Psychiatric Hospital, where he meets children's book writer Ko Moon-young. Though she lives with antisocial personality disorder, she is instantly attracted to Gang-tae. What results is a moving tale of life persevering in the face of extraordinary struggle.
If you or someone you know is struggling with mental health, please contact the Crisis Text Line by texting HOME to 741741, call the National Alliance on Mental Illness helpline at 1-800-950-NAMI (6264), or visit the National Institute of Mental Health website.
Starring: Kim Soo-hyun, Seo Yea-ji, Oh Jung-se
Director: Park Shin-woo
Year: 2020
Runtime: 16 episodes
Rating: TV-MA
Itaewon Class
Park Seo-joon delivers an incredible and engaging performance as Park Sae-ro-yi in this comedy-drama, which centers around an ex-convict who opens up a restaurant in the diverse neighborhood of Itaewon. He hopes to become a successful businessman and go up against the family that wronged him and his late father. However, due to his lack of business knowledge, he struggles to keep his establishment afloat. This changes when he enlists the help of the young and highly-intelligent Jo Yi-seo. Despite her cold attitude, she instantly gravitates towards Sae-ro-yi — his desire for revenge piques her interest. This entertaining and unique drama is further distinguished by a killer supporting cast and a villain you'll absolutely love to hate.
Starring: Park Seo-joon, Kim Da-mi, Yoo Jae-myung
Director: Kim Seong-yoon
Year: 2020
Runtime: 16 episodes
Rating: TV-MA
Juvenile Justice
"Juvenile Justice" is a fast-paced courtroom drama boasting compelling characters and precise acting. Shim Eun-seok is a judge known for her extreme disapproval of juvenile offenders. After she gets assigned to a juvenile court, she must confront the realities of why minors offend, which turn out to be immensely complex. Each episode explores heavy issues, especially regarding the crucial role parents and society play in a child's development. What results is an engrossing series that honestly depicts the world of juvenile courts.
Starring: Kim Hye-soo, Kim Mu-yeol, Lee Sung-min
Director: Hong Jong-chan
Year: 2022
Runtime: 10 episodes
Rating: TV-MA
Kingdom
A zombie saga set in the 16th century, "Kingdom" follows crown prince Lee Chang as he investigates the mysterious illness affecting his father and the complex world of royal politics. Something is bringing the dead back to life — if you can call their horrible, shambling, post-mortem existence life. Why is this happening, and what does it have to do with the kingdom's military victories? The answer is bizarre and multifaceted. "Kingdom" combines horror elements with political machinations to tremendous effect: This is one of the most intense series on this list. Excellent performances elevate it even further.
Starring: Ju Ji-hoon, Ryu Seung-ryong, Bae Doona
Director: Kim Seong-hun, Park In-je
Year: 2019 – Present
Runtime: 12 episodes
Rating: TV-MA
The King's Affection
"The King's Affection" takes place during the Joseon Dynasty, when twins were regarded with dark suspicion. Thus, when the crown princess consort gives birth to fraternal twins, the king mercilessly orders the execution of his newborn daughter. Defiantly, the princess secretly sends her daughter away. Years later, the surviving brother and crown prince dies. Having returned to the palace as a humble maid, his sister Dam-yi is urged to masquerade as him. Things get complicated quickly — especially when Dam-yi's first love is hired as her tutor.
Starring: Park Eun-bin, Rowoon, Jung Chae-yeon
Director: Song Hyun-wook
Year: 2021
Runtime: 20 episodes
Rating: TV-14
Law School
"Law School" is a thought-provoking series that follows the students and professors of Hankuk University Law School as they deal with the sudden death of a respected professor. To make things even more intense, said professor was mysteriously murdered on the premises. Formidable professor Yang Jong-hoon becomes the chief suspect, which shocks his students. With the help of civil law professor Kim Eun-sook — portrayed by "Parasite" star Lee Jung-eun — these prospective lawyers must investigate the case and prove their teacher's innocence — before it's too late.
Starring: Kim Myung-min, Kim Bum, Ryu Hye-young
Director: Kim Seok-yoon
Year: 2021
Runtime: 16 episodes
Rating: TV-14
Let's Fight Ghost
"Let's Fight Ghost" is a horror-comedy-drama centered around Park Bong-pal, a loner who leads a unique double life. By day, he's a college student — but by night, he's a ghost-fighting exorcist. During one of his missions, Bong-pal meets Kim Hyun-ji, the roaming spirit of a departed high school girl. Despite several arguments, the duo ultimately agrees to team up in the hopes of defeating stronger ghosts. Together, they solve many thrilling cases — including the mystery surrounding Hyun-ji's death. This series' interesting premise allows for plenty of hilarious moments, action-packed set pieces, and genuine emotion.
Starring: Ok Taec-yeon, Kim So-hyun, Kwon Yul
Director: Park Joon-hwa, Myung Hyun-woo
Year: 2016
Runtime: 16 episodes
Rating: TV-14
Live
Featuring a stellar cast of South Korean actors, "Live" delivers a fresh take on the police genre. Rather than heavy stories about vice and corruption, this series takes a slice-of-life approach to the Hongil patrol division's story. Field cadets and captains alike struggle to balance the grueling demands of a 24/7 job with their personal lives: Who has time for love when crime never sleeps? You won't miss the action typical of other police sagas — the character-driven stories that define "Live" are just that good.
Starring: Jung Yu-mi, Lee Kwang-soo, Bae Seong-woo
Director: Kim Kyu-tae
Year: 2018
Runtime: 18 episodes
Rating: TV-MA
Misaeng: Incomplete Life
Jang Geu-rae has failed to achieve his childhood dream of becoming a professional Go player. Now, he must enter the real world and endure the grueling grind of corporate culture. This show's realistic portrayal of the competitive workplace environment builds a strong foundation for its powerful, honest, and heartfelt storytelling. Geu-rae's struggle to adapt to life in a trading company is complex and compelling, enlivened by the coworkers he befriends, irks, and learns from. Moreover, though it certainly has its light-hearted moments, it doesn't veer away from capturing the vicious office politics corporate workers face every day, just to keep their jobs.
Starring: Im Si-wan, Lee Sung-min, Kang So-ra
Director: Kim Won-seok
Year: 2014
Runtime: 20 episodes
Rating: TV-MA
Money Heist: Korea – Joint Economic Area
Based on the Spanish global sensation, which ended its successful run in 2021, "Money Heist: Korea – Joint Economic Area" serves as the first ever spinoff of the heist thriller series created by Álex Pina. The series brings the audiences to the Korean peninsula in an alternate history where South Korea and North Korea have officially reunified. The story centers around the Professor, a genius and calculated strategist who's the mastermind behind the ultimate heist that would change the world. To pull off his well-planned schemes, he assembles a group of criminals who each play a specific role in the team — and who possess unique nicknames like Berlin, Tokyo, Nairobi, Denver, Moscow, Helsinki, Rio, and Oslo. Together, they take over the mint of a reunified Korea. But despite the Professor's seemingly fail-proof plans, the gang must deal with unforeseen problems concerning their hostages and a crisis negotiation team leader's quick-thinking strategies.
Starring: Jeon Jong-seo, Yoo Ji-tae, Park Hae-soo
Director: Kim Hong-sun
Year: 2022 – Present
Runtime: 6 episodes
Rating: TV-MA
Move to Heaven
An utterly unique comedy-drama, "Move to Heaven" offers an intriguing perspective on life and death. Geu-ru, a young man with Asperger syndrome, and Sang-gu, his estranged uncle, are forced to run a trauma cleaning service following the sudden death of Geu-ru's father. In the process of cleaning up scenes of terrible bloodshed, they learn about the victims — often in more detail than those who knew them in life ever did. Lee Je-hoon's brilliant performance as Sang-gu is a showstopper, but the real MVP of the series is the uber-talented Tang Jun-sang, who portrays Geu-ru with delicacy and deep understanding.
Starring: Lee Je-hoon, Tang Jun-sang, Hong Seung-hee
Director: Kim Sung-ho
Year: 2021
Runtime: 10 episodes
Rating: TV-MA
Mr. Sunshine
A historical drama set in the early 1900s, "Mr. Sunshine" boasts an immersive storyline full of amazing visuals and top-notch acting. The tale begins with Eugene Choi, a young man who escapes childhood slavery, makes his way to the United States, and returns to Joseon as a captain in the U.S. Marine Corps. He unexpectedly falls in love with Go Ae-shin, an aristocratic member of the Righteous Army that is fighting for the country's sovereignty against the Japanese. This forces Eugene to make a difficult decision: Should he help Ae-shin's cause, or protect the American identity he has fought so hard to achieve?
Starring: Lee Byung-hun, Kim Tae-ri, Yoo Yeon-seok
Director: Lee Eung-bok
Year: 2018
Runtime: 24 episodes
Rating: TV-MA
My Liberation Notes
"My Liberation Notes" is a slice-of-life drama which revolves around three adult siblings fed up with the unhappiness of their everyday routines. Ki-jung wants to finally find love, Chang-hee hopes to leave his hometown, and introverted Mi-jung just wants to make her life less boring. Things change when a mysterious stranger arrives in town. This series offers a relatable reflection of adulthood viewers will undoubtedly see themselves in. Bolstered by clever writing, great performances, and emotionally resonant themes, you can't help but root for these characters.
Starring: Kim Ji-won, Lee Min-ki, Lee El
Director: Kim Seok-yoon
Year: 2022
Runtime: 16 episodes
Rating: TV-MA
My Mister
Starring the iconic Lee Ji-eun in one of her best dramatic performances to date, "My Mister" follows a cash-strapped young woman named Lee Ji-an and her stoic supervisor, Park Dong-hoon. They're both living miserable lives, but in each other, they find an unlikely source of solace and comfort. This starts their journey towards emotional wholeness — but the road ahead is rocky indeed. Aside from Lee Ji-eun's phenomenal acting, "Parasite" star Lee Sun-kyun delivers a powerful performance as the quiet and complicated Dong-hoon. This is a very human story filled with hope, hurt, and healing.
Starring: Lee Ji-eun, Lee Sun-kyun, Go Doo-shim
Director: Kim Won-seok
Year: 2018
Runtime: 16 episodes
Rating: TV-MA
Mystic Pop-up Bar
"Mystic Pop-up Bar" is a fantasy dramedy about a magical pojangmacha (an outdoor drinking stall or tent) where the staff helps customers — be they human or ghost — resolve their problems. In charge of the pop-up stall is cranky Weol-ju, who has been enduring magical punishment for 500 years. Luckily, she has help: Afterlife detective Chief Gwi and part-timer Han Kang-bae heal customers' emotional wounds right beside her. This entertaining series provides viewers with an interesting look into Korean conceptions of the afterlife, and features fantastic performances from the leading trio.
Starring: Hwang Jung-eum, Yook Sung-jae, Choi Won-young
Director: Jeon Chang-geun
Year: 2020
Runtime: 12 episodes
Rating: TV-MA
Navillera
After seeing 23-year-old Lee Chae-rok's graceful dancing, retired mailman Sim Deok-chul rediscovers his long-forgotten passion for ballet. He proceeds to enlist Chae-rok's help in achieving his dream. Chae-rok, who's actually about to give up ballet due to financial issues, is initially hesitant — but when he sees Deok-chul's perseverance, he agrees. Through Deok-chul's inspiring journey, Chae-rok's commitment to ballet is revived. Even if you're unfamiliar with dance, you're sure to get invested in "Navillera," which practically bursts with passion, joy, and heartfelt emotion. Veteran actor Park In-hwan and popular leading man Song Kang deliver outstanding performances in the lead roles.
Starring: Park In-hwan, Song Kang, Na Moon-hee
Director: Han Dong-hwa
Year: 2021
Runtime: 12 episodes
Rating: TV-14
Nevertheless
"Nevertheless" isn't your typical romantic K-drama: It features a more mature and realistic portrayal of modern-day relationships. Yoo Na-bi and Park Jae-eon are university students locked into a constant push-and-pull, due to their different perceptions of love. Na-bi, having sworn off love due to a previous relationship, instantly falls for the charming and friendly Jae-eon. He's almost perfect … except for his lack of commitment and frustrating insensitivity. Aside from the sweet-but-irritating lead couple, the series features a scene-stealing supporting cast whose storylines never fail to captivate. The fan-favorite romance between Yoon Sol and Seo Ji-wan is especially engrossing. It's also outright groundbreaking, as a love story between two women.
Starring: Han So-hee, Song Kang, Lee Ho-jung
Director: Kim Ga-ram
Year: 2021
Runtime: 10 episodes
Rating: TV-14
Our Beloved Summer
Ex-lovers Yeon-soo and Ung are brought back together when a documentary film they made in high school goes viral. Five years have passed since their painful break-up, which isn't quite long enough to heal their wounds. Nevertheless, they both agree to become the subjects of another documentary. "Our Beloved Summer" is an interesting and refreshing take on the romance genre, devoid of the usual antagonists and family drama elements. Instead, it tells an honest and gentle story about two individuals struggling with feelings of loneliness and unworthiness. Their scenes together are often comforting, cute, and funny, despite the heartbreak they must endure to truly grow.
Starring: Choi Woo-shik, Kim Da-mi, Kim Sung-cheol
Director: Kim Yoon-jin
Year: 2021 – 2022
Runtime: 16 episodes
Rating: TV-14
Our Blues
"Our Blues" follows multiple stories about everyday people living and working in beautiful Jeju Island. The series' tender and realistic plots are taken to further heights by a star-studded cast of acclaimed actors. In a complete departure from his charismatic action roles, "Red 2" alum Lee Byung-hun plays traveling truck merchant Lee Dong-seok, who gets involved with single mother Min Seon-ah. Elsewhere, city dweller Choi Han-soo, fishing store owner Jeong Eun-hee, fed up Go Mi-ran, driver Lee Young-ok, and Captain Park Jeong-joon live out their lives with grace, foolishness, love, and hesitation.
Starring: Lee Byung-hun, Shin Min-a, Uhm Jung-hwa
Director: Kim Kyu-tae
Year: 2022
Runtime: 20 episodes
Rating: TV-MA
Prison Playbook
If you want to check out more of "Squid Game" star Park Hae-soo's work, the best place to start is "Prison Playbook." This one-of-a-kind slice-of-life story follows famous baseball player Kim Je-hyuk, who lands in prison after severely beating a man who attempted to assault his sister. His life in prison is examined, as well as the consequences wreaking havoc on his career and personal life. "Prison Playbook" also tells the stories of the people he meets on the inside, ranging from prisoners to officers. This character-driven tale is filled with hilarious and heartbreaking moments.
Starring: Park Hae-soo, Jung Kyung-ho, Krystal Jung
Director: Shin Won-ho
Year: 2017 – 2018
Runtime: 16 episodes
Rating: TV-MA
Private Lives
"Private Lives" is a crime thriller centered around big-shot con artists who accidentally discover a surveillance scheme involving the government and a major corporation. With their skills, the swindlers — led by 29-year-old con woman Cha Joo-eun — take on the greedy company, in the hopes of unveiling their cruel scheme. Apart from this promising premise, "Private Lives" also features a "Mr. and Mrs. Smith"-style storyline between Joo-eun and Lee Jung-hwan, who runs a detective agency. Unaware of each other's secret lives, Jung-hwan and Joo-eun unexpectedly fall in love and enter a whirlwind marriage. Their scenes together are incredibly magnetic, always leaving viewers wanting more.
Starring: Seohyun, Go Kyung-pyo, Kim Hyo-jin
Director: Nam Gun
Year: 2020
Runtime: 16 episodes
Rating: TV-14
Racket Boys
After landing a new job at a middle school, kind-hearted badminton coach Yoon Hyeon-jong takes his family out of the city and into the countryside. His son, Hae-kang, is not happy about this. Things get worse when Hyeon-jong enlists Hae-kang's help in reforming the struggling badminton team. Hae-kang is reluctant and angry, but soon enough, he finds himself enjoying the sport. This feel-good drama features a talented young cast whose lively and meaningful friendships are as engaging as the show's high-octane badminton scenes.
Starring: Tang Jun-sang, Lee Jae-in, Oh Na-ra
Director: Jo Young-kwang, Ahn Jong-yeon
Year: 2021
Runtime: 16 episodes
Rating: TV-14
Reply 1988
The third installment in the widely-celebrated "Reply" anthology series, "Reply 1988" perfectly captures the essence of youth, the value of lifelong friendship, and teenagers' fraught relationships with their parents. Set in the year 1988 in the small neighborhood of Ssangmun-dong, this series centers around childhood friends Duk-seon, Jung-hwan, Sun-woo, Taek, and Dong-ryong, who have a playful and durable bond. Together with their tight-knit families, they navigate their teenage years and young adulthoods by leaning on each other. Whether or not you were alive in 1988, you can't help but be affected by the potent nostalgia of this show.
Starring: Lee Hye-ri, Ryu Jun-yeol, Park Bo-gum
Director: Shin Won-ho
Year: 2015 – 2016
Runtime: 20 episodes
Rating: TV-14
Revolutionary Love
This romantic comedy-drama revolves around the naïve and energetic Byun Hyuk, the second son of a very wealthy family who's always getting himself into unintentional trouble. After a major misunderstanding at the airport, Hyuk is forced to hide from the authorities. He meets Baek Joon, a hardworking woman, in the process. She changes Hyuk's life forever by introducing him to the workforce, where he sees the struggles and mistreatment of low-level employees working within his father's company first-hand. This series elevates the much-loved rich-person-meets-poor-person trope through solid writing, poignant themes, and sheer chemistry.
Starring: Choi Si-won, Kang So-ra, Gong Myung
Director: Song Hyun-wook
Year: 2017
Runtime: 16 episodes
Rating: TV-MA
Run On
After quitting track and field due to an unfair legal case, athlete Ki Seon-gyeom starts working as a sports agent. Following a chance encounter with film translator Oh Mi-joo, Seon-gyeom's life changes even further. Independent Mi-joo, who's well-acquainted with the dark side of life, becomes his first friend — and, in time, something more. Elsewhere, fierce female CEO Seo Dan-ah fights against her father's traditional views, despite already proving herself as his rightful heir. When she meets the artistic Lee Yeong-hwa, she slowly finds herself putting down her defenses — perhaps for the first time. This laid-back drama's patient storytelling is as satisfying as it is swoon-worthy.
Starring: Im Si-wan, Shin Se-kyung, Choi Soo-young
Director: Lee Jae-hoon
Year: 2020 – 2021
Runtime: 16 episodes
Rating: TV-MA
Signal
This crime thriller boasts an interesting sci-fi element. Criminal profiler Park Hae-young discovers an old walkie-talkie, which allows him to communicate with the past — specifically, with Detective Lee Jae-han. Using this unique link, the two do-gooders help each other solve cold cases in their respective timelines. Soon enough, however, Hae-young must face the consequences of changing the past. This complex series, which is partially based on real-life crimes, succeeds wildly, thanks to its exceptional cast and suspenseful storylines.
Starring: Lee Je-hoon, Kim Hye-soo, Cho Jin-woong
Director: Kim Won-seok
Year: 2016
Runtime: 16 episodes
Rating: TV-MA
Sky Castle
"Sky Castle" is South Korea's answer to series like "Big Little Lies" and "Desperate Housewives." It explores the lives of wealthy families living in an elite community in suburban Seoul — especially the housewives, who are in constant competition with each other. No matter the consequences, they'll do everything in their power to secure their children spots at Seoul National University. Though few viewers have experienced this level of wealth, "Sky Castle" still resonates, thanks to its outstanding performances and keen depiction of South Korea's competitive educational system. Leading actresses Yum Jung-ah, Yoon Se-ah, Lee Tae-ran, Oh Na-ra, and Kim Seo-hyung practically crackle with chemistry.
Starring: Yum Jung-ah, Kim Seo-hyung, Lee Tae-ran
Director: Jo Hyun-tak
Year: 2018 – 2019
Runtime: 20 episodes
Rating: TV-MA
Something in the Rain
After getting dumped by her boyfriend, 35-year-old career woman Yoon Jin-ah has given up hope that she'll ever find genuine love. This instantly changes with the arrival of her best friend's younger brother Seo Joon-hee, an animator who's been working abroad for three years. Despite initial doubts and societal pressure regarding their age gap (she's four years older than he is), they find themselves falling in love. "Something in the Rain" is a warm romantic drama distinguished by its willingness to address a number of South Korean taboos, especially ones regarding the sort of workplace sexual harassment women are expected to endure.
Starring: Son Ye-jin, Jung Hae-in, Jang So-yeon
Director: Ahn Pan-seok
Year: 2018
Runtime: 16 episodes
Rating: TV-MA
The Sound of Your Heart
"The Sound of Your Heart" may sound romantic and cheesy, based on its title. But in fact, this series is a one-of-a-kind sitcom based on a long-running webtoon. Aspiring comic artist Jo Seok (a fictionalization of the webtoon's creator) lives a crazy life. You might not assume this is the case right off the bat, as he's just a young adult looking for his purpose. But this series, like the comic that spawned it, has a way of finding the bizarre hilarity present in even the most apparently mundane life. Joining Jo Seok on his uproarious journey are his girlfriend Ae-bong, his brother Jo Joon, and his colorful parents.
Starring: Lee Kwang-soo, Jung So-min, Kim Dae-myeung
Director: Ha Byung-hoon
Year: 2016
Runtime: 10 episodes
Rating: TV-14
Squid Game
Survival thriller "Squid Game" took the world by storm in 2021, thanks to its fascinating characters, intense story, and high-quality production values. It all begins with the introduction of excessive gambler Seong Gi-hun, who reluctantly agrees to join a mysterious competition in the hopes of winning a whopping cash prize. Soon enough, he learns about the 455 other players involved in the game, each in dire need of money. What's worse, this competition is far more sinister and twisted than they ever could have imagined. A searing social commentary about inequality and capitalism, "Squid Game" will have you on the edge of your seat.
Starring: Lee Jung-jae, Park Hae-soo, Wi Ha-joon
Director: Hwang Dong-hyuk
Year: 2021 – Present
Runtime: 9 episodes
Rating: TV-MA
Start-Up
"Start-Up" is a romantic comedy-drama that explores the world of young entrepreneurs looking to take their start-up companies to the top. Seo Dal-mi is a determined young woman who dreams of becoming a CEO. To achieve this, she enlists the help of her childhood pen-pal Nam Do-san, a tech genius. However, unbeknownst to Dal-mi, this Do-san isn't really the person she wrote to all those years ago. Successful fund manager Han Ji-pyeong is her real childhood friend — he used Do-san's name as a pseudonym. In order to avoid hurting her feelings, Dal-mi's grandmother begs Ji-pyeong to keep the deception going and allow Do-san to play a part in Dal-mi's life. This complex tangle of emotion and ambition results in an unforgettable story.
Starring: Bae Suzy, Nam Joo-hyuk, Kim Seon-ho
Director: Oh Choong-hwan
Year: 2020
Runtime: 16 episodes
Rating: TV-14
Sweet Home
After losing his entire family in a terrible car accident, Cha Hyun-soo is forced to move into a smaller place. To make things worse, he soon discovers that people around him are turning into raging monsters. He starts noticing symptoms indicating he's been infected with whatever illness is responsible for this heinous epidemic — but instead of turning into a mindless beast, he gains superhuman abilities. Using these bizarre powers, he tries to protect the remaining survivors in his apartment building, despite their prejudices against him.
Starring: Song Kang, Lee Si-young, Lee Do-hyun
Directors: Lee Eung-bok, Jang Young-woo, Park So-hyung
Year: 2020 – Present
Runtime: 10 episodes
Rating: TV-MA
Thirty-Nine
Cha Mi-jo, Jeong Chan-young, and Jang Joo-hee have been best friends since they were in high school. Now, the trio is celebrating life and friendship in the final year of their 30s. Unfortunately, what was supposed to be a year of happiness, love, and new adventures becomes tainted with sadness when Chan-young is diagnosed with pancreatic cancer. They must now prepare for the worst, while trying their best to make as many new memories as possible. This well-written series is both heartwarming and excruciatingly heartbreaking, in large part because of its lead actresses' absolutely phenomenal performances.
Starring: Son Ye-jin, Jeon Mi-do, Kim Ji-hyun
Director: Kim Sang-ho
Year: 2022
Runtime: 12 episodes
Rating: TV-MA
Touch Your Heart
Fading A-list actress Oh Yoon-seo is trying to revive her career following a major drug scandal and associated hiatus. After discovering a writer wants her to play a major role in a new drama, she sets out to gain some real-life experience. Thus, she becomes a temporary secretary to the cold Kwon Jung-rok, a brilliant lawyer who's not too thrilled about the situation. Little by little, however, the serious professional and the disgraced actress get to know each other — and eventually, fall in love.
Starring: Lee Dong-wook, Yoo In-na, Lee Sang-woo
Director: Park Joon-hwa
Year: 2019
Runtime: 16 episodes
Rating: TV-MA
Twenty-Five Twenty-One
"Twenty-Five Twenty-One" tells an emotional story about young people trying to pursue their dreams when all hope feels lost. It begins with a girl living in 2021. She stumbles upon her mother's diary, which reveals the life she lived when she was only Na Hee-do, 19-year-old fencing prodigy. Her story, set in 1998, is full of big dreams — specifically, of winning Olympic gold as a fencer. Then she meets Baek Yi-jin, a 22-year-old struggling to rebuild his life following his family's bankruptcy and separation. History brings them crashing together — but will it also tear them apart?
Starring: Kim Tae-ri, Nam Joo-hyuk, Bona
Director: Jung Ji-hyun
Year: 2022
Runtime: 16 episodes
Rating: TV-14
The Uncanny Counter
After being chosen as the new avatar of afterlife spirit guide Wi-gen, 18-year-old So Mun becomes a member of the superpowered Counters. These do-gooders work at a noodle shop by day and as demon-hunters by night. Though there are definite benefits to this change of fortunes, the evil spirits Mun must face are no joke. This series delivers an interesting perspective on the afterlife, entertaining action sequences, formidable villains, and engaging lead characters. Jo Byeong-gyu is especially impressive as the righteous Mun.
Starring: Jo Byeong-gyu, Kim Se-jeong, Yeom Hye-ran
Director: Yoo Seon-dong, Park Bong-seop
Year: 2020 – Present
Runtime: 16 episodes
Rating: TV-14
Vincenzo
Being adopted by an Italian family changes Park Joo-hyung's life forever — to the point that he stops being Park Joo-hyung. Upon reaching adulthood, the sharp young man joins the Cassano crime family and is reborn as Vincenzo Cassano, mafia consigliere. Following the death of his boss — who also happens to be his adopted father — things get hairy. Vincenzo survives an assassination attempt ordered by his boss' jealous and intimidated son, escapes to South Korea, and starts planning to recover a secret stash of gold. The only problem is, the building housing the cache belongs to someone else. Vincenzo must reclaim the building — and, in the process, become an unlikely symbol of justice.
Starring: Song Joong-ki, Jeon Yeo-been, Ok Taec-yeon
Director: Kim Hee-won
Year: 2021
Runtime: 20 episodes
Rating: TV-14
Was It Love?
Single mother Noh Ae-jung is a film producer who has been so busy raising her daughter and maintaining her career, she hasn't been with someone romantically for 14 years. Things get complicated when her teenage daughter starts to ask questions regarding her father's identity. Simultaneously, four different men — three of whom she already knows — suddenly enter her life and try their best to win her heart. Hilarity, emotion, and entertaining chaos ensues. "Was It Love?" features an especially strong performance from Song Ji-hyo in the lead, and plenty of chemistry among the supporting cast.
Starring: Song Ji-hyo, Son Ho-jun, Song Jong-ho
Director: Kim Do-hyung
Year: 2020
Runtime: 16 episodes
Rating: TV-14
Three creative young men open a guest house in the hopes of funding their dream movie. The only problem is, they have no idea how to run a proper business. Things get chaotic — especially when a newborn baby is brought to the guest house. The trio, now weighed down with even more responsibilities, attempt different jobs in order to sustain their business and provide for their infant newcomer. "Welcome to Waikiki" offers a refreshing take on the "Three Men and a Baby" premise, built around an easy-going storyline, strong characters, and the cast's comedic chemistry.
Starring: Kim Jung-hyun, Lee Yi-kyung, Son Seung-won
Director: Lee Chang-min
Year: 2018
Runtime: 20 episodes
Rating: TV-MA
When the Camellia Blooms
Oh Dong-baek is a single mother who has been ostracized by the women in her community for her looks, lack of husband, and the fact that she owns the neighborhood bar. Her luck changes with the arrival of the playful Yong-sik, a police officer who instantly falls for her. But while he courts her, Yong-sik must also protect Dong-baek from harm — an unknown serial killer is targeting her as his next victim. This well-crafted story is filled with romance, mystery, suspense, and family drama. Gong Hyo-jin brilliantly portrays the endearingly flawed Dong-baek, while Kang Ha-neul makes Yong-sik into an irresistible hero.
Starring: Gong Hyo-jin, Kang Ha-neul, Kim Ji-seok
Director: Cha Yeong-hoon
Year: 2019
Runtime: 20 episodes
Rating: TV-14
Extraordinary Attorney Woo
"Extraordinary Attorney Woo" is a dramedy centering around a 20-something autistic woman named Woo Young-woo. Born with a high IQ and a photographic memory, she's able to graduate from law school with high honors and top the bar exam. The series then follows Young-woo through her first job at a major law firm, where she'll befriend the kind-hearted and handsome Lee Jun-ho, the only one who listens to her endearing whale facts. She'll also find a fierce friend in fellow rookie lawyer Choi Su-yeon and a mentor in senior attorney Jung Myeong-seok. Each episode will see Young-woo tackling different kinds of cases while dealing with the prejudice that comes with being autistic.
Leading the cast is the brilliant Park Eun-bin, who's spot-on and thoughtful portrayal of Young-woo is definitely one of the main highlights of the series. During its first few weeks since debut, it broke a Netflix record as the streamer's most-watched non-English show worldwide.
Starring: Park Eun-bin, Kang Tae-oh, Kang Ki-young
Director: Yoo In-sik, Moon Ji-won
Year: 2022
Runtime: 16 episodes
Rating: TV-MA