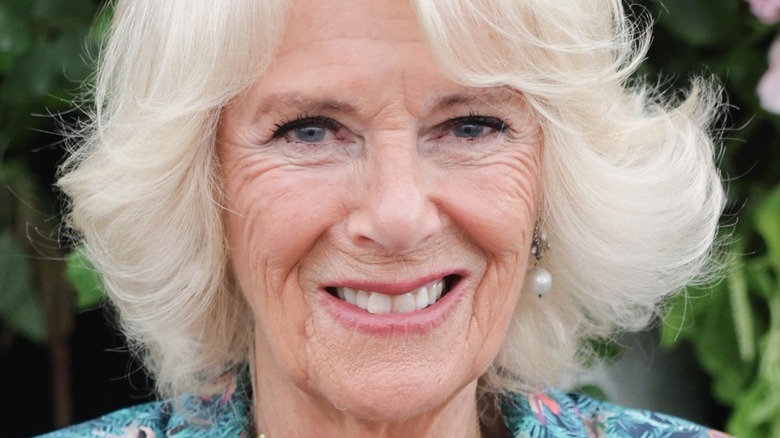 The day Prince Charles becomes king will be one that is marked with remembrance in honor of his mother, Queen Elizabeth II, and also one that is marked with celebration at his coronation. As his wife, Camilla Parker Bowles will be there for it all — the highs, the lows, and the many changes that both she and Charles will be expected to undertake and endure.
In a February 2022 letter written to her subjects, the queen revealed, "I remain eternally grateful for, and humbled by, the loyalty and affection you continue to give me. And when, in the fullness of time, my son Charles becomes King, I know you will give him and his wife Camilla the same support that you have given me" (via BBC News).
While many of the changes that lie ahead for Camilla Parker Bowles cannot be predicted, some changes are expected. Here's how Camilla's life will change once her husband becomes king.
Camilla will become queen consort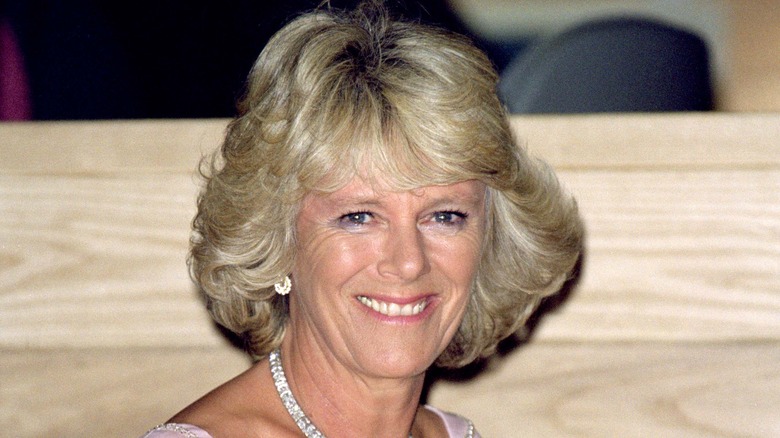 One of the biggest shifts in recent royal history happened in February 2022, when Queen Elizabeth announced her desire for Camilla Parker Bowles to be named queen consort once Prince Charles ascends to the throne. This was a departure from what Charles and Camilla announced after their wedding in 2005. At the time, the two insisted that Camilla would be known as princess consort once Charles was king, largely out of respect for his late ex-wife, Princess Diana, and because Camilla is a divorcée (per People).
Clearly, a shift in royal thinking transpired sometime between 2005 and 2022 — and it's one that Charles and Camilla have appreciated. As an insider reportedly told People that the queen had to announce the news when the timing felt right. "They couldn't wait until Charles was actually King — it had to come from the Queen herself," the source alleged. "Now was a good time because of the Jubilee — it was almost tailor-made for this timing."
Following the announcement, royal historian Robert Lacey told People that the queen likely looked to the past while making her decision. "As she thought about her father George VI," Lacey explained, "she would have also thought about her mother and the importance she played as a partner to him."
Camilla will wear a crown that belonged to the queen mother
The coronation of Prince Charles will be a major deal in the U.K., and it will be an important day for Camilla as well. She'll be crowned queen consort and will be outfitted in a manner that is appropriate for such an important title. The Daily Mail shared that Camilla will actually be given an incredible crown — one that first belonged to the queen mother (Queen Elizabeth II's mother). The crown itself was designed for King George IV's coronation in 1937 and is made of platinum and approximately 2,800 diamonds. The largest stone in the crown is the impressive 105-carat Koh-i-Noor diamond.
During the Platinum Jubilee, ahead of which Queen Elizabeth announced Camilla's eventual title of queen consort, Prince Charles remarked, "As we have sought together to serve and support Her Majesty and the people of our communities, my darling wife has been my own steadfast support throughout. The year of this unprecedented Platinum Jubilee brings an opportunity for us all to come together in celebrating the service of the Queen, by whose example we will continue to be led in the years to come."
She will keep her patronages
Members of the British royal family support a number of charities and organizations in a variety of ways. These are often referred to as patronages. According to the Prince of Wales' website, Camilla is a patron or president of over 90 such organizations. Camilla is especially passionate about ing "health, literacy, supporting those in need; the elderly, victims of rape and sexual abuse and domestic violence, empowering women; food; animals, dance and heritage and the arts," per the site.
While speaking to Emma Barnett for "Woman's Hour," Camilla made it clear that she plans to continue this work. She said, "Of course it's a great honour [becoming queen consort], it couldn't be anything else. But it does help it. I'm going to keep up with these causes."
A Vogue UK interview with the duchess revealed the amount of work that can go into just one full day. As a patron of the National Theatre and the British Sporting Art Trust, Camilla met with the team in charge and observed actors working on a play before heading elsewhere to view an art exhibition and then somehow still fit in an interview with the BBC — and all in just 24 hours. Thankfully, becoming queen consort will not change anything about Camilla's patronages or her advocacy work.
Camilla will continue to support Prince Charles
Becoming king will be a major shift for Prince Charles, despite the fact that he's been preparing for this role for most of his life. As such, it will be imperative that his wife, Camilla, is there for her husband in both major and minor ways. However, it appears Camilla has already been a real support for her husband over the years and she will continue to work in that capacity once he ascends the throne.
As a source reportedly told the Daily Mail, one reason Queen Elizabeth wanted to designate Camilla as queen consort is because she has always put the prince first. As the source alleged, "She's never once tried to overshadow her husband, she's always played a supportive role to the Prince of Wales. He is her top priority." In fact, the source explained that Camilla has managed to prioritize her husband while also building her own role within the institution of the monarchy — something that both Charles and Queen Elizabeth have seen and something that indicates she will continue to operate in exactly that way once she becomes queen. The source added, "She'll be doing it because it's what the prince wants, and it's good for the institution in the long run."
Camilla could take on a different role later
It's a difficult thing to discuss, but there is a possibility that Camilla Parker Bowles could take on another title down the road. If after being crowned king, Charles were to pass on before Camilla, his eldest son, Prince William, would ascend the throne. Kate Middleton would then become queen consort, and Camilla would then be designated as the queen dowager, or widow of the king (via Best Life Online).
The queen dowager still gets to take part in many of the same aspects of being a queen, including having the title and the precedence, or importance, of being queen. Queen Elizabeth II's mother, Elizabeth Bowes-Lyon was the most recent queen dowager in the British royal family, as her husband, King George VI, died many years before her. Obviously, this title would only happen in a distant future and hopefully won't be something that Camilla will have to face at all.
Camilla could become counselor of state
There is another role Camilla Parker Bowles could take on — and even before she's officially queen consort: counselor of state. The move would be somewhat unprecedented, but with all the shifts and changes in the royal family in recent years, it could be one that the family decides to make.
As noted by The Conversation, the counselors of state can essentially sub in for the monarch if a decision needs to be made and the leader of the country is unavailable, sick, or traveling. Camilla will actually become counselor of state as Charles' spouse but, at the time of this writing, the four counselors of state are Princes Charles, Andrew, William, and Harry. Two counselors of state are needed to make a decision, and since Prince Andrew has battled a number of legal problems and Prince Harry stepped back from royal duties, right now only Charles and William are likely to fill the role.
As such, an argument can be made for making Camilla a counselor of state before Charles becomes king, thus ensuring that there is another counselor of state available should William or Charles be otherwise engaged.
Her Royal Highness Camilla will become Her Majesty Camilla
If Prince Charles were to die before becoming king, Camilla could receive the title of queen mother. This title and designation would be decided by Prince William, who would become king. While it's unknown if William would grant the title to his stepmother, Parade noted that William was the best man at Charles and Camilla's wedding and is therefore likely to want to do so.
As the royal family details on its official site, Queen Elizabeth II's mother served as queen mother for many years. Her role in the family was largely unchanged by the title swap — she continued to support the same organizations she previously had, and even continued to travel on behalf of the royal family for years following her husband's unexpected death.
However, if Prince Charles lives to ascend the throne as expected and Camilla thus becomes queen consort, she will be able to style herself as Her Majesty. Camilla will be able to continue to use this designation the rest of her life (via The Conversation). The styling Her Majesty outranks Her Royal Highness and is used only for queen consort or the monarch herself.