In the span of just twelve months, the Duke and Duchess of Cambridge welcome their third child, and a history-making royal wedding took place between Prince Harry and Meghan Markle. In other words: it was a big year for the entire royal family, but perhaps most influential for its newest member. As a biracial 36-year-old divorcee, the former Suits star redefined the royals and had the whole world talking about new possibilities within this elite, age-old establishment.
During their first joint interview with the BBC, Harry revealed that he got down on one knee and popped the question to his true love during a cozy evening at his Kensington Palace cottage, presenting Markle with a ring of his own design. The wedding band includes diamonds from Princess Diana's collection, and Harry said that his late mother would have been "best friends" with Markle had the two been able to meet.
But what about the rest of Harry's family? Here's what the royals really think about Harry's true love.
Kate has been 'wonderful' to her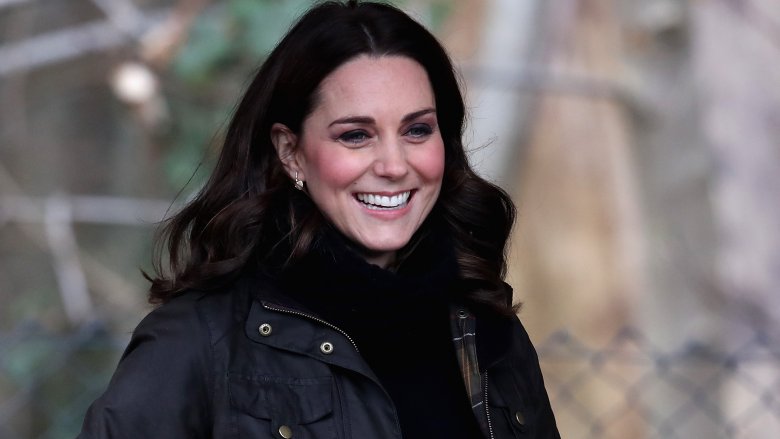 As soon as it became apparent that Markle was here to stay, royal enthusiasts began to speculate on what the American's relationship with Kate Middleton would be like. The two clearly have a similar fashion sense, but little was known about their friendship until recently, when Harry revealed that both the Duke and Duchess of Cambridge approved of his relationship.
The royal pair had reportedly been dying to meet Markle as soon as they found out about her, and they all hit it off in a series of private meetings. Harry told the BBC (via Hello!) that that living on the same grounds as his brother and sister-in-law meant Markle could meet them in a relaxed and private environment. "So you know, being our neighbours, we managed to get that in quite a few times," Harry said. Markle–who already appears to be finishing Harry's sentences for him–added that Kate had been "wonderful" to them.
She's a regular at Prince Charles' house
It wasn't only William and Kate who were dying to meet Harry's new partner, his dad was apparently keen to make her acquaintance, too. The Prince of Wales reportedly gave Markle his blessing after hosting her at his home. "[We had] a handful of teas and meetings and all sorts of gatherings over at his place," Harry said (via The Sun.) "The family together have been absolutely, you know, a solid support."
Charles (who is next in line to the throne) and his wife Camilla, Duchess of Cornwall, recently made their opinion on Harry's engagement public: "We're thrilled," they said in a joint statement released via their official Twitter. "We're both thrilled. We hope they'll be very happy indeed."
Camilla called her 'a star'
When asked by the Daily Mail what she thought about the Suits actress joining the royal clan, the Duchess of Cornwall said she was "a star" and that the family was "absolutely delighted" to have her. "As you can see, they are so happy," Camilla told reporters. "Sometimes, you know, in a climate where we are surrounded by a lot of bad news, it's a real joy to have a bit of good news for once. As I said before, we are delighted."
Camilla also said that "America's loss is our gain," referring to the announcement that Markle would become a British citizen. Prince Harry's communication's secretary, Jason Knauf, told members of the press (via the BBC) that the California girl "intends to become a UK citizen and will go through the process of that," though it could take years to finalize. Knauf confirmed that Markle's case will be "compliant with immigration requirements at all times," despite the royal status of the family she's marrying into.
The Queen broke the rules for her
The royal family has a complicated history with divorce, and divorced American women, in particular. When the British public found out that Markle had been married before, comparisons were immediately drawn to notorious socialite Wallis Simpson, whose affair with Prince Edward, the Duke of Windsor, in the 1930s was a huge scandal. The Church of England would not allow Edward to marry the two-time divorcee after becoming king, and so he gave up the throne for her, causing outrage in London.
Unlike her uncle, Queen Elizabeth towed the Church of England line hard in the early years of her reign. She is widely believed to have stepped in and stopped her sister, Princess Margaret, from marrying divorced comptroller Peter Townsend in the early '50s.
Fortunately, the queen is willing to break those unofficial rules for Markle. A Buckingham Palace spokesperson said the Elizabeth and her husband, the Duke of Edinburgh, "were delighted for the couple and wished them every happiness."
Beatrice and Eugenie don't think she's 'good enough'
A few weeks before Markle married Prince Harry at St. George's Chapel, a far less joyous occasion reportedly took place at the same venue. Speaking to New Idea, royal insiders reported that tensions were running extremely high at the Windsor Castle Easter service, which Harry and his soon-to-be wife had to skip because of a "personal crisis." Their no-show is said to have annoyed Queen Elizabeth, but not as much as Princess Beatrice and Princess Eugenie, who were apparently already furious at being sidelined for certain royal duties in favor of the American newcomer.
"Matters have been heated ever since Harry proposed and Meghan moved onto the scene, and they only got worse after Eugenie scheduled to have her wedding at the same chapel as Harry and Meghan," the palace source claimed. "There's a lot of jealousy flying around — Bea and Eugenie just don't think Meghan is good enough to be a royal."
Princess Anne's husband thinks 'she's great'
He's not a royal that we're used to hearing from nowadays, but Princess Anne's husband, Sir Timothy Laurence, decided to voice his opinion on Meghan Markle in the run-up to her wedding. "She's absolutely great," he told the Express. "She certainly doesn't need any advice from me, but the simplest advice for all of us is, 'Just be yourself.' If she does that, she'll be fine." The retired naval officer became Princess Anne's second husband when they tied the knot in 1992, and he knows all too well how difficult life in the public eye can be.
"They will go through a very intense period of media coverage and it's tough," he said. "There's not a lot you can do about it. The hardest time was in the lead-up to our marriage, and in the early weeks and months of our marriage where there was a lot of scrutiny." Their union made major headlines at the time because Anne was the first royal to divorce and remarry since 1905 when Queen Victoria's granddaughter did the same.
Prince William hopes feeding Harry will be her problem now
William and Kate have also gone public with their well-wishing, echoing the sentiments made by Charles and Camilla. "William and I are absolutely thrilled," the Duchess of Cambridge told the Associated Press as she arrived at an event in London. "It's such exciting news. It's a really happy time for any couple and we wish them all the best and hope they enjoy this happy moment." This followed a joint statement in which the royal couple said that it had "been wonderful getting to know Meghan and to see how happy she and Harry are together."
While his wife was as polite and respectful as always with her words, William answered questions about his brother's engagement with some brutal honesty. "For me personally, I hope it means he stays out of my fridge," the Duke of Cambridge joked (via the Evening Standard). "It will stop him scrounging off all my food [as] he's done over the last few years."
Her majesty attended the wedding…and that's a big deal
Allowing Harry to marry a divorcee is one thing, but attending the ceremony herself is another entirely. The queen didn't even show at her own son's second wedding because both he and his new bride were previously divorced. Her majesty reportedly felt that her presence would have been incompatible with her role as the Supreme Governor of the Church of England. "I am not able to go," she supposedly told a close friend at the time, according to The Telegraph. "I do not feel that my position permits it."
The reason that Harry and Markle's wedding date seems so sudden may have something to do with Prince Philip's ailing health. Prince Harry and the queen's husband have always been close, so the arrangements have likely been made with him in mind. "Harry really wanted to have something a little bit more intimate," royal expert Kate Nicholl told Entertainment Tonight, referencing the decision to wed at the queen's Windsor Castle. "The second reason is that he wanted something close to home for the Duke of Edinburgh and the Queen."
She's formed a 'close bond' with her father-in-law
When it was confirmed that father-of-the-bride Thomas Markle would be unable to attend the royal wedding due to heart surgery (via Harper's Bazaar), Harry's father, Prince Charles, stepped up to walk Meghan down the aisle. "It was Meghan's wish and she is grateful for the Prince of Wales to be doing it," a royal source told People. According to royal pundit Camilla Tominey (via OK!), lip readers say the future king told Meghan she looked "lovely" as they made their way to the altar together.
The bride reportedly thanked her father-in-law during her speech at the wedding reception, telling those lucky enough to make the guest list that they had formed a "close bond" since becoming acquainted. "They have spent a lot of time together," a royal source told The Times (via Hello!). "She was particularly touched by the welcome that the Prince of Wales provided to her mother … The Prince and the Duchess of Cornwall were incredibly warm towards her."
Markle was photographed laughing and joking with Charles and Camilla a few days later as they celebrated his 70th birthday at a Buckingham Palace bash — her very first royal engagement as the Duchess of Sussex.
Even the Corgis love her
The queen's famous dogs are notoriously picky with house guests, and Harry is no exception to this rule. During a joint interview, the prince and his bride-to-be revealed that her majesty's Pembroke Welsh Corgis have never taken to Harry, despite his repeated attempts to befriend them over the years. "For the last 33 years, I've been barked at," Harry told the BBC (via Vogue). That apparently wasn't the case for Markle. "This one walks in, absolutely nothing," the prince said. "Just wagging tails."
"[They were] just laying on my feet during tea," Markle said. "It was very sweet." The bride-to-be didn't reveal which of the queen's dogs she met, though she'd be hard pressed to remember all of their names — Elizabeth has more than 30 dogs.