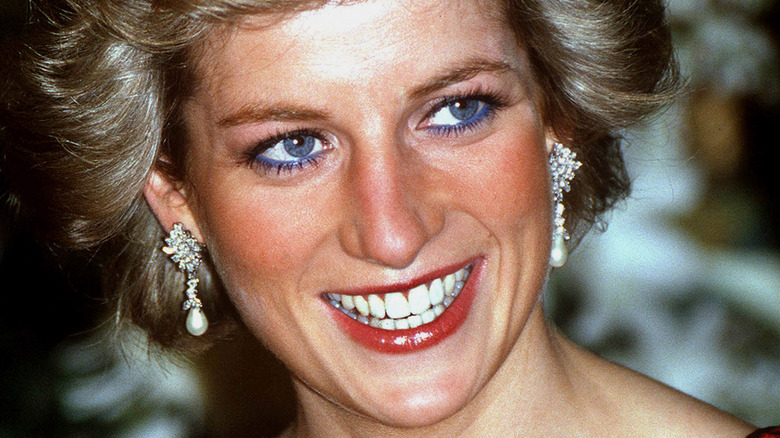 We may receive a commission on purchases made from links.
Intentional about her clothing choices, the late Princess Diana expressed herself through fashion. Diana's former stylist, Anna Harvey, explained in a Vogue feature first published in October 1997, "From the start, she used clothes to make gestures; on her first visit to Wales, she wore the Welsh colours … for her arrival in Japan, she wore Yuki and for a trip to Paris, Chanel."
As part of the British royal family, Diana had to comply with the monarchy's rules and consider the press. She once said, "You'd be amazed what one has to worry about … you've got to put your arm up to get some flowers, so you can't have something too revealing, and you can't have hems too short" (per Bloomberg). Diana morphed from a shy young teacher — "I literally had one long dress, one silk shirt, one smart pair of shoes, and that was it," she once said (per The West Australian) — to a confident woman, one of the world's most photographed.
Though her life was tragically cut short in 1997, Diana's legacy lives on, with her timeless style inspiring today. We've selected some of Princess Diana's most memorable outfits that tell a story of the woman wearing them.
Newbie design team created Diana's wedding gown
We've all seen pictures of Princess Diana's famous wedding gown, but did you know its design team was just out of design school? "It was all about drama and making Diana a fairytale princess," designer Elizabeth Emanuel told Vogue of the inspiration for the dress. Diana left the design to the designers, apart from her wanting a "tiny waist, big skirts, puffy sleeves," said the designer. "We had no guidelines or instructions, so we came up with this amazing, completely OTT gown that we knew would stand out on the steps of St Paul's."
Standout features include its sleeves with 10,000 mother of pearl sequins and its exquisite 25-foot-long train — the longest of any royal bride. "The gown was typical of early '80s style — overblown, romantic, flouncy — but we had to get it right because we knew it would go down in history," described its designer. Per The West Australian, Jade Beer of Conde Nast Brides described the gown as "a moment in time, totally reflective of the decade and the fashion that defined it: frothy, romantic, feminine."
Interestingly, a second dress was prepared in case the first details were leaked. According to The West Australian, copycat dresses appeared only hours after the wedding!
Diana's honeymoon suit came from a shop that first turned her away
You may have seen photos of Princess Diana circa 1981 alongside Prince Charles wearing a peach suit, embarking on their honeymoon. It turns out there's an interesting story behind it.
As People tells it, a young Diana entered London shop Bellville Sassoon to find an outfit for her engagement photos. Close to closing, a store associate, not recognizing the young princess, turned her away, telling her to go to Harrod's department store. There, Diana purchased the famous blue suit she wore for the shoot. "You can imagine how Belinda [Bellville] and David [Sassoon] felt when they realized the future Princess of Wales had been turned away," Matthew Storey, curator for the "Royal Style in the Making" exhibit at Kensington Palace, shared with People.
Despite the shop almost losing its chance to outfit the princess, Diana gave them another chance and was welcomed back when she returned, beginning their longtime collaboration. Bellville Sassoon created Diana's peach suit — on display at the exhibit — one of two they designed exclusively for her (short-sleeve and long-sleeve versions). Diana wore one of them during her 1983 Australian tour and changed into the other after the wedding while waving to the crowd.
She showed that grown women can express themselves in pink
As Princess Diana's style evolved, her love of pink remained. According to Vogue, she sported the color — said to be her favorite — in everything from pale, baby pink to hot pink to blush. As Glamour noted, one dress, in particular, earned glowing reviews from the international media, labeling the princess "pretty in pink" in a tiered pink silk gown for her official 1983 visit to Brisbane, Australia.
While few women could look as elegant in pink, Diana wore the color "mighty well," Vogue noted, pointing out that the color seemed to indicate the princess' feelings of happiness and self-assurance, while other times, nodding to her love of motherhood. In all, it spoke of both her humanity and relatability.
Pink, of course, is a feminine color. Fashion psychologist Dawnn Karen told The Zoe Report, "As a power-adjacent woman, [it can seem necessary] to play up your femininity." She added that pink prints even have hidden meanings: "[Individuals, including Diana] may have a lot to express but not be in a position to do so. Patterns allow them to speak [sartorially]." The princess continued wearing pink even as the press ran rampant about her doomed marriage — something the psychologist refers to as her use of "dopamine dressing" — a feel-good mechanism.
A dazzling Hachi gown showed her love for one-shoulder looks
By 1983, Princess Diana's style became more glamorous — if not daring. Knowing of Diana's love for one-shoulder dresses, Vogue's Anna Harvey selected a white beaded gown by Japanese designer Hachi. Diana looked fabulous in the dress, though the press criticized it for being "too revealing" for a royal. "She was proud of her figure and of how feminine it was — and she wasn't going to be pushed around," Harvey wrote for Vogue, adding, "Years later, when everyone complained about an outfit, she said to me, 'I'm certainly going to wear it again.'"
Diana wore the dress several more times, including to a 1983 James Bond film premiere and official dinners in Australia and Japan. Years later, You Magazine purchased it at auction for $75,100 to offer as a contest grand prize, later won by a woman named Margaret Thompson, who kept it locked away securely before selling it. In 2001, the gown was re-auctioned by Doyle for $60,000.
Diana's navy gown elicits images of her dancing at the White House
At a 1985 White House State Dinner, guest of honor Princess Diana wore a navy blue velvet off-the-shoulder gown by Victor Edelstein, which she accessorized with a sapphire and pearl choker (per You Magazine). That night, she danced freely with John Travolta on the dance floor, forever capturing the dress, now known as the "Travolta dress," and the moment in onlookers' minds. In an interview, the "Saturday Night Fever" star explained that Nancy Reagan informed him that night that Diana wished to dance with him. "I was on cloud nine," he said. "She has great rhythm. We did spins and turns" (via Harper's Bazaar). Of the dress, he said, "It fit her beautifully. I could probably sketch it in my mind because it was so specific" (per Yahoo!). Vogue's Anna Harvey revealed in 1997 that the dress "thrilled [Diana]," who first spotted it in burgundy but requested it in navy.
As Harper's Bazaar noted, Diana also wore the gown during state visits to Vienna, Austria, and Bonn, Germany, as well as when meeting designer Vivienne Westwood and for her official portrait with Lord Snowden. As Newsweek reported, the iconic dress was sold multiple times: for $222,500 in 1997 and $346,000 in 2019 when the Historic Royal Palaces' Royal Ceremonial Dress Collection acquired it, displaying it at Kensington Palace.
Diana's gorgeous ivory gown sat in a box for years
In 1986, Princess Diana wore an ivory gown from the Emmanuels made of silk moss crêpe with puff sleeves and embellished with rhinestones, which she paired with her glistening Spencer tiara while touring the Gulf. As You Magazine tells the story, she charmed the Emir of Bahrain, who invited the royal couple aboard his yacht and honored them with a guest banquet.
Diana later allegedly gave the dress to Caroline Twiston-Davies, a longtime friend who lived on an estate in Herefordshire, England. The magazine revealed that the housekeeper sold the dress one day to a secondhand store, where a sales assistant planned to wear it to a ball.
Unfortunately, the gown was never worn and was instead left collecting dust in a box at the shop for years until a sales assistant realized the treasured gown deserved to be shared with the world. She brought it to an auction house, where it sold to the Fundación Museo de la Moda in 2018 for £161,000.
She channeled Princess Grace in a pale blue dress
In May 1987, Princess Diana attended the Cannes Film Festival alongside Prince Charles, where she honored the late Princess Grace of Monaco by wearing a blue silk chiffon Catherine Walker gown reminiscent of the one Grace wore in 1955's "To Catch a Thief." The iconic dress, enhanced by a matching flowing scarf around Diana's neck, was later featured at the 2017 Kensington Palace exhibit "Diana: Her Fashion Story" (via Bloomberg).
The press praised Diana's look and tribute. She and Grace reportedly had a special connection, having both married into royalty. In the 1992 biography, "Diana: Her True Story — In Her Own Words," biographer Andrew Morton recounts their first meeting at a March 1981 event in which Diana described Grace as "wonderful and serene" yet "troubled" (via Newsweek). Then new to royal life, Diana felt nervous about following royal protocol (per Tatler, her black gown was deemed "too risqué" for a soon-to-be royal, its color worn only for funerals). In the biography, she vividly recalls Grace telling her, "Don't worry, it'll only get worse."
Ironically, one year later, the American film legend died in a car accident (via Vanity Fair), and Diana encountered the same tragic fate some 15 years later.
The sequined gown is the epitome of flashy '80s fashion
In the 1980s, Princess Diana became known as "Dynasty Di" for her flashy outfits of the decade (as seen on "Dynasty," the popular nighttime soap opera of the time). The princess wore a teal puff-sleeve dress, commissioned by Diana's beloved designer Catherine Walker, during a 1986 state visit to Austria and later to a movie premiere and, per Glamour, a charity ball in London. With its all-over sequins, ruched waist, and thigh-high slit, it's a perfect example of the over-the-top glitz and glamour of the decade. As the Daily Mail described, the princess accessorized with an emerald and diamond choker-style necklace she once received as a gift from the Queen Mother.
Over the years, the glamorous gown has tripled in value — from about $58,000 when it first sold at auction in 1997 all the way to $155,000, according to WYZA.
Diana's pearl-embellished gown is known as her 'Elvis dress'
In 1989, Princess Diana wore a magnificent Catherine Walker creation: a white sheath with a matching bolero (aka cropped jacket) on an official visit to Hong Kong, ABC News reported. Embellished with 20,000 pearls and sequins, per You Magazine, the classic ensemble looks just as fabulous today.
The press compared its color and turned-up collar to Elvis Presley's iconic suits. Diana agreed, referring to it as her "Elvis dress," wearing it to the British Fashion Awards that same year, per the Daily Mail, and on a state visit to Hungary in 1990. As ABC News reported, on one occasion, the princess accessorized with her beloved pearl-and-diamond-encrusted Cambridge Lovers Knot Tiara.
According to You Magazine, The Franklin Mint purchased the iconic gown for $151,000 at auction and later designed a Diana doll in a replicated dress. The company later gave the outfit to the Victoria & Albert Museum, where it was displayed before moving to Kensington Palace for the "Diana: Her Fashion Story" exhibit.
A sexy black gown became known as her 'revenge dress'
In 1981, the world watched Princess Diana marry Prince Charles. As biographer Andrew Morton wrote in his biography of the princess, entitled "Diana: Her True Story — In Her Own Words," the couple separated in 1992 amid speculation of infidelity (via Cosmopolitan). During this time, stories of the couple's crumbling marriage were plastered across gossip magazine covers worldwide.
Two years later, in June 1994, Charles revealed to The New York Times that he had, indeed, been unfaithful to his wife. That same night, Diana attended a dinner in London hosted by Vanity Fair (via You Magazine), stepping out in a revealing off-the-shoulder black cocktail dress made of silk crepe, featuring a ruched bodice, side sash, and asymmetric hem. Considering the headlines that evening, the dress quickly became known as her "revenge dress."
According to Reader's Digest, Diana had owned the Christina Stambolian dress for some time but was nervous about wearing it (via The West Australian). Diana reportedly planned to wear a different dress that evening but decided to wear the now-iconic dress last minute. Anna Harvey of Vogue, Diana's then-stylist, explained that Diana's goal that night was to "look 'like a million bucks.'" It goes without saying that she achieved her goal.
Diana's confident and stylish Versace tank dress look
Some of Princess Diana's most flattering looks are the simple tank dresses which became a staple of her style in the mid-'90s, a look Vogue described as her "secret wardrobe weapon." To keep the focus on the dresses, Diana kept her jewelry minimal, a far cry from her days of bold accessories. "She wore a lot of Versace — the sample shift dresses and evening columns that he and Catherine Walker were doing for her [after her divorce] were probably her most successful look to date," Anna Harvey, former Vogue deputy editor, wrote in 1997.
Two of her most memorable were from Gianni Versace: the little white dress with gold detailing on the straps, which she wore to a 1995 concert, and a similar black dress she wore to the premiere of "Apollo 13" in London. The princess' confidence clearly came through in these simple, stunning looks. Per Glamour, the white dress "[topped] Best Dressed lists," while her black dress and pearl earrings combo was "perfection." Versace himself even saw the princess' spark. "I had a fitting with her … and she is so serene. It is a moment in her life, I think, when she's found herself — the way she wants to live," he said in 1997.
She almost didn't wear her Dior slip dress to the Met Gala
One of Princess Diana's most famous dresses is one she almost didn't wear. In 1996, she attended the Met Gala wearing a lace-trimmed navy blue Dior slip dress from then-creative director John Galliano's collection. Accessorized by diamond, sapphire, and pearl jewelry (per E! News), most notably a large sapphire and pearl choker, Glamour referred to the look as "an early contender for the underwear-as-outerwear trend" and one that, per Who What Wear, is "just as stylish in 2022."
According to royal biographer Katie Nicholl, Diana worried that the somewhat revealing dress might embarrass her then-teenage son, Prince William (per Express). In the author's 2010 biography of the princess, a childhood friend of William's spilled the tea, explaining that, at the time, the media regularly spoke of trouble in Diana and Prince Charles' marriage. "I do remember William being distracted by what was going on at home," she says, adding, "William told me, 'Papa never embarrasses me but Mummy sometimes does" (via Express). One example is the birthday cake she had designed for him in the shape of women's breasts. As Express reported, Prince Harry found the cake so hilarious that he wanted one for himself. Even the dress designer vouched for Diana's "most wicked sense of [humor]," per Vogue.
Jackie O inspired Princess Diana's tailored pink suit
In the 1990s, Princess Diana's style leaned toward simple, tailored outfits, including one of her fashion staples: the skirt suit. While Diana owned skirt suits in various colors and fabrics, according to Newsweek, her sleek Versace skirt suit with short-sleeved double-breasted jacket and matching pillbox hat, which she wore to a May 1995 military event, is one of her best. Vogue described the outfit as "a 'Roselette' peony-hued look, which to this day remains nothing short of sublime."
The look, which drew inspiration from the clean, tailored style of former First Lady Jackie Onassis Kennedy, is just as relevant today. The former first lady wore a similar pink skirt suit the day President John F. Kennedy was killed in Dallas. And, just like Jackie-O before her, Diana's style has continually inspired the style choices of her daughter-in-law, Kate Middleton. Per Newsweek, Philip Somerville, the creator of Diana's iconic pillbox hats, shared after her death that she had once asked him, "Do you think, one day, people will think of me as the Jackie Kennedy of my day?" With this outfit, the answer is clearly yes.
She shined in a one-shoulder, blue satin gown
Another of Princess Diana's winning looks from the '90s is the stunning one-shoulder, satin blue shift gown and matching blue pumps she donned in 1996 for the opening of the Victor Chang Institute in Sydney, Australia. The West Australian noted that post-divorce, the people's princess began wearing more international designers, including Versace, Valentino, and Ralph Lauren. "We watched her evolve through her clothes," Australian Vogue editor Edwina McCann said. "By the time she was divorced, she was a fashion savvy, confident, label queen."
Diana was clearly aware of her style evolution, as evidenced by the $4.4 million she raised for AIDS and cancer nonprofits when she auctioned off her fabulous wardrobe items in June 1996. Designer Valentino said, "It was amazing to see her transformation. Just looking into her sparkling eyes, you could tell how finally she was free, so happy — herself."