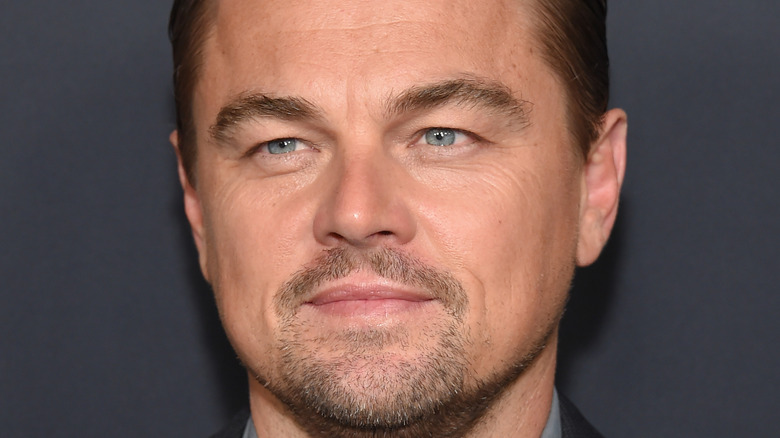 Leonardo DiCaprio has come a long way since that baby-faced tragic hero of "Titanic." The former child star turned teen heartthrob, adored by fans the world over with his charming boyish good looks, soon bulked up into an actor equal parts ripped and revered. And in 2016, he finally won his first Oscar, for "The Revenant," after decades of waiting for his moment of glory.
An extremely private person who rarely agrees to interviews, it would be fair to assume that Leo is a relatively contention-free figure in an industry growing increasingly notorious for its misconduct. But if there's one thing DiCaprio proves, it's that a celeb can be at once thoroughly private and a controversy magnet. In the three decades that he's been in the public eye, DiCaprio has found himself embroiled in some pretty shady behavior.
Of particular controversy is his love life. The actor's penchant for dating much younger women has led to numerous memes, as well as Ricky Gervais' infamous takedown at the Golden Globes (the comic joked that "Once Upon A Time… In Hollywood" ran for so long that Leo's date was "too old for him" by the end of the movie). In the immortal words of Matthew McConaughey in "Dazed and Confused," "I get older, they stay the same age." But it's not just Leo's love life that's roused contention. This is one guy who seems to throw shade faster than his "Wolf of Wall Street" antihero throws loot into the ocean. This is the shady side of Leonardo DiCaprio.
Has Leonardo DiCaprio ever dated a woman over 25?
Catch him if you can, ladies — before you reach your mid 20s. Legend has it that Leonardo DiCaprio has never once dated a woman over the age of 25. One particularly invested internet sleuth on Reddit decided to dig into DiCaprio's love life, creating a graph that proved this theory.
The actor stayed true to his under-25 tradition when he and his most recent girlfriend, Camila Morrone, broke up months after her 25th birthday. To make matters shadier, DiCaprio first met Morrone under questionable circumstances. There aren't many things quite as problematic as meeting your significant other when they were a literal child. DiCaprio reportedly was introduced to his ex, who is Al Pacino's stepdaughter, when she was 10 and he was in his 30s. Big yikes. Sources told W magazine that since that time, DiCaprio had been an "old family friend." He was romantically linked to Morrone when she was 20. For her part, Morrone told the Los Angeles Times in 2019, "There's so many relationships in Hollywood — and in the history of the world — where people have large age gaps. I just think anyone should be able to date who they want to date."
However, there were soon post-breakup rumors that DiCaprio was getting cozy with Gigi Hadid, who is older than 25, per InTouch Weekly. Perhaps Leo is finally breaking the 25 curse after all. Then again, only time will tell if he has his sights set on another woman barely out of her teens…
Leonardo DiCaprio was accused of hypocrisy over his environmentalism
A passionate environmental activist, Leonardo DiCaprio has tirelessly campaigned for action against climate change, having donated $30 million to green causes by 2016, per The Guardian. That hasn't exactly stopped him from curbing his own carbon footprint, however. According to Forbes, DiCaprio, an avid user of private jets, is responsible for the carbon emissions he called out in his impassioned 2016 Oscars speech. "…the notion that DiCaprio's carbon emissions are 11 tons per year is nonsense," the outlet argued, emphasizing that a carbon footprint will be higher than average for individuals who use private jets. Indeed, referencing a study on celebrity private jet emissions published by Yard, The Washington Post notes that jetsetting aficionados typically emit 480 times more CO2 than those who don't use jets.
In 2014 alone, DiCaprio traveled 20 or more times across the U.S. and the globe, per the Daily Mail. Within just one day in 2021, he took a roundtrip private flight from Miami to New York for a charity event, per Page Six. Moreover, he owns multiple homes and has partied on the fifth largest yacht in the world.
Speaking with Fox News, environmental analyst Robert Rapier argued that DiCaprio is responsible for contributing to the increasing climate emergency in spite of his activism. "[He] demonstrates exactly why our consumption of fossil fuels continues to grow… Everybody says, 'I've got a good reason for consuming what I consume,'" he said.
The controversial unreleased Leo DiCaprio film
In the '90s, Leonardo DiCaprio and BFF Tobey Maguire were dubbed the, ahem, "P***y Posse." In 1998, the pals starred in the indie flick "Don's Plum," in which they improvised much of the dialogue. But the actors reportedly opposed how they were portrayed. According to the New York Post, the film features scenes of DiCaprio being highly misogynistic and humiliating women. One scene shows him threatening a woman, warning her, "Stop looking at me like that! I'll throw a bottle at your face, you goddamn w****!"
Subsequently, DiCaprio and Maguire allegedly fought to keep the film from ever being screened, per The Guardian. Producer David Stutman claimed that DiCaprio and Maguire "carried out a fraudulent and coercive campaign to prevent release of the film." "Don's Plum" was eventually made available online for free. Per New York Magazine, Stutman filed a $10 million lawsuit and alleged that DiCaprio had enjoyed the movie, but Maguire feared his improvisatory acting was too personal.
As revealed in the same New York profile, DiCaprio potentially made inappropriate remarks to reporter Nancy Jo Sales. She had been looking to conduct an interview with the "Titanic" star to no avail. When she got home, an unidentified caller left a tasteless message on her answering machine. She wrote, "The speaker was telling me that if I wanted an interview with him, I'd have to 'make a deal' along the lines of doing something for him that Monica did for Bill. 'Then maybe we'll talk!' he laughed."
His charity auctioned dates with sexual abusers
When Harvey Weinstein was exposed for his history of sexual assault, Leonardo DiCaprio was quick to head to Facebook to condemn the disgraced producer (without naming him) and stand up for his many victims. However, there wasn't always bad blood between DiCaprio and Weinstein. It was revealed that DiCaprio's eponymous foundation auctioned off events with Weinstein, as well as Kevin Spacey, who is currently facing the prospect of jail time in the U.K. for alleged sexual assaults, per Deadline.
As reported by Page Six, the foundation hosted charity galas featuring donations up for auction, one of which was the "Courtesy of Harvey Weinstein" package in 2015 and 2016, shortly before the movie mogul was exposed for his predatory ways. The experience offered the winner the chance to go to dinner with Weinstein and accompany him to the Met Gala, as well as an opportunity join him on a film set. At the time of the 2015 auction, Variety reported on its highlights, which appear creepy in hindsight: "Who wants to tag along with Harvey Weinstein for a year? The Weinstein Co. topper offered the winning bidder the chance to be his guest at a whirlwind of events."
Meanwhile, the Spacey experience sinisterly entailed a private theater performance in the winner's home. Responding to the controversy, a rep for the foundation stated to Page Six, "LDF never received payment for any auction lots donated by Mr. Weinstein or Mr. Spacey, which were included in our 2015 and 2016 catalogs."
If you or anyone you know has been a victim of sexual assault, help is available. Visit the Rape, Abuse & Incest National Network website or contact RAINN's National Helpline at 1-800-656-HOPE (4673).
The Malaysian money scandal
Leonardo DiCaprio's foundation was involved in further scandal when his ties to an unscrupulous fund were exposed. As noted by The Hollywood Reporter, it was alleged that DiCaprio was linked to a monumental embezzlement plot, which apparently made donations to the actor's charity. The dodgy deals involved diverting $3 billion from a suspicious Malaysian sovereign wealth fund known as 1MDB.
Moreover, a lack of transparency with regard to DiCaprio's foundation spurred further speculation as to whether he received finances from 1MDB. Of particular concern was the actor's involvement with Malaysian film producer Riza Aziz, whose company Red Granite Pictures funded "The Wolf of Wall Street." According to claims made by the U.S. Department of Justice, the film was financed through $238 million taken from 1MDB (via THR).
Aziz was arrested on money laundering charges in 2019, per Variety. That year, DiCaprio gave grand jury testimony over his alleged role in the scandal. As The Washington Post reported, DiCaprio was regarded as a witness who could provide information, as opposed to a key player in the scandal. The proceedings were concealed from the public, so it remains unknown as to what the actor testified to. It was, however, revealed that DiCaprio owned a $3.2 million Picasso painting that was purchased with stolen funds by businessman Low Taek Jho, who is at the center of the embezzlement plot. The government seized the painting. DiCaprio said that he would return any funds linked to 1MDB, per The Guardian.
Sony emails branded him despicable
The infamous Sony Pictures hack, in which emails sent by former Sony chairperson Amy Pascal were leaked, certainly shone a light on many revered A-list celebs. From invoking Godwin's Law when discussing David Fincher to branding Kevin Hart media-hungry, there was no shortage of tea-spilling during the 2014 leak, per TheWrap. Leonardo DiCaprio was not immune to being thrown into the whirlwind of a scandal, and it was revealed that the Hollywood heartthrob isn't exactly beloved among some studio execs.
Per Gawker, filmmakers were desperate to cast DiCaprio as the titular Apple founder in "Jobs," a role that ultimately went to Michael Fassbender. One rather groveling email showed agent Robert Newman pleading with the star, "Just as you must surely feel great pride in helping bring Marty his Oscar on "the departed," everyone involved in this production desperately wants to help bring you the Academy award you so richly deserve." Newman also attempted to pique the actor's interest by suggesting that "Jobs" is the next "Citizen Kane."
In spite of Newman's desperate pleas, DiCaprio wasn't biting. In an email exchange between Pascal and producer Mark Gordon, the pair acrimoniously discussed why DiCaprio walked away from the biopic. As reported by The Daily Beast, Gordon asked, "Was this about the deal… or did he just change his mind," to which Pascal explained the latter was the case. "Horrible behavior," Gordon wrote, while Pascal replied, "Actually despicable." Ouch. Leo learnt that hell hath no fury like a producer scorned.
What his estranged stepbrother thinks
Leonardo DiCaprio grew up with a little-known stepbrother, Adam Farrar. Unlike his super famous sibling, Farrar has a long history of run-ins with the law, including an arrest in 2014 for drug possession, harassment, and theft, per People. In an interview with the Daily Mail, Farrar spoke bitterly of his stepbrother, remembering the parties the posse would frequent.
While he acknowledged that DiCaprio himself didn't take drugs, and in turn didn't blame DiCaprio for his substance misuse, Farrar emphasized that the debauched nightly parties routinely offered him "free women and free cocaine." Farrar said he was drawn deeper into the world of drugs (which his brother loathed), eventually including heroin. "He started surrounding himself with people that didn't want me around," Farrar said of DiCaprio. "He's the biggest star in the world and there's me, messed up on drugs. I was slowly shut out of his world."
Subsequently, Farrar found himself in financial turmoil. He claimed that DiCaprio hasn't offered to help him throughout his struggles. At the time of the 2016 Daily Mail interview, Farrar was renting a home in disrepair while his brother owned multiple mansions. Whenever he attempts to get in touch with DiCaprio, Farrar alleged, his A-list sibling ghosts him. "Leo wants to save the world but he seems more concerned about the environment and climate change than he does about his own brother. It hurts," he said.
If you or anyone you know is struggling with addiction issues, help is available. Visit the Substance Abuse and Mental Health Services Administration website or contact SAMHSA's National Helpline at 1-800-662-HELP (4357).
Leonardo DiCaprio's history of allegedly mistreating people
In his heyday heading the "P***y Posse," Leonardo DiCaprio allegedly got up to all manner of debauched antics. Although the posse has since reunited as the so-called Wolf Pack, and subsequently toned down their behavior, even just one of the group's many indiscretions would be enough to have them swiftly canceled in the social media age.
Per New York Magazine, DiCaprio, who had built a reputation around being a party animal, reportedly hurled grapes at paparazzi photographers from his hotel room in 1998. On another occasion, he supposedly threw trash at oncoming cars at the Brooklyn Promenade. According to The Guardian, he threw horse manure at the paparazzi in the early 2000s when making "Gangs of New York." "New York is like Leo's playground, his Disneyland," a source told New York Magazine. "They used to set off stink bombs at Sky Bar."
The actor and his pal Jay Ferguson apparently became obsessed with "Saved by the Bell" alum Elizabeth Berkley in the late '90s and tried to hound her into visiting their hotel room. Berkley was disinterested and got her boyfriend to tell the men to leave her alone, leading to an expletive-filled rant from Ferguson. Thereafter, DiCaprio apparently told his friends, "Let's go kick his a**" (per New York). Ironically, when asked why women had such a small role in "The Revenant," DiCaprio told Parade in 2016, "This represents the savagery of a lawless culture. Women have been the most persecuted people throughout all of recorded history, more than any race or religion."