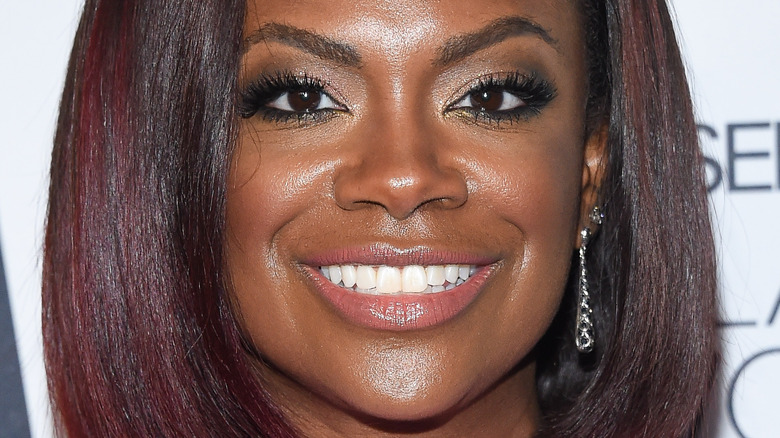 Kandi Burruss and Todd Tucker's relationship has played out in the public eye pretty much ever since day one. This romance was a match made in "Real Housewives" heaven (Todd even met Kandi while working on "The Real Housewives of Atlanta" production team — more on that later), and it has very much advanced in front of reality TV fans across the globe as these two lovebirds put all their ups and downs on display for the whole wide world to see.
To borrow a song title from Kandi's band Xscape, these two went from "Just Kickin' It" to pretty serious as the cameras rolled and have even weathered the odd divorce rumor with some of the shadiest looks we've ever seen on Andy Cohen's "Watch What Happens Live" (and that's really saying something). So confident are these two that they're in it for the long haul that they regularly dish out the relationship advice on Kandi's YouTube channel, Kandi Online, and there's barely a crevice in their romance we haven't seen, or they haven't spoken about.
But what do you really need to know about Kandi and Todd's relationship? Let's take a deep dive.
Kandi Burruss' wedding special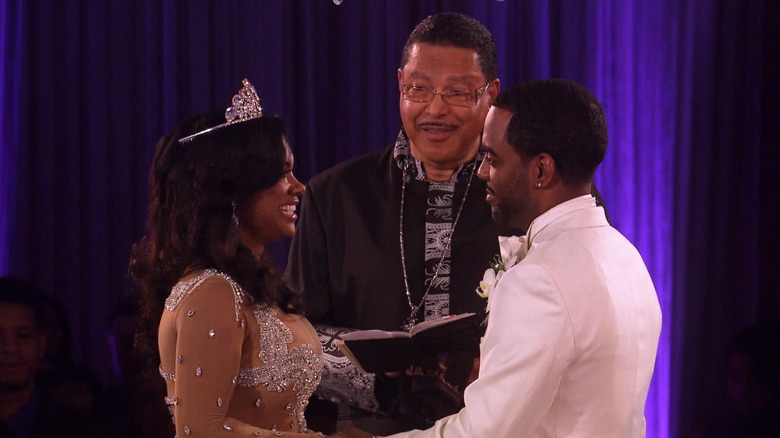 "The Real Housewives of Atlanta" fans have had a front row seat to Kandi Burruss' relationship with Todd Tucker ever since it first began back in 2010. Their blossoming romance was such a hit with viewers that they landed their own spin-off after Todd popped the question in 2013, with "Kandi's Wedding" debuting in June 2014. It ran for five episodes into July 2014, showing all the ups and downs of the twosome's rocky ride before their big day.
It's safe to say there was plenty to film, too. Despite getting engaged in early 2013, it took them around 15 months to actually start planning things — leaving them only a month to make preparations before they tied the knot! The final episode saw the group almost rushing down the aisle, as Kandi admitted to Inside Weddings that her designer was still sewing her bridesmaids dresses on her big day. But luckily, they pulled it off. "I wouldn't do anything differently… it was the wedding that was meant for us," Todd said.
Fans literally saw everything that went down, as they left nothing out. "It was tough at the beginning, but it was like, our lives are on Front Street and we didn't hold anything back," Todd told OK!. "You have everything in the special from the prenup arguments, to me sitting with attorneys talking about it, to intimate conversations with my mom and Apollo [Nida] … We gave it all."
Todd Tucker is all about the chase
Todd Tucker loves the chase! And he loves it so much he never stopped chasing Kandi Burruss, even after she became his wife. The two have opened up about how they keep their relationship strong on multiple occasions, but Todd gave an insight into one of the biggest secrets regarding how he keeps Kandi so happy on Instagram in March 2021 when he shared the quote, "Chase her. Even when she's already yours" alongside the caption, "Let's go!"
And it seems like Kandi definitely agrees. The reality star took to her own Instagram account on the same day as Todd's post to share a video in which she revealed her man had bought her flowers with a card that had the same quote written in it. "The chase is still on & I love it!" Kandi captioned the upload, adding, "I love you @todd167" with a red heart emoji. Now this is a relationship tip we can get behind.
The two also shared a few hints about how they keep things romantic on Steve Harvey's "Steve" YouTube page, where the two joked about making sure they always look presentable for one another as Todd isn't the biggest fan of the cap Kandi puts on at night to protect her hair. Another secret to keeping this spicy? No "stinky farts," according to Kandi. Well, yeah, that one sounds very much fair enough.
Kandi Burruss and Todd Tucker had therapy
There's not much that Kandi Burruss and Todd Tucker haven't discussed in front of the cameras, and that includes the moments in their marriage that maybe haven't been so picture perfect. The two invited the cameras in on a therapy session for the Season 12 episode of "The Real Housewives of Atlanta," "Moving up and Moving On."
The episode saw the two discuss how they needed to have a better work/life balance after growing "distant" in their marriage. "I think we've been so focused on success that we've become great business partners. We love each other to death, but we just haven't had time to be happy together lately," Todd claimed. Kandi then shone a light on their sex life, admitting it was "not as good as it used to be." She added, "Not saying the sex ain't good, but meaning we haven't been having sex as much," to which Todd then went on to claim Kandi put too much attention on "miscellaneous bulls**t."
But that's not the only time the couple has opened up about the fact that their marriage isn't perfect. The two also got candid about a time Kandi was seriously unhappy with her husband on her YouTube channel in December 2019, confessing in a video she was "pissed" after Todd went clubbing mere days after their daughter, Blaze, was born.
Kandi later told Hollywood Life in April 2020 that they were no longer seeing a counsellor and were "doing really good."
Kandi Burruss and Todd Tucker's blended family
Kandi Burruss and Todd Tucker are doing a pretty great job in showing the world just how well blended families can work. The two both had one child each from previous relationships when they got together, with Kandi being mom to daughter Riley, who she shares with Russell Spencer, and Todd also having a daughter, Kaela Tucker.
They've since gone on to welcome two children together since tying the knot, and haven't been afraid to share their story with the world. The couple welcomed their son, Ace, in 2016 and later confirmed he was conceived via IVF (via People). Kandi's pregnancy with Ace was considered high-risk and she's experienced fibroids (growths in the uterus) before, so the couple decided to use a surrogate to welcome their second child, Blaze. The couple announced the exciting news in September 2019 and discussed their journey to surrogacy on Season 12 of "The Real Housewives of Atlanta."
Kandi confirmed their surrogate was expecting twins during the Season 12 premiere episode, "The Moore The Merrier," but explained "one of them didn't continue." Kandi got candid about how she felt, explaining, "I was sad at first, but then I just had to be grateful that the one made it." The episode aired in November 2019, the same month Blaze was born.
Kandi Burruss' golden marriage rule
Kandi Burruss is one of the most in demand reality stars out there right now, as well as being famous across the globe as part of the girl group Xscape and working hard as a producer, songwriter, and her various other business ventures (including that infamous sex toy line). So it's no surprise then that there are times Kandi and Todd Tucker might find themselves apart for a while.
That's where Kandi's golden marriage rule comes in, as the star has admitted the big thing that has saved their relationship time after time. That secret? Ensuring they never go more than two weeks at a time without seeing one another.
"We came up with our own plan of how many days we're willing to go without being able to see each other because if somebody is placed in another city for a few months at a time, you've got to think, 'How long are we gonna go before either you come here or I go there?'" she told Hollywood Life in 2013 (via Kandi). She added that their two week rule is very much "mandatory" and something they make a big effort to always stick to no matter how busy they are.
Todd Tucker and Kandi Burruss' cheeky first meeting
All about that bass! There's one particular thing that first attracted Todd Tucker to Kandi Burruss when they first laid eyes on each other in 2010 during a "The Real Housewives of Atlanta" cast trip to Africa in 2010. Todd was on the production team and recalled a few years later (via Bravo), "I was trying to play it cool in Africa as it's against the rules to cross the line with the talent. In Production that's a big NO NO!" As for what first attracted him to her? "I loved her smile," Todd said, "she had a great butt! LOL! She seemed very humble and genuine."
But, as Todd mentioned, the production team isn't really supposed to fraternize with the talent, but he was so taken with the Xscape singer that he was willing to give up his job to pursue a relationship with her.
Kandi told Glamour in 2013 that it was a "big decision" for Todd, revealing he initially stepped away from the company all together but was then asked back to work on another show. "It wasn't that much of a conflict because he didn't work on set. He's in the offices doing budgets and stuff like that. I don't think it was a big deal, but we kept our relationship secret at first because we didn't know how the production company or network would think or feel about it," she recalled.
Kandi Burruss thought she'd be single forever
Kandi Burruss has admitted she thought she may never find love before Todd Tucker popped the question. He bought a ring around four months before proposing and didn't hold back when it came to the magical moment. Todd got down on one knee in the early hours of New Year's Day (what a way to kick off 2013!) while they were celebrating New Year's Eve at home surrounded by family and friends, per Us Weekly. "He pulled out the ring and my mind went blank after that," Kandi later told Inside Weddings.
A lot of that shock came from Kandi believing she'd never find The One, as she told Us Weekly, "I used to make jokes with my friends that I [was] part of the Forever Single Club … but now I'm totally different." Prior to finding love with Todd, Kandi was engaged to Ashley "A.J." Jewell, who featured on the earlier seasons of "RHOA." A.J. died in October 2009 and how Kandi dealt with his death was featured on the show.
Kandi spoke to A.J. mere hours before he got into the physical fight that killed him. "Never in a thousand years did I think it was going to be the last time I heard his voice," she said in a statement (via E!). "He was taken way too soon. There are so many things that I should have said to him, wanted to say to him, but now it's too late…"
Kandi Burruss' sex confessions
So, you probably know this Xscape star isn't afraid to get a little X-rated. Kandi Burruss and Todd Tucker haven't been shy about discussing their sex life in the public eye, with the two even getting into a disagreement about how often they get intimate during a 2015 episode of "The Real Housewives of Atlanta."
The two got frank about their marriage and, erm, intimate time while the cameras rolled, with Kandi telling Todd in the Season 7 episode "Chocolate Does a Body Good" that she didn't think they had enough sex, suggesting they try counselling. "My main thing is not enough sex … Can we have sex more than once a week?" Kandi asked, causing Todd to then take a dig at his wife, telling her she was "no Rihanna" and didn't always look her best in the bedroom, particularly when she wore a bonnet to protect her hair. Ouch.
But that's far from the first time their private moments have been discussed publicly. Kandi got candid with "Fox Soul" in May 2021 when she admitted she's "open to pretty much [try] anything in the bedroom," adding, "as long as I'm not hurting anybody, I'm down with it." She also opened up about trying threesomes before, adding she's not "weird about bringing other people in the bedroom and stuff like that." Saucy!
Todd Tucker is 'not an opportunist'
Kandi Burrus has been forced to defend her husband, Todd Tucker, after fans suggested he was spending her money and married her for her wealth. For a little context, Celebrity Net Worth claims Kandi is worth $30 million, while Todd's net worth is closer to $400,000.
Kandi was quick to hit back after they announced their restaurant, Blaze, in December 2019, slamming fans who suggested it was all her money going into the project. "FYI. Todd is not spending my personal money. That is still safe is my savings portfolio," she tweeted. "He & I have made a lot of money together which is what we use to invest in new business ideas. He helped make it so he can help decide how it's spent."
Todd himself has also hit back at those claiming he's after Kandi's cash after even her mom, Joyce Jones, suggested he could have financial reasons for pursuing her. "I am definitely not an opportunist. I didn't enter this relationship expecting or wanting anything from Kandi. I was already in TV production when she and I first met, and I continue to do my thing," he told Buzzfeed in 2014 (via Kandi). "When people say that, I think they are dealing with what is inside of them. It gets annoying, because why can't I just love Kandi for her and not her money?"
The two also have multiple other business ventures, including a tequila company, but haven't escaped tax allegations.
Todd Tucker's RHOA drama
At this point, in terms of beef, Todd Tucker is pretty much a full-fledged Housewife in his own right. Todd slipped right in with the gang when he started appearing on "The Real Housewives of Atlanta" while dating Kandi Burruss — and he certainly hasn't been afraid to bring the drama. Todd famously fell out with Phaedra Parks over money, as Todd claimed Phaedra didn't fully pay him after he worked in the production team for her workout DVD (via Bravo). Much of this drama played out on camera, with Kandi taking to Instagram to try to clear the air. But that was far from the only time Todd brought the drama to Bravo.
Todd also got into it with NeNe Leakes in the Season 6 episode "Mexi-loco" when Todd raised his voice during the gang's trip to, you guessed it, Mexico. "It's okay to school me, but don't f***ing talk down to me and then school me," Todd told her, to which NeNe replied,"If you don't like the way I say it, then that's your problem!"
And third times' the charm! How could we possibly forget the whole drama that went down between Porsha Williams, Todd, and Kandi? For a brief recap, Porsha made some very bold allegations about Kandi and Todd, including claiming they had a sex dungeon at home and Todd was cheating on his wife, while Todd made shocking sex allegations back about an alleged interaction with Phaedra's ex-husband, Apollo Nida.
Todd Tucker's frosty relationship with Kandi Burruss' mom
It's not just with Kandy Burruss' "The Real Housewives of Atlanta" co-stars that Todd Tucker has had frosty relationships, as his drama with Joyce Jones (aka Mama Joyce), has also long been documented by Bravo cameras. The two appeared to get along before Todd proposed to Kandi, but fans first saw cracks start to form on the twosome's wedding spin-off, "Kandi's Wedding." "She doesn't let up off of me. It's been tough, we're taking it day by day. I think she's going to come around, I just think she loves her daughter and she's very protective," Todd told OK! of the drama in 2014.
Todd and Kandi's families then took a trip together in 2015, which was captured for another of their spin-offs, "Kandi's Ski Trip," where fans saw tensions rise even more. "Right now our families are in a place where we're trying to mend and blend both sides. It's been tough, but I have faith we'll one day be able to all get along," Kandi told Hollywood Life at the time (via Kandi).
Luckily, as of April 2020, it seemed the twosome's relationship was back on track. Kandi told Bravo that Joyce "totally changed" after Blaze's birth, putting an end to her and Todd not speaking. "Blaze being born has like healed our family in such a way … Now my mom comes over often. Her and Todd talk and laugh together now. So it's been a blessing," she said.
Marriage had actual health benefits for Todd Tucker
Who knew? It turns out Todd Tucker has actual, physical health reasons for staying with Kandi Burruss as their relationship benefits are literally measurable by a doctor.
Todd opened up about how things improved for him after he got down on one knee and popped the question to "The Real Housewives of Atlanta" star, telling OK! in a 2014 interview, "It's so funny, they say when you get married you live longer and it is true." He then clarified, "I had a little high blood pressure and as we got engaged and got married I went back to the doctor and they were like, 'Oh your blood pressure is really good.' So I definitely feel the benefits of the marriage and you wake up happy every day, so far," he shared. How cute!
Even sweeter than that? Todd also told the outlet that "marrying [Kandi] is definitely the best decision I've made in my life." Aww!
Do Todd Tucker and Kandi Burruss look alike?
So, comparing lovers to brother and sister isn't exactly the most romantic idea we've ever heard of, but that's exactly what Kandi Burruss did on Instagram back in March 2018. In an, erm, somewhat bizarre comparison we probably wouldn't recommend making, the star shared two adorable snaps of herself and her husband, Todd Tucker, smiling alongside their son, Ace, and wrote in the caption that she thought they were "starting" to show some similarities alongside four sideways crying laughing emoji. Kandi added, "They say that happens when you've been together so long," while also sharing that she felt their son, Ace, "looks like Todd."
Fans shared their thoughts on Kandi's unusual comparison in the comments section, with Instagram users sharing their thoughts on both sides of the argument. "You became one when married so yes you do look alike. Thats amazing what marriage does," one person sweetly pointed out. Another disagreed though, writing, "Noooooooo lol not at all."
Yeah, we think we're going to side with the latter on this one.
Kandi Burruss' longest relationship ever
In it for the long hall! It turns out Kandi Burruss' relationship with Todd Tucker is her longest ever — by a country mile! Kandi has been pretty open about her struggles to find love ahead of her romance with Todd and confirmed on the Essence's "Yes, Girl!" podcast around six years into their marriage in October 2020 that she'd never been with anyone else longer. Aww!
As for why they work so well together, Kandi shared that her man keeps her on her toes as she never gets "bored" with Todd. "I feel like in other situations I've lost interest or maybe they were a cheater, you know. I don't tolerate cheating," she shared. "So our communication is all the way on point and I never get tired of talking to him so I think that is what automatically made me be like, okay, I can do this!"
Kandi echoed that sentiment during a joint interview with Upscale Magazine in January 2019, admitting Todd is the "only person I enjoy being with all the time. I can never get bored talking to him. I talk to him all the time. We have lots of fun together … I feel like he's my match all the way around." She added that in her past relationships, she tended to end it after around six months.
Kandi Burrus won't be paying spousal support
Sorry, Todd Tucker, but don't expect any spousal support if things don't work out with Kandi Burruss. Though we're sure it won't ever come to it with this loved up couple, Kandi has admitted she has no plans to pay out if she and her man were to end up divorcing — and she has an ironclad prenup to boot.
The first real mention of the prenup came the night before the duo were set to tie the knot as was all captured for by the cameras for the couple's "The Real Housewives of Atlanta" spin-off, "Kandi's Wedding," in the episode "Dis-Engaged." Kandi explained to her then-husband-to-be that she was trying to protect the assets she had before they tied the knot, but would be willing to split any of the money and assets that have together. Fair enough, right?
She later explained her decision to The Grio in 2014, admitting, "You have to protect yourself," as she's all too aware most people don't expect to ever get divorced but end up majorly losing out financially if or when things turn nasty. "You have to be ready for a mad day … when we get mad people want to hurt each other. How they want to hurt you? In your pocket. You not gonna be goin for mine," she said, adding, "I'm not paying spousal support, oh no." Let's just hope this one never actually becomes an issue.