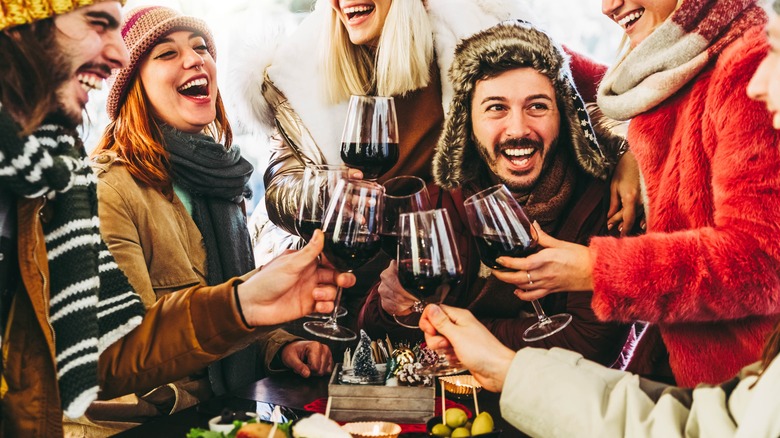 What better way to toast up the chillier season than with a toast? House of Townend describes the winter palate as being comfort-oriented: meats, broths and sauces, and soups tend to be all the more heavy, all the more indulgent, and filling. It's classic to pair these meals with full-bodied red wines that are just as heavy alcohol-wise and rich in tannins. There's just something about a rich red that marries well to the tempo and atmosphere of a heavy autumnal or winter dinner.
But winter wines don't necessarily need to be red. After all, what would New Year's be without a crisp sparkling wine? And Thanksgiving without, say Asti, a sparkling Italian wine (via Wine Insiders), to cut through the encroaching food coma? Even House of Townend notes that a full-bodied white wine can help brighten up a heavy meal or, if higher in acidity, cut through what may otherwise be an overwhelming richness. Gourmet Hunters advises to look for a white wine with the "soul" of a red wine: complex, yet creamy. For wine aficionados and neophytes alike, there's a world of wonder (and comfort) awaiting long after the summer solstice passes. Here are 10 distinct winter wines that bring a lot to the plate and the palate.
Pinot noir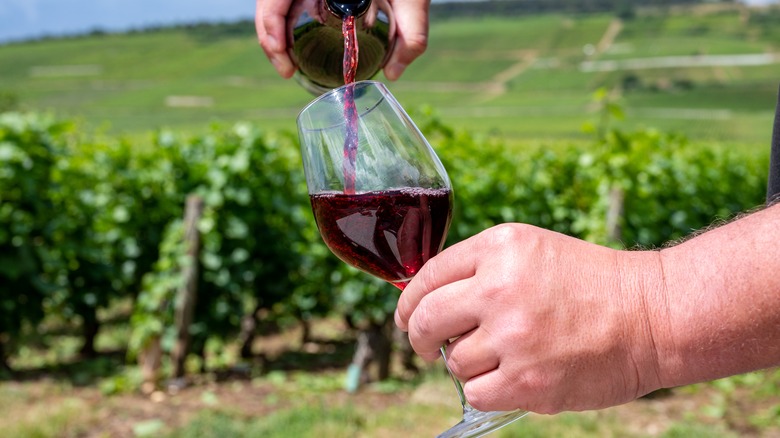 What better place to start than with a classic? Pinot noir is a wine variety that everyone knows, wine enthusiast or no. But its nuances are worth celebrating. Pinot noir grows only in select cooler climates (via Wine Enthusiast Magazine). This climate zone is, however, widespread, and pinot noir is cultivated from New Zealand to the mountains of Chile and in Switzerland, to name a few places. But, as the wine aficionados assert: France remains the variety's "spiritual home."
Regardless of point of origin, a good pinot will be sure to have unique notes of mushroom, forest floor, and berries. Pinot is a dry wine variety, with a high acidity, and fruity notes. It's sure to liven up the winter dinner table or be a good fireside companion. MasterClass offers a few pointers once the bottle of red is bought. For one, the site notes that pinot is best served straight from the bottle. It can be, according to the site, aged up to eight years, but once opened, this wine is best enjoyed within a day. Pinot does exceptionally well by game meats, like a Christmas goose. But this wine can be dressed down, and it also makes an excellent addition to a lively charcuterie board.
Nebbiolo
Nebbiolo is often compared to, or lives in the shadow of, the absolutely legendary pinot noir. But don't count this wonderful and bold red wine variety out. There's a good many reason to get to know this northern Italian red wine. Nebbiolo has what one might best describe as a hidden punch: It's pale with a mild rose color as described by Wine Folly. But nebbiolo's flavor is best surmised as bold. Wine Folly describes nebbiolo wine as being extremely full-bodied and tannic. It has, according to the wine site, a distinct leathery taste with notes of cherry, coffee, and distinct earthiness. This wine is not for the faint-hearted!
Both Wine Folly and MasterClass note that nebbiolo pairs exceptionally well with buttery and fatty foods. The wine's acidity and fat from rich foods tend to neutralize each other and make for a well-balanced meal, at least flavor-wise. This could mean anything from hearty winter beef stews to rich fondue. Rissoto will also work nicely with this wine. Wine Folly notes that Chinese cuisine tends to also pair well with the heavy wine. Budget-wise, there's something for everyone with nebbiolo. While it may be better known for its place in the luxury wine world, there's also a plethora of "entry-level" nebbiolos, per Wine Folly. Suffice to say, whatever the budget, this wine will deliver.
Chardonnay
Chardonnay is an extremely popular wine that is both beloved and expensive, according to Fire and Ice on Toby Creek. Despite its contemporary popularity, chardonnay is long in the tooth. It was originally cultivated by monks in France centuries ago and has since found a home in places as diverse as Australia, South Africa, and, of course, the U.S. (via Fire and Ice and The Wine Cellar Insider).
This wine at its best is full-bodied and carries a flavor profile that varies from apple and pineapple to even vanilla (via The Wine Cellar Insider). Really, as the aforementioned site notes, the flavor composition of chardonnay depends heavily on the soil it grows in, so before buying, make sure to do a little research! Many people, like those at Fire and Ice, agree with the statement that chardonnay is a white wine with the soul of a red wine. This may have to do with the fact that chardonnay was first made by cross-breeding pinot noir grapes with gouais blanc grapes back in the time of monks (via Fire and Ice).
Both sites suggest pairing chardonnay with especially fatty and creamy dishes. Hard and soft cheeses also make an excellent partner to this acidic wine. Meats like game bird and shellfish like lobster or crab will also make for a seriously indulgent meal.
Mulled wine
Mulled wine, also sometimes referred to as glogg (via Britannica), is a treat that rings in seasonal festivities with joy. This sweet, seasonally spiced wine is really nothing new, and people have been pouring it up since the Romans (via German Wines). According to the site, mulled wine is especially aromatic, even before spices are added, due to the heating process used to make it. Visually, of course, warmed mulled wine takes on a brilliant red coloring. Mulled wines do not necessarily need to be red, though. Mulled wines are also found as white wines, or a more unconventional blueberry (via U.S. Highbush Blueberry Council). There's something for everyone with this winter wine!
You don't need to hit the après-ski or even go to a cozy pub to enjoy a mug of mulled wine. It's easily made at home as well, and arguably more to your taste. Petar Marshall notes in an interview with Mashed that a great mulled wine starts with a good base wine. Additional spices like star anise, cinnamon sticks, and even maple syrup will transform an otherwise good cup of wine into a hearty mug of season's greetings.
Rosé wine
Sure, to some wine enthusiasts, rosé may come across as eye-rollingly sacrilegious, and maybe even worse, basic, to enjoy in the wintertime. Rosés in general don't get a lot of respect, according to The Wine Searcher. These blush-pink wines are more often than not associated with flirty nights and twenty-somethings. But, as Forbes warns, don't be so quick to dismiss this wine variety! After all, don't those cold and drab winter nights need a bit of sparkle?
In lieu of the lighter rosé wines in this variety's arsenal, Forbes suggests seeking out a fuller bodied rosé. Syrah Rosés, for example, like the Syrah Rosé Sicilia, are a bit darker in hue than their companions and contain notes of perfumed rose, lilac, and black currants (via Vinello). Suffice to say, the Syrah Rosé makes the perfect complement for, say, a goulash or smoked meat.
But, even Forbes acknowledges that the palest summer rosés may age, well, like a fine wine. Bottles picked up during the summer that haven't been opened, as the site notes, have had a chance to become more complex and settle down a bit. The magazine notes that some may even pick up a wonderful grainy texture that adds to the winter meal. Either way, there's no reason to limit rosé enjoyment to the summer.
Condrieu
Mon Dieu, Condrieu! Condrieu is another full-bodied white wine that hails from the southeastern Rhône region of France. This pale wine is, as described by The Wine Cellar Insider, crisp and mineral-like in nature with refreshing floral notes. Condrieu is made primarily from Viognier grapes that are unique to the Rhône region (via The Wine Searcher). These grapes, which are also partially used for other wines like Syrah, make for an aromatic, textural, and less-acidic wine, as noted by The Wine Searcher.
The Wine Cellar Insider observes that Condrieu wines exist taste-wise on a vast spectrum from dry to sweet. Notably, this particular white wine has an oily texture to it. The site suggests pairing this white wine with cheese, and The Good Food Revolution points to goat cheese as a particularly wonderful match. The gourmet site also points to south Asian cuisine as pairing well with the wine. Condrieu is certainly a one-of-a-kind wine and can provide for a plethora of unique winter meals.
Champagne La Grande Dame
The name of Veuve Clicquot's "La Grande Dame 2012" Champagne blend is a nod to the grande dame of champagne and founder of the company, Barbe-Nicole Ponsardin (via Wine Folly). The blend is supposed to mimic the Champagne legend's personality: playful, precise, and elegant.
The Veuve Clicquot's La Grande Dame is boldly 90% pinot noir and 10% chardonnay (via Veuve Clicquot), i.e., indulgence on indulgence! But we really shouldn't expect any less from Champagne. There are some who might thumb their nose at La Grand Dame's high price tag and the general pretension that surrounds Champagne. But there is a uniqueness that surrounds the legendary wine (and halfway justifies the price), as outlined by Mark O'Neill.
First, the Champagne region of France has a unique chalkiness to its soil that contributes to the drink's refreshing mineral taste (via Comité Champagne). Second, Champagne is predominantly made from dark grapes but still is a white wine (via Mark O'Neill). This is because the skin and juice barely interact, which contributes to an already labor-intensive process, according Mark O'Neill. Simply put, there is a reason for the hype.
Prosecco spumante
For those who want all the bubbles without the major price tag, prosecco spumante is a good alternative. Prosecco is quite similar to Champagne, but it differs in a few key ways. For one, proseccos are, of course, not made in the Champagne region, and thus functionally, cannot be Champagne. But, more meaningfully, prosecco wine tends to be sweeter and noticeably less bubbly than Champagne. But, as Wine Magazine points out, these aren't necessarily bad things, and there's a lot of exploration surrounding the sparkling white wine. Prosecco wines are, as described by the magazine, highly acidic, light- to medium-bodied, and lightly perfumed. Lunds & Byerlys observes that due to prosecco's sweet nature, it pairs really well with sweet and savory appetizers like prosciutto-wrapped dates.
Prosecco can be organized into two camps: frizzante and spumante. Prosecco spumante is sparkling, while frizzante is fizzy. Thus, for those who are craving that bubbly texture when sipping (or better yet, toasting), prosecco spumante is the way to go (via Wine Magazine). The magazine also notes that the drink can be found on four different tiers of sweetness and dryness, with Demi-sec and Brut being the sweetest and driest, respectively.
Roussanne
Roussanne is another beautiful white wine variety from the Rhône region of France (via Wine Traveler). The site describes the roussanne wine as drawing a balance of weight, dryness, and texture, which results in a unique "silky" finish that many adore. Indeed, roussane is so weighty that Wine Folly describes it aptly as a "rare full-bodied" wine.
This particular wine has sweet notes of white peach and pear, according to Wine Traveler. It's not uncommon, as noted by the wine site, for roussanne to have nuances of baked bread, or as Wine Folly sees it: brioche. The latter site recommends pairing the rich wine with buttery meats: anything from crab to lobster to foie gras will do. Wine Traveler, on the other hand, suggests duck or turkey to round out the drink even more. Alternatively, the nuttiness of roasted winter squash can play really nicely off of a good glass of roussanne.
Port wine
Port wine is a red wine with a lot of history. As the wine trade in Europe flourished, the Douro Valley where port wine is cultivated became meaningful for Portuguese wine export (via Wine Tourism Portugal). The name actually hearkens back to the very use of ports used to distribute the wine.
Port wine is extremely sweet and considered a dessert wine, according to MasterClass. Port wine is fortified with unsweetened brandy, which gives the wine its high alcohol content, according to the site. So, for some, this is the perfect nightcap, to either get the night going or to head buzzily to bed.
As noted by the site, port wine flavors can vary from the bright and fruity ruby to the complex and aged tawny port wine. Regardless, this wine is one that pairs well with many desserts. Aged cheeses tend to have an opposites-attract magic with the wine, as observed by MasterClass, while rich Black Forest cakes or vanilla ice cream will work beautifully with the wine.