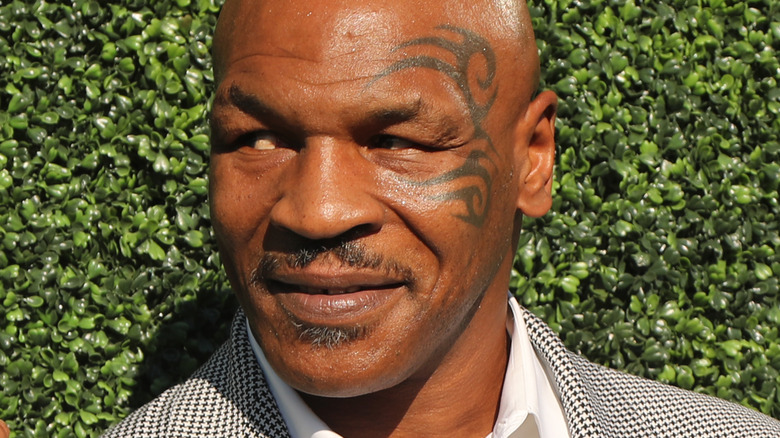 Mike Tyson was seemingly everywhere in the 1980s. After knocking out Trevor Berbick in two rounds to become the youngest heavyweight champion in boxing history, the 20-year-old Brooklyn native became a household name overnight. He wasn't a natural actor, but he had a presence and easy charm that drew people to him. At the height of his career, Tyson was guest starring on network TV shows, in music videos, and even had his own Nintendo game.
But over the years his image changed, and the significance of a Tyson cameo would change along with it. Following his tumultuous marriage to Robin Givens in 1988, his 1992 sexual assault conviction and subsequent prison sentence, and his maiming Evander Holyfield in their 1997 rematch (aka "the bite fight"), it didn't feel appropriate for Tyson to be palling around with Emmanuel Lewis on "Webster," as he did a decade earlier. He made few appearances in the late 1990s and early 2000s, other than cameos for his friend, filmmaker James Toback. But something changed in the late 2000s, and Tyson began popping up regularly in film and on TV, often playing off the nostalgia of his '80s icon status, and more queasily, his reputation as a violent, out of control predator. The best of these appearances take advantage of Tyson's unique presence without treating him as a gimmick, while the very best of them allows him to tell his story in his own words. Let's take a look at Mike Tyson's best film and television appearances, ranked.
I Think I Can Beat Mike Tyson
Will Smith puts his money where his mouth is in the 1989 song "I Think I Can Beat Mike Tyson." Like his other hit Fresh Prince and DJ Jazzy Jeff songs "Parents Just Don't Understand" and the Freddy Krueger-centric "A Nightmare on My Street," "Mike Tyson" is a story song, opening with Smith watching old Tyson fights late at night. Convinced that he could beat the champ, Smith calls up Tyson's manager Don King (as himself) and sets a fight for two months away in Atlantic City. Smith prepares for the fight, with "DJ Jazzy Jeff" Townes as his trainer, while no one in his neighborhood thinks he can win, not even his barber or his grandma. In the ring, Smith thinks he's doing all right at first, but one single punch from Iron Mike lays him out.
The video features Smith parodying another famous Philadelphian, Rocky Balboa, as he wheezes up the steps of the Philadelphia Museum of Art and trains by punching a slab of beef. He and Townes also dress up as old men and comment on the action, baldly ripping off a similar scene from "Coming to America." Tyson appears in just two scenes, appearing to rough Smith up at a rowdy pre-fight press conference, and then fighting Smith in the ring. Dressed in a "Free James Brown" t-shirt, Tyson dances around and throws punches toward the camera, while Smith takes several exaggerated pratfalls to the canvas before showing up at the end of the video with his face covered in gnarly bruises and welts.
Franklin and Bash
In a Season 4 episode of the TNT legal comedy "Franklin and Bash," the eponymous buddy lawyers (Breckin Meyer and Mark-Paul Gosselaar) help their firm's founder Stanton (Malcolm McDowell) get back on his feet after getting temporarily disbarred and having his reputation ruined at the end of the previous season. But a lunch meeting at a fancy restaurant goes awry when owner Dominic (John Michael Higgins) reveals that Stanton's favorite table is no longer available and that his caricature has been replaced on the restaurant's wall of fame by one of Mike Tyson. Incensed, Stanton punches Dominic in the face. Franklin and Bash attempt to mend the two men's broken friendship by allowing Dominic to punch Stanton in turn. But the fight contract they draw up doesn't specify who can punch Stanton, so Dominic brings in a proxy puncher: His apparent good friend Mr. Tyson.
The show tries to have it both ways with Tyson, treating him at first like a punchline; the fact that Stanton's caricature has been replaced by Tyson's is meant to indicate how far from grace he has fallen. But when Tyson himself shows up toward the end of the episode, Franklin and Bash fall over themselves with hero worship, even re-litigating Tyson's 1990 loss to Buster Douglas. This will be a common tactic in Tyson's post-"Hangover" appearances, which view him as simultaneously a living legend and as a dirtbag. Tyson, for his part, seems a little embarrassed to be there, both in character and in real life.
The Hangover
Tyson's second career of popping up unexpectedly on shows like "Franklin and Bash" or "How I Met Your Mother" is likely due to his surreal turn in the 2009 megahit comedy "The Hangover." When a weekend bachelor party in Vegas turns unexpectedly debauched, three groomsmen (Bradley Cooper, Ed Helms, Zach Galifianakis) have to piece together what they did the night before and find their missing groom (Justin Bartha). Somewhere in that wild night they kidnapped a full-grown tiger, and the next morning have to face the wrath of its owner, Tyson, introduced air-drumming to Phil Collins' "In the Air Tonight."
The tiger-centric subplot is a reference to the era in Tyson's life when he owned apparently three large cats at the same time. It takes advantage of his well-known eccentricities while using his reputation for violence both in the ring and out as subtext. At the same time, the film fawns over him like the megastar athlete he once was. "He's still got it," Helms marvels after Tyson knocks Galifianakis unconscious with a single punch. It's a strange balance, and for those who might not be so quick to overlook the fighter's sexual assault conviction or other crimes, it makes for uneasy viewing. The film's success spawned two direct sequels and made movie stars of its three leads — and of Tyson, in a way. At the very least, it showed audiences that Tyson could laugh at himself, and perhaps showed filmmakers that he was willing to take direction.
How I Met Your Mother
Tyson's appearance on a 2013 episode of the CBS sitcom "How I Met Your Mother" offers a slight variation on the "Hangover" formula, in that he doesn't punch anyone. By the eighth season of the series, longtime couple Marshall and Lily (Jason Segel, Alyson Hannigan) are married and have an infant son, Marvin. Canadian news reporter Robin (Cobie Smulders) has managed to go Marvin's entire life thus far without holding him, but when Lily has to retrieve his favorite pacifier, she leaves Robin alone with him on the street. While Robin tells Lily at the time that nothing unusual happened while she was away, Robin eventually confesses the truth in a series of flash-forwards stretching 16 years into the future: Marvin was crying and a kindly old woman picked him up and rocked him back to sleep. Then his stroller almost rolled into the street. Then Robin and the old woman took Marvin to a strip club.
It's only in the last flash-forward, nearly two decades later, that Robin reveals the full truth: The "kindly old woman" who helped her that day was actually Mike Tyson. Future Lily is shocked: "My baby was rocked to sleep by the greatest boxer of all time, Senator Mike Tyson?" The scene gets much of its humor from the sight of Tyson softly cooing at an infant — as well as Robin's delayed reaction to who he is — though his baby talk about eating Marvin up has a slightly sinister connotation.
Rocky Balboa
Amazingly, Rocky Balboa and Mike Tyson never faced each other. Apollo Creed (Carl Weathers), Rocky's foe turned friend, was famously based on Muhammad Ali, and although 1990's "Rocky V" featured a showboating Don King-like promoter (Richard Gant), the "Rocky" films were mostly in hibernation during Tyson's peak years, and by the time Sylvester Stallone re-entered the ring for 2006's legacy sequel "Rocky Balboa," Tyson was more or less retired. When offered to fight in an exhibition match with current heavyweight champ Mason "The Line" Dixon (real-life boxer Antonio Tarver), a 60-year-old Rocky takes stock of his legacy and tries to reconnect with his adult son (Milo Ventimiglia).
Tyson's cameo here is brief, with little audible dialogue, as he and Dixon argue ringside before the big fight at the end of the film. What's most interesting about the moment, though, is how the film engages with the world of real life boxing circa 2006, in a way that the previous "Rocky" films never really did. The fight between Rocky and Dixon is presented as an HBO broadcast, with actual boxing commentators Jim Lampley, Max Kellerman, and Larry Merchant calling the fake action, and actual celebrities and professionals like Tyson lining the front rows. It may not be the biggest or funniest moment on this list so far, but it's the first time Tyson's presence is justified as something more than a gimmick or meme come to life.
Mike Tyson Mysteries
The ultimate expression of the Tyson-as-meme form was "Mike Tyson Mysteries," the 15-minute cartoon series that ran on Cartoon Network's Adult Swim late night schedule from 2016 to 2020. Animated in the style of 1960s Hanna-Barbera cartoons, the series followed Tyson (voicing himself) as he solved mundane and absurdist mysteries alongside his adopted daughter Yung Hee (Rachel Ramras), a talking, alcoholic pigeon (Norm Macdonald), and the ghost of the Marquess of Queensberry (Jim Rash), who first codified the rules of modern boxing in the late 19th century.
As with many Adult Swim series, it operates on a certain amount of stoner logic, and uses its abbreviated runtime to its advantage; by the time you realize how ridiculous any episode might be, it's already over. Despite his distinctive, oft-parodied voice, Tyson is not much of a voice actor, but his flat, slightly befuddled line delivery adds to the charm of it all. Like "The Hangover," "How I Met Your Mother," and many more less accomplished projects, the premise of "Mike Tyson Mysteries" only works if you find the presence of Tyson to be inherently funny.
Ip Man 3
Tyson remains a formidable physical presence, and in the 2010s he put his fists back to work in a string of international and/or direct-to-video action movies. The first of these, and one of the best, was 2015's "Ip Man 3," the second sequel to Donnie Yen's iconic 2008 biopic of the eponymous Wing Chung master. Loosely based in fact, the series is more than anything a showcase for Yen's prodigious stunt work, as the forces of midcentury Chinese history compel Ip to continuously defend his home and family with deadly force. "Ip Man 3" takes place in 1959, as Ip protects his son's school from a ruthless American real estate developerOur House Fils and boxer named Frank (Tyson), while dealing with his wife's cancer diagnosis and the training of his most famous student, Bruce Lee.
Tyson's villain turn here is more of a glorified cameo; his role could have been excised without much damage to the rest of the film. But he shines in his big fight scene with Yen, as Frank, impressed with Ip's abilities, challenges him to a three-minute round with the fate of the school at stake. Director Wilson Yip keeps the action tight around his actors, emphasizing the bone-crushing, wall-breaking ferocity of Tyson's fists. The contrast of Ip's graceful, lightning-fast movement against Frank's tank-like momentum is the film's conflict in miniature.
Kickboxer: Retailiation
Tyson joined the deathless "Kickboxer" franchise in 2018 with "Kickboxer: Retaliation," a direct sequel to 2016's "Kickboxer: Vengeance" which was a reboot of Jean-Claude Van Damme's original from 1989. After defeating his brother's killer in a brutal fight to the death in Thailand at the end of "Vengeance," martial artist Kurt Sloan's (Alain Moussi) burgeoning MMA career is cut short when he is kidnapped by the nefarious Mr. Moore (Christopher Lambert) and thrown into a Thai prison, where he must fight the massive Mongkut (Hafthor Julius Bjornsson, "Game of Thrones") for his freedom. Reunited with his old master Durand (Van Damme, returning from "Vengeance" and hamming it up with impunity), Kurt enlists the help of fellow inmate Griggs (Tyson) to train for the fight of his life.
As is often the case in martial arts movies, when Kurt and Griggs first meet, they fight. Director Dimitri Logothetis makes some fun choices here, as when the camera introduces Tyson by zooming in on the back of his head, practically begging for an applause break when he turns around the reveal himself. Griggs and Kurt punch and kick their way down a prison hallway, breaking open pipes with their hits and spraying steam everywhere. Tyson may have never gotten to fight Rocky, but he gets to play Mickey here, as Griggs and Durand take Kurt through an unconventional training regimen that includes dodging soccer balls and bashing cement blocks.
Cain Time Live
When Tyson does comedy, it is almost always as "himself," and there is often the sense that the audience is laughing at him as much as they are with him. An unusual exception to that rule came in 2012, when Funny or Die cast him as Republican presidential hopeful Herman Cain in a series of video sketches that were only marginally more unhinged than Cain's own campaign. The best of these was "Cain Time Live," Cain's new Fox News series in the vein of Bill O'Reilly or Glenn Beck. Cain sits behind a desk, shouting ridiculous conservative talking points at the camera and changing the title of the show whenever the mood strikes. "We should put all the poor people in a tomb, like mummies," he declares before thinking it through: "But then who will work for us?"
At less than two minutes, the video doesn't overstay its welcome, and ends with an effective, if left-field, dig at filmmaker Tyler Perry. Tyson is no political satirist, and he's no Phil Hartman or Jay Pharoah; his transformation into Cain is no more than putting on a suit and glasses, Clark Kent-style. But there's an infectious energy to his performance that is often missing when he is just playing a slightly exaggerated version of himself, whether it's a cutaway moment when he protests to a baby doll, "But I work alone!" or simply shouting "Cain!" Now, years after these shorts were produced, it feels like a road not taken for Tyson's career.
Law & Order: Special Victims Unit
Another road in Tyson's career that was ultimately not taken came in 2013, when he guest-starred on an episode of "Law & Order: Special Victims Unit." When a boys' gymnastics coach is attacked seemingly at random, a look into the attacker's (Peter Scanavino, a year before joining the cast as Det. Carisi) past reveals a decades-long pattern of abuse at the hands of a coach and upstate camp counselor (Ed Asner). As Detectives Benson (Mariska Hargitay) and Amaro (Danny Pino) search for a victim who is willing to testify, they come across Reggie Rhodes (Tyson), a death row inmate in Ohio whose life was shattered when he was victimized as a boy.
Tyson tackles this dramatic performance surprisingly well; it helps that he is supported by such strong actors as Hargitay and guest star Andre Braugher as a sympathetic defense attorney. But not everyone was happy with Tyson's role on the show. Many fans felt it was in poor taste, if not irresponsible, for a convicted sex offender like Tyson to be cast here as a victim — especially on a show like "SVU," which has long advocated for victims' rights. Showrunner Warren Leight defended Tyson's casting via Twitter, while Tyson himself insisted that the role was just an acting job and had nothing to do with his own life.
If you or anyone you know has been a victim of sexual assault, help is available. Visit the Rape, Abuse & Incest National Network website or contact RAINN's National Helpline at 1-800-656-HOPE (4673).
Mike Tyson: Undisputed Truth
"What the hell is Mike Tyson gonna do on stage?" That question is rhetorically posed by Tyson at the start of his one-man show, "Undisputed Truth," which premiered on Broadway in 2013. Directed for the stage by Spike Lee, who also filmed a version for HBO, and written by Tyson's wife Kiki, the show is a multimedia tour through the fighter's life, narrated at a breakneck pace across 90 minutes. In the version filmed for HBO, Tyson performs in front of a warm, supportive local audience — banners naming all the neighborhoods in Brooklyn hang from Broadway's Longacre Theatre — and uses his bully pulpit to exalt his mother Lorna Mae and his trainer Cus D'Amato, both of whom died at the start of his career, while dragging ex-wife Robin Givens and Desiree Washington, the woman who accused him of rape, through the mud. The script, which was later published in memoir form, plays to Tyson's strengths as a storyteller, and his charisma, for better or worse, carries the audience through the show's touchiest moments.
2022 brought new attention to the show thanks to the Hulu miniseries "Mike." This unauthorized look at Tyson's life by "I, Tonya" writer Steven Rogers and director Craig Gillespie uses a performance of "Undisputed Truth" as its framing device as Tyson (Trevante Rhodes) narrates his life from the stage. The stage show is not officially credited as a source material for the series, even though large swaths of its scripts, particularly in the early episodes, appear to have been taken from it. Tyson has denounced the miniseries and Hulu for stealing his story, comparing them to slave traders on social media.