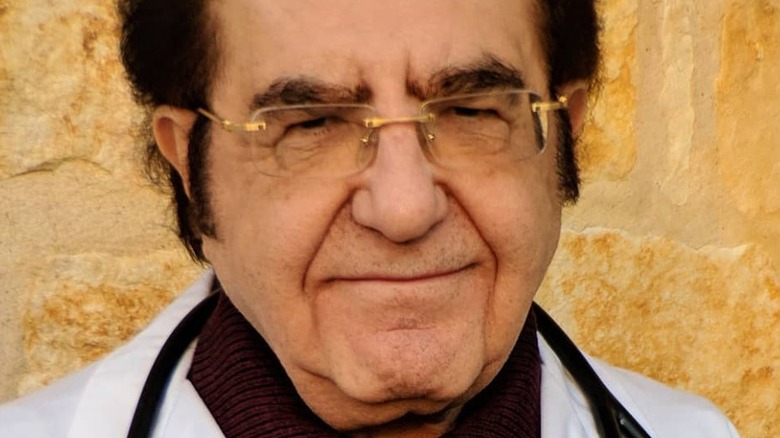 Dr. Younan Nowzaradan, often referred to as "Dr. Now," is a world-renowned bariatric surgeon specializing in weight loss gastric bypass surgery. He is the physician responsible for the surgeries performed on the hit TLC reality series, "My 600-lb Life." Since 2012, the show has followed the stories of morbidly obese patients and their journeys to lose weight after receiving gastric bypass surgery. The dedicated Dr. Nowzaradan is noted for taking on extremely difficult cases that many other doctors refuse to due to high-risk factors. He is also known for his straightforward, tough-love attitude that challenges his patients, while still being understanding of their psychological struggles. In an interview with People, he said, "My job is not to get aggravated, but to find a way to motivate them to work hard to get to their goals. It's my job to help them no matter what."
Although he is now one of television's most famous doctors, Dr. Nowzaradan has a fascinating origin story. Here's how Dr. Nowzaradan has gotten where he is today.
Dr. Younan Nowzaradan was born and raised in Iran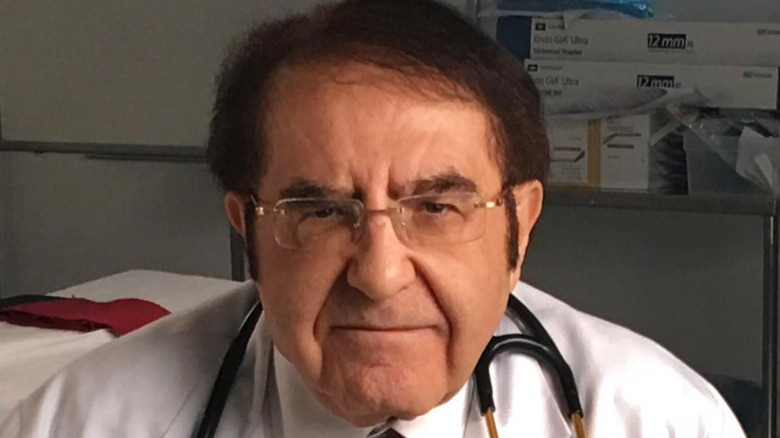 Dr. Nowzaradan was born in October of 1944 in Tehran, the capital of Iran (via the U.S. Sun). He is reportedly of Assyrian origin, (via Reality Show Casts). When it comes to his earlier years, little is known about Dr. Nowzaradan's childhood or immediate family, other than the fact that he has a younger brother and excelled in school (via The Celebs Info). Given his reported success as a student, it's no surprise he elected to pursue a career in medicine.
In 1970, he received his medical degree from the University of Tehran's medical school, called Tehran University of Medical Sciences, via his official website. The school is considered one of the top-ranking medical schools in Iran, according to US News. He moved to St. Louis, Missouri, a year after he graduated from medical school to complete a medical orientation program at St. Louis University. He then completed his first surgical internship at St. John's Hospital in Detroit, Michigan, according to his website.
Dr. Now has an extensive background in medicine
With over 30 years of experience, there's no doubt that Dr. Nowzaradan has had an impressive career and in-depth training that has gotten him to where he is today. The accomplished doctor has had to take many steps to successfully perform gastric bypass surgery for a living at an expert level. He completed his residency in general surgery at St. Thomas Hospital in Tennessee (via In Touch Weekly). He later chose to specialize in thoracic surgery, which involves operating on the chest, esophagus, and trachea (via The Mayo Clinic). He then moved to Texas to complete another surgical residency at the Texas Heart Institute.
Currently, he resides in the Houston area, and practices at First Street Hospital in Bellaire, Texas. Most "My 600-lb Life" episodes are filmed in Houston, but patients travel from all over the country to receive his unparalleled expertise and life-saving services (via The Hollywood Reporter).
Dr. Now had a messy divorce
Despite his career success, Dr. Nowzaradan's personal life has seen some bumps in the road. He married a woman named Delores in 1975, who reportedly quit her secretary job to take care of the family while Dr. Nowzaradan focused on his career (via The Hollywood Mask). The two were together for a whopping 27 years, but filed for divorce in 2002, with the separation becoming official in 2004.
Although the doctor is known for his empathetic and patient nature when it comes to his clients, this apparently wasn't the case in his love life. Delores accused Dr. Nowzaradan of "cruel behavior" and "insupportability" during their marriage, according to official legal documents from the court of Harris County.
The court ultimately found Dr. Nowzaradan to be responsible for breaking up the relationship, also citing that "Younan complicated the discovery process by concealing and withholding records, obstructing discovery, asserting baseless privileges, failing to disclose essential information, denying access to records, and failing to comply with court orders." The court also decided to give Delores a whopping 70% of their joint assets, including finances and property.
Dr. Now has three children
Although Dr. Nowzaradan's marriage was a bit on the complicated side, he and his ex-wife Delores still had three children together, Jonathan, Jennifer, and Jessica, who are all now grown adults (via The Celebs Info). Jonathan and Jennifer are both married and have children, making Dr. Nowzaradan a grandfather.
Career-wise, none of Dr. Nowzaradan's three offspring followed in their father's medical footsteps. They all have creative careers: Jennifer works as a high school art instructor, while Jessica is reportedly interested in photography.
Jonathan Nowzaradan, the eldest, is the CEO of and co-owner of Megalomedia, a Houston-based television and film studio that produces original non-fiction content. According to Megalomedia's official website, "Megalomedia's mission is to impact and inspire lives by seizing those ordinary moments of people discovering a way to improve their reality, excelling in their everyday profession, or simply striving to do good for those around them."
My 600-lb Life wasn't Dr. Now's first television endeavor
While Dr. Nowzaradan's main claim to fame is the smash-hit TLC reality show "My 600-lb Life," the series wasn't his first appearance on the small screen. Before the premiere of "My 600-lb Life" in 2012, there have been several other television documentaries capturing Dr. Nowzaradan's experience working as a bariatric surgeon tackling notoriously difficult cases.
A notable story was 2008's "Half Ton Dad," which aired in the United Kingdom's "Bodyshock" documentary television series. The documentary was produced by Megalomedia, Dr. Nowzaradan's son's documentary production company. It followed the story of Kenneth Brumley, a man who weighed over 1,000 pounds and was believed to be one of the heaviest people to ever live.
Dr. Nowzaradan bravely decided to take on the gastric bypass procedure, which came at extreme risk due to the patient's weight. The surgery was ultimately successful, as Brumley was able to shed a significant amount of weight in a short period of time.
My 600-lb Life originated as a documentary starring Dr. Now
What truly launched Dr. Nowzaradan and Megalomedia into major success was another 2008 "Bodyshock" documentary, titled "Half Ton Mom." It followed the story of Renee Williams, a woman who weighed over 800 pounds and was believed to be the heaviest woman alive at the time, and the largest woman to ever undergo gastric bypass surgery. She was treated by the same hospital team as Kenneth Brumley after being turned away by multiple doctors. However, Williams' extremely risky gastric bypass operation performed by Dr. Nowzaradan was a success.
Unfortunately, a few weeks later, she suffered a fatal heart attack that was reportedly unrelated to complications from the surgery. The Austin Chronicle described "Half Ton Mom" as "the biggest pop docu-drama story of the moment." The documentary also garnered the attention of multiple major media outlets, including Entertainment Tonight, 20/20, Insider Edition, The Insider, and The View.
Dr. Now came up with the idea for My 600-lb Life himself
Luckily, Dr. Nowzaradan's family connections to the television industry led to the existence of "My 600-lb Life." After the success of Megalomedia's "Half Ton Mom," Dr. Nowzaradan contacted his son with the premise for the show. When asked how he was inspired to create the series, Jonathan Nowzaradan told "The Donna Drake Show": "It was actually my father. He's a doctor on the show, and he would call me with terrible ideas, and one day he had a good one. But it was based on helping people as opposed to entertaining people."
Megalomedia then began to produce a show originally titled "Last Chance to Live," which followed the journey of six patients who underwent gastric bypass surgery over the course of several years, per the Austin Chronicle. "Last Chance to Live" eventually evolved into Season 1 of "My 600-lb Life" as we know it today. Currently, Jonathan is a director and executive producer of "My 600-lb Life."
Dr. Now has faced multiple lawsuits
Given the high pressure and high-risk nature of his job, it is inevitable that some of Dr. Nowzaradan's stories would not end in success or happiness. In 2007, a woman named Colleen Shepard filed a medical malpractice lawsuit over the death of her daughter. Tina Shepard, who weighed over 500 pounds, passed away from a combination of liver failure and blood poisoning after receiving gastric bypass surgery from Dr. Nowzaradan. Tina's mother claimed that Dr. Nowzaradan failed to inform the patient of the risks involved in the operation, and didn't properly address her subsequent complications. However, Dr. Nowzaradan claimed that he repeatedly attempted to contact Tina Shepard for follow-up appointments, but she never responded. The Texas Medical Board did not file disciplinary actions against the surgeon (via Chron).
The doctor was sued again in 2012 when a woman claimed that he left a piece of tubing inside her after surgery, but the lawsuit was dismissed a year later. In a similar case, he faced another lawsuit in 2017 when he allegedly left a stainless steel connector and tubing in a patient after an operation (via Radar Online). As of 2021, the case appears to remain active (via MedMalFirm).
Dr. Now has published two books
In an attempt to get his self-motivating messages to reach a wider audience, Dr. Nowzaradan is the author of two books. Inspired by the origins of "My 600-lb Life," his first work is titled "Last Chance to Live," and was published in 2017. The book examines the culture that causes obesity in our society, and highlights the steps that need to be taken for overweight people to strive for healthier lives. "This book is a product of four decades of learning, understanding, treating, and helping patients with obesity," the description reads.
His second work, titled "The Scale Does Not Lie, People Do" was published in 2019. The book is a powerful attempt to shed light on the global economic impact of obesity. It also has an emphasis on the epidemic that is childhood obesity, with warnings of the negative effects of fad diets. The publication acknowledges that obesity is not a choice, and is rather caused by a combination of genetic and environmental factors. However, like in his show, Dr. Nowzaradan also makes sure to hold people accountable for their health. "It's a double-edged sword," he told Chron. "It's our own responsibility to understand what the problems are and what the solutions are."
Dr. Now is still going strong
When it comes to his life outside his career, Dr. Nowzaradan, who is now in his 70s, appears to be thriving. The physician prioritizes his health by regularly exercising and sticking to nutritious, low carbohydrate meals. On his official Instagram page, which boasts over 500,000 followers, he is seen regularly posting about his workout routines and healthy diets. He also takes care of his mental health, and often indulges in a challenging game of chess, citing its benefits for the brain.
Dr. Nowzaradan has spent a large portion of his life in a job that deals with tragedy on a daily basis. Therefore, it's no surprise that the surgeon indulges in lighthearted activities as a coping strategy. One heartwarming post on his Instagram account shows that Dr. Nowzaradan enjoys playing with Legos with his grandchildren. He also indulges in his creative side, and has posted about his guitar skills and shared his impressive drawings on social media.