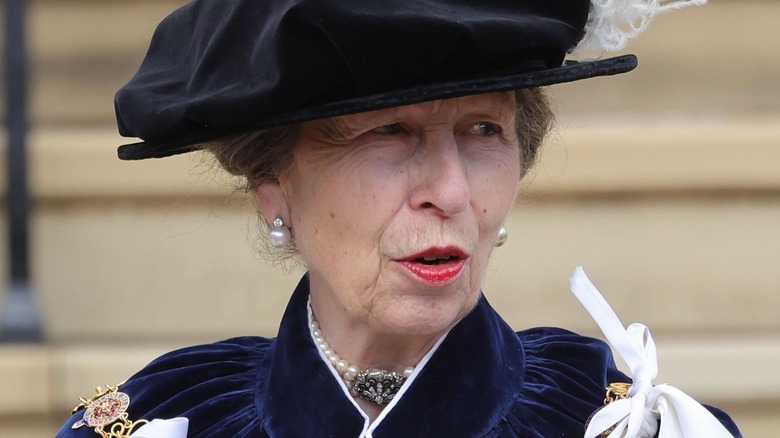 She's not as famous — certainly not outside the United Kingdom — as her parents, brother, nephews, or former sister-in-law. But Anne, Princess Royal, has carved out her own niche as a royal, a horsewoman, and a charity worker, and she's put plenty of effort into it. By the calculations of Tim O'Donovan, a loyal and longtime reader of The Times who regularly tracks the number of engagements carried out by the family, Anne has been the hardest-working member of the House of Windsor in many of the years since 1979. In 2002, the BBC reported that, among Britons, Anne was considered the most valuable royal to the nation after her mother, Queen Elizabeth II.
Born August 15, 1950, Anne was the proverbial spare to her brother Prince Charles' heir. After home tutoring and boarding school, she eschewed university to plunge straight into royal duties. In that capacity, she's developed a reputation for not suffering fools gladly. She's been caught making sharp remarks to the public or on the job, like the time a hot mic blasted her assessment of a fellow member of the International Olympic Committee as "the stupidest person in world sport," according to Tina Brown's "The Palace Papers." And like other members of her family, she's resented press intrusions into her love life.
Yet perhaps more than some of her more visible relatives, she's held to that old axiom: keep calm and carry on.
She's long defended her mother
To judge by "The Crown," Queen Elizabeth II was not the most available mother, or the most caring. Even without a Netflix drama coloring public perception, it's long been thought that the queen was a distant mom, putting duty and "the firm" ahead of family. But Princess Anne has long pushed back on that assumption. "I simply don't believe that there is any evidence whatsoever to suggest that [the queen] wasn't caring," she said in the documentary "Queen and Country" (via the BBC). "It just beggars belief."
If the queen was physically distant, she had good reason: she was already taking up royal duties on her father King George VI's behalf by the time Prince Charles and Anne were born, and took on even more work and travel responsibilities as monarch. It was also typical of her generation, and her father's generation, to entrust a good portion of childcare to nursery staff and private tutors (per Town & Country). Various biographies of Charles have used this to imply a distance between mother and children, but Anne has insisted she and her brothers understood that the queen's heavy workload would take up her time. She added, in her "Queen and Country" interview: "I don't believe any of us for a second thought she didn't care for us in exactly the same way as any other mother did. I just think it extraordinary that anybody could construe that that might not be true."
Her title isn't hereditary
Per the royal family's official website, "Princess Royal" is a title reserved for the reigning sovereign's eldest daughter. That means Princess Anne's daughter Zara won't be taking the title when Anne passes. But Prince William's daughter Charlotte won't necessarily get it either. That's because "Princess Royal" is an honorary title awarded by the monarch, not something automatically inherited.
The Princess Royal title was created by Charles I for his daughter Mary around 1642, but it didn't take at the time. Even when Mary married William II of Orange, and their son William III married his own Mary and ruled with her after the Glorious Revolution, they didn't bring it back. "Princess Royal" was reintroduced by George II for his daughter and has stuck around ever since. Technically, however, the monarch awards the title at their discretion, so it could be withheld for whatever reason. Once granted, the title is held for life. This is why the queen was never Princess Royal, despite being eligible for it; her great-aunt Mary, daughter of George V, was still Princess Royal when George VI was crowned and remained so until Elizabeth took the throne.
No eldest daughter of a sitting sovereign has been refused the title when it was available, but it's never been awarded immediately upon the death of the last Princess Royal. When Mary died in 1965, Anne went without it for 22 years. The queen finally named her Princess Royal in 1987 (per Town & Country).
She dated Duchess Camilla's first husband
At first glance, it's more like something out of "Game of Thrones" than "The Crown": Princess Anne dated the husband of Camilla Shand, future wife to Prince Charles. "The Crown" jumped at the chance to make intrigue out of the relationships, insinuating that Anne and Andrew Parker Bowles were sleeping together, and Bowles with Camilla, at the same time that Camilla began seeing Charles. But the truth isn't all that scandalous.
According to Sally Bedell Smith's "Prince Charles: The Passions and Paradoxes of an Improbable Life" (via Town & Country), Anne's romance with Andrew Parker Bowles was a brief fling, destined to never go further due to Bowles' faith: to this day, royals in the line of succession who marry Catholics have to give up any claim to the throne. But after the romance fizzled, Anne and Bowles maintained a friendship that has lasted to this day. Bowles even stood godfather to Anne's daughter Zara.
Rumors persist that Anne and Bowles had an on-off affair during the 1980s when both their marriages were beginning to fail. But there's no evidence that their time in a relationship overlapped with Charles and Camilla's early romance. Bendell Smith told Elle that the latter couple didn't meet until 1972, two years after Anne and Bowles got together. Bendell Smith also doubts "The Crown's" scenes of Anne discussing her relationships with Queen Elizabeth II and the Queen Mother ever happened; sex isn't a subject for dinnertime conversation in the royal family.
She's an accomplished equestrian
Princess Anne loves horses. She comes from a family mad for horses; according to Biography, her father was an avid polo player, and according to The Telegraph, her mother bred horses, and her siblings all started riding by age three. But Anne has had the opportunity to carry it much further. She started competing in eventing when she was 11 years old and didn't take long to start winning. By 21, she was the European Eventing Champion, having ridden her mother's horse Doublet to victory.
While she took up royal duties after completing her education, Anne stayed active as a competitive horsewoman. In 1976, despite a fractured vertebra, she joined the British team for the Olympics in Montreal, the first British royal to participate in the games. She seemed bound for the Munich Olympics four years earlier until Doublet suffered an accident and had to be put down. Montreal could have been an even greater disaster for Anne; she suffered a concussion when she fell off her horse halfway through the event. She remounted and completed the course, though, to this day, she has no memory of the back half.
In the 1980s, Anne shifted from eventing to racing. She kept at it until the sudden loss of her horse Cnoc Na Cuille. Besides competing herself, Anne was president of the Fédération Équestre Internationale from 1986 to 1994 (per the FEI website) and saw her daughter Zara take silver in the 2012 Olympics.
She held her own against her attempted kidnapper
"The Crown" has made storylines out of several royal brushes with violence: Michael Fagan's break-in to Buckingham Palace, Lord Mountbatten's assassination, and his flirtation with a planned coup against Prime Minister Harold Wilson (a plot that was a few steps away from reality, according to Town & Country). But it skipped over the harrowing experience of Princess Anne in 1974 when a 26-year-old burglar attempted to kidnap her and hold her to ransom.
According to the BBC, Ian Ball drove Anne's limo off the road with his Ford Escort one March night in London. Ball got out and started firing, injuring two policemen, Anne's driver, and a tabloid journalist who tried to intervene. Anne, her husband, and her lady-in-waiting were on the floor of the limo when Ball confronted them. "I want you to come with me for a day or two," he told Anne (per the Age), "because I want £2 million. Will you come?" Anne snapped back: "Not bloody likely — and I haven't got £2 million."
Anne struggled to remain polite with Ball as the stand-off continued. Recounting the experience for Michael Parkinson (via YouTube), she said she was eventually able to escape out the other side of the car, and that Ball was apprehended trying to escape. Greatly impressed by Anne's coolness under pressure, Prime Minister Harold Wilson summed the whole incident up as "a very good story" in the government file.
'Keep me busy'
Princess Anne's reputation as the hardest-working member of the royal family hasn't come about by chance. According to the royal family's official website, she started her public service at the age of 18. In the years since, per the site: "Her Royal Highness [has become] involved with over 300 charities, organizations, and military regiments in the U.K. and overseas, and she devotes a large part of her working life to official engagements and visits." According to The Times, she carried out 387 royal engagements, and in some years, that number has passed 500.
Anne's dedication to her work — and her sometimes cutting manner — haven't always brought her praise. Camilla Tominey of the The Telegraph wrote about Anne's early reputation for haughtiness, earning her the unflattering nickname of "her royal rudeness." Over the years, however, that reputation has shifted. "She is now hailed as one of the great English eccentrics whose unparalleled royal work ethic … has rightly earned her national treasure status," wrote Tominey.
There's a cynical interpretation to this kind of publicity; as other members of the royal family tarnish its name, any member who brings good headlines is valuable. But the sentiment that Anne is committed to her causes is felt elsewhere in the Commonwealth. "Her credo is, 'Keep me busy. I'm here to work,'" said former Canadian Secretary to the Queen of Canada Kevin S. MacLeod (per the CBC). "'I'm here to do good things. I'm here to meet as many as possible.'"
Her rush to work has brought her quite a few fines
"Sorry, officer, but I was running late." It's a line that cops on traffic patrol hear many variations on throughout their working week. But how often do they hear it from a princess? It turns out, at least twice. Princess Anne seems to have issues holding to the speed limit, especially when she's on her way to an engagement. Her most recent incident happened in 2000, according to the BBC, when she raced through Gloucestershire at 93 mph before a police car began pursuit. Anne believed that the car was there to escort her to an engagement in Hartpury and kept going, even speeding around a lane of slow-moving traffic as the police car flashed its lights. For this, the princess incurred a £400 fine and five points on her license.
It wasn't the first time she'd been fined. In 1990, two speeding offenses cost her £150, according to the Latin Times, and a one-month ban on driving along with the fine. Before that, she was caught speeding twice during the 1970s. The first time, in 1972, brought her a written warning; the second, in 1977, cost her £40. On the two occasions where her fines crossed the £100 line, Anne didn't put up any protest. She pleaded guilty, accepted the fines, and offered that old line: "I was running late."
She received (grudging) praise from Christopher Hitchens
Among Britons, constitutional monarchy remains the preferred form of government, even if support has shrunk in recent years (per YouGov). Yet there have been few critics of the monarchy with the acidity and facility of Christopher Hitchens. Throughout his life, Hitchens railed against the principle of a hereditary head of state and the suitability of any of the House of Windsor for the job. "The British royal family is a rather uninspiring and dowdy crew of people," he wrote in New Statesman in 1979. Twenty years later, in the pages of The Guardian, his tune was unchanged. "There is not limitless room for democracy in a monarchy, and the sooner we appreciate this, and demand the extra space that an adult and constitutional settlement would require, the better off all of us … will be."
Hitchens never minced words, and he rarely eased up on public targets once he'd set his sights on them. But he could pay compliments to his foes — though not always with grace, and not always without making a critical point about someone else. When Princess Diana died, Hitchens wasn't shy in saying that he felt the public reaction was ridiculous and that Diana herself did little to deserve such emotion. Speaking on C-SPAN, he compared Diana's photogenic patronage of charities with Princess Anne, "her dowdy, boring former sister-in-law." Said Hitchens: "[She] goes trudging around Africa, looking like a fright … but she really is a spade-work charity worker."
She was president of Save the Children for over 40 years
All the royal family members serve as patrons of charities, but Princess Anne has been particularly hands-on in this area of public service. The greatest share of her attention has gone to the Save the Children Fund, the first charity she became involved with, in 1970, according to the royal family's official website. Founded in 1919 by Englishwoman Eglantyne Jebb, the organization's initial goal was to help provide for European children suffering in the wake of World War I (per Save the Children). Over a hundred years later, it operates in nearly 120 countries, with its site listing programs in education, health care, emergency response, and protection against harm.
Anne took a large role in Save the Children as soon as she became connected to the organization. In the same year she got involved, she became Save the Children's president, a role she continued to play until 2017 (per Save the Children). When she stepped down from that role, it was to take over from Queen Elizabeth II as the patron of the charity. Both jobs have seen her travel the U.K. and the world, checking in on Save the Children shops, fundraisers, and operations, and she's put in hours on the ground too. All her efforts moved the president of Zambia to nominate her for the Nobel Peace Prize in 1990.
She was the first royal to visit the Soviet Union
Amidst other Cold War tensions, the hostility between royalty and communism held fewer international risks but ran deep. Before World War I, the British Windsors (then the Saxe-Coburg and Gotha) and the Russian Romanovs not only ruled their respective realms: they were related, as all the royal houses of Europe were related. George V, Queen Elizabeth II's grandfather, and Tsar Nicholas II were first cousins, close friends, and so physically similar that they could pass for twins. Family bonds did not keep George from denying Nicholas and his family asylum when they were overthrown by the Russian Revolution in 1917, fearing for his own throne, but he was devastated when the Romanovs were killed by the Soviets (per Town & Country).
More than 70 years later, Princess Anne, Nicholas' third cousin, received an invitation from Soviet president Mikhail Gorbachev to visit his country. According to UPI, Anne had previously visited the Soviet Union in 1973 as part of the British team competing in the European Equestrian Championships, accompanied by her father Prince Philip. But the two-week 1990 trip was an official state visit, the first made by a royal to the Soviet Union since Nicholas' assassination. It was hoped that Anne might pave the way for Queen Elizabeth II herself to visit. That wasn't to be; the Soviet Union collapsed the following year. But the queen did visit the newly organized Russian Federation in 1994, per British Heritage.