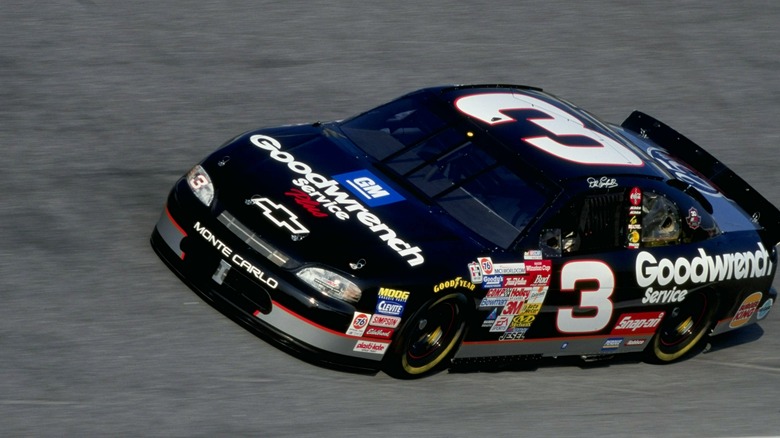 Cars have generally gotten safer over the years, with tightening regulations mostly ensuring that rolling death traps are a thing of the past. Even so, over 38,000 people still died on American roads in 2020. That equates to 11.7 deaths per 100,000 people, a figure that's higher than many other developed parts of the world. Inevitably, with so many deaths occurring, occasionally those that die are celebrities, with their passing often documented in full, gory detail.
It's not just public roads where famous faces are at risk of losing their lives, however. In fact, it's an occupational hazard for those who participate in the highest levels of motorsport, with accidents and mishaps leading to the deaths of several of sport's greatest figures.
Whether it was on the road or the track, the shocking circumstances surrounding these celebrity deaths left a real impact, in some cases changing rules in sport and on the open road. Their high-profile nature also permanently changed the legacy of the cars they died in, many of which are now inextricably linked with tales of tragedy.
Porsche 550 Spyder – James Dean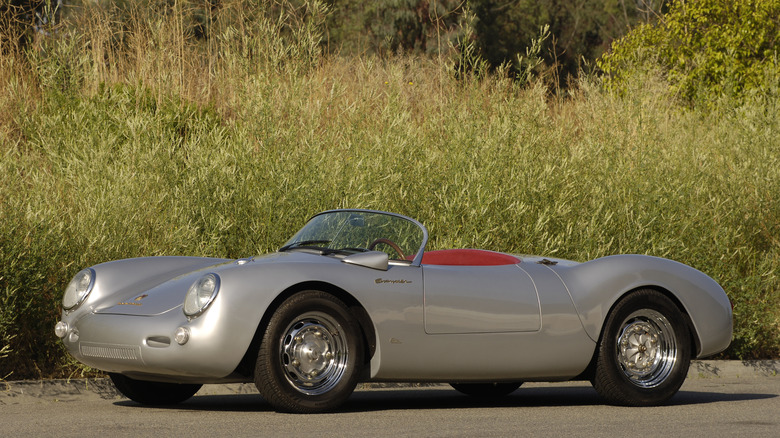 Actor and racing driver James Dean's life was abruptly cut short on September 30, 1955, when the Porsche 550 Spyder he was driving was involved in a high-speed road collision. Dean and his mechanic, Rolf Wütherich, had just finished preparing the Porsche for a race weekend, and Wütherich suggested that Dean drive it to the track to run the engine. Dean decided to put his foot down, attracting the attention of the local police in the process. The actor was stopped and given a speeding ticket outside Bakersfield, California, but this didn't deter him.
While traveling along Route 46 with Wütherich in the passenger seat, Dean hit a Ford Tudor that had made a last-minute turn off the highway. It's estimated that he was traveling at least 85 mph at the time, and the force of the impact killed him almost instantly. Wütherich was thrown from the car, and the Ford was pushed almost 40 feet down the road before coming to a standstill. After Dean's death, the car was sold off and stripped for parts, with several buyers of those parts involved in mysterious car accidents. A racing driver called Troy McHenry bought the car's transmission and suspension into his own car, then shortly after he hit a tree mid-race, killing him instantly. The mangled frame of the car was bought by "King of Kustoms" George Barris, and while in storage, it mysteriously caught fire, seemingly for no reason.
Oldsmobile 88 – Jackson Pollock
Avant-garde painter Jackson Pollock is considered one of the greatest artists of the 20th Century, with his work helping to popularize an entirely new method of painting. His unique "drip" paintings made him an international star, but the pressure of this newfound fame began wearing him down. He turned to alcohol as a coping method, and it was this that would eventually cause his untimely death. In 1954, Pollock had given two of his paintings to a New York-based art dealer in exchange for her green Oldsmobile 88 Convertible, reports the Wall Street Journal.
Just two years later, Pollock would lose control of the car at high speed and crash into a tree. His mistress, who he was traveling with at the time, survived the crash, later writing in her memoir that he had been "wildly speeding" and missed a corner before crashing. It's thought that he was intoxicated at the time of the accident, and had been heading to a party before becoming angry with one of his passengers and speeding up in response. It's not known what happened to the remains of Pollock's car, but one of the paintings given to the art dealer in exchange for it was put up for sale in 2014.
Mercedes-Benz S-Class – Princess Diana
After her infamous divorce from the now-king of the United Kingdom Charles III, Princess Diana wanted to lie low for a bit. She'd moved in with a new boyfriend, Dodi Fayed, but she had been unable to escape the ever-watchful eye of the paparazzi. After an evening out at the Ritz in Paris, the Princess, her boyfriend, and a member of his security team were being chauffeured in a Mercedes S280 limousine, which was on loan from a local hire company. The paparazzi quickly discovered she was in the back of the car, and gave chase, prompting the limousine's driver to speed up in an attempt to escape them.
A chase ensued, with the driver reportedly hitting speeds of up to 120 mph in an attempt to shake off the pursuers. He lost control of the car in an underpass, hitting the wall and killing Diana, her boyfriend, and himself. Fayed's security officer was the only one to survive the crash. The wreckage of the S-Class was initially taken for investigation by the Parisian authorities, then handed over to the British authorities for further scrutiny. An agreement was made that the wreckage would be destroyed after investigation out of respect to the victims' families, but there have been unsubstantiated allegations that it's still in storage in a facility near Paris. The deaths were eventually ruled an accident caused by the S-Class driver's recklessness, combined with the paparazzi's pursuit of the car.
Porsche Carrera GT – Paul Walker
Paul Walker shot to fame as Brian O'Conner in the Fast and Furious franchise, a series which helped define an entire era of car culture and made superstars of its cast in the process. Walker's love for cars wasn't just confined to the screen either, as he co-owned a huge collection of vehicles with his friend and business partner, Roger Rodas. Together, they ran a shop called Always Evolving, and it was just a block away from this shop that both men would end up being killed. Rodas had just taken delivery of a low-mileage Porsche Carrera GT from a well-respected collector, according to The Drive, and decided to take it for a quick spin with Walker in the passenger seat.
Rodas took a corner at 90 mph and lost control of the car, crashing it and killing both men. While most news reports attributed the deaths to Rodas' speeding, The Drive's Matt Farah claimed the most likely reason he lost control was that the car was on its original tires, which were nine years old at the time. That's considerably older than the recommended limit, which is around five years for high-performance vehicles. In his opinion piece, he argues that he knew the corner where they crashed well, and that "in a [properly equipped] Carrera GT you could take it at 90, one-handed, while sipping a Venti Latte." However, no official verdict supporting this claim was reached in the investigation following the crash.
Williams FW16 – Ayrton Senna
Brazilian racing driver Ayrton Senna was one of Formula 1's most successful drivers of all time, winning 41 Grands Prix. He was killed in a crash at the infamous Tamburello corner at Imola, Italy, just one day after another F1 driver, Roland Ratzenberger, had been killed on the same track. Despite Ratzenberger's death on the Saturday of the event, it was confirmed that the race would go ahead on Sunday, with his grid spot being left empty as a mark of respect. An unrelated crash at the start of this race led the safety car to come out, and the whole field was stuck following it until the end of lap 5. Just two laps later, Senna's Williams hit a concrete barrier, with the car still traveling at 131 mph when it hit the wall.
Senna remained motionless in the cockpit after the crash, and as soon as medical staff attended the site, it became clear that he was very seriously injured. The chief medical officer on duty tried to resuscitate Senna, but it was in vain. Senna had suffered three catastrophic injuries: a rebounding wheel had hit his helmet, a loose piece of suspension had penetrated it, and some of the upright assembly had pierced his visor. Formula Nerds reports that steering column failure was eventually deemed the cause of the crash, but this was only declared 13 years after the crash, leaving it too late for any charges to be brought.
Porsche 911 GT3 – Ryan Dunn
Jackass stuntman Ryan Dunn was well used to putting his health on the line for the entertainment of fans, but his carefree attitude also contributed to his untimely passing.
He was heading home from a bar in Pennsylvania with a friend in the passenger seat of his Porsche 911 997 GT3 when he crashed, careening into a ravine. The car was reportedly doing more than 100 mph in a 55 mph zone when it jumped a guard rail and flew off the road, crashing into a tree and bursting into flames shortly after.
Dunn and his passenger, Jackass production assistant Zachary Hartwell, both died from a combination of blunt force trauma and thermal trauma caused by the crash and resulting fire. It's unclear whether Dunn was drunk at the point when he crashed the car, but he had posted a photo of himself drinking with friends earlier in the evening. The Guardian reports that the manager of the bar where Dunn had been seen had confirmed that he'd been with friends, but he didn't appear to be drunk when he left.
Rover P6 – Grace Kelly
Hollywood royalty Grace Kelly became actual royalty when she married Prince Rainier III of Monaco, and for 26 years, she lived happily in the tiny European nation. While driving back from a holiday home in Roc Agel, Kelly would mysteriously drive off a cliff in her Rover P6 3500, tumbling 120 feet to the rocky ground below. Her daughter Stephanie was in the passenger seat, and miraculously, she survived the crash with only minor injuries. There are many questions that remain surrounding the exact circumstances of the accident, especially since Kelly disliked driving and usually employed the services of a chauffeur.
There have been some suggestions that her Rover P6 was sabotaged in some way, especially since it appeared that Kelly did not brake at all before plunging through a barrier and off the cliff. Kelly's husband, Rainier III, always strenuously denied such allegations, and her daughter Stephanie maintained that her mother simply had a medical episode that caused the crash. Reports that later emerged from the hospital where she was treated in Monaco revealed that she had suffered from two strokes, one likely happening before the accident and one in the immediate aftermath. The strokes left her brain dead, and the decision was made by her family to turn off her life support shortly after she was admitted to the hospital.
NASCAR Chevrolet Monte Carlo – Dale Earnhardt
There are few drivers in the history of NASCAR, or indeed in motorsport at all, that were quite as influential as Dale Earnhardt Sr. His iconic No. 3 race car was instantly recognizable to anyone who'd watched the sport, and at the time of his death at the 2001 Daytona 500, more people were watching than ever. The 2001 season had seen plenty of questions raised about the safety of the current NASCAR racers, with the newly-invented HANS device starting to be adopted by teams. The device was designed to protect the driver's head and neck in the event of a crash, but Earnhardt wasn't interested, reportedly saying, "I ain't wearing that damn noose."
With just a few turns left of the event, Earnhardt's Chevy Monte Carlo was involved in a collision with his friend and rival, Ken Schrader. The impact forced Earnhardt into the wall, transferring forces of up to 60 G through the driver's body. Both Earnhardt and Schrader spun off the track, but Schrader was unhurt and went to talk with his friend about the crash they had just had. He was greeted with a horrific scene: blood everywhere, and Earnhardt slumped motionless in his seat, according to ESPN. He had suffered a basilar skull fracture, breaking every bone where the skull meets the spine. Doctors tried their best to save Earnhardt's life, but nothing could be done, and he was pronounced dead shortly after the race had concluded.
Amilcar CGSS – Isadora Duncan
One of the strangest celebrity deaths ever recorded has to be that of Isadora Duncan, a dancer who was killed by her own scarf on September 14, 1927. Born in San Francisco, Duncan moved to Europe at a young age, eventually finding fame in London and Paris, where her innovative dance performances captivated audiences. She had already had a run of unfortunate incidents with automobiles, including in 1913 when her two children drowned after their car crashed into a river in Paris.
However, it wasn't Paris, but further south in Nice where Duncan would meet her own tragic demise. She was a passenger in a car being driven by a male partner, and she reportedly leaned back to enjoy the sea air. As she was doing so, her trailing red scarf (which had become one of her signature garments) got caught in the wheel of the car, strangling her and dragging her into the road. She died in the street from her injuries, but it's unclear whether it was strangulation or blunt force trauma from hitting the road that proved fatal. It's also not entirely clear what car she was in when she died, but most accounts point to it being an Amilcar CGSS. At first, it was claimed she was traveling in a Bugatti, but this confusion is thought to have arisen from an inaccurate newspaper report at the time of her death.
Buick Electra – Jayne Mansfield
On June 29, 1967, actress and model Jayne Mansfield's car hit a semi-trailer, killing her, her lawyer, and her personal driver. The crash was thought to have been caused by a sudden cloud of insecticide spray drifting across the road, obscuring the truck from the driver's field of vision. Three of her children were also traveling in the Buick Electra at the time, and they all survived, albeit with injuries. The reason they managed to survive whereas Mansfield and the adult occupants of the car didn't was down to the angle that the Buick impacted the trailer: the car was just the right height to slip under the rear of the trailer, with the main impact being delivered to the roof.
The roof was completely crushed, which in turn crushed the heads of the adults in the car. Because Mansfield's children were smaller, they were able to avoid the worst impacted area of the car. In the wake of the crash, a law was implemented that every truck trailer had to have a "DOT bar" to prevent vehicles being able to slide under it, which is often referred to as the "Mansfield bar" in the actresses' honor. Hollywood might have lost one of its most famous starlets that day, but as a result of the tragedy, countless more lives were no doubt saved by the new regulation.