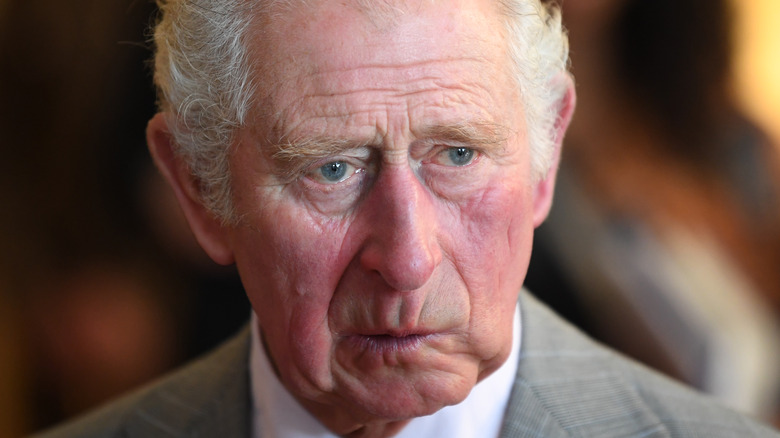 Love him, hate him, or indifferent to him, you'd be kidding yourself if you said that you didn't know who Prince Charles is. The heir apparent to the British throne, Charles has been in the spotlight for decades, and it's safe to say that we haven't even really seen him in full action. Serving his mother, Queen Elizabeth, has been Charles' full time job, and when he eventually ascends to the throne, he'll fulfill a role that he has been preparing for his entire life. With so much public attention and a tumultuous divorce that put him firmly on the scene, it's safe to conclude that many of us think we know everything about the king to be. But do we?
Yes, we know that Charles married and divorced Diana Spencer. We know that he has maintained his affair and now-marriage to Camilla Parker Bowles since the 1970s, and we know that his relationship with his son, Prince Harry, is all but shattered. But when we look at the finer details, there are a lot of oddities that have yet to be discovered. Here are some strange facts about Prince Charles.
Prince Charles travels with his entire bedroom set in tow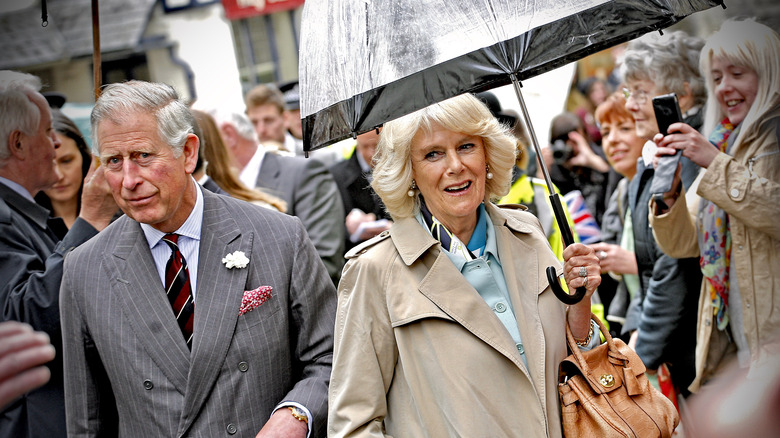 A lot of us have specificities when we travel. Some of us prefer to bring along our own pillow and others like to pack their go-to shampoo. But what if we told you that Prince Charles travels with his entire bedroom set? We're not kidding, and we know how strange it sounds. Journalist and author Tom Bower noted in his book, "REBEL Prince: The Power, Passion and Defiance of Prince Charles," that when Charles and Camilla Parker Bowles were invited to a friend's home in northeast England, he demanded that his entire bedroom set be brought with them, per the International Business Times.
A truck full of his belongings arrived at the home a day before the heir's arrival "to replace the perfectly appropriate fittings in the guest room" and carried "nothing less than Charles and Camilla's complete bedrooms, including the prince's orthopedic bed, along with his own linen." In addition to the complete bedroom sets, Charles was accompanied by his own toilet seat, speciality toilet paper, his choice of whiskey, bottled water, and two landscape paintings of the Scottish Highlands. Unsurprisingly, he was not invited back.
Does Prince Charles talk to plants?
Prince Charles has a green thumb, and his affinity for sustainable lifestyles is apparent. But does his passion extend into the strange territories of talking to plants? According to Express, the answer is yes. Charles was working with the Woodland Trust and BBC Countryfile in order to supply trees to different gardens and sites throughout the United Kingdom, as part of a "free tree packs scheme" to promote planting and sustainability.
In a tweet regarding the matter, Clarence House Twitter revealed that, "[Charles] often gives a branch a friendly shake to wish it well." Yes, the heir to the British throne gives trees little handshakes. (Leaf shakes? We don't know the correct terminology.) Of the initiative, Charles shared his interest in providing solace and comfort for people outdoors, especially in light of the on-going COVID-19 pandemic. "I know that so many people during this terribly difficult year have had their appreciation of the trees and other green spaces around them deepened," he shared, a sentiment of which we completely understand. "Therefore it is our duty given how long that it takes for a tree to mature to plant trees now for future generations to enjoy," he concluded.
Will Prince Charles change his name once he becomes king?
It's a bit tough to recall a royal's full name — including all middle names and monikers — just as it's impossible to know a royal's full title off the top of our heads. And another strange aspect about the royal family — specifically Prince Charles — is that the royal will have the ability to change his name once he becomes king. Charles has been waiting to be king for quite literally decades, and of course, we all know him by his given name as a prince. But as noted by Express, taking the throne after his mother, Queen Elizabeth, could change that.
According to the Constitution Unit at University College London's School of Public Policy, Charles "is free to choose his own regnal title," just as his predecessors did before him. "King Edward VII chose Edward as his regnal title, although hitherto he had been known by his first name of Albert," the unit estimated. "Prince Charles's Christian names are Charles Philip Arthur George. Instead of becoming King Charles, he might choose to become King George VII, or King Philip, or King Arthur."
Prince Charles is apparently terrible at giving gifts to people
They say that you can tell a lot about a person based on their ability to give good gifts, and when it comes to Prince Charles, let's just say that he doesn't have the best track record when handing out goodies. As noted by the Evening Standard, one such instance came when famed musician Ozzy Osbourne was in a biking accident that left him with fractured ribs, a fractured collarbone, and a badly damaged neck. The prince wanted to extend his sympathies to the music legend for enduring such an incident, and sent over a bottle of Scotch as a gesture.
Now you might be thinking that this kind of gift would be appreciated, and while it's technically the thought that counts, Sharon Osbourne made it quickly known that her husband has been famously sober since the mid-2010s. "We heard from Prince Charles and – never let anyone say he's a bad guy 'cause he's all right by the Osbournes. He sent my husband a bottle of Scotch, which of course he's not going to drink," Sharon shared during her once-hosted talk show. Hopefully Charles does his homework before giving gifts now.
Prince Charles has an amphibian named after him
We've all heard about fixtures such as libraries, town halls, and museums being named after an important figure or politician, but what about a species of animal? When it comes to oddities about Prince Charles, the heir to the British throne, one stood out in particular — the prince had a previously unknown frog species named after him, as noted by Mongabay News.
Researchers published in the Zootaxa journal estimated that they had found two new species of frogs in the Ecuadorian forests. The discovery was rather fantastic, as the area in which the frogs were found has suffered greatly from a "chytrid epidemic" which has killed "untold numbers of amphibians globally." As a number of us royal fans now know, Charles has been at the forefront of environmentalism and has spent a good deal of his public life advocating for more eco-friendly alternatives in order to curb damage to the planet. In honor of the prince and his contribution to the field of eco-advocacy, one of the new frog species was named hyloscirtus princecharlesi. The prince was later able to meet Luis Coloma, the scientist behind the discovery, at a workshop in England.
The heir to the throne has a keen interest in this oddity
Many childhood experiences are defined by a hobby — some kids were into theatre, others interested in art, while some made a name for themselves on sports teams. For Prince Charles, his interests as a young man materialized in a rather niche way, and in 1975, he officially joined the Magic Circle, a secretive group of magic enthusiasts, some of whom have passed down membership within their families.
Charles couldn't wave his royal wand and join the exclusive club simply because he was a royal. As noted by Yahoo! News, he was invited to the secretive association by his great-uncle, Earl Mountbatten, who himself had been a member for more than two decades. Charles' interest in magic carried on throughout his life, and when it came time to celebrate his 70th birthday, he made sure that it was a magical affair topped to the brim with "Britain's finest magicians." In honor of his milestone celebration, Charles was honored with a show at the London Palladium and was joined by magicians such as Dynamo, a well-known street performer. Some hobbies really do stick with us for life.
Prince Charles runs his car using an uncommon alternative fuel
Prince Charles is known for his eco-friendly approach to life as well as his advocacy work when it comes to the environment — excellent initiatives on his part, there's no denying that, but being mindful of the planet has materialized itself in a rather interesting way for the prince. As noted by The Guardian, Charles revealed that his prized Aston Martin car now runs on "surplus English white wine and whey from the cheese process" instead of the traditional petrol gasoline. Yes, you read that correctly.
Instead of filling up at Shell, Charles uses … wine and cheese … to make his James Bond-esque vehicle go, and if that isn't the oddest thing you've heard, we don't know what else could fit the bill. But is Charles' choice really that eco-friendly? According to Greg Archer, Britain's director of clean transport campaign group T&E, the prince's alternative fuel might be doing more harm than good. "Prince Charles's quaint solution … should not be mistaken for a serious solution to decarbonize vehicles," he said. "On a large scale biofuels do more harm than good, driving deforestation and land use change that worsens the climate crisis."
Prince Charles met Diana Spencer when he was dating her sister
Here's something strange that makes the fact that Prince Charles dated a teenager while he was in his 30s that much more uncomfortable. The prince was dating Diana's sister, Sarah Spencer, when he met his future wife. Talk about an uncomfortable, rather odd fact that taints an already tragic love story. As noted by Marie Claire, Charles was courting Sarah — who was six years older than Diana — in 1977. The two — who were 28 and 22 at the time — went on a skiing trip to Switzerland together, and while there aren't a ton of details about their relationship, it seemed to fizzle out over time.
Sarah was "disarmingly frank" in an interview regarding the relationship once it had come to a close, and shared that she wouldn't have married the heir to the throne "if he were the dustman or the King of England." "Charles makes me laugh a lot. I really enjoy being with him," Sarah said. "But there is no chance of my marrying him. I'm not in love with him. And I wouldn't marry anyone I didn't love."
Prince Charles doesn't have one of these very common items
When we think of the royal family, we think of opulence. There doesn't seem to be anything that they don't have access to — from jewels to private planes, they really seem to have it all. Except for Prince Charles, who reportedly doesn't have a cell phone. Yes, it's 2021 and yes, Charles is the heir to the British throne, but he doesn't have a mobile phone of his own. As reported by The Sun, the issue of Charles' lack of a cell phone came up during Meghan Markle's court battle with the newspaper Mail on Sunday.
Over the issue of the unauthorized biography, "Finding Freedom," detailing Meghan and Prince Harry's departure from the royal family, the book claimed that Harry "took to texting and calling … He … sent his father and brother texts alongside a photo of his new son, before notifying other family members." However, lawyer Jenny Afia said in court that it was her understanding that "the Prince of Wales does not have a mobile phone," countering the details in the book.
Prince Charles reportedly struck up a friendship with Barbra Streisand
We all know that Prince Charles had an affair with Camilla Parker Bowles, and we now know that he dated Diana Spencer's older sister before turning his attention to his teenage bride. But did you know that the prince once reportedly got close with none other than Broadway star Barbra Streisand? Yep, we were shocked too. As noted by Vanity Fair, Charles has reportedly always had a keen admiration for the Tony winner, and he even went to the set of "Funny Lady," the "Funny Girl" sequel, to meet her.
"He asked to meet me. So he came to the recording studio," Streisand shared. "We became friends, and I loved spending some time at Highgrove for a weekend fundraiser and going through his gardens." Vanity Fair later detailed that while Streisand was staying in London, she walked into her hotel room and noticed a bouquet of fresh-cut flowers sitting on the table. "I said, 'Who sent me that?'" Streisand shared about the interaction between her and her assistant. "And she said, 'A fan called Charles.' And I said, 'Really? Let me see the note' — and there was his seal."
The heir to the throne was immensely bullied in school, despite his status
A strange fact about Prince Charles is that he was significantly bullied while in school. As noted by the Radio Times, the heir to the throne "thrived" during his at-home education in his early years, but once he was 8 years old, he attended Hill House School and later Cheam School, the latter of which is the oldest private school in Britain. Boarding school was a reality of Charles' life, as it was for many royal children, but Charles was reportedly "deeply homesick" and suffered as a result. By the time he attended Gordonstoun, the alma mater of his father, Prince Philip, the bullying he experienced went from bad to worse.
Calling the time he was in school "a prison sentence," Charles was "relentlessly bullied" and experienced significant isolation as a result. "He was crushingly lonely for most of his time there. The wonder is that he survived with his sanity intact," Charles' classmate, Ross Benson, shared. In addition, due to Charles' enrollment, the fellow school boys were not allowed to drink, smoke, or take part in normal freedoms. As a result, they "took that out" on the young prince.
This United States president tried to play matchmaker with Prince Charles
Here's something we definitely did not expect to discover while looking into strange facts about Prince Charles — the heir to the British throne was reportedly the subject of match-making efforts by former president Richard Nixon. According to Express, Charles went to the United States in 1970 — he was 21 at the time, and arguably the world's most eligible bachelor. The then-president Nixon introduced the prince to his daughter, Tricia Nixon, and the two went on to spend a good deal of time together during the prince's trip stateside.
According to reports, the president "desperately [tried] to play matchmaker" when it came to his daughter's romantic involvement with Charles — after all, what father wouldn't want his daughter to marry an actual prince? "Seating plans constantly had Charles and Tricia side by side while the program had them spending all of each day together," royal biographer Anthony Holden told Express. But the president's efforts were largely unsuccessful, and Charles reportedly felt "distinctly annoyed" over the concerted attempt to pair him up with the president's daughter. Additionally, Charles reportedly thought that Tricia was "plastic and artificial." Ouch.
Prince Charles is an extremely picky eater
With the amount of world traveling that Prince Charles has gotten to experience, you'd think that he'd be a fan of international cuisines. But apparently, that couldn't be further from the truth. According to royal author Sally Bedell Smith, Charles is such a picky eater that he pretty much sticks to the same breakfast meal every morning — eggs or wheat germ and cereal grains with honey, served with fruit and tea (via Express). He also has a tendency to skip lunch (a habit that we're not going to join in any time soon).
What's more is that Charles' breakfast specifications are so detailed that multiple eggs are boiled for him just so that the right kind of hard boiled egg reaches his table. Jeremy Paxman, a journalist and broadcaster, shared in his book "On Royalty," "Because his staff were never quite sure whether the egg would be precisely to the satisfactory hardness, a series of eggs was cooked, and laid out in an ascending row of numbers." Mervyn Wycherly, one of Charles' chefs, even shared that each egg must be boiled for "exactly four minutes" in order to meet the prince's specifications.
Despite the job security, Prince Charles strangely is a workhorse
A lot of us would take advantage of the royal perks if we had access to them — it all sound rather wonderful, and for some members of the royal family, it's just the way of life that they have always (and will always) know. Prince Charles, however — who has lived in palaces and has had all the spoils of life bestowed onto him — is strangely a workaholic.
As noted by the BBC, Charles "works seven days a week," despite the assurance associated with his position as heir to the throne. He reportedly starts his work day shortly after breakfast, and is known to work well past midnight. As detailed in the BBC documentary, "Prince, Son and Heir: Charles at 70," even the royal's sons admitted that their father should cool his workaholic jets.
"He does need to slow down," Prince Harry said during the documentary. "This is a man who has dinner ridiculously late at night, and then goes to his desk later that night and will fall asleep on his notes to the point where he'll wake up with a piece of paper stuck to his face."