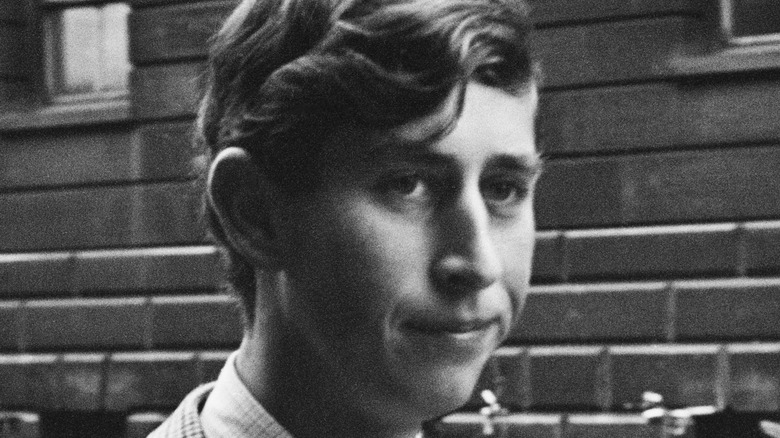 King Charles III — previously known as Prince Charles Philip Arthur George, the Duke of Cornwall — was born on November 14, 1948 (via Biography). Charles was born into one of the most well-known families in the world, and as the first in line to the British throne, he's been in the public eye his entire life.
Royal watchers are familiar with the highlights of King Charles' life, such as his unhappy time at boarding school, his ill-fated marriage to Princess Diana, and his enduring romance with Camilla Parker Bowles. But even those who have followed the headlines since he was born may not know many of the details of his life — particularly as so much of it was lived before the advent of the internet.
As you'd expect, King Charles has lived quite the life, and has changed quite a lot over his 70-odd years. From his lonely upbringing to his bachelor years, fatherhood, and beyond, here's a look at how Charles has transformed over the years.
King Charles had a lonely childhood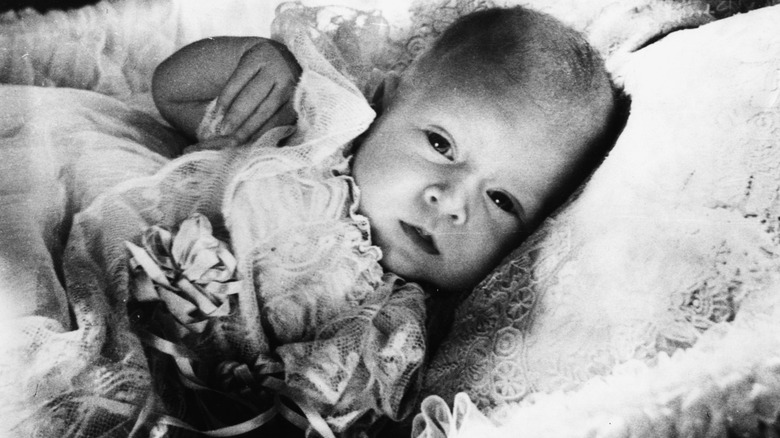 From the moment he was born, King Charles' future was set. As the eldest child of the heir to the throne of England, Charles was born into a world of immense privilege and responsibility. His birth was met with great excitement — Queen Elizabeth's private secretary, Major Thomas Harvey, told royal biographer Sally Bedell Smith that mere hours after his birth, courtiers crowded to see the new heir.
Smith wrote in her book, "Prince Charles: The Passions and Paradoxes of an Improbable Life" (via Vanity Fair), that the young prince's upbringing was a lonely one. His parents led busy lives, and Charles would go long stretches of time without seeing them. King Charles would later recall that his mother was distant, while friends of the royal described his relationship with his father as strained due to Prince Philip's "belittling" and "bullying" treatment of his firstborn.
While Charles received little affection from his parents, he did have a close relationship with his maternal grandmother, Queen Elizabeth the Queen Mother. Smith quoted King Charles as saying, "My grandmother was the person who taught me to look at things."
King Charles was bullied at boarding school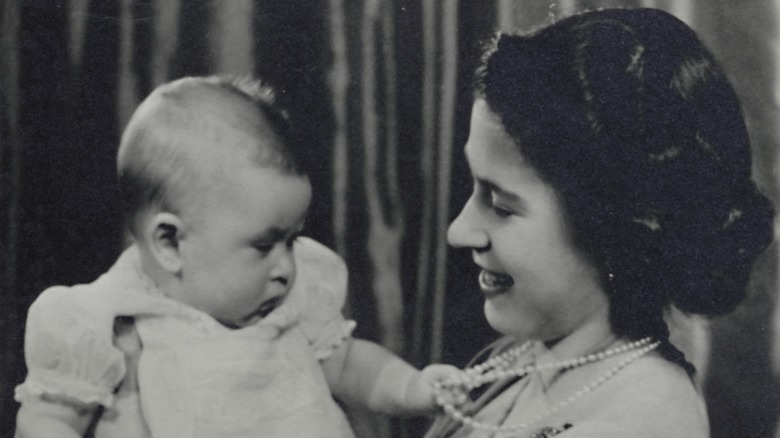 Going off to boarding school should have been an excellent opportunity for King Charles to escape his lonely home life and play with kids his own age. Instead, he found himself even more isolated, in a way, as he was not popular with his peers. Sally Bedell Smith wrote in "Prince Charles: The Passions and Paradoxes of an Improbable Life" (via Vanity Fair) that the 8-year-old royal had a difficult time adjusting to being away from home. He was frequently homesick, clinging to a teddy bear for comfort. Additionally, King Charles' schoolmates teased him for his ears and for being overweight, and he was also subjected to corporal punishment from school staff.
The fact that Charles was shy, poor at sports, and the heir to the throne did little to ingratiate him to the other children at Cheam School. Smith noted that in Charles' five years at the institution, he "formed no lasting friendships." In a 2001 interview with journalist Mary Riddell (via the Daily Mail), King Charles said he "was lonely," and attributes his difficulty in making friends to being "an oddity." He explained, "People were hesitant about making friends because they thought they'd be accused of sucking up."
The young King Charles was often sick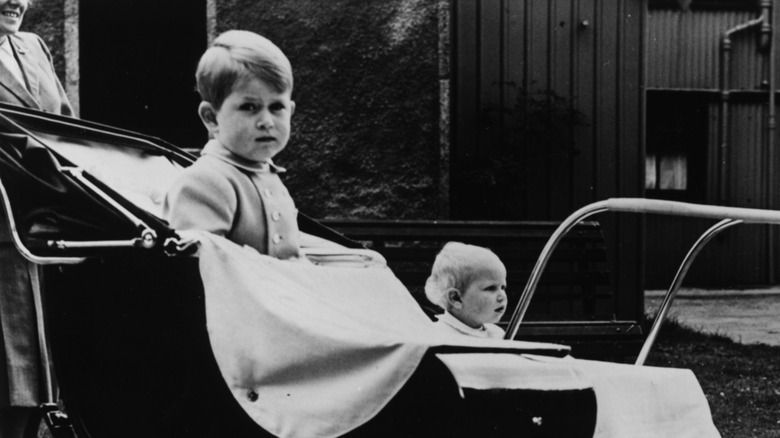 Adding to King Charles' often unhappy childhood was the fact that he was frequently ill. Sally Bedell Smith noted in "Prince Charles: The Passions and Paradoxes of an Improbable Life" (via Vanity Fair) that he underwent a tonsillectomy as a child, was susceptible to sinus infections, and also contracted Asian flu and measles — all before the age of 12.
Making Charles' poor health more difficult was the fact that being ill sometimes left him more alone than ever. Smith wrote that when King Charles contracted Asian flu, his parents didn't even visit their bedridden child — in spite of having been vaccinated against the virus. Charles also went through his bout with measles without his parents by his side, as they were in India at the time.
Lady Anne Glenconner, who was the lady in waiting to Queen Elizabeth's sister, Princess Margaret, wrote in her book "Lady in Waiting: My Extraordinary Life in the Shadow of the Crown" (via The Sun) that King Charles was often sent to her family home while ill. "He would come and stay whenever he had any of the contagious childhood diseases, like chickenpox, because the queen, having never been to school, had not been exposed to them," she revealed.
King Charles cultivated a passion for the arts at school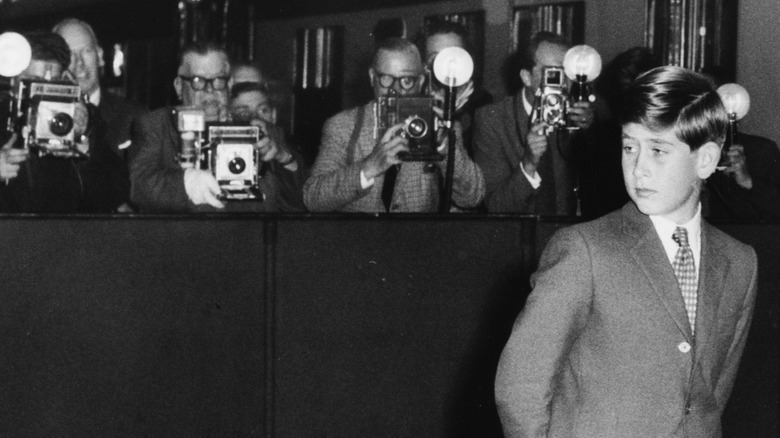 As a teenager, King Charles attended Gordonstoun, a boarding school in Scotland. While his grandmother wanted him sent to Eton College, which was much closer to home, Sally Bedell Smith wrote in "Prince Charles: The Passions and Paradoxes of an Improbable Life" (via Vanity Fair) that Prince Philip insisted on sending his son to his alma mater. Students at the school lived in harsh conditions, as the school believed things like sleeping in cold dorms would instill discipline
Additionally, Smith revealed that King Charles was still bullied at Gordonstoun, but he also came into his own after discovering a passion for the arts. Charles was a mediocre student, but found solace in pottery and music, falling in love with the cello. Charles also performed in plays at school, notably playing the Duke of Exeter in Shakespeare's "Henry V," as well as the titular role in "Macbeth."
Per his page at the royal family's official website, King Charles graduated from Gordonstoun in 1967. His time at the school included a year as an exchange student in Australia.
King Charles became the first heir to the British throne to earn a degree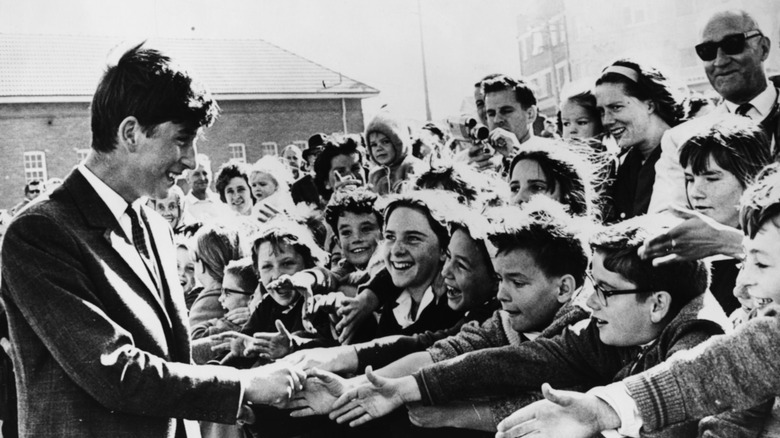 While there's certainly nothing unusual about a man from a privileged background getting a university education, heading to Cambridge University after earning his A Levels at Gordonstoun was an unusual move for King Charles. As the heir to the throne, he already had a career path set out for him, after all, but the royal still wanted to continued his studies. As noted on his page at the royal family's official website, Charles initially studied archaeology and anthropology before switching to history.
Yahoo! Life noted that King Charles continued to be involved in theatre during his time at Cambridge and was a member of the Dryden Society, a drama organization. He also spent a term studying Welsh as an exchange student at the University College Aberystwyth in Wales.
Charles graduated from Cambridge in 1970, becoming the first heir to the British throne to earn a university degree.
King Charles became a champion for environmentalism at a young age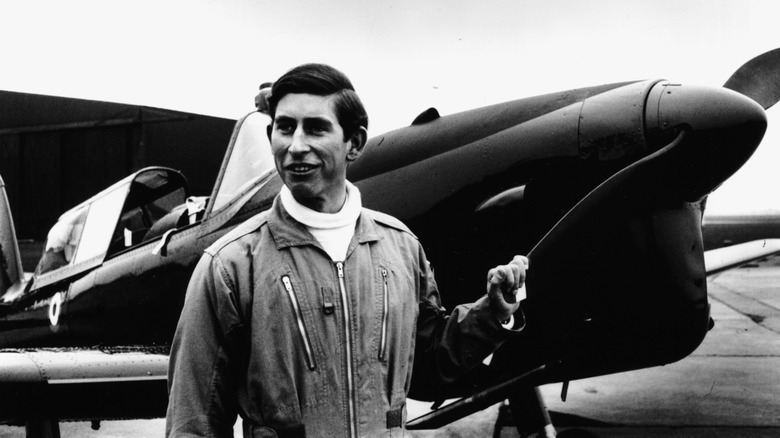 King Charles has long been known for his commitment to the environment, but what many don't realize is that he has been championing this cause since his 20s. Per BBC, the term "global warming" entered public consciousness in 1975, although the effects of pollution on the planet were known before that.
Charles gave his first speech on how humans are harming the planet in 1970, the same year he graduated from Cambridge. "When you think that each person produces roughly two pounds of rubbish per day and there are 55 million of us on this island using non-returnable bottles and indestructible plastic containers, it is not difficult to imagine the mountains of refuse that we shall have to deal with somehow," he explained at the Countryside Steering Committee for Wales (via Yahoo! Life).
While his words were controversial at the time, King Charles remained true to his convictions and would eventually become globally recognized for his stances.
King Charles followed royal tradition and entered the military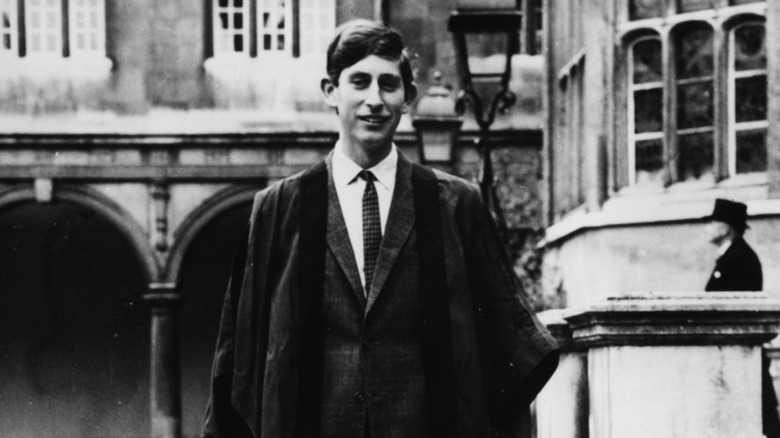 After graduating from university, King Charles followed in the footsteps of many a royal before him and entered the military. Per his page at the royal family's official website, he chose to join the navy, as had three generations of his family before him. Charles had already been trained as a jet pilot before entering military service, and became a helicopter pilot as well in 1974.
As noted by Town & Country, King Charles ended his time in the military in 1976, using his severance pay to set up a charity for underprivileged youth. The organization is still running and, per its website, "offer[s] hundreds of free courses, grants and mentoring opportunities to inspire young people to build their confidence and start a career."
According to Biography, Charles returned to the military in the '90s after going through parachute training, eventually becoming Air Chief Marshal in the Royal Air Force.
King Charles dated several 'it' girls during his bachelor years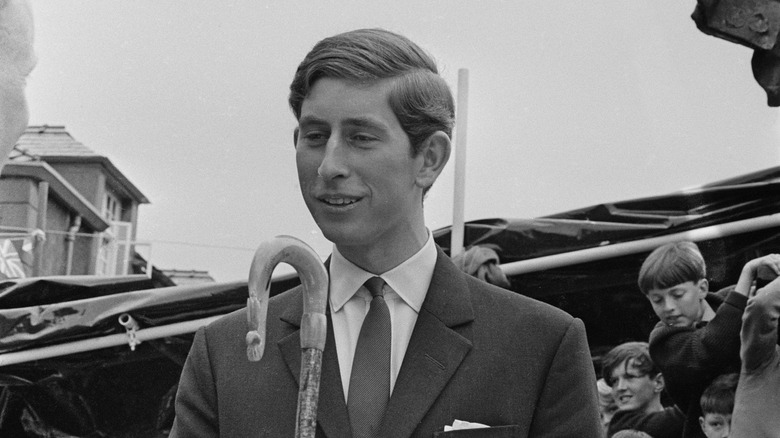 King Charles' most high-profile relationships have been with his first wife, Princess Diana, and his second wife, Camila Parker Bowles. Those who followed the press in the '60s and '70s, though, will remember that the royal also dated a number of high-profile women, choosing his girlfriends from the ranks of heiresses and "it" girls. Per the Evening Standard, Charles was involved with more than 20 women over the years, beginning with Luca Santa Cruz, the daughter of the Chilean ambassador to London, in 1967. After the end of their relationship, King Charles met Camila Shand shortly before entering military service, but they broke up before he entered the navy. Shand ended up marrying Andrew Parker Bowles not long after, leaving Charles devastated.
A long string of relationships followed. Among the many women King Charles courted were Lady Jane Wellesley, Lady Sarah Spencer, and socialite and heiress Sabrina Guinness. Charles even proposed to a number of women, including Lady Amanda Knatchbull and heiress Anna Wallace, who broke up with the royal after he reportedly danced with Camila at an event instead of her.
The courtship between King Charles and Diana Spencer wasn't exactly romantic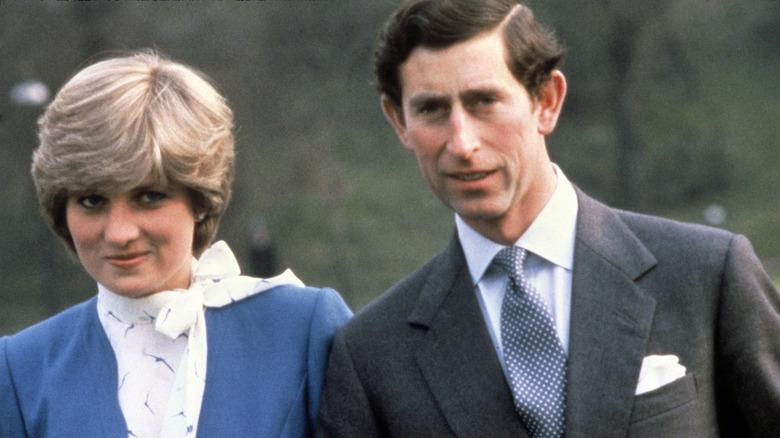 Per Tatler, King Charles and Lady Diana Spencer first met in 1977. The then-prince began courting Diana in 1980, after they reconnected at a party. The courtship was a whirlwind; they are believed to have seen each other just 13 times before Charles proposed.
While such a brief courtship might suggest that King Charles was smitten with Diana and couldn't wait to marry her, the reality is a bit more complicated. Andrew Morton wrote in his book, "Diana: Her True Story in Her Own Words" (via Town & Country), that Diana was particularly hurt during an interview in which they announced their engagement to the public. "And this ridiculous [reporter] said, 'Are you in love?' I thought, what a thick question," she recalled. "So I said, 'Yes, of course, we are,' and Charles turned round and said, 'Whatever love means.' … It traumatized me."
Royal biographer Ingrid Seward, author of "Prince Philip Revealed: A Man of His Century," told Us Weekly that it was reportedly Prince Philip who suggested King Charles marry Diana. "He told some of his friends that he felt pressurized into marrying Diana because Philip said, 'You've either got to marry her or let her go," she revealed. Prince Philip was reportedly concerned that his son was "string[ing] … along" the 19-year-old Diana. The two married in 1981 and, as the public well knows, their marriage was not a happy one.
King Charles was not exactly a doting father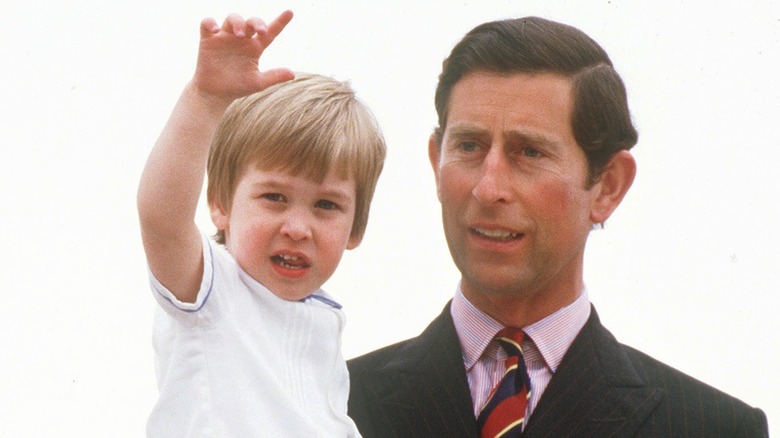 Perhaps in part because of the lack of parental warmth and affection he received during his own childhood, King Charles did not immediately adjust to fatherhood. In Prince William and Prince Harry's early years, Charles was not exactly a doting parent. As noted by Kidspot, the boys would have been left at home for long periods of time while their parents traveled on royal business if Princess Diana hadn't insisted on them tagging along.
Royal biographer Penny Junor wrote in "Prince William: The Man Who Will Be King" that King Charles could also be impatient with his children, reportedly once telling a 4-year-old William to "shut up" when he cried that he was cold. According to Junor's account, Charles reasoned that his young son's discomfort was his own fault, as he had failed to put on gloves as he had been told.
Like his own parents, Charles was often absent. One incident that highlights this occurred in 1991, when Prince William had to undergo emergency surgery after sustaining a skull fracture. The Associated Press reported at the time that, while Princess Diana stayed by her son's side through the night, King Charles left him to attend the opera.
An affair and eventual divorce made King Charles the subject of controversy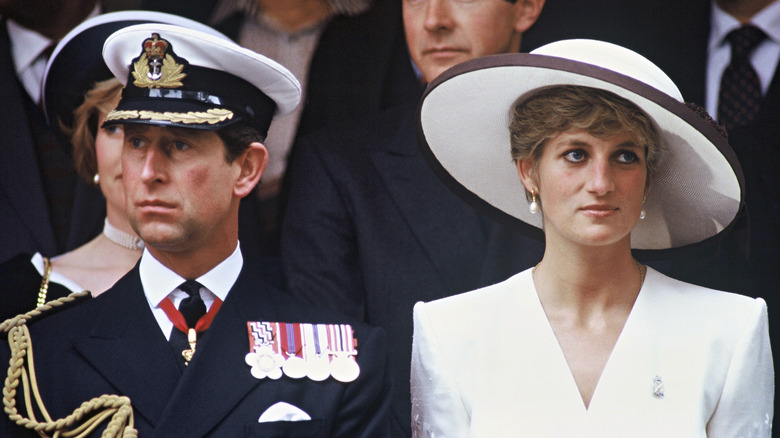 The relationship between King Charles and Princess Diana seems doomed from the start. Not only did they barely know each other when they got married, but Princess Diana was also just a teenager when they started dating, while Charles was in his 30s (per Town & Country). There's also the fact that Charles never really got over Camilla Shand, who had become Camilla Parker Bowles by the time Charles got married. Princess Diana famously blamed her husband's former flame for coming between them in a 1995 interview for BBC's "Panorama," saying, "Well, there were three of us in this marriage, so it was a bit crowded."
King Charles had publicly admitted to infidelity the previous year in a TV documentary (via The New York Times), although he said he only cheated when his marriage "became irretrievably broken down."
The rocky relationship between King Charles and Princess Diana sparked a media frenzy. History Extra noted that Charles and Diana ended their marriage after 15 years in 1996, the year before her death.
King Charles was shaken over Princess Diana's death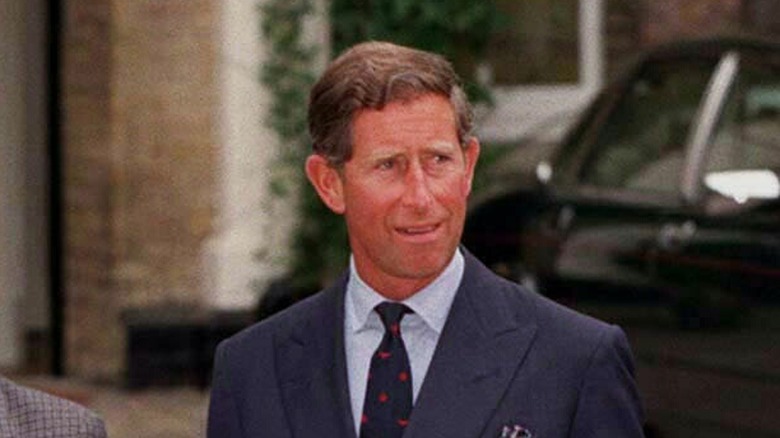 King Charles and Princess Diana were divorced at the time of her death in 1997, but the shock of losing someone close to him still had a huge impact on Charles. For one, it fell to King Charles to break the news of the tragedy to his children. Additionally, Prince Harry recalled in the documentary "Diana, 7 Days" (via People) that Charles did his best to protect them from the press and committed himself to looking after his sons even though "he was going through the same grieving process as well."
The tragic death of Princess Diana left Charles as the sole parent to Prince Harry and Prince William, a task that was not always easy. Still, he rose to the occasion and seems to develop a closer relationship with his sons than they previously had. Charles also appears to have been far easier on his children than his father was on him. "You can attempt to impose rules and regulations, but those don't always work," he told journalist Mary Riddell in 2001 (via the Daily Mail).
Camilla Parker Bowles and King Charles finally started their life together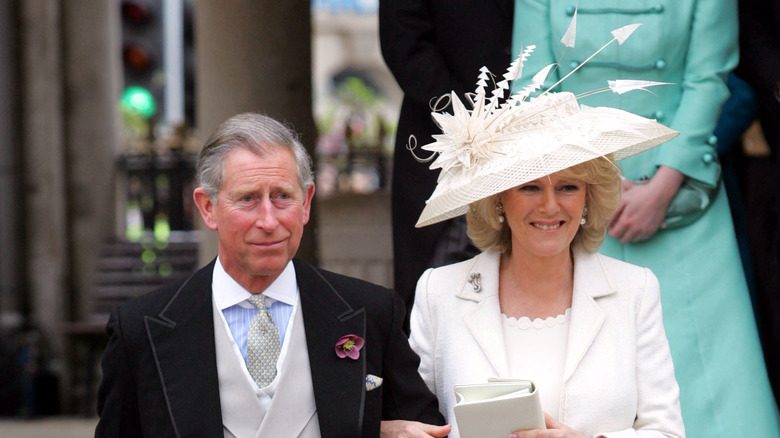 After all the ups and downs of their relationship, King Charles and Camilla Parker Bowles finally got their happily ever after in 2005 — more than three decades after they first fell for each other. The marriage was more than just two people coming together, as it also marked an end to a tumultuous period heavily marked by scandal in the royal's life. Additionally, Queen Elizabeth seemed pleased to see her son settled down. "They have come through and I'm very proud and wish them well," she said in her wedding toast (via History Extra). "My son is home and dry with the woman he loves."
While Camilla was not initially popular with the public due to the affair she and Charles had during his marriage to Princess Diana, people have grown more accepting of her over the years. Plus, King Charles' second marriage seems to have been much happier than his first. "It's always marvelous to have somebody who, you know, you feel understands and wants to encourage," he told CNN in 2015. "Although she certainly pokes fun if I get too serious about things. And all that helps."
King Charles was heartbroken by his father's death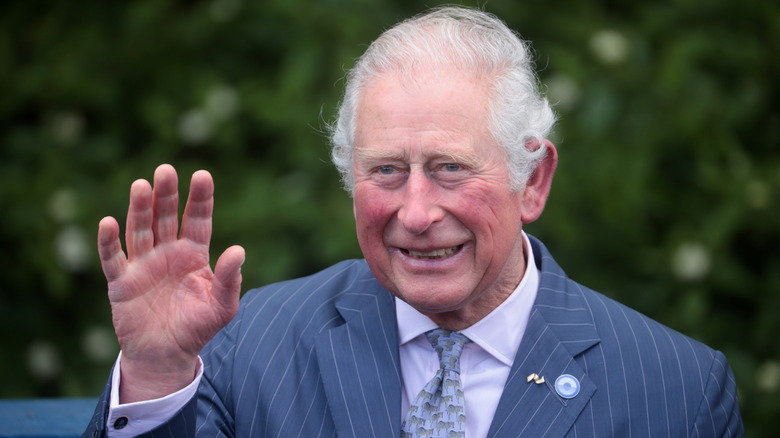 The death of Prince Philip in 2021 came as a blow to the royal family. It was the end of an era not just for the royals, but also for their subjects. While Prince Philip and King Charles didn't always have the best relationship, there was still great affection between them, and Charles was devastated by his father's death. He expressed his feelings in a heartfelt statement (via Town & Country); Charles said he "miss[ed] [his] father enormously," calling him "a much loved and appreciated figure." He added, "My dear Papa was a very special person" and thanked those who had sent their condolences.
Prince Philip's death meant that King Charles was thrust more into the public eye than ever. While Prince Philip retired from royal duties in 2017 (per the BBC), he retained his title of Duke of Edinburgh. The Independent noted that, after his father's death, Prince Charles became the next Duke of Edinburgh.