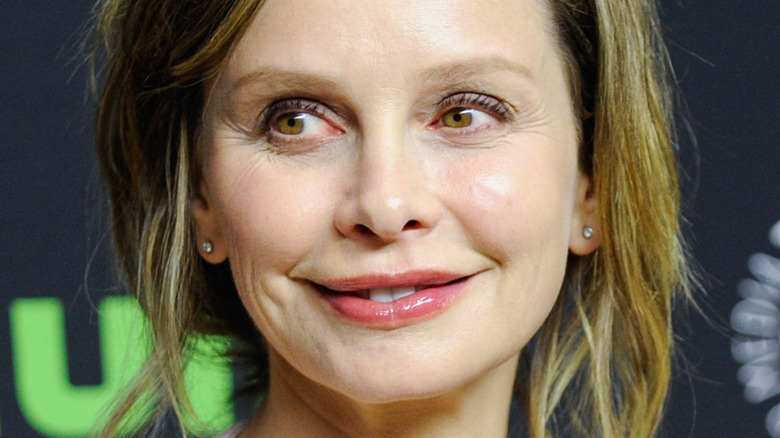 Calista Flockhart played TV lawyer Ally McBeal from 1997 to 2002. Among the actor's many awards are a 1998 Golden Globe for Best Television Actress – Musical/Comedy Series, a 2000 People's Choice Award for Favorite Female Television Performer, and a shared 1999 Screen Actors Guild Award for Outstanding Performance by an Ensemble in a Comedy Series. "Ally McBeal" also went home with Golden Globe awards in 1998 and 1999, along with an Emmy in '99.
Flockhart developed a strong persona as an actor while making it clear that family comes first for her. She maintained an active career as a performer long after "Ally McBeal" but has stepped back from the entertainment industry a couple of times, including leaving her role as Cat Grant on "Supergirl." Though she has successfully stayed out of the public eye by mostly steering clear of the tabloid spotlight, Flockhart's fans still want to stay updated on her life with Harrison Ford. The husband and wife love to spend time on their ranch in Jackson Hole, Wyoming, a lifestyle which Ford described to The Land Report in 2007: "Being normal is a kind of victory. I'll fix a fence, repair a piece of equipment, or plough the driveway if there's snow. There's always plenty of work to do." Though Ford continues to act, Flockhart seems to be embracing a quieter life with loved ones. How has she maintained such a peaceful existence amid decades in the limelight?
Ally McBeal took Calista Flockhart from Broadway to Hollywood
Calista Flockhart landed her breakout role after almost a decade as a screen actor. She first appeared on soap operas, including "Guiding Light" and "As the World Turns," before acting in a handful of films throughout the 1990s. Flockhart is also an experienced stage performer who appeared in "The Glass Menagerie" and "The Three Sisters" on Broadway.
It's fascinating to learn that she could have missed out on the role that made her famous. She and her "Supergirl" castmates were interviewed on "The Talk" in 2015 when Flockhart revealed that her agent shut down the "Ally McBeal" audition. This wasn't even discussed with the actor beforehand. It's a good thing they retuned, because the match was obvious when she finally gave the character of Ally McBeal a try.
Show creator David E. Kelley told The Hollywood Reporter, "She was always going to be the one as soon as we saw her. The problem was that we didn't see her until the very end of an exhausting casting process. … Calista came in, hit every note and every tone and there was no doubt that she was Ally." Flockhart also emphasized how hard she worked, rather than being concerned about whether the project would be a success. Co-star Greg Germann added that Flockhart especially worked long hours as she got to know her character, not to mention endured chatter about her appearance.
The actor loved her character's eccentricity
For the 20th anniversary of "Ally McBeal," Calista Flockhart told The Hollywood Reporter that she was interested in Billy and Ally's love story from the beginning. She also shared: "I had a great appreciation for Ally's character and the uniqueness of the writing, the hallucinations and the voiceover and all that wonderful stuff that I'd never seen before." She went on to gush over another one of the character's endearing traits. "One of the things I thought was so special about Ally was that she was not an ingénue; she was idiosyncratic, eccentric, intelligent, a work in progress," the actor said. Flockhart ultimately liked that Ally was more eccentric than the typical lead character in a show, forcing the audience to watch the series without a more "sane" anchor.
Flockhart even liked the dancing baby, a computer-generated tot that invaded Ally's thoughts and persuaded her to dance along. Describing how she was introduced to the CGI character by show creator David Kelley in his office, Flockhart said, "I had to mimic the baby's dancing and thought it was really brilliant — and the baby was a bit creepy but it worked well. It was pretty imaginative to get that." Indeed, the dancing baby added some pizzazz to Ally's quirky life as a single lawyer in Boston.
Ally McBeal made the cover of Time in 1998
The faces of four women filled the cover of Time in June 1998: Susan B. Anthony, Betty Friedan, Gloria Steinem, and not Calista Flockhart, but Ally McBeal. The women's heads faded into an all-black background, and everyone but Ally was printed in black and white. Under Ally McBeal's frame were red letters reading, "Is feminism dead?"
Ginia Bellafante wrote the issue's cover story, "Feminism: It's All About Me!" In it, she claimed that rather than focusing on real issues that affect women's day-to-day lives, including equal pay and childcare, "much of feminism has devolved into the silly. And it has powerful support for this: a popular culture insistent on offering images of grown single women as frazzled, self-absorbed girls." Bellafante goes on to cite the character Ally McBeal as evidence, describing her as empty-headed and largely preoccupied with frivolity, as opposed to the normally serious work of a prestigious lawyer.
Calista Flockhart was also one of Barbara Walters' "10 Most Fascinating People of 1998." Walters addressed Flockhart's potential eating disorder (which Flockhart then denied) but also invited the star to respond to the Time magazine cover. The actor revealed that she was shocked by the request and reasonably stated, "The idea that you can compare Susan B. Anthony to a television character didn't seem fair." She expressed her support for feminist issues and said that her own name should have been on the cover.
She became a mom in 2001
Before she concluded her hit series, Calista Flockhart decided the time was right for her to become a mother. She adopted her son, Liam, in 2001 and wasn't in any major projects for a couple years after "Ally McBeal" ended in 2002. She was 36 years old at the time of the adoption, and told ABC News, "I have always wanted to adopt a child and I am overjoyed that I have been blessed with a beautiful and healthy son. I'm completely enchanted and awe-struck." She continued, "I feel extremely fortunate and grateful that I work for such a supportive company that offers a wonderful child-care facility, enabling me to spend a lot of time with my son while I'm working."
Harrison Ford and Calista Flockhart were seen dropping Liam off at Amherst College in 2020 (via the Daily Mail). They all appear to flourish as a family without obsessing over the trappings of Hollywood, but being a mom has always been important to Flockhart, even before she found the love of her life.
Harrison Ford and Calista Flockhart: One of Hollywood's most enduring pairings
Calista Flockhart's family grew in January 2002 when she met Harrison Ford at the Golden Globes. The romance was a more private encounter at first, but the couple shared a few details about one another in 2003.
Flockhart dished to People (via Entertainment Weekly): "I like the way he looks first thing in the morning. It's not handsome. It's more cute. He looks like a little boy. You know how when you wake up in the morning and you're kind of puffy and rumpled and you look kind of vulnerable? That's what he looks like." She also said her 22-year age gap with Ford did not bother her. Ford chatted about Flockhart, too. He told People that while he had previously watched "Ally McBeal," Flockhart didn't let him continue after they started dating. "She doesn't like to see herself." What about Liam? Well, he was just a toddler in the early 2000s, so Ford got to practice his childcare skills: "I'm good at changing diapers. No sense letting that experience go to waste."
She returned to acting as her son grew up
In 2006, Calista Flockhart talked with CinemaBlend about her reasons for returning to acting, specifically joining the show "Brothers and Sisters." She told the outlet, "It's a very real show, and 'Ally' was sort of fantastical and a different kind of reality, and it was very high comedy. This is, I think, funny, and yet it's just different."
Flockhart also shared that her son, 5 years old at the time, was going to school. After spending Liam's early childhood with him at home, Flockhart mused, "I miss acting a lot. I wanted to stay in L.A. I don't want to travel. And out of the blue, and I was sort of thinking about … 'I really want to go back to work.'" The actor also said, "I loved being a mom but as any mother can tell you, you stay home with a two year old 24-7 and you get mush brain and you start wishing that you were working. And then when you're working, unfortunately you're wishing that you were home. It's a tough dilemma that I have a new appreciation for."
The following year, during an interview with the Los Angeles Times on the "Brothers and Sisters" set, Flockhart reiterated that "Liam is always the priority." She added, "With a child, I just don't want to give up that much time. I feel really fortunate that I'm able to make my own decisions about how much I'm going to work."
She expressed interest in playing 'all kinds of different roles'
After landing her role on "Brothers and Sisters," Calista Flockhart told the Los Angeles Times in 2007, "At my real heart, I'm a character actress, and I do crave playing all kinds of different roles." Flockhart is a versatile actor who showed an eagerness to exercise her skills. Underneath her talent, though, she struggled with the fact that her baby was growing up: "Kindergarten, as it turns out, is a huge milestone and I wasn't quite prepared for it." She said of Liam, "He's doing great and having a lot of fun. I know it sounds kind of silly, but it's the end of an era. It's the end of that baby being home with you and you have to let go. And it's a wonderful thing, but it wasn't easy. It was emotional."
Executive producer Greg Berlanti said that Flockhart's only condition when negotiating the show's schedule was, "How can I have more time with my son?" Perhaps unsurprisingly, Flockhart's ability to achieve balance between her professional and personal lives was a huge positive. "It's an amazing place to be and I'm kind of surprised I'm there," she told the outlet, adding, "I'm in a place in my life where I'm just really happy."
Their low-key wedding couldn't have been less Hollywood
After spending the better part of a decade together, Harrison Ford and Calista Flockhart tied the knot in 2010. Some people might not realize that the couple dated for so many years before their New Mexico wedding. ABC News reported that Bill Richardson, the former governor of New Mexico, was the couple's officiant. The ceremony was very private, but son Liam was in attendance and served as the ringbearer (via AARP).
The momentous occasion was Ford's third trip down the aisle, but Flockhart's first, and it happened in the midst of Ford's filming schedule for "Cowboys and Aliens," also in New Mexico. "The groom wore Wrangler jeans; the bride, a simple white sundress," according to AARP. Ford painted the picture with possibly the most Harrison Ford-esque possible explanation for the nuptials: "Because we'd lived together for 10 years and it seemed like we were going to get along. … And I love her and she wanted to get married, and I wanted to get married." Ah, love!
Calista Flockhart stayed by her husband's side after a near tragedy
A longtime aviation enthusiast, Harrison Ford enjoys flying planes. Unfortunately, the "Star Wars" star hasn't always had the best luck in the air, and has had a few close calls, including crash landings. One such incident occurred in 2015, when he made a rough emergency landing and had to go to the emergency room. People offered multiple takes on the event, mentioning accounts from bystanders who saw Ford bleeding after the accident. Ford's publicist told NBC News that the actor "was flying a WW2 vintage plane today which had engine trouble upon take off. He had no other choice but to make an emergency landing, which he did safely."
In an additional article, People spoke with a source who stated, "Calista spent most of the weekend by Harrison's side. She arrived early every morning and returned home late every night. She was under stress." It's no surprise that Calista Flockhart would stay by her husband's side as he recovered. At that time of the accident, she had just reentered the acting world after a few more quiet years following the end of "Brothers and Sisters" in 2011.
The actor reduced her role on Supergirl in 2016
Following her husband's accident, Calista Flockhart once again stepped back from her acting responsibilities. On "Supergirl," the actor began playing Supergirl's boss, Cat Grant, at the start of the series in 2015. TVLine reported in 2016 that Flockhart was scaling back from series regular to recurring. The outlet's sources reported that "her status change was a direct result of the show's move from Los Angeles (where Flockhart lives) to Vancouver (where she doesn't)" as the reason for Flockhart's decreased involvement. It makes sense that she would have wanted to stay close to her husband and son in California.
By 2017, Flockhart wrapped up her last few episodes on the series. She rarely gives interviews and has no social media presence, so it's likely that she enjoyed the additional privacy and still doesn't mind being out of the spotlight. At the same time, anything could happen for a woman as talented as Calista Flockhart.
Entertainment Weekly shared the news that Flockhart's character would be returning for the final season of "Supergirl," but not with Flockhart in the role. Cat Grant is sent on a flashback trip that shows viewers a younger version of herself, played by newcomer Eliza Helm. Even if Flockhart has nothing to do with this aspect of her former show, other opportunities might be on the horizon.
An Ally McBeal reboot could be in the cards
In a continual time of reboots and remakes, life comes full circle for certain Hollywood actors. "Ally McBeal" fans have had plenty of time to revisit the series through reruns or streaming, and some might like to see what Ally would be up to in the 2020s. A new "Ally" project was rumored in 2019, when an insider told Closer Weekly that "Calista's been quietly hustling to pull together a reboot in the spirit of other '90s hits like Roseanne and Murphy Brown, but it's been one frustration after another."
Original series creator David E. Kelley responded to Variety's questions about the reboot back in 2019: "I would not be opposed to that being done again, but in somebody else's hands because I did that one, and I think if it were going to be rebooted, it should be started up by somebody else, and preferably a woman."
More exciting news for "Ally McBeal" fans came in August 2022 when Deadline exclusively reported that a sequel was on the way. However, this reboot won't star Calista Flockhart. Instead, the lead role will be filled by a new character played by a different actor. This sequel will focus on a rookie lawyer who has recently joined the firm. It is rumored that this character will be Renée Raddick' s daughter. Although Flockhart will no longer be the star of the show, she may still make a return. According to Deadline, the actor was asked to reprise her role as a supporting character.
Calista Flockhart joined the cast of Feud Season 2
According to Variety, it has been revealed that Calista Flockhart will join the Season 2 cast of FX's "Feud: Capote's Women." She will play Lee Radziwil, who was former first lady Jackie Kennedy's younger sister. This series unravels writer Truman Capote's life and career. Capote was close friends with New York's wealthiest residents until early excerpts of his novel, "Answered Prayers," aired out all of their dirty laundry. Flockhart will be accompanied by Tom Hollander, who will take on the role of the famous novelist. Diane Lane will also be joining the cast this season as Nancy "Slim" Keith. Deadline reported that FX reps are tight-lipped about details of this second season and its new cast members.
Calista Flockhart has yet to spill the details about her new role, but we can make a few guesses based on what is already known about the late socialite Lee Radziwil. Although she was Jackie Kennedy's younger sister, Radziwill was well-known in her own right. The arts enthusiast became a princess after she married Polish émigré nobleman, Prince Stanislas Radziwill, per The New York Times. She was also known for her incredible fashion sense.