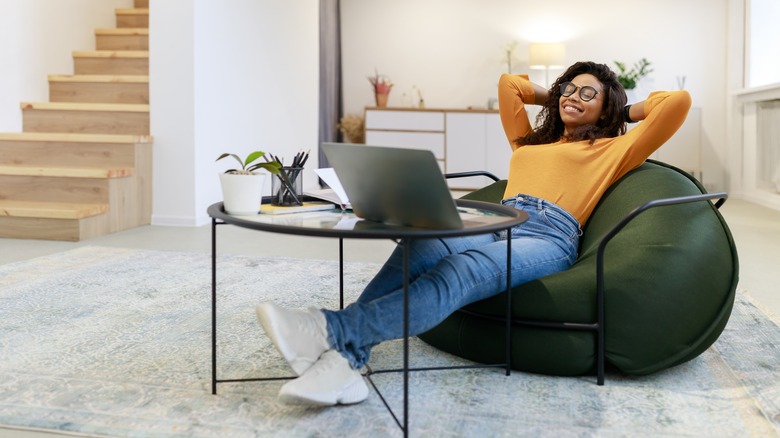 Adding a fun '70s flare to your style doesn't have to come with shag carpets, lava lamps, or geometric wallpaper designs – it could be added through a bean bag chair. While most popular decades ago, this playful piece will bring an unexpected look that feels fresh and adds comfort to your home, explains The Zoe Report.
Additionally, modern bean bag chairs have a number of benefits. Because bean bag chairs today are typically designed with a backrest, they can provide lots of support, per Designrulz. Further, since they come in different colors, patterns, shapes, materials, and sizes, you should be able to find one that fits your aesthetic. Finally, most bean bags are quite durable, and ones made from leather or vinyl are easy to clean.
If you want to add a bean bag chair to your home, below are five tips for styling these nostalgic pieces in the modern era.
1. Choose one that fits the room's color palette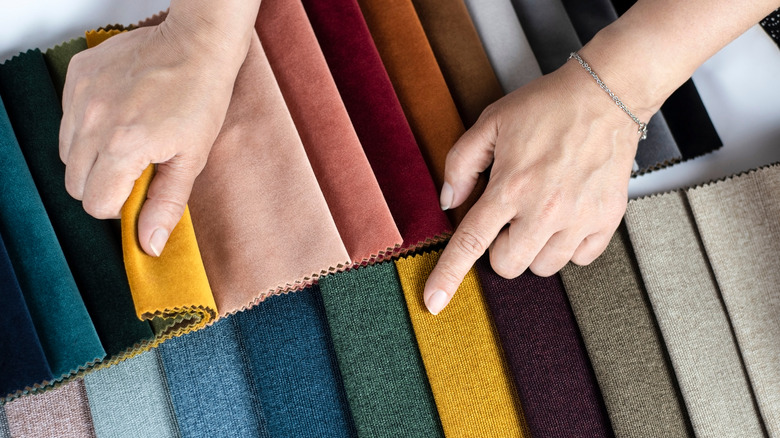 The first thing you'll need to decide on is the color. Boss Bean Bags says these chairs come in practically any color you desire. For example, Lovesac, a popular bean bag chair brand, has over 200 shades to choose from. If you're having trouble deciding, you could order five free swatches from the company to test out in your space.
According to Boss Bean Bags, subdued colors will give off a more formal appearance, while brighter ones will bring out the inherently playful nature of the chair. If you have a sophisticated space, perhaps you'd prefer a neutral tone. Gray, black, or tan would look cohesive in a room with just about any design. Or, you could take a chance and make a statement with a bolder color. However, whether you choose a subtle or vibrant color, remember that your bean bag chair is bound to stand out, since it's so unique. When deciding, think about what hue would complement the rest of your space.
2. Decide on the right shape
Next, you'll need to decide on a shape for your bean bag. At the peak of their popularity, these chairs were round with no back support. However, there are now plenty of different shapes and sizes to choose from, and some provide more support than others. Before deciding on the size, make sure you measure the area you want to put it in, per Boss Bean Bags. Because there are some smaller models, you should be able to find one that will work in just about any space.
Ultimately, the shape will be determined by how you plan to use the chair. For those that will stay in one place, a model with a high back and an ottoman would work. You could also choose one with arm rests, for maximum comfort. This may appeal to those who plan to work or read in their chair. If you plan on moving your bean bag chair around, it would be smart to choose one that's pear-shaped with a handle, per Pusku Pusku. There are also designs that can seat multiple people, which could replace a sofa.
3. Style with throw pillows
Once you've decided on your specific bean bag chair, it's time to accessorize. The most important thing to add to your chair are throw pillows. Per As Told By Michelle, pillows could make your chair the focal point of your space, since bean bag chairs with bold designs would draw attention naturally.
However, pillows can also have the opposite effect – Home Decor Bliss says pillows can also make a chair blend in with the rest of the room's design. To maximize cohesiveness, you could add matching pillows to your bean bag chair and couch, which would carry one color or design throughout the room.
Throw pillows are important because they elevate a room's style by bringing in extra colors, patterns, and textures. Additionally, they make chairs look cozier and feel more comfortable. Pro Bean Bag adds that pillows help create an extra layer of support for the malleable chair.
4. Decorate around the chair
Additionally, to make your bean bag chair feel well-integrated into the room, you should also decorate the area around your chair. The Zoe Report points out that bean bags are typically much lower than other furniture, since they sit right on the floor and don't have legs. Therefore, you should make sure that the pieces around this chair are at the right height. This may mean using a shorter side table or hanging wall art lower. Other ways to incorporate your chair into a room include layering with throw blankets and rugs or hanging a plant above it.
Further, you should also think about the placement of your chair. Pro Bean Bag recommends putting it in an area that you'll enjoy but that also doesn't obstruct the traffic flow of the room. For instance, while placing it in front of the television may be enjoyable, it may also block a walkway. You may need to experiment with different placements and styling elements to find what works best for you.
5. Consider adding a pair
When buying a bean bag chair, you don't need to limit yourself to just one. Just like with armchairs, two bean bags may be more visually appealing. For instance, if you're placing one next to a fireplace or an entertainment center, perhaps another on the other side would help balance out the room's design. The Rogue Valley Messenger explains that, while one bean bag can make you feel more comfortable, multiple bean bag chairs change the atmosphere in a room. More than one will give the space a more friendly and comfortable vibe. However, the outlet also says that too many bean bags may overwhelm a smaller space, and two may be the magic number.
Boss Bean Bags recommends getting two bean bag chairs for more practical reasons. It points out that, if you live with multiple people, you'll probably be fighting over the chair during movie nights or hangouts. If you get more than one, you won't have to wait around to enjoy the comfort and support of your bean bag.