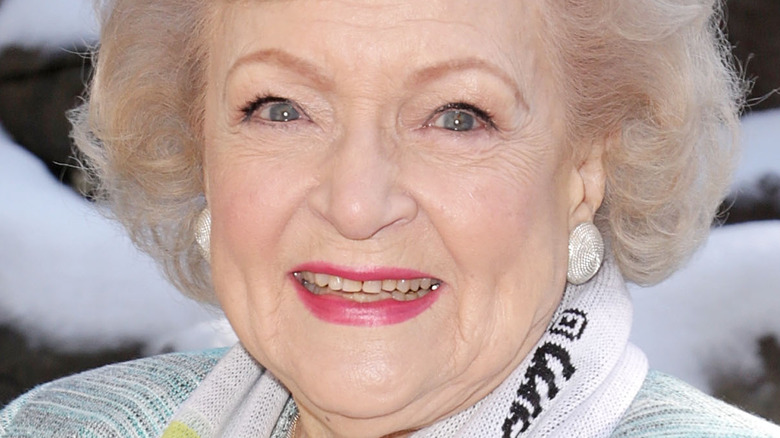 Television audiences dug deep each week into the science behind criminal investigations on Fox's "Bones," which aired from 2005 to 2017. The series starred Emily Deschanel as Dr. Temperance Brennan, a forensic anthropologist based loosely on the real-life scientist Kathy Reichs, who created the character in a series of mystery novels. Aiding Brennan — or "Bones," as she was also known — was FBI Agent Seeley Booth (David Boreanaz), who consulted Brennan on particularly challenging cases.
The pair, who were joined by a team of fellow scientists including Tamara Taylor's forensic division chief Camille Saroyan, John Francis Daley as psychologist Lance Sweets, and Michaela Conlin as forensic artist Angela Montenegro, tackled strange and often gruesome cases throughout the program's 246 episodes, which made it one of Fox's longest-running dramas.
Joining the "Bones" cast as various relatives, suspects, and antagonists during that long tenure was a long list of recurring and guest players, many of whom continue to work on television and in films today. Others, however, have died in the years since their episodes aired or the series came to a conclusion. Following is a list — with spoilers — of the "Bones" actors you may not know passed away.
Heath Freeman menaced Brennan as serial killer Howard Epps
Heath Freeman played Howard Epps, the first of several diabolical serial killers with whom the team tangled throughout the series' network run. Epps made his debut appearance on "Bones" in Season 1's "The Man on Death Row," where he appealed to Brennan and Booth to clear his name of murder accusations that would earn him the death penalty. The gambit was an elaborate ruse, and indicative of Epps' perverse nature: in Season 2's "The Blonde in the Game," Epps directed an accomplice to continue his crimes, before escaping from prison in "The Man in the Cell" and leaving a series of clues –- and traps –- for Brennan and the team.
Actor and producer Heath Freeman played Howard Epps in all three "Bones" episodes. A graduate of New York University's Tisch School of the Arts, he made his screen debut in a 2001 episode of "ER" and worked steadily on television throughout the 2000s, landing appearances on episodes of "NCIS" and "Without a Trace" while also enjoying a recurring role on "Raising the Bar" as public defender Gavin Dillion. In 2010, he produced and co-starred in the indie feature "Skateland."
Freeman moved between television ("Torchwood") and indie features for most of the 2010s and 2020s, including "The Outlaw Johnny Black" with martial arts great Michael Jai White. The latter proved to be his last completed project: the 41-year-old Freeman died of undisclosed causes in November 2021.
Eddie Hassell was a daredevil on Bones and in real life
Actor Eddie Hassell appeared in Season 6's grisly "The Daredevil in the Mold" as a BMX rider and friend of a fellow rider found dead on the roof of a building. The role wasn't too far from Hassell's real-life interests, which including surfing, rodeos, and skateboarding. The latter provided him with a gateway to movie roles when he was cast as a skateboarder in television commercials.
Acting roles followed in the early 2000s, including series regular work on "Surface" and guest shots on "Studio 60 on the Sunset Strip," "Southland," and "Longmire." Hassell also appeared in features like "The Kids Are All Right" as Josh Hutcherson's friend, Clay, as well as "Jobs" with Ashton Kutcher and the US-Japanese film "Oh Lucy!" The latter was his final screen credit: Hassell, 30, was murdered outside his girlfriend's apartment during an apparent attempted carjacking in Grand Prairie, Texas on November 1, 2020.
Heavy D was a recurring character on Bones' first season
Rapper/songwriter-turned-actor Heavy D was a recurring cast member in Season 1 of "Bones." The performer played Sid Shapiro, owner of Wong Fu's, a Chinese restaurant favored by Booth, Brennan, and the forensics team. However, Sid and Wong Fu's were phased out of the series by the second season.
Born Dwight Arrington Myers in Jamaica, Heavy D moved to New York in the early 1970s and formed Heavy D & the Boyz with three high school friends. Signed to Uptown Records by Def Jam producer Andre Herrell, the group scored a string of pop and R&B hits between 1987 and 1997, including the No. 11 single "Now That We Found Love" and the Top 10 rap single "Nuttin' But Love." He shared a Grammy (one of four nominations) for guesting on the 1994 Salt-N-Pepa single "None of Your Business," recorded the theme songs for "In Living Color" and "MADtv," and served as vice president of A&R for Uptown.
In the early 1990s, Heavy D segued into a successful second career as an actor, appearing in recurring roles on the Fox series "Roc" and "Living Single" and enjoying substantial character parts in the Eddie Murphy/Martin Lawrence comedy "Life" and "Cider House Rules." Recurring roles on "Boston Public" and "The Tracy Morgan Show" preceded his stint on "Bones," which he followed with parts in "Step Up" and "Tower Heist." After collapsing at his home, Heavy D died of a pulmonary embolism at the age of 44 on November 8, 2011.
Betty White's long list of credits includes two turns on Bones
A bona fide legend in television and feature films for more than a half-century, Betty White brought unerring comic timing to her countless appearances on television series. Her list of credits was so long that one might forget that she logged two turns on "Bones" as Dr. Beth Mayer, a forensic anthropologist who assists the team with the murder of a real estate agent in Season 11's "The Carpals in the Coy-Wolves." White gets plenty of signature moments in the episode, including a discussion of her long list of husbands (and their sex lives) and jokes about erectile dysfunction, while proving to have invaluable insights. Her easygoing nature and expertise leave Brennan feeling both jealous of and impressed by Mayer's body of work.
White was a five-time Emmy winner – her first came in 1951 and her final in 2014 — a Grammy recipient, and a member of the Television Hall of Fame, thanks to her pioneering work on television as the first woman to produce a sitcom in America (her series "Life with Elizabeth") and scene-stealing efforts on series like "The Mary Tyler Moore Show," "The Golden Girls," and "Hot in Cleveland." White, who was also a vocal advocate for animal welfare and LGBTQ+ rights, remained exceptionally well-loved by TV viewers and entertainment industry peers up until her death at the age of 99 on December 31, 2021.
Waltons star Ralph Waite lent folksy charm as Booth's grandpa
Emmy-nominated actor Ralph Waite brought considerable warmth to his three appearances on "Bones" as Booth's grandfather, Hank, who raised him and his brother, Jared, in the absence of their alcoholic father. Hank is a kindly figure who works hard to remind Booth that though his father was a abusive figure, he still remained his father, and in Season 7's "The Male in the Mail," Hank provides Booth with a box containing mementoes from the few good times he had with his dad.
Waite was best known to TV audiences for two other fatherly figures — John "Pa" Walton, whom he played on eight seasons of "The Waltons," as well as four TV-movie reunions, and Leroy Gibbs' father, Jackson, on "NCIS." He also appeared in TV projects ranging from "Roots" and "Carnivale" to "Grey's Anatomy" and "The Practice," and in such features as "Five Easy Pieces," "The Bodyguard," and "Cliffhanger." Between these efforts, Waite directed a feature, "On the Nickel," and ran for Congress in California's 37th District on three occasions. He died at the age of 85 from age-related illnesses on February 13, 2014.
Bones added another gruff old guy to Ed Asner's resume
A trio of veteran acting heavyweights turned up in Season 12's "The New Tricks in the Old Dogs." Brought out to a retirement home after the skeleton of an elderly man is found in a barrel of sulfuric acid, Booth, Brennan, and the team discover a wealth of schemes among the residents –- including a seduce-and-steal plot involving the dead man and his pal, Rufus, who bilked the elderly women of their savings after they fell for the victim.
Playing Rufus in "Tricks" was Ed Asner, who began his career on Broadway in the early 1960s before graduating to guest roles on television series ranging from "Mission: Impossible" to "The Outer Limits." His role on "The Mary Tyler Moore Show" as gruff news director and city newspaper editor Lou Grant elevated him to stardom and made him the most honored male actor in Emmy history with seven wins –- five for "Mary Tyler Moore" and two more for the dramatic spin-off series "Lou Grant."
Asner worked tirelessly for more than 50 years in features and on TV, enjoying character turns in films like "JFK" and multiple appearances as Santa Claus, including a memorable performance in "Elf." He was also a prolific voice–over actor, most notably as Carl Fredricksen in "Up," as J. Jonah Jameson on "The Amazing Spider-Man," and various characters on "American Dad," "The Cleveland Show," "Central Park," and other animated series. A two-term president of the Screen Actors Guild and a dedicated supporter of free speech, education, and political causes, Asner died at the age of 91 on August 29, 2021.
Hal Holbrook was a senior with a secret on Bones
While Ed Asner's character, Rufus, fleeces elderly widows in "New Tricks in the Old Dogs," another senior schemer is up to darker deeds. Military veteran Red Hudmore is the new resident at the senior center where Brennan and Booth are investigating the death of a former client. Initially, Red serves as Rufus's alibi by claiming that the two watched television together at the time of the murder, but as the team digs deeper, they discover that Red's past makes him a prime suspect.
Red was played by five-time Emmy winner Hal Holbrook, who rose to fame in the late 1950s with his Tony-winning performance in his one-man play "Mark Twain Tonight!" He remained remarkably active on television and stage and in films for the next five decades, tackling supporting roles in "All the President's Men," "Wall Street," "The Firm," and "Into the Wild," which netted him an Oscar nomination in 2017. He was also a frequent recurring performer on television, including "Designing Women" with his wife, Dixie Carter, "The West Wing," and "Sons of Anarchy," and starred opposite Burt Reynolds on "Evening Shade" from 1990 to 1994.
Holbrook, who received a National Humanities Medal from President George W. Bush in 2003, died at his home in Beverly Hills, California on January 23, 2021 at the age of 95.
Emmy winner Jay Thomas worked magic on Bones
Season 11's "The Promise in the Palace" put Brennan and Booth in the world of professional magic when they investigated the death of an escape artist. Their search brought them to a club devoted to sleight of hand; overseeing the establishment was Lenny Jay, played by actor Jay Thomas.
A popular radio DJ in New York and Los Angeles during the 1970s and 1980s, Thomas segued into stand-up comedy and acting with recurring roles on "Mork and Mindy" and "Cheers," which cast him as downtrodden former hockey goalie Eddie LeBec. He remained a popular guest player on numerous series, winning two Emmys as Candice Bergen's love interest on "Murphy Brown" and starring in his own sitcom, "Love and War," from 1992 to 1995. His screen roles included a part in "Mr. Holland's Opus" and two turns as the Easter Bunny in "The Santa Claus 2" and its 2006 follow-up.
Thomas's appearance on "Bones" was one of his last screen roles. The 69-year-old actor died of cancer on August 24, 2017 in Santa Barbara, California.
A Bones guest spot led to a series for Michael Clarke Duncan
The Season 6 episode "The Finder" introduced "Bones" watchers to Walter Sherman (Geoff Stults), a former military officer who served with Booth and had the unique ability to find anything. Aiding him in an investigation involving a dead security guard and a missing nautical map was Leo Knox, a former lawyer turned Sherman's manager. The duo, who were featured in a pair of novels by Richard Greener, later got their own short-lived series, also titled "The Finder," in 2012.
Michael Clarke Duncan played Leo in both the "Bones" episode and the spin-off series. Duncan began appearing in minor roles in features and on television before landing a breakout project in Michael Bay's "Armageddon." The exposure led to his casting as inmate John Coffey in "The Green Mile," which netted him Oscar and Golden Globe nominations, and preceded a string of starring roles in high-profile pictures like "The Whole Nine Yards," "Planet of the Apes," and "Daredevil" (as The Kingpin).
Duncan's rumbling voice was also featured in numerous animated projects, including "Kung Fu Panda," "Green Lantern" (as Kilowog), "Teen Titans," and "Ultimate Spider-Man." He was only 54 when he suffered a heart attack on July 13, 2012, and died of complications from the incident on September 3 of that year.
Ron Howard's dad Rance Howard was a suspect on Bones
Character actor Rance Howard made two appearances in Season 10 of "Bones," playing a retired security guard with a big secret in the season opener, "The Conspiracy in the Corpse," and its follow-up, "The Lance to the Heart." The episodes –- which are perhaps best known as the swan song for John Francis Daley's Lance Sweets — follow a complex government conspiracy which briefly puts Booth behind bars.
Howard was a prolific and Emmy-nominated film and television actor in a family of entertainment figures: his sons were actor/director Ron Howard and actor Clint Howard, and two of his grandchildren –- Bryce Dallas Howard and Paige Howard –- also became actors. Rance Howard began his career on stage in the late 1940s and worked steadily in features and on television for the next five decades. Among his vast number of credits were multiple collaborations with son Ron, including "Splash," "Apollo 13," and "Frost/Nixon," several features by Joe Dante ("Innerspace"), "Chinatown," "Independence Day," "Nebraska," and many others.
His TV credits included everything from "The Andy Griffith Show" and "Gentle Ben" with his sons to episodes of "Baywatch," "Seinfeld," "Babylon 5" (as Bruce Boxleitner's father) and "The X-Files." Howard died of heart failure at the age of 89 on November 25, 2017.