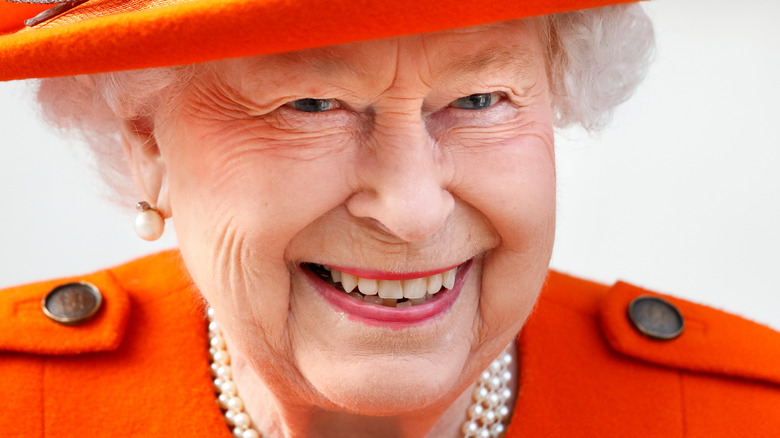 BBC has sadly announced the death of Queen Elizabeth II at 96 years old on September 8. An official statement from the British royal family said, "The queen died peacefully at Balmoral this afternoon."
Throughout her 70 year tenure, the queen was one of the most visible and beloved monarchs in modern history. Born in 1926, she assumed the throne in 1952 at just 25 years old, holding onto the title until her death. In 2022, the queen eventually became the first British monarch to commemorate the Platinum Jubilee, the 70th anniversary of her reign. She was the longest-living and reigning British monarch at the time of her death, as well as one of the longest-reigning in world history.
In addition to reigning over the Commonwealth, which also includes Canada, Australia, India, and South Africa, Queen Elizabeth II served as the matriarch of her own family. Amid recent scandals including her son Prince Andrew, as well as Prince Harry and Meghan Markle's contentious move to the U.S., the queen remained the face of the British royal family and maintained strong public approval throughout her later years. Given her queenly duties and what she represents to the United Kingdom as a whole, one might be curious to know just how much she was worth when she died.
Queen Elizabeth II's net worth was less than you'd think
Given the opulence of Buckingham Palace, you might have expected Queen Elizabeth II to top the list of the world's richest women. However, despite her royal lineage and lifestyle, she's nowhere to be found. According to Celebrity Net Worth, the queen was worth $600 million at the time of her death. While that's a staggering amount for the average person, there are many non-royals whose wealth eclipses it. This might come as a surprise to some, as much of the British royal family's money doesn't belong to them in the form of personal wealth.
Overall, Queen Elizabeth II's assets can be divided into two major categories: her own personal possessions, as well as the Crown Estate. While she didn't technically own the properties and artifacts that make up the Crown Estate, she was able to use and possess them during her reign. Some of the Crown Estate's belongings include Buckingham Palace, the Crown Jewels, and the queen's main residence, Windsor Castle. If you include the Crown Estate and other assets owned by the monarchy as a whole, her wealth is much more impressive, clocking in at $28 billion, per Celebrity Net Worth. As for her personal properties, she inherited Balmoral Castle in Scotland, as well as the Sandringham House, and also owned a stock portfolio independent of the Crown Estate. Not to mention, she received a hefty inheritance when her own mother, Queen Elizabeth the Queen Mother, died in 2002.
Queen Elizabeth II's assets will stay in the family
As the heir to the throne, Prince Charles is on track to inherit most of Queen Elizabeth II's wealth. While her will hasn't been released to the public, the first-born is nearly always the first in succession after a British monarch's passing. The queen's grandson Prince William is second in line with his three young children right behind him. Like the queen, when Charles becomes king, he'll be in possession of all the properties and items in the Crown Estate even if he doesn't technically own them on a personal level.
As for the queen's own properties, it's likely they'll also be passed down to her successor. Just as it was given to her by her father, King George VI, Balmoral Castle has been inherited through generations of British royals since Prince Albert and Queen Victoria in 1852. The queen will probably also bequeath money to her other children: Princess Anne, Prince Edward, and yes, even Prince Andrew. Several members of the royal family reportedly received large sums of inheritance when the queen's husband Prince Philip died in 2021, but his will has yet to be released to the public. With London's High Court ruling it to be kept private for 90 years, it's highly likely that the queen's will go the same way. One thing's for sure, though: we can expect some of it to go to charity.
Queen Elizabeth II was devoted to charity until her death
Contrary to the common image of royalty, Queen Elizabeth II wasn't just sitting on her throne eating bonbons all day. Although she enjoyed a life of luxury, she was still dedicated to philanthropy and charitable causes. Around the time of the queen's Diamond Jubilee celebration in 2012, she was crowned again with a title even more honorable than queen. John Low, a then-chief executive of the Charities Aid Foundation, told The Guardian, "The Queen has set an amazing example when it comes to her charitable support making an enormous difference to millions of people up and down the country; doing more for charity in the last 60 years than probably any other monarch in history."
At the time, the queen was a patron of 510 different charities in the U.K. alone. She's continued her humanitarian streak in the years since, donating to the Disasters Emergency Committee numerous times. From the 2014 Ebola crisis to the 2015 Nepal earthquake to the more recent Russian invasion of Ukraine, the DEC was a regular recipient of the queen's giving. They publicly acknowledged her donation in March 2022, saying on Twitter, "Many thanks to Her Majesty The Queen for continuing to support the Disasters Emergency Committee and for making a generous donation to the DEC Ukraine Humanitarian Appeal." The amount wasn't disclosed as it was a private donation, but the queen's everyday spending habits seemed to have left plenty of room for charity.
Queen Elizabeth II saved so she could splurge
A fool and his money are soon parted, but Queen Elizabeth II was no fool. Outside of a few luxuries she absolutely required, the Queen barely made a dent in her massive $600 million fortune during her lifetime. Some have credited this to her upbringing during World War II, which lasted from her early teen years into young adulthood. In fact, she even used ration coupons to buy the material for her wedding dress. Nevertheless, the dress was still expensive. According to Business Insider, it cost $42,000 in 1947, which would be $1.6 million adjusted for inflation today. According to this estimate, it remains the most expensive wedding dress in British royal history, beating out those of Princess Diana, Kate Middleton, and Meghan Markle.
However, despite going all out for her big day, the queen was known to rewear her clothes through her later years. In 2022, Vogue called her "the original outfit repeater." Angela Kelly, the queen's personal stylist, said, "Her Majesty is always thrifty and likes her clothes to be adapted and recycled as much as possible… After two or three outings, a piece will have become familiar to the media, so we will either look for ways to modify it or it will become something that is worn on private holidays." While the war is long over, it sounds like the queen held onto the financial attitudes of that time — but will her successor?
The next king could surpass Queen Elizabeth II's net worth
With a net worth of $100 million, according to Celebrity Net Worth, Queen Elizabeth II's son Charles holds his own among his royal relatives. After the death of his mother, he's now the richest living member of the British royal family. Depending on how much Charles inherits from the queen when he becomes king, his net worth could soon surpass hers by far. While she'll likely want to split it among other family members, if he receives the entirety of her $600 million net worth in addition to his own, Charles will have a whopping $700 million combined net worth. Although we likely won't know the contents of the queen's will right away, updated estimates of Charles' net worth in the next few months should give an idea of how much he's inherited.
While the royal family will undoubtedly be mourning Queen Elizabeth II in the weeks and months to come, they've already been preparing for arrangements after her death. Charles' king coronation has been planned for years, under the code name "Operation Golden Orb." Despite its glamorous working title, some royal commentators think it'll be a less flashy affair than the queen's 1953 coronation. In February 2022, Russell Myers told the Mirror, "A shorter, cheaper and less ostentatious ceremony at Westminster Abbey […] will be welcomed by a public more concerned with the ever-increasing costs of living rather than what insignia will be used on postboxes." Maybe Charles will buy his suit with ration coupons!