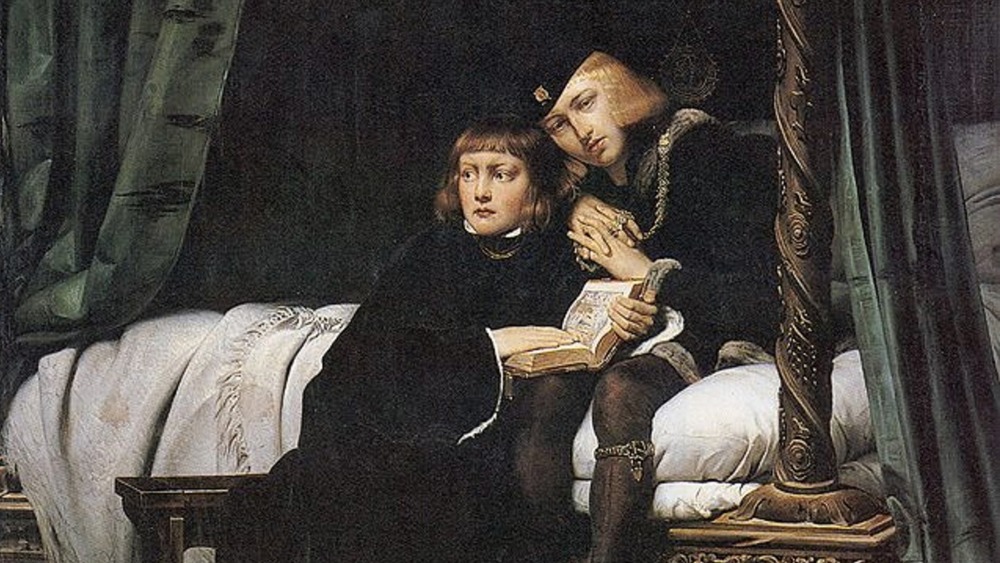 If you thought your family had skeletons in the closet, just think how many would fit inside Buckingham Palace. Metaphorically speaking, in most cases at least.
Securing the throne has historically been a bloody business, so it's not too surprising to learn that there have been some unsolved royal and royal-adjacent murders over the centuries, not to mention mysterious disappearances. But the throne has also affected matters of the heart. There are rumors of marriages so secret, in defiance of the expectations of the rest of the royal family, that we don't even know for sure whether they took place.
One perk of being a member of the royal family is having the power to cover up alleged behavior that, if true, would land anyone else in prison. Warning: this article deals with accusations of Nazi connections and pedophilia. These are the most bizarre unsolved mysteries of the British royal family, including forbidden love stories, accusations of infidelity, a possible Jack the Ripper connection and a 19th-century murder mystery.
What happened to the Princes in the Tower?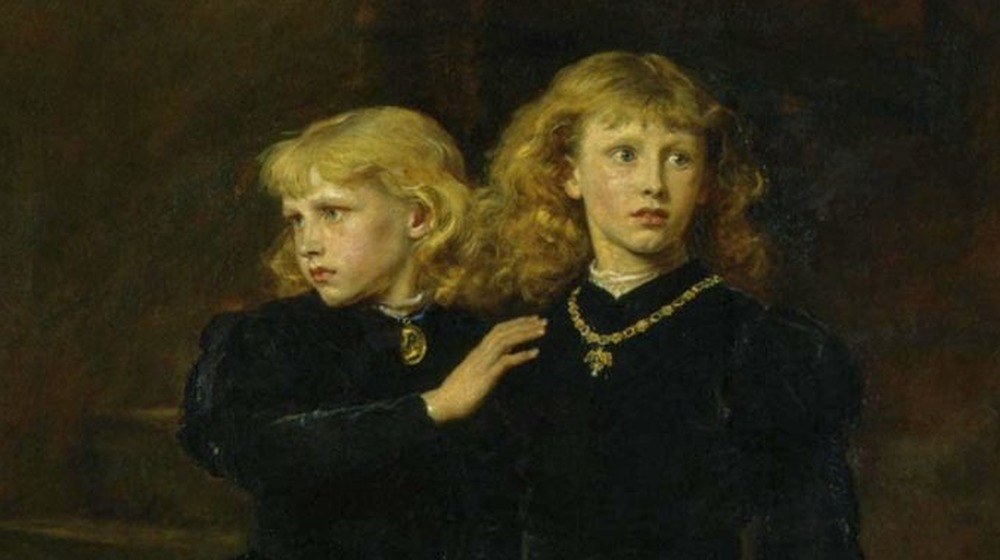 The most infamous mystery in British royal history is still unsolved — although one man has been the prime suspect for over 500 years. In 1483, Edward IV died unexpectedly, making his 12-year-old son Edward V. However, before his coronation, Edward V was abducted by his father's brother Richard, Duke of Gloucester. The Duke moved Edward V and his younger brother Richard, Duke of York (royals are not known for imaginative naming practices) to the Tower of London, supposedly for their protection. He also had them declared illegitimate and crowned himself Richard III. The last recorded sighting of the boys was on June 16.
Bumping off rivals was part of being royal: Edward IV and Richard III had already killed Henry VI and their other brother, George, Duke of Clarence. But murdering children was beyond the pale even then.
As BBC History Extra explains, many people believe that Richard III ordered the executions of his nephews to strengthen his claim to the throne. Richard stood to benefit the most and had access to the boys in the Tower. However, there's no concrete evidence confirming his guilt. Many of the accounts pointing the finger at him came under Henry VII and his descendants, whose shaky claim to the throne hinged on Richard III being a usurper. The vast majority of historians conclude that while Richard III is suspect number one, we'll probably never know what happened.
Was Perkin Warbeck really a long-lost prince?
The mysterious disappearance of the princes caused trouble for Richard III's successor/usurper, Henry VII. Henry had only a tenuous claim to the throne, and one of the most significant threats against him was a man who turned up in Ireland in 1491. He initially claimed to be Edward, Earl of Warwick, Edward IV's and Richard III's nephew, then switched his identity to Richard, Duke of York, the younger of the two princes.
"Richard" went on a tour of Europe, drumming up support from continental courts, including Holy Roman Emperor Maximilian I, James IV of Scotland, Charles VIII of France, and Margaret of Burgundy, Richard's aunt. It's unclear whether they believed he was a prince or simply wanted to destabilize Henry VII. Over the next six years, "Richard" tried unsuccessfully to invade England multiple times. He was eventually captured in 1497, at which point he confessed that his name was Perkin Warbeck and he was a commoner from modern day Belgium. Henry showed mercy and put Warbeck under house arrest, the Independent reports. But after Warbeck escaped and was recaptured, Henry imprisoned him at the Tower — in a cell next to the real Earl of Warwick. After another failed coup, in 1499, Warbeck was hanged and Warwick was beheaded.
It's widely believed that Warbeck was a fraud. But without hard evidence either way, some find the idea that one of the princes survived to reclaim his throne an appealing fairytale.
Was Richard III illegitimate?
In August 2012, researchers unearthed Richard III's long-lost skeleton beneath a parking lot. As the BBC reports, DNA tests on matrilineal descendants confirmed the body was Richard III. But further tests raised more questions than answers. In 2014, researchers compared Richard III's DNA to that of five living patrilineal descendants of Richard's great-great-grandfather (through his male relatives), Edward III. They specifically looked at a gene that is passed down on the Y chromosome. Theoretically, it should be the same for all biologically male patrilineal descendants of Edward III. But there was no match between Richard III and those five. This means that at some point, a son was born with a father other than the one on the official family tree.
The Jerry Springer-esque confusion didn't end there. A year later, a patrilineal descendant of Edward III's great-great-great-grandfather Geoffrey, Count of Anjou, came forward to compare his Y chromosome with Richard III's. If it matched, the break in the male line came at some point after Richard. If it matched those of the five descendants, it meant they were the ones connected to Geoffrey and therefore also to Edward III — and Richard III wasn't related to either. However, it matched neither, meaning there was another break somewhere.
Historians aren't too concerned that these revelations could undermine the current royal family's claim. There are more generations between Richard and these five descendants than between him and Edward III, so the break probably happened long after his birth.
Did Elizabeth I's lover have his own wife murdered?
In 1560, Elizabeth I faced a crisis when her favorite courtier and rumored lover Robert Dudley, future Earl of Leicester, was accused of murdering his wife so he could marry the queen. Did Elizabeth I — supposedly the Virgin Queen — have an affair with Dudley? Probably to some degree. The two had been close since childhood and that relationship continued once Elizabeth became queen. She actually moved Dudley's bedroom next to her rooms, according to BBC History Extra, even though he was already married to rich and beautiful Amy Robsart.
By September 8, 1560, Robsart was in poor health, possibly due to cancer. That day, with her husband in court with Elizabeth, she sent all her servants to a village fair. Hours later she was found dead at the bottom of a set of stairs, with a broken neck.
An inquest ruled Robsart's death an accident, but rumors swirled that she had either died by suicide or had been murdered. Dudley was the prime suspect: people believed he'd wanted his wife out of the way so he could marry Elizabeth. However, the public reaction forced Elizabeth to distance herself from him. After failing to convince her to marry him, Dudley started an affair with one of her ladies in waiting, whom he secretly married when she became pregnant — a move that enraged Elizabeth.
Did Mary, Queen of Scots have her husband murdered?
To say Mary, Queen of Scots was unlucky in love would be an understatement. Her first husband — sickly French king Francis II — died when he was 16 and she was 18. Her second husband, her cousin Henry Stewart, Lord Darnley, was an arrogant, violent womanizer who wanted her throne. When Mary was six months pregnant with their son — the future James I of England — he had her friend brutally murdered right in front of her.
Darnley didn't exactly get away with it. On the night of February 9, 1567, Mary and baby James were staying in Holyrood House, while Darnley was on the other side of Edinburgh in a house called Kirk o' Field. At around 2am, a huge explosion ripped through Kirk o' Field. Darnley and his servant were found dead in a nearby field — but they had been strangled.
Although many people had motive to kill the widely hated Darnley, Mary was immediately suspected of arranging the murder. The extent of her involvement is still unknown, but she proved hesitant to prosecute the suspects. The main suspect was James Hepburn, Earl of Bothwell. Bothwell had been a staunch supporter of Mary, and after Darnley's death, he decided to marry her. According to BBC History Extra, Bothwell kidnapped and raped Mary, thereby forcing her to marry him. The controversial marriage ultimately saw Mary lose her throne and later her head.
Did George III secretly marry Hannah Lightfoot?
George III is still Britain's third-longest-reigning monarch, behind his granddaughter Queen Victoria and great-great-great-great-granddaughter Elizabeth II. But his 59-year rule is best remembered for two not-great things — from Britain's perspective, anyway. First, losing America as a colony, and second, the madness that required his son to step in as regent.
Another not-politically-great thing George III may have done was secretly marry a Quaker woman, Hannah Lightfoot, in 1759 when he was Prince of Wales. According to historian Alison Weir, Hannah was the commoner daughter of a shoemaker, and the couple had three children together. As the BBC reports, in 1761, George was forced to make a political marriage to Charlotte Sophia of Mecklenburg-Strelitz, but supposedly failed to dissolve his first marriage. This would make the marriage of George and Charlotte illegal, and their descendants — including every monarch since Queen Victoria — illegitimate.
Given the cataclysmic impact this would have on the royal family, it's not surprising that they have refused to grant access to documents that could potentially prove the marriage took place. Ironically, on its profile of George III, the royal family's official website insists: "after his brothers made unsuitable secret marriages, the Royal Marriages Act of 1772 was passed at George's insistence."
Was the Duke of Cumberland nearly murdered by his valet?
The title of Bloodiest British Royal Mystery goes to the events of May 31, 1810. It involves George III and Queen Charlotte's son Prince Ernest Augustus, Duke of Cumberland, the future King of Hanover.
Early that morning, an assailant broke into the Duke's bedroom and attacked him with a saber, splitting open his head in a cut so deep his brain was exposed, according to BBC History Extra. The Duke screamed for help, but by the time his page Cornelius Neale arrived, the attacker had fled. Neale tended to the bleeding but somehow alive Duke then roused the staff to search for the attacker. Instead, they found the body of valet Joseph Sellis in his bedroom. His throat had been cut so deep with a razor that he was practically decapitated.
An inquiry concluded that Sellis had attacked the Duke, probably in a robbery gone wrong, and then killed himself. Sellis had been dismissed from a previous position after being accused of stealing, and his slippers were found in the Duke's closet, as though he'd been hiding in there. However, there are skeptics who point out that the razor was nowhere near the bed (a police officer claimed he moved it) and that it would be hard to inflict that kind of wound on oneself. Some suspect Neale attacked the Duke and framed Sellis, who had accused him of stealing. Even the royals aren't immune from true crime.
Did Queen Victoria have a secret second husband?
Queen Victoria was so devastated by the loss of her husband Prince Albert in 1861 that she mourned him the rest of her life. But that may not be the full story. After Albert died, Victoria found consolation with another man, one considered much less suitable for a queen. John Brown — not the abolitionist John Brown — was the son of a small-time Scottish farmer who joined the Royal Household as a servant in 1851. He mainly served Albert, but after Albert's death, the emotional support he provided the widowed queen saw him promoted to her Personal Attendant. He even tackled a would-be assassin to protect her.
Whether this relationship was romantic has been debated. Letters and diaries that could have provided evidence have been burned or edited. As the Telegraph reported, there were even rumors of a secret marriage, bolstered slightly in 2003 when contemporary diaries were published in which the author claimed fourth-hand knowledge of a reverend's confession to marrying the couple.
What is clear, as the New York Times reports, is that Victoria loved Brown deeply, romantically or otherwise. When she died — in 1901, 18 years after him — she was buried with mementoes from both Albert and Brown, including the latter's mother's wedding ring.
Was Queen Victoria's grandson Jack the Ripper?
It's been more than 130 years since the London serial killer known as Jack the Ripper killed his first known victim, homeless woman Mary Ann "Polly" Nicholls, on August 31, 1888. Since the murderer's identity has never been confirmed, new suspects are still cropping up. But probably the most famous is Prince Albert Victor, known as Eddy, the grandson of Queen Victoria and second in line to the British throne.
At the time, Eddy was not a suspect. His name was only raised in 1970, thanks to a cryptic journal article written by surgeon Dr. Thomas Sewell. As the New York Times points out, in the article, Sewell only wrote that he suspected the murderer was "of a noble family": he later specifically disputed accusations against Eddy. But so-called Ripperologists have been throwing Eddy's name around ever since. Their only other "evidence," as BBC History Extra reports, was that a tall, aristocratic person had been seen near one of the crime scenes. Eddy was, indeed, tall as well as aristocratic. But he was also reportedly in Balmoral, Scotland, when the murders took place.
Of all the mysteries on this list, this one has the easiest conclusion. But unfortunately for the prince, until we find out who the killer really was — which we probably never will — he'll forever be associated with Britain's most famous murder mystery.
Did Edward VIII plot with Hitler to overthrow his brother George VI?
Edward VIII (later the Duke of Windsor) is most famous for abdicating the throne to marry American divorcee Wallis Simpson. But he's also become infamous for his loud and early support of the Nazis. According to the Washington Post in July 1933, Edward commented that the British government shouldn't get involved in German affairs, including in their persecution of Jewish people. In 1937, the Duke and Duchess of Windsor took a two-week trip to Germany — funded by the country's government — where they returned the cheering crowds' Nazi salutes, met with high-ranking Nazis, and visited Hitler in the Bavarian Alps. Even after Britain declared war on Germany, Edward VIII was accused of making pro-Nazi statements.
It's clear that the Duke and Duchess were Nazi cheerleaders, but unclear exactly how far they were willing to go in their support. In 1957, telegrams were published that revealed a 1940 German plot to kidnap the pair and reinstate them as puppet rulers after the Nazis had taken over Britain. The telegrams claimed that the Duke and Duchess were aware of the plans and took them into consideration.
For what it's worth, Prime Minister Winston Churchill and President Eisenhower both concluded that the telegrams exaggerated the Duke and Duchess's knowledge of the plot, and the Duke denied all knowledge. But his Nazi sympathies, at least, were very real. And he likely wasn't the only royal to harbor them.
Was Lord Louis Mountbatten a pedophile?
Louis Mountbatten was Prince Philip's uncle, a distant cousin of Queen Elizabeth II, and a mentor to Prince Charles. He served in esteemed military positions during World War II — mostly because of his aristocratic status — and was partly responsible for the disastrous partition of India and Pakistan. And according to recent research by British historian Andrew Lownie, he was also a pedophile.
Mountbatten and his wife Edwina both had a lot of affairs, which was known at the time, and there's evidence that Mountbatten was bisexual, according to Lownie. None of which is out of the norm. However, horrifyingly, Lownie says that Mountbatten also abused young boys. Lownie writes that a secret FBI file recorded that Mountbatten was known to take boys from Kincora boys' home in Belfast on vacation, and abuse them. The author also claims to have spoken with two survivors, who were 16 at the time of the alleged incidents.
On the one hand, Lownie's sources — including the FBI file, two first-hand accounts from survivors and previously reported accounts, including one from Mountbatten's driver — are pretty solid. On the other, he appears to be the only one pushing these claims publicly. Without hard evidence, it will be hard to convince the public — let alone the Palace — to come out against such an established figure.
What does Prince Andrew know about Jeffrey Epstein?
The biggest scandal to rock the British royal family since Edward VIII's Nazi connections revolves around Elizabeth II and Prince Philip's third-oldest child, Prince Andrew, and his connection to disgraced financier Jeffrey Epstein. According to the BBC, the pair were first spotted together in 1999.
In 2006, Epstein faced a grand jury over accusations that he had solicited sex acts from teenage girls. His lawyers worked out a plea deal to prevent a further FBI investigation. In 2008, he pled guilty to two counts of solicitation of prostitution, including one involving a minor. Epstein served 13 months of an 18-month prison sentence that allowed him to work at his office six days a week, according to the BBC. In 2019, after settling multiple civil lawsuits, Epstein was arrested on charges of sex trafficking involving dozens of underage girls. He died by suicide in August 2019.
In 2010, Andrew was photographed with Epstein. He later claimed that he was breaking off their friendship — two years after Epstein's first conviction. In 2015, Virginia Giuffre (formerly Roberts) claimed in a Florida court filing that Epstein and his girlfriend Ghislaine Maxwell — also Andrew's friend, the BBC reports — had forced her to have sex with the prince three times when she was underage. She provided a photo of herself with Maxwell and Andrew.
The prince has denied Giuffre's claims, as has the Palace. Prosecutors in New York formally requested an interview with Andrew in June 2020.