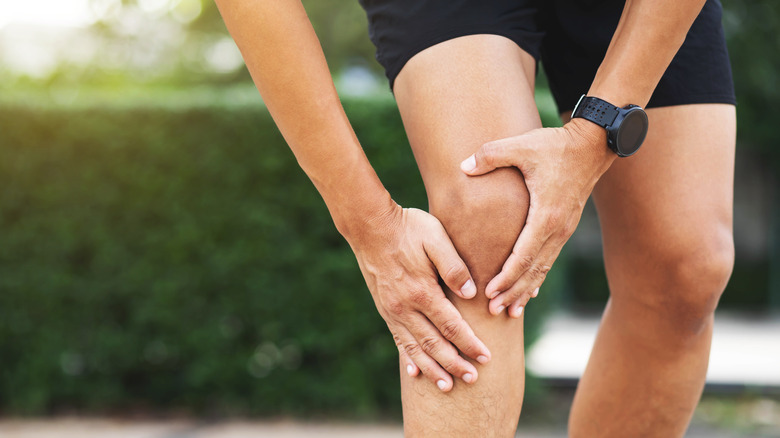 Injuries are just a natural part of sports. If you've ever played one, even if it was just street hockey as a kid, you know that they're almost inevitable. Yes, they stink — both for the athlete and for the fans — but when men and women are competing at the highest speeds and levels, accidents are bound to happen. And when they do, injuries are bound to occur.
Some injuries are fairly minor, taking players out of the game for just a few days, maybe even a few weeks. But some sports injuries are so traumatic that they can change the course of the athlete's career. There are injuries so horrific that it's hard to believe the athlete managed to survive at all. Here's a look at some of the worst sports accidents that athletes miraculously survived. Warning: some of these are not for the faint of heart!
Clint Malarchuk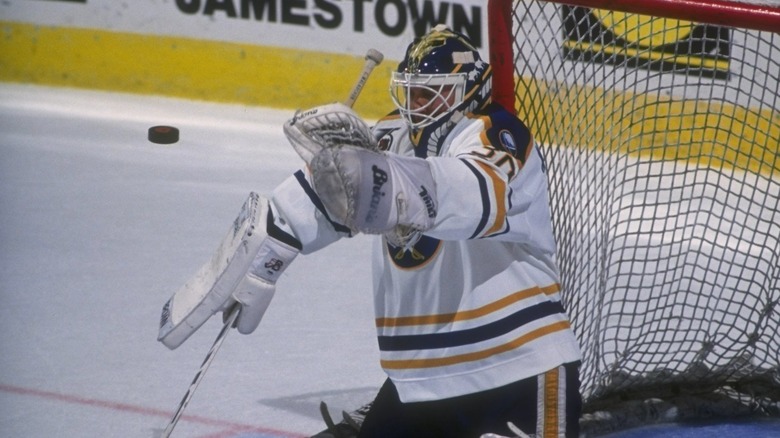 Goalie Clint Malarchuk played in the NHL for 11 seasons and has coached for several major and minor league teams. But despite everything else he has done in the sport, he will always be best known for surviving one of the most horrifying sports accidents ever aired on television. It happened on March 22, 1989. Malarchuk was in net for the Buffalo Sabres when St. Louis Blues player Steve Tuttle crashed into him. Tuttle's skate flipped up and slashed Malarchuk's throat wide open, severing his carotid artery (via ESPN).
Malarchuk collapsed and was only saved by the quick thinking of the team trainer, Jim Pizzutelli, who happened to be a former Army medic who had served in the Vietnam War. Drawing on his combat experience, Pizzutelli managed to stabilize Malarchuk long enough to get him to the hospital. He only missed a handful of games before returning to the ice.
Bethany Hamilton
At just 13 years old, professional surfer Bethany Hamilton was already on her way to stardom, having won two junior titles. But both her career and life were put in jeopardy on October 31, 2003, when Hamilton was attacked by a 14-foot tiger shark, an attack that completely severed her left arm below the shoulder (via Distractify). A friend fashioned a tourniquet out of a surfboard leash and rushed her to the hospital. Despite losing more than 60% of her blood and going into shock, Hamilton somehow survived.
She returned to surfing and has won several titles in a storied career that continues to this day. Her inspirational story was the basis of the hit film "Soul Surfer," and she is also the subject of the documentary "Bethany Hamilton: Unstoppable." "My fear of losing surfing was greater than my fear of sharks," she told The Guardian during an interview about the latter.
Mike Harmon
Professional stock car racer Mike Harmon has competed in more than 250 races over the course of his career. But he will always be remembered for a terrifying incident that didn't even happen on the rack. Instead, it was during a practice session at Bristol Motor Speedway in August 2002 when Harmon crashed into the track's entry gate (via ESPN). The gate swung open, and Harmon's car hit the exposed corner of the wall head-on. The car literally split in half, right down the middle.
Even worse — yes, amazingly, it gets worse — the remnants of the car were then obliterated by the car of Johnny Sauter, who had been racing right behind Harmon. Luckily, Sauter hit the half of the car that Harmon wasn't in. Through a combination of that and some other incredible miracle, Harmon wasn't even injured and walked away from the crash completely unharmed. Talk about luck!
Wayne Shelford
In 1986, rugby star Wayne Shelford of the New Zealand All Blacks earned the unofficial title of "Toughest Man to Ever Live" when he survived an absolutely gruesome accident on the pitch (via The Versed). It happened in a match against France that was so violent, it earned the nickname "The Battle of Nantes."
At the bottom of a massive pileup, Shelford was stuck in the groin by an opposing player's boot. The player's cleats ripped Shelford's scrotum open, leaving one of his testicles dangling free in the wind. Any normal man would have dropped dead on the spot, but Shelford not only survived, he actually asked the team trainer to stitch his scrotum back together so he could return to the game. "Getting torn down below wasn't that painful, but the actual concussion lasted about three or four weeks," he said in a wide-ranging interview with Stuff.
Kevin Pearce
Kevin Pearce was one of the biggest, brightest stars on the professional snowboarding circuit. At the 2008 X-Games, he became the first athlete in X-Games history to win three medals in a single day, bagging awards in the SuperPipe, Slopestyle, and Big Air competitions. But his rising star was suddenly eclipsed on December 31, 2009.
While training for the 2010 Winter Olympics, Pearce attempted a difficult maneuver called the cab double cork. It went terribly wrong, and he smashed his head directly into the half-pipe (via The Telegraph). He was airlifted to a hospital with massive brain trauma, which he somehow survived, though he would spend the next six months in the hospital. In 2010, he bravely returned to snowboarding, but only recreationally — his career was officially ended by the accident that he was lucky to survive. According to Today, he has found new passions in things like meditation, yoga, and philanthropy.
Steve Yeager
Finally, there's catcher Steve Yeager. Unlike most of the athletes we've mentioned, Yeager is actually best known for his sporting accomplishments, rather than his accident, as he won the World Series MVP in 1981 with the Los Angeles Dodgers as part of a 15-year major league career. But it's a miracle he even had that opportunity, given the life-threatening freak injury he experienced back in 1976.
Yeager was waiting in the on-deck circle when the bat of his teammate, Bill Russell, shattered. A jagged chunk of wood splintered off the bat and flew directly into Yeager's throat, lodging in his esophagus (via Society for American Baseball Research). Yeager collapsed, blood spurting from his neck, and he was rushed off for emergency surgery (per The New York Times). The immediate action saved his career, his esophagus, and his life, and it also inspired the invention of the throat protector now worn by baseball catchers around the world.
Jessica Dube
Jessica Dube and Bryce Davison were one of Canada's top up-and-coming pair skaters when they entered the Four Continents Ice Skating Championship in Colorado Springs in 2007. Just the year prior, they placed in the Top 10 of the World Figure Skating Championships, per CNN. Dube and Davison were also a dynamic duo who, although speaking different languages, were of the same mind and always in sync. But that chemistry broke for a crucial moment during their routine when Davison and Dube launched into a side-by-side flying camel, which involves extending a leg while spinning, per The Denver Post. Spinning somewhere between 40 to 60 mph, Davison's blade came too close to his partner on his third revolution, slicing Dube in the face.
Dube fell as blood spilled onto the ice. She was given morphine and rushed to a nearby hospital, where the laceration cut into her cheek and nose and required surgery. She was given 80 stitches, and both she and Davison underwent post-traumatic stress counseling. Davison said he knew they were getting too close right before it happened, and he dealt with immense guilt in the aftermath. The injury could've been worse, either by hitting her eye or her jugular vein, per CNN. But only 10 days after the accident, the pair returned to skating and placed seventh in that year's World Championships. The two went on to have fruitful careers and received a bronze medal at the 2008 competition, per The Globe and Mail.
Darryl Stingley
In what has been called the most violent hit in NFL history, New England Patriots receiver Darryl Stingley was left paralyzed. Stingley was 26 years old and a five-year veteran for the Patriots on the night of August 12, 1978. He ran a slant while his quarterback, Steve Grogan, threw the ball over the middle. Just as Stingley reached for the ball, Raiders safety Jack Tatum — who was called "the assassin" for his violent style of play — lunged at him. Tatum lowered his shoulder and bore his helmet and forearm into Stingley's facemask, per Bleacher Report. It was a routine hit for Tatum, who was never apologetic for his aggressiveness and expected Stingley to get right back up, per ABC News. But Stingley didn't — he lay unconscious.
Stingley was put on a stretcher and taken to a nearby hospital, where he stayed for three months. The hit dislocated two vertebrae in his neck, effectively damaging his spinal cord. The injury made him quadriplegic, and he depended on a wheelchair after. He may have survived the hit in the following years, but the injuries ended up taking a toll; he died in 2007, and his autopsy revealed that his spinal injury was a contributing factor. Although his hit was brutal, Tatum was never fined since it wasn't illegal. In the aftermath, NFL team owners agreed to NFLPA demands to grant disability compensation to players injured because of the game.
Napoleon McCallum
Ideally, Napoleon McCallum should be remembered for taking time off from the NFL to serve for the U.S. Navy as a star running back for its football team. But one footnote in his career ended up epitomizing how brutal the sport could be. Four years after returning from service, McCallum played the 1994 season opener with the team that drafted him, the Los Angeles Raiders. The group was on the road, and their opponents were the San Francisco 49ers. In a play that changed his life, he was tackled by Ken Norton Jr. The hard-to-watch video of the injury shows Norton landing on McCallum's leg, causing it to bend in the wrong direction. His left knee was hyperextended, leaving a ruptured artery, three torn ligaments, and nerve damage. His calf and hamstring muscles were cleaned off the bone.
Even with the grotesque injury, McCallum had hope for recovery and a return to the field. But his doctor dampened those hopes, telling him that his career was effectively over. What's more, the fate of McCallum's leg depended on a successful surgery. If it didn't go well, his leg could get amputated. Thankfully, the surgery went well, although there were six in total, not counting the physical therapy, per Sportscasting. Although football ended for McCallum, he kept active after his recovery by running, cycling, swimming, and playing basketball, per the Los Angeles Times. He also didn't blame anyone and didn't think it was a vicious play.
Zach Miller
On October 29, 2017, Chicago Bears tight end Zach Miller experienced a hyperextension of the knee during a bad fall in the end zone, per Bears Wire. The Bears were losing 14-3 to the New Orlean Saints when quarterback Mitch Trubisky lobbed the ball toward Miller. If everything went perfectly, Miller would have caught it, putting his team within four points of the Saints. Miller had been a reliable weapon for the offense, having racked up 1,161 yards in three years. The touchdown happened as planned but with some unintended consequences. Just as he caught it, with a defender pushing him from behind, Miller landed awkwardly, with his left knee hyperextending and bending in the wrong direction, per the NFL.
At first, Zach Miller thought he only tore his ACL. He didn't understand the severity of it until he was on the stretcher receiving well-wishes from teammates. Miller recalled his leg appearing blue and swollen, and when he was placed into the ambulance, he lost feeling in his leg. It was an hour before he received emergency surgery, and the tissue in his leg had already begun to wither from blood loss and a lack of oxygen. His doctors told him he was only minutes away from being amputated. Luckily, he was able to avoid that scenario and was walking again not a year later, per Fox News. After nine surgeries and an attempt at a comeback, Millier finally retired in 2019, per Chicago Tribune and Bears Wire.
Trent McCleary
Montreal Canadiens forward Trent McCleary was seconds away from death after a slapshot stuck a hockey puck into his neck. It was January 29, 2000, when McCleary put himself in between Philadelphia Flyers defenseman Chris Terrien and Canadiens goaltender Jeff Hackett. At first, McCleary thought the puck would hit his shin guard, but then he realized how high it was flying. Before he knew it, it hit his throat. He lay on the ice, spitting up large amounts of blood, per CBC. He couldn't breathe, which confused him, but he was able to stand up and skate to his bench. Moments later, he lost consciousness. It turned out McCleary had a fractured larynx and a collapsed lung. He required an emergency tracheotomy while still wearing his hockey gear and skates, and for 24 hours, he was in critical condition, per the Los Angeles Times. For a while, he couldn't speak.
McCleary, who suffered two other major injuries in his career, tried to make a comeback, but his oxygen supply never recovered. He began a second career as a financial advisor and now coaches a bantam hockey team on the side. McCleary believes that the puck hit him in the unluckiest spot possible — where it would do the most damage — but he still doesn't regret his block and has gone so far to say that he would do it again if he could. The career-ending injury that nearly killed him earned him the moniker "the shot," per CBC.
Geoff Bodine
NASCAR has no shortage of dangerous, death-defying wrecks, but the Daytona 250 wreck in 2000 has to be among the worst. It was the debut of the NASCAR Truck Series, and driver Geoffrey Bodine, who previously won the 1986 Daytona 500, was competing (per ESPN). Halfway through the race, his truck slammed against the catch fence at 190 mph and flipped nine times, per WFTV. The crash tore 50 feet of wire mesh from its steel rods, and Bodine lost consciousness at the initial crash, hearing only noise as his truck combusted and disintegrated. The engine fell away from the truck and landed elsewhere in smoke. Footage of the crash reveals the state of the truck: only a heap of metal, completely indistinguishable from the dark vehicle it was moments before (via YouTube). Eleven other trucks were drawn into the crash, and five spectators were injured by debris. Other drivers struggled to see with all the smoke. Along with Bodine, driver Jimmy Kitchens went to the hospital for treatment, per ESPN.
The severity of the crash led many to believe Bodine to be dead, but as he reached up from under the wreck, they realized he miraculously survived. He was sent to the ICU with a concussion, a facial laceration, a right wrist fracture, and a vertebrae fracture. Still, the horrific crash didn't stop Bodine — he missed only 10 races before he returned to the road and raced for another 12 years.
Anita Alvarez
In a frightening, worst-case scenario, swimmer Anita Alvarez fainted underwater during a solo free routine on June 22, 2022. Alvarez was competing in the World Aquatic Championships in Budapest, Hungary when she started sinking to the bottom of the pool. Her coach, Andrea Fuentes, dove in and rescued her immediately. Fuentes was on top of the situation, having noticed that Alvarez's feet were paler than usual earlier that day, per CNN. It was also the second time she rescued her — the first happened during an Olympic qualification event. Alvarez was carried off in a stretcher, but a medical test conducted later showed that she was in good health. Alvarez said the last thing she remembered was not feeling well before fainting, per Fox News. But she shouldn't have felt too down about the situation — her mother thought it was her best performance ever. Besides the fainting, of course.
It might sound counterintuitive, but fainting in pools isn't completely abnormal for artistic swimmers. They're expected to hold their breath for stretches of time with the goal of improving their lung capacity, per CNN. Still, the situation was dangerous, so it was impressive when Alvarez expressed hopes of competing two days later after doctors gave her the clearance. In the end, she was sidelined, per the New York Post.