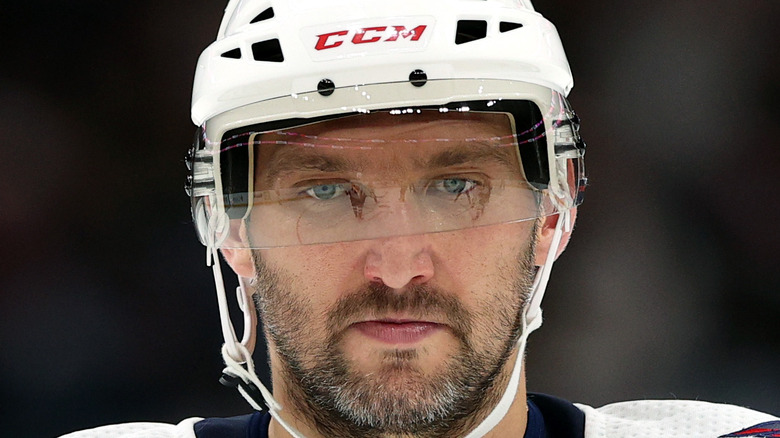 It's not all that surprising that ice hockey, the only sport where fights are not only allowed but often celebrated, has seen its fair share of tragedy. Any game that physically punishing is going to see some scary injuries, downward spirals, and generally strange behavior. Even outside of issues related to on-ice activities, plenty of players have their own sad stories. Some have lost loved ones in tragic ways, while others ended up in distressing situations by no fault of their own.
Despite many of these athletes being a hockey Hall of Famer, a surefire future Hall of Famer, or a particularly notorious enforcer, their lives haven't escaped adversity and misfortune. Here are tragic details about some of the most legendary hockey players.
Bob Probert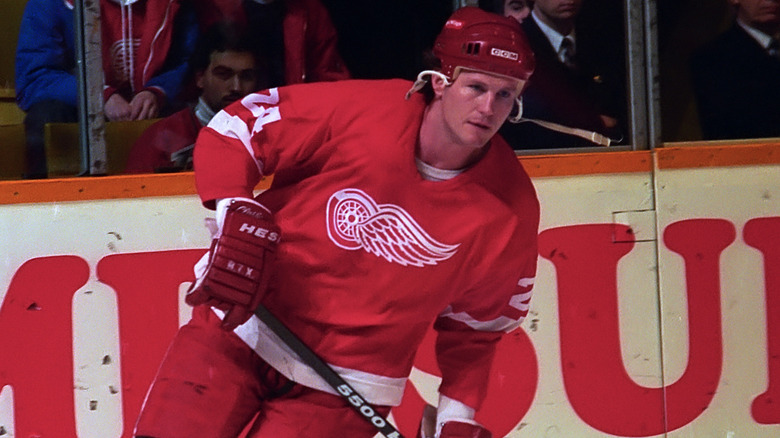 The late Bob Probert was more than just an enforcer: He was the undisputed heavyweight champion of the NHL, with a career spanning 17 years for both Detroit's Red Wings and Chicago's Blackhawks (via NHL). His off-ice life, however, was often in shambles — in particular, he had a massive drug problem that impacted his career.
In March of 1989, Probert was arrested in the Detroit–Windsor tunnel after customs found him hiding 14 grams of cocaine in his underwear. The NHL swiftly suspended him, with league president John Ziegler telling the New York Times that, "If you have drugs in your possession, you're out." Probert spent three months in prison after being convicted of drug possession (via UPI) and was ordered deported to Canada. Probert appealed the deportation, and he was eventually allowed to play for the Wings again — but he'd stay home for road games in Canada. He regained his right to travel in December of 1992, per the Associated Press.
This was far from the end of Probert's substance abuse problems: His Red Wings tenure ended after he got into an alcohol-induced motorcycle accident, and his wife told Sports Illustrated that she'd hide his Oxycontin once his playing days were over. He eventually got the treatment he needed, after multiple rehab stints. He died at age 45 of a heart attack.
If you or anyone you know is struggling with addiction issues, help is available. Visit the Substance Abuse and Mental Health Services Administration website or contact SAMHSA's National Helpline at 1-800-662-HELP (4357).
Mario Lemieux
It's not often someone is both one of the all-time greats and one of the biggest what-ifs. Then again, Mario Lemieux spent his entire career defying explanation. Lemieux was a unique talent, and his all-time great career numbers would have been better if not for persistent health issues.
In the early '90s, Lemieux developed back problems and suffered from a rare bone disease, as per the AP, and missed big chunks of the regular season during Pittsburgh's back-to-back Stanley Cup wins. He was healthy by 1992 and had a historically hot start — breaking Wayne Gretzky's single season scoring records were on the table. Then, as documented on NHL.com, tragedy struck on January 12: Lemieux was diagnosed with Hodgkin's lymphoma. The world's best hockey player saw both his career and life in jeopardy. He left the team and faced two months of radiation treatment.
Miraculously, he had his final treatment the morning of March 2, flew out to Philadelphia to rejoin his team at an away game, and scored a goal and assist, as NHL.com details. (He also got a standing ovation from Philadelphia Flyers fans, which might be more remarkable.) Lemieux also won the Art Ross Trophy that year for most points, despite only playing 60 games.
Even though he continued to play at the highest level imaginable, injuries and exhaustion from his treatment took their toll. He sat out a season and retired for three years before pushing his body as far as it could go. He attempted to make a comeback in 2000, but continued health issues, including a heart problem, sidelined him after only a few seasons.
Bernie Parent
The Philadelphia Flyers are especially notorious for being something of a goalie graveyard – something Five Thirty Eight proved mathematically. Most fans only recognize three true stars: Ron Hextall, Pelle Lindbergh, and — most prominent of all — Bernie Parent. His career also ended tragically, which sent his life into a downward spiral.
Parent's career came to an end on February 17, 1979, in a game against the Rangers. A battle in front of the goal crease saw an errant stick fly upwards, and the blade entered the right eyehole of Parent's mask. He threw his mask to the ice, skated to the bench, and was later diagnosed with a debilitating eye injury. Parent spent months trying to restore his sight, but his right eye was never able to focus properly again. He announced his retirement (per the AP) at season's end.
With his career over at 34 years old, he seeped into a deep depression and developed a severe drinking problem. Eventually, he got help. "I'm grateful that I'm an alcoholic," he told Philadelphia Magazine. "The accident, that took me to where I am today, one step at a time. And each step gets better and better." He's been sober since the early 1980s.
If you or anyone you know is struggling with addiction issues, help is available. Visit the Substance Abuse and Mental Health Services Administration website or contact SAMHSA's National Helpline at 1-800-662-HELP (4357).
Erik Karlsson
There's a strong case to be made that Erik Karlsson — with two Norris trophies and a half dozen All-Star Game appearances to his name — was the best defenseman of the 2010s. He also spent four years as captain of the Ottawa Senators.
Then 2018 happened. It was a bizarre season for the Senators, but an especially tragic one for Karlsson. In late March, Erik and his wife Melinda Karlsson revealed via social media that their son was stillborn. In June, the Ottawa Citizen broke that Melinda filed for an order of protection against Monika Caryk — the girlfriend of Senators forward Mike Hoffman. Melinda claimed that Caryk "uttered numerous statements wishing my unborn child dead" and said that Caryk threatened both her and Erik. She further claimed that Caryk "posted over 1,000 negative and derogatory statements about me …"
Of particular note was a nasty comment on an Instagram post about the stillbirth, which alleged Melinda's use of pain killers being a cause of the tragedy. Caryk and Hoffman denied the accusations, but court records seen by the Ottawa Citizen revealed that the wives of multiple Senators players said Caryk was obsessed with and cyberbullying Melinda for months. According to The Score, the case was ultimately dismissed.
Eric Lindros
Eric Lindros was one of the most intimidating power forwards the NHL has ever seen, notes Bleacher Report, able to combine his size with smooth skills. He also suffered many injuries, partly because of his physical play and partly because he played in an era where headshots were just hunky dory. He also had a contentious relationship with Philadelphia Flyers management, specifically General Manager Bobby Clarke and owner Ed Snider.
As the Philadelphia Inquirer details, Lindros was body checked during a game in Nashville on April 1, 1999, and the trainer determined he had a rib injury. The next day, Lindros' roommate Keith Jones found Lindros in a bathtub, pale and gasping for air. Lindros was brought to a local hospital, where they found out he had a collapsed lung and lost almost half his blood. Any major delay in getting him medical attention would almost certainly have killed him, as the Flyers medical team wanted to fly him back home.
Lindros' father wrote a letter to the Flyers, reprimanding them for almost killing his son. Flyers' management fought back, claiming that Lindros' injuries were from a car accident prior to the Nashville game, and that the athlete brought controversy on himself. Lindros lasted one more season in Philly before demanding a trade, as per the Daily News.
Jaromir Jagr
Jaromir Jagr has excelled at hockey for over three decades and proven that concepts like "aging" just don't apply to some people.
From the mid '90s to about 2000, Jagr also had a huge gambling problem. Sports Illustrated obtained documents showing that he owed more than half a million dollars to CaribSport, a Belize-based betting site. Jagr had a line of credit with the site, and a plan to pay off the debt. He eventually stopped paying, and the site's owner — improbably named William Caesar — pressured him by leaking a story to a webzine.
Jagr paid up, but not before some negative press attention. A Washington Post article revealed that he was a regular at several casinos in Las Vegas and had a private baccarat table at Caesars Atlantic City. Jagr told the Post that "this was all taken care of in 1999 … It wasn't smart. I made a mistake."
Several years later, offshore gambling magnate Steve Budin revealed in his book, "Bets, Drugs, and Rock & Roll" (via New York Magazine), that Jagr was a customer of his. "The guy lost just about every bet he ever made with us," he claimed. "For over a year straight, he'd do nothing but pay us. Ten thousand a game, seven, eight games a week." Budin also claims that Jagr would call in bets from the team locker room and would occasionally show up late for warm ups because he wanted confirmation.
Chris Nilan
Many know Chris Nilan as "Knuckles" Nilan. Getting into over 250 fights over the course of an NHL career will do that. He was a bit smaller than the average enforcer, but he never feared going after the big guys. It helped that he had a scoring touch for several years. Even so, he had a pretty rough go of it once his playing days were over.
Nilan's downward spiral began after major shoulder surgery in 1999. He started taking Percocet to manage the pain, and after developing a tolerance took OxyContin. After trying and failing to quit Oxy, he began doing heroin. The addiction ruined his life and ended his marriage. He recalled to Boston.com that he got into a near fatal-car accident in the midst of withdrawal and walked out of the hospital because he wanted pills more than medical care. He also shoplifted from a Lord & Taylor in 2009. The case was dismissed, but, according to the Patriot Ledger, Nilan paid court costs and was ordered to stay away from that particular department store.
After passing out with a needle in his arm, he realized he needed help: "I was playing Russian roulette with five bullets in the chamber." He had a few stints in rehab, went to an addiction specialist, and has been sober since around 2010.
If you or anyone you know is struggling with addiction issues, help is available. Visit the Substance Abuse and Mental Health Services Administration website or contact SAMHSA's National Helpline at 1-800-662-HELP (4357).
Donald Brashear
Donald Brashear is one of the most notorious enforcers in hockey history. Over a 16 season career, he racked up 2,634 penalty minutes, as per ESPN, and was a feared fighter. Much has been written of several tragic incidents from his playing days and retirement, including his on-ice assault by Marty McSorely (via ABC News) and his money problems, as per the Montreal Gazette, in recent years. But perhaps the most tragic part of his life was his upbringing, as detailed in a Washington Post profile.
Brashear's father, Johnny Brashear, was a violent alcoholic. "If Donald didn't stop crying," his mother, Nicole Gauthier, told the Post, "his dad would grab him by the arm and throw him across the room. He was 6 months old when that happened." Johnny would drunkenly beat Donald before his son was 2. Gauthier eventually escaped the marriage but left Donald behind. Gauthier claimed her new husband, Gerard Roy, was too prejudiced to accept the fact that Donald was also biracial.
Donald reunited with his mother and stepfather when he was around 7 but was also abused there: Roy forced Donald to sleep in a different room than the rest of the family and tied a plastic bag around his waist to contain his bedwetting. Donald soon ended up in the foster care system. Roy denied any racism but admitted that he forced Donald to sleep in a bag, saying "it saved a mattress." Donald Brashear cut off contact with most of his family.
If you or someone you know is dealing with domestic abuse, you can call the National Domestic Violence Hotline at 1−800−799−7233. You can also find more information, resources, and support at their website.
Alex Ovechkin
Alexander Ovechkin is the best goal scorer of the past quarter century, and likely all time, notes ESPN. Even with his preternatural talents, he might never have played hockey if not for his brother Sergei Ovechkin– or, as explained by Russian Machine Never Breaks, the connected tragedy.
When Alexander was 10 years old, his older brother Sergei got into a car accident and, not long after, died of a blood clot. Young Alexander ended up playing in a youth hockey game one day after his brother's death and recounted to Graham Bensinger that despite his grief, he persevered. "I was on the bench, I was crying. … And I played and I was crying," he said.
Alexander rarely discusses his brother, but Sergei is often credited with instilling in him a love of hockey. "He is my idol," Alexander once told NHL.com. "At that moment I realized life is that, when it's gone it's gone. You can't get back. You have to take from life what you can."
Alexander still pays tribute to Sergei, who Alexander believes is "proud of me right now looking at me from upstairs." Sergei's name is stitched in Cyrillic on Alexander's glove, and he often kisses his glove and points to the sky after goals. After Alexander won the Stanley Cup, he visited Sergei's grave with the trophy. He also named first son after his brother.
Doug Harvey
Doug Harvey is probably the best defenseman the game ever saw, pre-Bobby Orr. Even so, he's seldom mentioned in the same breath as other greats — likely in part due to his issues with alcoholism and mental illness during his post-playing days.
Montreal sportswriter Red Fisher notes in "All Roads Lead to Hockey," by William T. Boyd, that Harvey was only a casual drinker during his playing days. "It was after hockey his drinking picked up because he had nothing else to do — nothing could replace hockey in his life." He also dealt with bipolar disorder, and had a hard time holding down a job, even in hockey.
Mark Howe recalled in his book, "Gordie Howe's Son," that one day in the early '80s, he and teammate Dave Keon were walking down the street in Montreal when they found Harvey sleeping on the street. The two pooled $500, brought Harvey to a hotel, and told the clerk to let him stay until the $500 ran out. Former player/coach John Paris Jr. described his experiences with Harvey in his book "They Called Me Chocolate Rocket," speaking highly of Harvey but also noting that he was often disheveled and occasionally smelled of alcohol.
Harvey died in 1989 of cirrhosis of the liver, after spending a year in the hospital getting it treated, as per his UPI obituary.
Viacheslav Fetisov
Viacheslav Fetisov was an integral part of the Soviet hockey dominance through the '70s and '80s, and had a successful NHL career. He also suffered two tragic car accidents.
In 1985, Viacheslav survived an automobile accident, but his 18-year-old brother and teammate Anatoly Fetisov did not. "My parents helped me," he said in an interview with the Hockey Hall of Fame. "They said that I should start playing again right away and live for two people — for myself and for my brother who died."
In 1997, Viacheslav won the Stanley Cup with the Detroit Red Wings. That summer, as recounted by Click On Detroit, he got in a limo with teammate Vladimir Konstantinov and team masseur Sergei Mnatsakanov after a party. The driver, who had a suspended license and likely consumed marijuana in some form that night, fell asleep at the wheel and crashed the limo. Konstantinov suffered a head injury and never played again, while Mnatsakanov was paralyzed from the waist down.
Viacheslav escaped with minor injuries and played one more season with the Red Wings. They won the Cup again in 1998 and wheeled Konstantinov onto the ice to celebrate. Even so, the accident itself has clearly haunted Viacheslav — in 2014, he told WDIV-TV (via the Detroit Free Press) that he thinks the driver crashed the limo on purpose.
Terry Sawchuk
Terry Sawchuk was one of the best goalies to ever play the game and held the league shutout record for half a century. But his tragic story, which he laid out himself in Maclean's in 1959, is just as much a part of his legend.
Terry grew up poor. Mike Sawchuk, his older brother and a goalie himself, died at age 17 of a heart issue. Another brother, Roger Sawchuk, died of a fever. Terry injured his right arm in a rugby game when he was 12. He hid the injury, which resulted in a mangled arm that was two inches shorter than his left.
He estimated that he had over 400 stitches and 60 bone chips during his career, most of it before goalie masks were common. He was eventually forced to wear a mask, but Terry's son, Jerry Sawchuk, told Vintage Detroit that "when a shot hit my dad in the mask, it would actually cut a square or circle in his face." He also had a bad back from leaning over in the crease, and a serious case of mono almost forced him to retire. Terry also played in the most stressful era for goaltending, where teams employed one goalie, and injuries meant a short stitch break. As such, Terry had many nervous breakdowns.
In 1970, he and teammate Ron Stewart got into a drunken argument that resulted in internal injuries that put Terry in the hospital. He died of a blood clot after several surgeries.