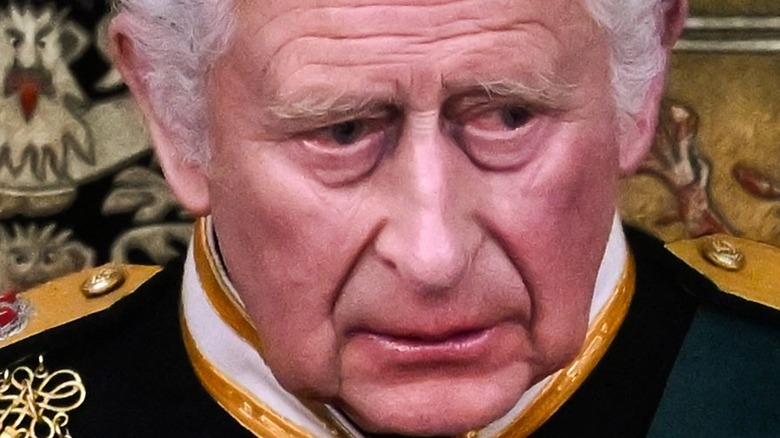 For a family notorious for espousing a "never complain, never explain" philosophy toward public relations, the Windsors have had a lot of dirty laundry aired in public view. Perhaps no single member of the royal family has paid for that more than King Charles III. Magazines and tabloids still devote copy to the many failings of his marriage to Princess Diana (per Vogue), and "The Crown" has been happy to make him into a pathetic or villainous character in turns — never mind historical accuracy (see Vanity Fair). Charles is routinely insulted in the press and has been consistently less popular than his mother, ex-wife, and children among the people he reigns over, according to The New Yorker.
A constitutional monarchy, however, isn't a popularity contest. Charles became king after Queen Elizabeth II's death on September 8, 2022. Before he ascended the throne, Simon Jenkins stuck up for him in The Guardian, and even a few of Britain's republicans have pushed back against his reputation (per The Washington Post). Not only that, but tabloid gossip often distracts from his relevant experience, views, and more serious controversies.
His great uncle stole his coronet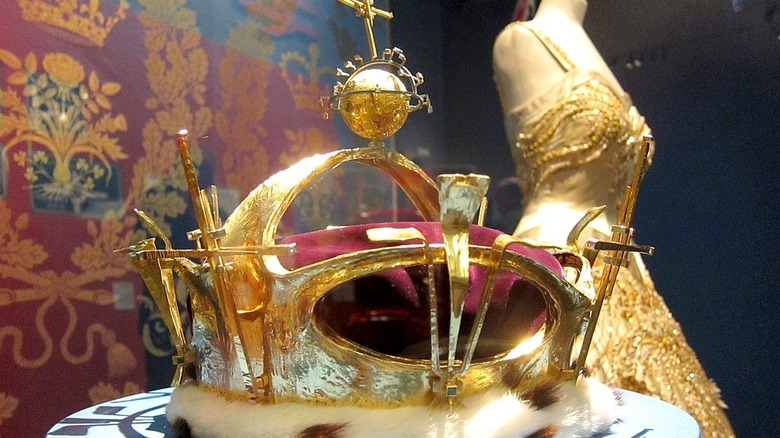 "Prince of Wales" is not a hereditary title but is by tradition granted by the reigning monarch to their heir apparent (per the BBC). King Charles' investiture with that title in 1969 took place against a campaign of Welsh nationalism opposed to "foreign" English rule. The same rising tide inspired a less hostile interest in reviving the Welsh language, and that prompted the government of the day to suggest Charles study and deliver part of his investiture speech in Welsh. A full-throated nationalist, Dr. Tedi Millward, was even hired to be the prince's tutor, to the doctor's surprise (per The Guardian). The gesture didn't appease the most militant of the opposition; there were protests and a failed bombing that claimed the lives of the would-be assassins (per WalesOnline).
There was a smaller controversy around the investiture, too — one part regal, one part domestic. The coronet used in the ceremony has changed with time. When Charles's time came, the coronet of record was the one made for his great-grandfather George V, most recently used for the investiture of Edward VIII. But when Edward abdicated in 1936 and left the U.K., he took the coronet with him — technically breaking the law, according to Town & Country. Faced with the choice to either confront their estranged relative for the coronet back or have a new one made for Charles, the royal family opted for the latter course of action.
He has served in the House of Lords
The reigning monarch of the U.K. is expected to remain neutral in all political matters, instead functioning as a ceremonial and representational head of state (per The Royal Family). There is no such prescribed constitutional role for the rest of the royal family. For 900 years, non-reigning royals, including the Prince of Wales, could have something to do with government by sitting in the House of Lords, Britain's appointed upper house of Parliament.
Charles took his seat in the Lords in 1970, per the official Prince of Wales website. He made some minor history four years later when he delivered a maiden speech, the first time a royal had so addressed the lords since 1884 (per The New York Times). On that occasion, the future Edward VII participated in a debate on slum housing, and in an earlier instance from 1829, feuding royals brought the House of Lords to a standstill. According to a Parliament transcript, Charles spoke about how best to use leisure time.
While royals sat in the House of Lords, it was tradition that they not vote, particularly if they were in direct line for succession; Edward VII considered breaking the precedent in 1884 but was dissuaded, according to the Daily Express. Any temptation for Charles, or a future heir, to pull the trigger was removed in 1999 by Tony Blair's Labour government. According to The Independent, reforms enacted then meant that hereditary peers and members of the royal family lost their seats.
He wanted to be Governor-General of Australia
The British crown still serves as the head of state for 14 former colonies (per the Council on Foreign Relations). In these Commonwealth realms, the monarch is represented by an appointed governor-general, who exercises all of the sovereign's ceremonial and constitutional duties and powers. Governor-generals are, these days, from the realms they serve in and are appointed on the advice of government, but there's no legal reason a royal couldn't take up the job. A younger son of Queen Victoria became governor-general of Canada (per the job's official webpage), and a younger son of George V held the same post in Australia (per the Australian Dictionary of Biography).
Charles fancied following in the Duke of Gloucester's footsteps at one time. On a 1974 visit to Australia, he expressed to the current governor-general Sir John Kerr a sense of malaise with his life, waiting to inherit the crown (via The Guardian). Kerr suggested that Charles could potentially follow him as governor-general of Australia. After the Australian constitutional crisis of 1975, set off by Kerr dismissing prime minister Gough Whitlam, the idea received further consideration. According to The Australian, Charles would have been happy for the job in the 1980s, but it was the opinion of Prime Minister Bob Hawke that Australia wouldn't have him. Charles took the rejection hard. "So, what are you supposed to think when you are prepared to do something to help and you are just told you're not wanted?" he once asked rhetorically.
He got in trouble for a plane crash
Like other members of his family, King Charles III has an interest in aviation. He requested flight training from the Royal Air Force while he studied at Cambridge. He went on to train as a jet pilot in 1971 and qualified as a helicopter pilot in 1974 while serving in the Royal Navy. The latter job was taken up by Charles' son William; after his service, Charles flew with the East Anglian Air Ambulance until retiring in 2017 for full-time royal duties (per the BBC).
Charles didn't enjoy so dignified or planned an end to his own aerial career in 1994. According to The Independent, Charles was a passenger on a Queen's Flight passenger jet when Captain Graham Laurie let him sit at the controls. Faced with high winds, Charles brought the plane down at Port Ellen — 40 mph too fast. The aircraft blew a tire, went off the runway, and crashed nose first. None of the 11 people on board were harmed, but damage to the plane came to £1 million.
An RAF board of inquiry found no fault with Charles on the grounds that he was a passenger. Laurie was considered negligent for having allowed a passenger — even a royal one — to take the controls. It cost Laurie work as an instructing pilot. As for Charles, he announced he was done with flying the following year.
Charles vs. modern architecture
Some of King Charles III's harshest critics over the years have not been British republicans or admirers of Princess Diana but architects. Charles arguably fired the first shot in his decades-long war with Britain's architectural community when he called a proposed addition to the National Gallery "a monstrous carbuncle on the face of a much-loved and elegant friend" in 1984 (per Planetizen). It's modern architecture that has most often summoned the prince's ire and colorful insults, and he hasn't been discreet in lobbying against offensive building projects to some success.
Architects working in modern styles, and their supporters, have been unsparing in their rebuttals. In The Guardian, Douglas Murphy offered a typical example when he accused Charles of wielding sinister influence over which buildings get built, dismissed his tastes as "twee" and "inane," and insinuated that the prince's fondness for traditional architecture aligned him with the dangerous, reactionary political right. Interestingly, public sentiment is closer to Charles' view (per Policy Exchange).
For his part, Charles has attempted to soften his position at times. He's said that he isn't against modernity or in favor of retreating into nostalgia at the expense of the future. The Architectural Review invited him to write an essay summarizing his approach to a human-scale, eco-and-pedestrian-friendly way of building in 2014. And Poundbury, the planned community built along Charles' philosophy, received a thoughtful defense in Architect Magazine.
He chooses to pay taxes
How does a prince pay for his activities? In the U.K., with Duchy of Cornwall. Established in 1337 by Edward III, the duchy is a private estate specifically intended to support the heir to the throne, who is also the Duke of Cornwall. It's made up of over 52,000 hectares split among farms, real estate, natural landscapes, and control of nursery and holiday cottage businesses. Per the duchy's official website, "the revenue from [the] estate is used to fund the public, private and charitable activities of The Duke and his immediate family."
According to the duchy's FAQ, it is considered a private estate granted crown exemption from capital gains tax. It isn't considered a corporation and so doesn't pay corporation tax either. When he was Prince of Wale, King Charles III voluntarily paid tax on his income from the duchy. This is per the Memorandum of Understanding on Royal Taxation (see Gov.uk) between Charles, his mother Queen Elizabeth, and the government.
But memorandums and willing participation in taxation didn't let Charles and the duchy off the hook for criticism. Its status as a private estate is muddied by the fact that it has all the protections and privileges it would have as part of the crown, according to The Guardian. Charles could veto proposed legislation that affects his management of the duchy. And another The Guardian article noted that the duchy's exemptions from business taxes were a potential advantage in competing with commercial estates.
He sells organic groceries
You probably won't run into King Charles III in a U.K. grocery store, but you may well see his wares. In 1992, Charles established Duchy Originals, one of the first organic food companies (via NPR). Initially, his own estate supplied grains, dairy, and vegetables for the brand. Other producers partnered with Duchy Originals in time; the Prince of Wales website says that Duchy's goal is to help small-to-medium sized farms. The profits from the brand go to the prince's charities.
Not that Duchy Originals has always had a lot of profits to give away. Though it got off to a strong start, the company struggled in the mid-2000s. It isn't the cheapest brand around, and many weren't prepared to meet its prices during the recession. To keep afloat, Duchy Originals formed an exclusive partnership with Waitrose, a U.K. supermarket chain. The brand is now known as Waitrose Duchy Organic and has been riding high since entering the partnership.
As with almost everything Charles does, his grocery line has invited controversy. In this case, it isn't the food at issue so much as Duchy's health products. Charles has long been an enthusiast for alternative medicine, and in 2009, he put out Duchy Herbals' Detox Tincture, a mix of artichoke and dandelion extract marketed as a digestive aid. Professor Edzard Ernst, an investigator of complementary medicine, called it "outright quackery" and insisted there was no detoxification benefit to the tincture (via the BBC).
The black spider memos dud
King Charles III has never been the most beloved member of the royal family. If his marital woes and odd habits aren't being mocked or scorned, critics of the monarchy seem to find his every move a dangerous breach of constitutional convention. The fact that Charles, unlike Queen Elizabeth, is relatively outspoken in his opinions on certain issues has made him particularly vulnerable to such complaints.
Reaching out to governments hasn't helped. Between 2004 and 2005, Charles sent 27 letters to ministers in seven departments. The Guardian waged a 10-year legal war to obtain these "black spider memos," so named for Charles' distinctive handwriting. Attorney general Dominic Grieve argued that publication would undermine Charles' political neutrality and potentially damage his future kingship, but in 2015, the U.K. supreme court ruled that the letters could be published.
There was some expectation that the black spider memos would show Charles to have significant political clout, exposing the dangers of an unelected monarchy so close to the levers of power. But the fears — and, in a sense, the hopes — of British republicans went largely unmet. Per The Washington Post, outside the pages of The Guardian, the press and public largely greeted the memos with a disinterested sigh. Charles expressed concerns about a handful of issues, most of them environmental, and received polite but noncommittal replies. Most of the memos weren't even written in his black spider fashion; they were typed.
He's pals with Stephen Fry
If you subscribe to the idea that comedy should speak truth to power, then it might seem odd that a comedian would befriend a monarch. It could be seen as a conflict of interest; it's not always easy to make fun of a friend. But his profession hasn't stopped Stephen Fry from growing fond of King Charles III. He called himself a great admirer of the then-prince on "Larry King Now" and gave a sincere tribute to him at a charitable function (via YouTube). For an outspoken secularist and leftist, Fry has also been a curious proponent of constitutional monarchy. "Although it's preposterous, it works terribly well," he told the CBC, and he praised Queen Elizabeth's job performance during the Platinum Jubilee (per Yahoo! Finance). For his part, Charles spoke fondly of Fry in 2007's "Stephen Fry: 50 Not Out."
Friendship with the king hasn't stopped Fry from having fun with him. He shared a story about the then-prince's naivete around the term "Prince Albert" on "The Graham Norton Show" and told Desert Island Discs (via the Daily Mail) about a time he snorted cocaine at Buckingham Palace. Charles did not partake. "I think he would not be especially pleased with the idea of people doing that in the Palace," Fry said, "but nor would he leap … to the exit door to say, 'Never return again … It's fair to say that he knows I am naughty."
He benefits from Queen's consent
As a constitutional monarch, Queen Elizabeth formally approved legislation before it became law. This is called royal assent, and while the reigning sovereign can theoretically withhold it in an effective veto, no one has since Queen Anne in 1707 (per the Library of Congress). Queen's consent is another procedure, one that allows a monarch and their heir to review drafts and assess whether proposed legislation affects them in public or private capacities. Such bills require crown approval before going forward.
The Guardian had been investigating the use of the Queen's consent by the queen for several years before she died, but in 2022, they published examples of Charles' use of the procedure. In 1993, he sought an exemption for the village of Newton Saint Loe — part of the Duchy of Cornwall — from legislation to let tenants more easily buy their homes from landlords. His objection, he told prime minister John Major, was that homes bought in the village would be altered without a mind paid to the historic nature of the properties or their "special character."
Several ministers felt that there were no grounds for the exemption, but Whitehall official J.E. Roberts advised the government that the British constitution had no mechanism for resolving a deadlock between the cabinet and the heir apparent over a matter of Queen's consent. While the opinion was that the ministers would ultimately win out in a fight, they opted to avoid a row and granted Charles his exemption.
Operation Golden Orb
It sounds like something out of a James Bond story, but Operation Golden Orb is the codename for the committee responsible for planning the coronation of Prince Charles. The operation had been underway for over a decade when a careless government official left the name unredacted on an unrelated paper in 2016 (per the Daily Mail). Headed by the Duke of Norfolk, independent from either Buckingham Palace or Clarence House, Golden Orb's name may have been given away, but details of its plans remain confidential.
Charles' public wishes and a few additional leaks have given some idea of what's in store now that his mother had died. According to the Daily Mirror, it's expected that the next coronation will be significantly shorter and less costly than Queen Elizabeth's was in 1953, offering the British taxpayers "good value" for their money. The guest list and the number of people involved in parades and rituals will be slashed too. "It will be a slimmed–down Monarchy on display throughout," claimed one source.
The prince, it is said, would like to carve out a place for religions other than Anglicanism despite the coronation being an Anglican service. He's had a few ideas for smaller details as well. One would mean swapping the crown of St. Edward out for the Tudor crown as official royal insignia.