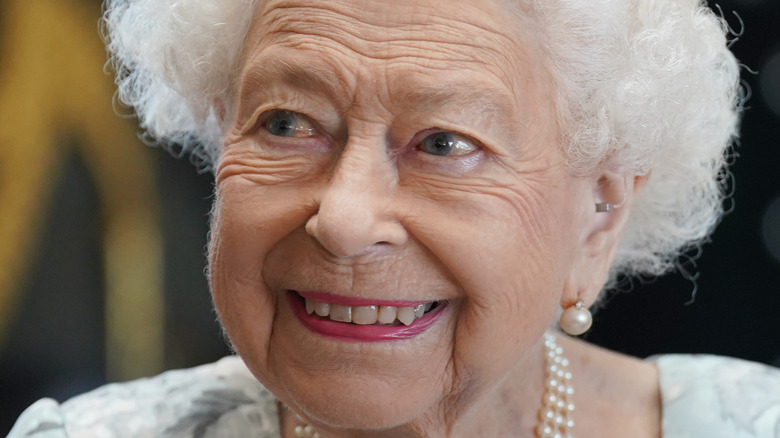 Queen Elizabeth II is Great Britain's longest reigning monarch, and as of 2017 four out of five Brits had been born under her reign (via Insider). On top of that, the majority of the world's population has only been witness to her reign as monarch, with roughly 6.5 billion people worldwide being born while she's been queen (via Macro Trends). She has met with 13 of the last 14 U.S. presidents (she never met Lyndon Johnson, per Newsweek), been witness to 14 prime ministers in British parliament, and as a result has established herself as one of the world's most influential leaders. To put her age even more into perspective, she was only 13 years old when World War II broke out, thus being alive since Adolf Hitler's regime all the way to the COVID-19 pandemic (via The National WWII Museum).
Longevity aside, Her Majesty is only human, and she will eventually die. This event will inevitably send the United Kingdom into a frenzy that will cost the British economy billions of pounds. Businesses will close as the nation is brought into mourning, new currency will be printed, passports will change, military garb will need refurnished, and the national anthem will be changed as a result. Her death will shake a world that has been so accustomed to her reign to its core, completely transforming the way we see Great Britain today.
London Bridge Is Down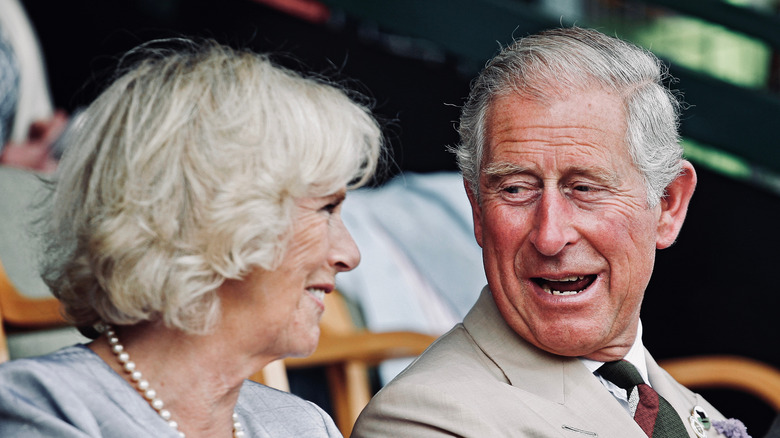 After Queen Elizabeth II's death, Operation London Bridge immediately begins. Presuming he doesn't predecease her, Prince Charles, who will immediately be referred to as King Charles (unless he chooses a different name under which to rule), will have his hands kissed by his siblings and ascend to the throne. The prime minister will be awakened and informed that London Bridge is down. "London Bridge" is the codename given to Queen Elizabeth II for government officials to use on secure lines to inform other notable people in British society of the queen's death. This practice comes from King George VI's death, when he was given the codename "Hyde Park Corner" to prevent switchboard operators from discovering the king had died (via The Guardian).
Eventually the media will be notified of the queen's death, and they will begin to set in motion a state of mourning across the nation. Every news station in the United Kingdom has a set of lights that will shine to notify the public that a national emergency has taken place. Radio stations will play a collection of sad music to signal the state of mourning and businesses will follow suit (via The Guardian).
The funeral procession
On the day of the queen's death, banks and the stock market will close for the day. More likely than not, the majority of businesses will follow as a sign of respect for her majesty. This will be the first major hit to the British economy following Queen Elizabeth II's death. King Charles will give his first speech as king via livestream, and the government will swear its allegiance to him as king with a 41-gun-salute (via Insider). King Charles will then travel across the United Kingdom, meeting with local leaders of government.
Roughly a week and a half after Her Majesty's death, the funeral will be held. An official bank holiday will be declared, causing banks and the stock market to shut down for a second time in the mourning period, causing another blow to the British economy. At 11 a.m., the bells of Big Ben will ring and the service will begin. After the service ends, her coffin will be transported from Windsor Castle to St. George's Chapel, likely being buried next to her father, King George VI, according to Insider.
Transitioning the economy
Over the course of several years, there will be serious changes to the British economy. For starters, new currency will have to be printed with King Charles' face on it. The currency before Queen Elizabeth II's death won't fade overnight, however, and it will take time for the old bank notes to fade from circulation (via Independent). British passports will also need some updating, given that they currently "request and require in the Name of Her Majesty all those whom it may concern to allow the bearer to pass freely without let or hindrance" (via Independent). Stamps will also need a revision and will need to be replaced with new editions, bearing the image of King Charles' head.
Within a year of the queen's death, King Charles' coronation will take place, if he chooses. However it is most likely that he will choose to stick with the tradition, and another bank holiday will follow suit. Banks and the stock market will close for a third time since Her Majesty's death, and many businesses will probably follow suit, according to Insider.
Footing a huge bill
Another effect of Queen Elizabeth II's death will be the updating of police and military gear. Currently, police helmets in the United Kingdom have the queen's initials and regnal number on them, which previously caused some controversy. When Queen Elizabeth II was first crowned, police helmets in Scotland displayed her regnal number, II, which angered some local Scots because there was never a Queen Elizabeth I in Scotland. As a result, some postboxes with her royal cypher on it were vandalized, according to Independent.
Between all of the bank holidays, businesses shutting down, costs of the funeral itself, changing passports, military and police garb, currency change, and some other small institutional changes, the queen's death is expected to cause the British economy $1.6 billion to $7 billion (via Independent). But the ramifications of Queen Elizabeth II's death won't be felt just in the United Kingdom, it will be felt worldwide. With the decline of the British Empire over the past century, her death could be the nail in the coffin.
The end of an era
The British Commonwealth evolved from the British Empire, and for almost the entirety of its existence was headed by Queen Elizabeth II. It's one of the largest international organizations in the world, encompassing 54 nations and with a total population of 2.5 billion people. The nations are mostly former British colonies, including wealthy nations like Australia, New Zealand, and Canada. However, some experts believe that the organization is outdated, and that Queen Elizabeth II's death could cause the Commonwealth to dissolve, according to Reuters.
When Prince William, Prince Charles' son, visited Caribbean nations a part of the Commonwealth, he was met with protests of people who were demanding reparations for the harm they believe the British government caused them, according to Reuters. Supporters of the organization argue, however, that it allows poorer nations better trade connections with the international world. Nonetheless, the future of the organization is still uncertain after Queen Elizabeth II's death. One thing is for certain: The queen's death will signal the end of an era of British history, and the ramifications will be felt not just in England, but worldwide.