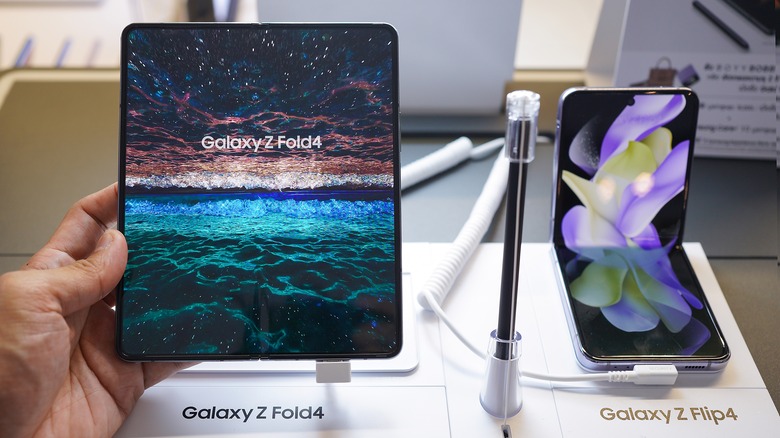 The global pandemic proved a good reminder of how important technology has become to everyday life. Through technology, people were able to keep connected to loved ones and their colleagues at work, while tech also kept us entertained during periods of lockdown. Although the pandemic-induced semiconductor shortage persisted into the first half of 2022, it hasn't disrupted the launch of many excellent new consumer technology products over the course of the year.
The most satisfying phone of 2022 will always be a subject of debate. The iPhone 14 series launch is imminent, and there have been some excellent phone launches in China, like the Xiaomi 12S Ultra with its groundbreaking 1-inch sensor co-developed with Sony, it and others like the Vivo X80 have not been launched globally. Sony's excellent Xperia IV is also only available in select markets. This leaves the Samsung Galaxy S22 Ultra and the recently launched Galaxy Z Fold4 and Galaxy Z Flip4 vying for the crown. The excellent performance and efficiency of the Qualcomm Snapdragon 8+ Gen 1 coupled with the cutting-edge 2-in-1 display tech of the Galaxy Z Fold4 is a winning combination. It beautifully marries the capabilities of a flagship smartphone with a form factor that helps it bridge the mobile-PC divide.
TWS earbuds
The market for TWS earbuds is truly crowded these days, with excellent entries from well-recognized audio brands including Sennheiser, Bose, Bowers & Wilkins, and Bang & Olufsen, among others. Of course, Apple, which helped to kickstart the whole TWS earbud revolution when it dropped the headphone jack on its iPhones and launched the AirPods range, will be the default choice for its fans.
The brand is undoubtedly top-notch at its respective price points, although many iPhone owners are holding out for the rumored AirPods Pro 2, expected to be announced next week. The Galaxy Buds2 Pro just launched, and while the best Samsung has yet to make, still can't quite top the outstanding Sony WF-1000XM4 released in early January. While priced on the high side, they offer great sound and much-improved call quality. An all-new design has also improved their overall fit and comfort for longer listening sessions.
Bluetooth headphones
As with the market for earbuds, there are an almost overwhelming number of headphones on the market for consumers to choose from. However, the field narrows slightly when it comes to picking the best Bluetooth headphones with ANC. Once again, all the top players have a compelling offering with brands like Sennheiser and Bowers & Wilkins recently launching the Momentum 4 and Px7 S2 models, respectively.
Some makers also offer a couple of styles, giving users the choice between over-the-ear headphones or on-ear headphones, with the latter sacrificing a level of audio performance for a more compact and less bulky fit. Again, despite the price, for many iPhone owners, the truly excellent AirPods Max is a natural choice, although they are on the heavy side. Once again, however, Sony has got the formula right with its redesigned WH-1000XM5 headphones which offer a winning combination of style, comfort, and sound, even though they don't fold away quite as nicely as the previous models.
Next-gen laptops
2022 has seen its fair share of laptop launches and there have been some excellent entries from the usual suspects including Apple, Asus, Acer, Dell, Samsung, LG, and others across a number of different categories. All have showcased a range of silicon, from Apple's home-baked M1 and M2 goodness, Intel's much-improved 12th gen chips, and the latest Zen3+ chips from AMD.
Apple's latest M2-powered MacBook Air has continued to push the envelope of high performance combined with efficiency, but like its Pro siblings is thicker than its predecessor and also interrupts its display with a notch that adds dubious utility. There have also been some interesting new form factors as seen in the second-generation Lenovo ThinkPad X1 Fold and the Asus ZenBook 17 Fold.
Our pick, however, is the new Asus ZenBook S 13 OLED. Its combination of a lightweight magnesium alloy chassis, 2.8K OLED display, and the ability to play PC games like "No Man's Sky" make it a great all-around choice.
Improved computer monitors
There have been some great monitors released this year with IFA Berlin 2022 also throwing up some enticing new entries from LG and Samsung. One of the most intriguing designs to emerge this year was from LG — its 27.6-inch DualUp Monitor (28MQ780) really stood out from the crowd by, in effect, stacking two 21.5-inch 16:9 panels on top of each other to offer a great platform for content creators, among others.
Samsung's enormous 55-inch Odyssey ARK monitor features a tight 1000R curve and can be used in both landscape and portrait modes for a completely unique immersive experience. Apple, of course, released its long-awaited Studio Monitor.
However, it was a toss-up between the curved Dell Alienware 34-inch QD-OLED display with its 1440p resolution and the curved Samsung 4K Odyssey Neo G8 with the latter's mix of mini-LED backlighting, quantum dot tech, and high refresh rates proving irresistible.
Gaming consoles
The past couple of years has proved to be extremely frustrating for gamers hoping to get their hands on the Sony PS5 or Microsoft Xbox Series X consoles. The pandemic-induced semiconductor shortage coupled with high demand meant that getting your hands on one of these consoles (at least at retail prices) was a tough task. More annoyingly, perhaps, has been a dearth of next-generation game titles to really push the capabilities of these consoles to the limit even if you could get your hands on one.
Another console that has proven very difficult to get for similar reasons, but has proved to be a revelation, has been the Valve Steam Deck. It is a surprisingly capable device that allows you to play some of the latest AAA PC games at playable frame rates when on the go. With a number of PlayStation exclusives now coming to PC including Marvel's "Spider-Man," along with "God of War" and "Horizon Zero Dawn," the Steam Deck even does double duty as the otherwise non-existent PlayStation Portable of our dreams.
A wider range of tablets
Although not anywhere near as competitive as the smartphone market, there have been some notable tablet launches this year. Apple is the market leader when it comes to tablet sales, with estimates showing that it owns around 30% of the market (via Statista). Samsung, however, has been the leading alternative with its Galaxy Tab series also proving very popular with customers. Its Galaxy Tab S8 series launched earlier this year with the company introducing an Ultra model to the lineup for the first time.
The new 14.6-inch behemoth features a stunning 120Hz Super AMOLED display, making it an ideal canvas for artists or office-based workers looking to take advantage of Samsung's very useful DeX mode for the best multitasking experience on a tablet. However, it is the fifth-generation iPad Air that takes the gong with its potent combination of Liquid Retina display, along with a thin and light design that also packs in the power of Apple's vaunted M1 chip.
Smartwatches
Smartwatches finally seem to be taking off as a segment. Since it launched back in 2015, the Apple Watch has been the gold standard for smartwatches, with its watchOS considered well ahead of the competition. As is Apple's way, particularly when it dominates a market segment, it has slowly iterated on its winning formula with new features and sensors added over the ensuing years.
Samsung has been the major alternative with others like Sony and LG falling by the wayside over the years, although momentum is building with Tag Heuer, Fossil, Mobvoi, Tik Watch, and others gaining in population. Until recently, Samsung was going it alone with its Tizen OS, however, with the launch of WearOS 3 this year, Google and Samsung have merged their efforts to create a much-improved platform. As such, the new Samsung Watch5 Pro with its outstanding multi-day battery life even when in always-on display mode is our pick for 2022.
VR/AR headsets that are actually worth the money
Although the hype following the launch of the early VR headsets from the likes of Oculus (since acquired by Meta) and HTC have since died down, VR headsets are still popular with gamers for the incredible levels of immersion that they offer. However, many of the high-end headsets also require a powerful gaming PC (and a good amount of space) to get the most out of them.
While the price point of entry for a great VR experience can be a barrier to adoption, many people also suffer varying levels of motion sickness when using VR headsets. Standalone headsets that use Qualcomm's smartphone-derived XR series chips offer a more affordable VR experience and are very good. The best of these remains the Meta Quest 2, despite its recent $100 price rise. It has a strong library of titles and still offers an excellent blend of performance at its price point.
AR/Camera/Audio sunglasses
Futurists see wearable technology potentially taking over the smartphone one day, but as the Google Glass failure demonstrated, we don't seem to be quite there yet. That isn't stopping Meta from trying, as it continues to plow a significant amount of money into its AR and VR efforts following its acquisition of Oculus back in 2015. Its Project Nazare aims to succeed where Google failed and is rumored for a 2024 release.
In the meantime, there are several decidedly lower-tech, but still neat, solutions to choose from. These include the Bose Frame audio-based sunglasses and the Snapchat Spectacles that focus on social media photography. The best of the bunch though is the Ray-Ban Stories sunglasses, the result of a collaboration with Meta. It marries classic looks with both camera and audio capabilities. Although far from perfect, they still look relatively normal — which means that people are more likely to want to wear them, helping with their wider adoption.
Desktop computers rivaling the efficiency of laptops
Although laptops are increasingly the preferred choice of computer for many people thanks to their increasing capability and portability, there are many users who still need or want a more powerful solution. What you sacrifice in portability, you have the potential to gain in sheer power with a desktop computer — although as with most things, the depth of your pockets will determine just how much power you can access.
There have also been many great all-in-one desktop solutions (that combine a monitor and computer into a single device) along with excellent gaming machines from the usual suspects like Alienware, Asus, Acer, and MSI. However, despite its unusually dull external design, Apple's new Mac Studio landed and packs perhaps more performance per square inch of machine than we have ever seen before. Fitted with chips ranging in performance from the Apple M1 Max in its many flavors and RAM configurations through to the crazy powerful M1 Ultra chip that conjoins two M1 Max chips, it is the ultimate creator tool.
Drones
There are many different serious drone makers on the market, but only a handful targets everyday consumers. These include Parrot, Ryze, Zero-X, Skydio, and, of course, DJI. Although each of the makers offers something that will appeal to a certain type of drone buyer, DJI is by far the best known and also has the widest range. 2022 saw DJI launch the Mini 3 Pro, which is perhaps the best combination of price and performance we have yet to see in a drone.
While it remains relatively accessibly priced to someone keen to get into aerial photography and cinematography for the first time, its 1/1.3-inch CMOS sensor still produces high-quality HDR stills and 4K video footage. Even better, flight time is rated up to 34 minutes, which will help you take full advantage of its 7.4-mile (12km) range. At the same time, it is so compact that you can easily secret it away in a backpack for easy transport and set up on the go.
Smart speakers
The smart speaker segment is another market that has plenty of entries from which to choose. While your budget will always play a role in which model you end up with, your preferred smart device ecosystem will probably be just as significant. For Apple users, there is currently only one choice made by the company — the HomePod mini. That said, there are rumors that Apple could revive the larger HomePod, which it dropped from its lineup back in 2021.
However, Sonos smart speakers are also a popular choice with Apple users as they support Apple AirPlay 2 wireless connectivity. Sonos also integrates with Amazon Alexa and Google Assistant. Of course, Amazon and Google make their own smart speakers, too, in the shape of the Amazon Echo series and the Google Nest speakers and hubs. But the top pick remains the Sonos One (Gen 2) for its mix of sound quality, multiroom support, and multi-ecosystem support.
A wide range of smart TVs
Like just about everything in homes these days, TVs are getting smarter and smarter. Generally, this has been a good thing, with TVs increasingly becoming all-in-one entertainment and smart home hubs. Many are powered by complex chipsets and software much like a computer and can be used to control a house, through to playing video games, streaming video, and, naturally, watching good old-fashioned TV.
Samsung, Sony, LG, Hisense, TCL, and Vizio are the leading makers, and all offer models from entry-level to premium offerings. Preferences will differ from OLED TVs with their self-lit pixel, QLED TVs that use traditional LCD panels with a quantum dot layer to the newly emerging QD-OLED TVs that blend OLED with a quantum dot layer for even brighter colors. The top contender this year has to be the LG OLED 65 G2 which is its best and brightest OLED panel yet for a dazzling cinematic experience.
Smart lighting
Another segment that is gaining in popularity is smart lighting. With tech YouTubers and other influencers using smart lighting to great effect in their videos, budding content creators and viewers have been keen to replicate similar lighting effects in their homes as well — particularly if they seek to use colors to decorate and create a particular mood.
Smart lighting is also popular with people keen to automate the various functions of their house, even if they are just using standard white or off-white colors. Leading brands on the market include the Philips Hue range, Wyze, Ring, LIFX, Nanoleaf, and Lenovo. However, it is hard to go past the just-launched Philips Hue Lightguide bulbs which come in three shapes – large globe, ellipse, and triangular. These marry contemporary home styling with the ability to choose from regular lighting right through a wide range of colors to transform a room or house.