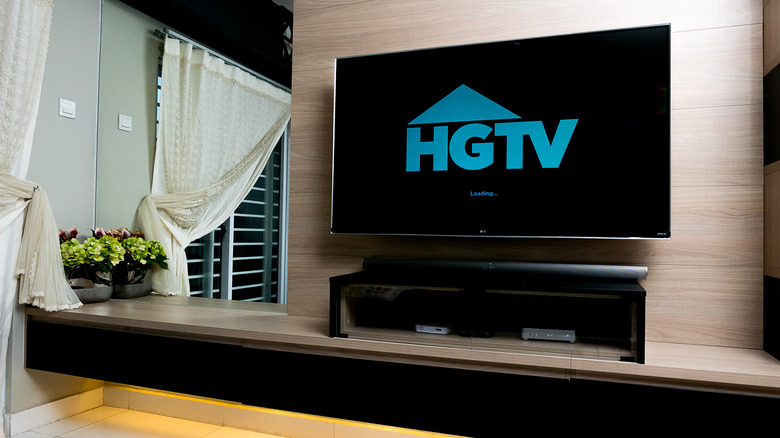 Over the years, HGTV has become a full-blown phenomenon. The once-humble television network with programming focused on homes, gardens, and renovations has seen its popularity boom in recent years, with its viewing figures rising by 22% in 2020, according to Market Watch. Part of this is due to the stay-at-home orders that swept the country, meaning people found escapism (and perhaps a little home decor inspiration) in the network's programming. But a large part of its huge success is also its hosts: From Chip and Joanna Gaines of "Fixer Upper" to Ben and Erin Napier of "Home Town", HGTV has a constellation of stars that you want to get to know.
And, as the personalities on HGTV shows excel in creating picture-perfect homes, it's natural now and again to wonder: what do their houses look like? Here at House Digest, we've taken a peek inside some of the most popular HGTV stars' homes — and unsurprisingly, they've created spaces to die for.
David Bromstad's current apartment is colorful, yet tasteful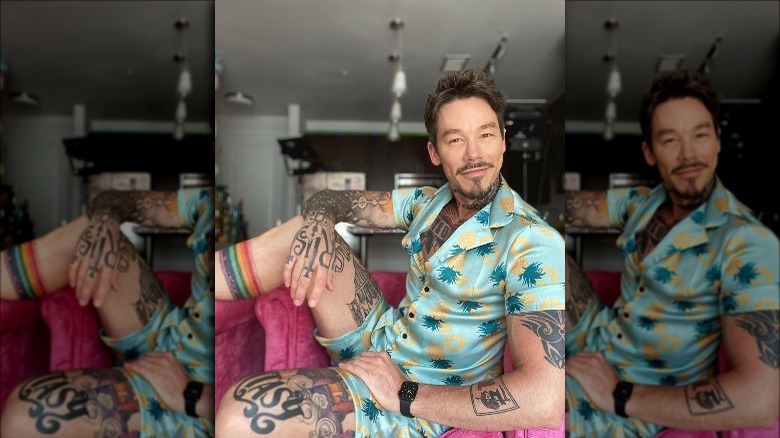 One of the mainstays of HGTV, David Bromstad's rise to success came via "Design Star" and then "My Lottery Dream Home." So is his own home as luxurious as the ones he showcases weekly? Surprisingly, Bromstad doesn't have a house to call his own at present, due to his busy schedule. "Right now, I'm in an apartment. I'm so busy finding everyone their dream home, I'm neglecting my own. I'm always on the road," he says to the Orlando Sentinel.
Despite his currently being in a temporary location, Bromstad's truly made the Orlando apartment reflect his colorful personality. Glimpses shown on his social media display a monochrome kitchen designed with tasteful hanging lighting, with a contrasting pink velvet sofa in an open-plan design, according to an Instagram picture. The bedroom is similarly stylish, with an iron bed frame placed between ornate matching mirrors, which Bromstad jazzed up with rainbow throw pillows and ornaments for Pride month, per Instagram.
It's looking like Bromstad won't have to wait much longer for his ideal home, though: A special episode of "My Lottery Dream Home" aired on July 16th, 2021, according to Press Party — and the person looking for a home? Bromstad himself!
Ben and Erin Napier's home reflects their Home Town charm
Ben and Erin Napier are famed for their stunning renovations to old homes in their hometown of Laurel, Mississippi, and their own abode is equally magnificent. The couple and their family reside in a Craftsman-style house built in 1925, according to Country Living. The "Home Town" stars have shared multiple glimpses of their home through their social media, with the decor throughout contrasting light creams and whites with darker blues and greys, such as in their living room, tastefully decorated with Southern noir and a feature bookcase, via Instagram.
The color scheme remains the same in their dining room, which features a bespoke dining table built by Ben himself, surrounded by mismatched chairs, according to another Instagram post. Their kitchen, the only room they had fully renovated when they moved in in 2011, contrasts subway tiles with butcher block countertops, and is light and airy throughout, leading through to the other rooms in their abode. It's no wonder that the Napiers are so proud of their home: It was the house, and its feature in Southern Weddings in 2014, that brought them to the attention of HGTV executives in the first place — and was the beginning of the huge success of "Home Town."
Chip and Joanna Gaines' home sits on over 40 acres of land
In "Fixer Upper," Chip and Joanna Gaines take farmhouse chic to the next level, with their renovation and designs transforming spaces with Texan charm. And their Crawford, Texas home is no different: Set over 40 acres, the 1,700-square-foot Victorian farmhouse, according to Country Living, is frankly stunning. The kitchen balances modern design with traditional features, with gleaming white marble countertops working with the dark blue painted cabinets and drawers, and a huge square sink with brass faucets, shown on Joanna Gaines' Instagram.
Elsewhere, barn-style white walls are accented by black-framed patio doors, with a modern dining table and chair arrangement — all adorned, naturally, by birthday balloons and bunting for her son's third birthday, as shared in an Instagram snap. While the home has features that could come straight from the nineteenth century, Gaines isn't afraid to let the home's style change, particularly as her kids grow. "As we grow and evolve, I love the idea that we can create rooms to reflect who we are in each season of life," she says in a Magnolia blog post.
Hilary Farr's home has a garden to die for
Co-host of long-time HGTV favorite "Love It or List It," Hilary Farr's house is something special. Farr's Toronto home was designed by herself 15 years ago and still looks as though it was conceived yesterday, as shown in a personal tour given by the host during quarantine in 2020 to "Today." Despite describing herself and her home as "in chaos" during the first few months of staying at home, you'd never know from the pristine interiors: Her timeless design favors whites and creams in her living room, with a sideboard, a vintage mirror, and white sofas that she re-used from her old home accented (and protected) by throws.
Additionally, sliding doors from the front space open to Farr's enormous kitchen and dining area, with marble counters and touchless Wenge dark wood cupboards, and are festooned with ornaments. The stand-out feature, though, has to be Farr's garden: a patio drops down to a row of paving stones, which lead to a sanctuary-like space at the end with outdoor tables and chairs.
Christina Haack's old home had a monochromatic theme
Following her divorce from ex-husband Ant Anstead, Christina Haack decided to step away from her four-bedroom California property, purchased for $4.1 million according to Hello! magazine. A glance at the home shows how difficult it must have been to leave. The enormous living room is adorned with a massive wine rack, monochromatic colors offset by pops of green plants, and a feature hanging light. Elsewhere, Haack's garden featured a water slide dropping into a pool for her kids to enjoy, and a pergola for the adults.
The "Flip or Flop" and "Christina on the Coast" star has now sold the abode, according to People. In the meantime, Haack has doubtless been spending time at her newly bought Tennessee farmhouse, spread over 23 acres of land, 30 miles south of Nashville. The home is full of character, with the front hall sprawling into the living spaces and a huge sliding barn door leading to a separate area, as shown in People. A brick fireplace adds to the traditional feel of the living room, with an enclosed patio beyond. Haack's love of Tennessee runs in the family: "Being out there on all that land reminded me of my favorite childhood memories, which were staying summers on my grandparents' farm," she says of the purchase.
Scott McGillivray's home has a massive living space
One look at Scott McGillivray's home tells you that his house game is strong. The HGTV Canada "Income Property" star sticks to a neutral, gray and white color scheme throughout his abode, as shown in Country Living. The open-plan, modern kitchen uses a central island to separate it from the living space, which boasts cavernous ceilings, full-length windows, and enough seating to comfortably host a football team. Elsewhere, there's even a fully equipped bar. The master suite has a fireplace and multiple seating zones, and the master bath has a free-standing tub and a double sink. McGillivray doesn't forget about his kids, either: Their playroom is stuffed full of toys, with comfortable seating areas for the adults to relax in once the little ones tire themselves out.
From the walk-in closet to wife Sabrina McGillivray's "femme-den", this house has it all. It's little wonder, then, that the McGillivrays are understandably reluctant to reveal the exact location of their home, as he writes in a blog post on his website. Despite this, McGillivray goes into detail about some of the logistics surrounding choosing the property, including proximity to schools, healthcare, friends, and family — showing that a house isn't all about the interiors.
Nicole Curtis' house was won after a long legal battle
The story of Nicole Curtis' property journey is slightly different than you might expect — but shows that home renovation sits deep in her soul. The "Rehab Addict" star has recently been embroiled in a legal battle to gain full ownership of a 1908 foursquare in Detroit, bought with the intention to spend half a million dollars on transforming it, according to the Detroit News. The house, to an untrained eye a crumbling wreck, was owned by the Detroit Land Bank, and Curtis claims that the authority was taking advantage of her.
Eventually, however, there was a victory: Curtis won the court case and gained full ownership of the property, with the renovation to go ahead, according to Deadline. We have little doubt that when the home is completed, it will reflect Curtis' signature style, as seen in the Airbnb rentals she owns on Country Living. We envisage farmhouse chic, wooden floors and features, and cozy, intimate lighting highlighting the natural architecture of the house, as seen across her various properties, including the "Birmingham farmhouse" that we would happily spend a week staying in!
Egypt Sherrod has created a calm space of her own in her home
Egypt Sherrod's stint as the host of "Flipping Virgins" has highlighted her taste for home renovation, so it's little surprise that her gorgeous Atlanta home is constantly being improved. The house features tasteful grey interiors throughout, and one of her more recent projects was the den, with light furniture offsetting the darker paneled walls and a huge statement mirror, illuminated from the light pouring into the room from the large windows, as her Instagram shows. Sherrod and her husband have also completely redesigned their exterior spaces with stunning results. The cozy patio overlooks a pool adorned with sun loungers and is fed by two (yes, two) waterfalls.
With all this housework going on, it's unsurprising that Sherrod needed some space to think, particularly during quarantine. So, true to form, she designed one herself! Sherrod revealed her meditation space, saying that she "created it out of a little storage closet in the back of my laundry room" in a chat with House Beautiful. Such a space, serene and decorated with comfy pillows and calming succulents, is achievable by anyone, says Sherrod. "Maybe not everybody has, you know, a big house or a spare room. But just about everybody has a closet."
Dave and Jenny Marrs' home makes smart use of limited space
Like pretty much all folks, Dave and Jenny Marrs were spending a lot of time at home during quarantine. Luckily, however, their space was one pretty much anyone would want to spend time in, as shown in a quarantine video tour to "Today." The home, built in 1902, came with less storage space than most modern homes, leading the Marrs' to come up with some ingenious solutions, such as keeping their kids' clothes directly in the laundry room, and a hallway that doubles as a mudroom to maximize space.
Between the laundry and the kitchen sits a wine wall — "it's accessible, really wherever we need it," says Dave. The kitchen is much more spacious, and is very much the heart of the Marrs home, with a huge kitchen table instead of an island, complete with both bench and individual seating, and open shelving on which the Marrs' store both cutlery and ornaments that add life to the space. Throughout, the home has wooden floors, cream and beige tones, and low-level lighting for a truly homely feel.
Tarek El Moussa's temporary home is light and airy
With years of experience flipping homes on "Flip or Flop" and "Flipping 101 with Tarek El Moussa," Tarek El Moussa knows potential when he sees it. This is why we know that his new Newport Beach home, purchased with "Selling Sunset" star Heather Rae Young in September 2020, will be perfect once renovated. (The project was unfortunately delayed by a catastrophic storm in November 2020, pushing back their timeframe, according to House Beautiful.)
In the meantime, El Moussa and Young are making do with their current home — which, by El Moussa's admission, "is a super killer house," he said to People. One look around it confirms this: The beach house is airy and spacious, with wide glass doors in the family space allowing the light in, as shown in a video tour posted on People's YouTube channel. The large TV hangs over the fireplace, and as the couple takes us through to the kitchen, the truly open-plan nature of the home is revealed. The huge marble-topped kitchen island has a basin sink and leads into the dining space, with plush blue and white chairs surrounding the family table. And, in true luxurious fashion, a gleaming blue pool completes the picture.
Genevieve Gorder's New York home has many style influences
Genevieve Gorder's abode exudes city style. Her New York City home works wonders with the natural proportions of the city's apartments, with Gorder making the most of vertical space; her kitchen has three rows of cabinets going all the way to the top of the ceiling and is accessible by a stylish ladder, shown in a YouTube tour of the home. Gorder's multi-purpose stove sits opposite her Calacatta marble island, and next to her Bauhaus-style food storage.
Elsewhere, Gorger's dining room features mullioned French windows that look out onto a block-long garden that delivers birdsong to the apartment — "big deal in New York," says the "Dear Genevieve" and "Design Star" host. In her bedroom, the multi-influence style continues, with a large closet that's accessed by Moroccan hammam doors. And Gorder doesn't forget the look when it comes to her 6-year-old daughter's room. Inside, a swing is hung from the ceiling, costing only $20 according to Gorder, supplying a tasteful centerpiece as well as a fun toy to play with. Touchingly, her daughter sleeps in Gorder's grandmother's bed, which Gorder repainted, and which she too used to sleep in as a child.
You'll won't believe your eyes when you see Jonathan Scott's house
You wouldn't expect anything less from one of the "Property Brothers" than sheer luxury — and Jonathan Scott's home delivers. The Spring Valley, Las Vegas home, which sprawls over 5,000 square feet, was bought by Scott and fellow Property Brother (slash real brother) Drew Scott and became Jonathan's permanent home. It packs in — wait for it — a pool, a guesthouse, a movie theater, a pool house, a sports center, a putting green, and a commercial water slide, according to Review Journal. Keeping it minimal, then.
Inside, the open-plan, split-level living space features a modern chandelier and full suit of armor as an ornament, shown in a YouTube tour. Jonathan's house is also full of smart tech, with state-of-the-art entertainment systems and security. On the top deck of the living space are the game room and pool table, with vintage and custom arcade games surrounding it. The living space leads to the pool and hot tub, which are overlooked by a drop-down projector screen on which you can watch the game — before you, of course, head down the water slide. If that wasn't enough, the water that runs down the slide? It's clap-activated.
Drew Scott and Linda Phan's home uses black cleverly
While "Property Brothers" star Jonathan Scott lives the high life in Vegas, his sibling Drew Scott and wife Linda Phan occupy a tasteful space in Los Angeles. The home has a comfortable feel, with the living room featuring verdant shades of green from chairs and plants which work with black and gold tones to create a welcoming feel, as seen in a YouTube video. The marble fireplace overlooks the room, but it's far from an imposing space: It's a room that is true to Phan's desire to keep things casual in her home and for her guests. "If you break it, whatever," she shares. "It's just stuff."
Elsewhere, the bedroom has black walls that are lightened by bright bedsheets and features, which feels like the retreat that Jonathan says it is for the couple. The bathroom, with a free-standing tub, and the kitchen continue the black-and-white theme, with the kitchen boasting black countertops and window frames contrasting with the white marble island and tiles. While the majority of the home is created with everyone in mind, Phan and Jonathan still have their own favorite spaces. For Phan, it's the craft room, and for Jonathan, it's his "obsession" — the ping pong table.
Andromeda Dunker's house exudes personality
If you don't recognize the name Andromeda Dunker, you'll know her voice if you're an HGTV fan. Dunker has been the voice of network favorite "House Hunters International" for years — "leading you," as she says to BuzzFeed News, "through this journey as a narrator. That's kind of how I see it. If I were to come out more as a personality of my own, then it kind of breaks it."
When it comes to Dunker's abode, though, it screams personality. The house is immediately colorful and eclectic, with bare brick walls covered with books, ornaments (including a model sailboat), and hanging plants, seen in a YouTube tour of her home. Across from her corner sofa sits a beautiful piano, with a basket of vibrant quilts nearby to keep things cozy. Dunker's retro-style kitchen pairs turquoise cabinets with regular wood effects and a vintage stove. And, true to Californian living, Dunker has a pool in the back yard, next to which sits "Bar David," a bar area that connects directly to the kitchen. And, in a supremely cool fashion, Dunker also shows us a patio table that, by night, turns into a fire pit.