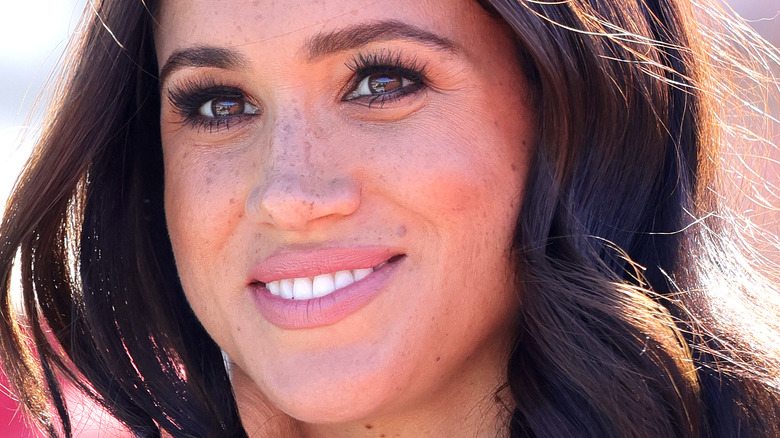 Meghan Markle is a household name due to her prolific acting career and her marriage to Prince Harry –- and also due to the highly publicized ups and downs that she has experienced throughout her time in the public eye.
When Meghan Markle and Prince Harry married in 2018, the couple received an outpouring of media attention and, unfortunately, a large amount of that attention was negative. In a tell-all interview with Oprah Winfrey, Meghan admitted that being part of the royal family was not all rainbows and butterflies — in fact, her mental health suffered severely as she tried to navigate her new life (via The New York Times). As Meghan detailed, she was negatively portrayed by the media and dealt with endless disparaging tabloid rumors – not to mention an overwhelming amount of bullying fueled by institutionalized racism and sexism.
But once she and Harry formally stepped down as senior members of the royal family in early 2020, things began to improve. Despite the hardships that came from extricating themselves from their royal duties, the couple has been able to create a life for themselves that is right for them — and create some distance between themselves and the criticism they have faced for years. And when it comes down to who the Duchess of Sussex really is, there is much more to her than what the tabloids have to say.
If you or someone you know needs help with mental health, please contact the Crisis Text Line by texting HOME to 741741, call the National Alliance on Mental Illness helpline at 1-800-950-NAMI (6264), or visit the National Institute of Mental Health website.
She 'never had anyone to sit with at lunch'
In an episode of Meghan Markle's hit podcast, "Archetypes," she chatted with actress Mindy Kaling about their experiences as teens. Looking at Meghan Markle's successful career now, you wouldn't expect her to have struggled with self-esteem growing up. But, according to Meghan, she did experience low confidence in high school and had trouble making friends.
"I never had anyone to sit with at lunch," she told Mindy Kaling (via People). To try to solve that problem and find her place, Meghan joined several clubs. "I was like, okay, well then I'll become the president of the Multicultural Club and the president of sophomore class and the president of this and French club." By joining all these clubs, she could avoid the cafeteria. "So I didn't have to worry about who I would sit with or what I would do because I was always so busy," she explained.
The duchess further revealed that she didn't fit the beauty standard of the time. Her "massive frizzy curly hair" and "huge gap in [her] teeth" relegated her to the position of "the smart one, not the pretty one," she said.
She probably has better handwriting than you
Most people know about Meghan Markle's extensive acting career, but before her acting took off, she worked as a calligrapher. Per People, she worked in the Beverly Hills stationery store, Paper Source. The company's CEO, Winnie Park, told People, "It was her part-time job as she was going through auditions. She taught calligraphy and hosted a group of customers and instructed them during a two-hour class on how to do calligraphy." Meghan continued to offer freelance calligraphy services after moving on from her job at the stationery store. Some of her freelance clients? Robin Thicke and Paula Patton.
Actress Paula Patton told Entertainment Tonight that she hired Meghan to write her wedding invitations before she married Robin Thicke in 2005. "She had this beautiful writing," Patton said. "That moment I feel like I said something to her. Like, 'You are meant to be royal '… She was just so graceful and lovely, and actually really kind."
In addition to teaching calligraphy, Meghan offered instructional classes on bookbinding and gift-wrapping, according to People. It seems safe to assume her Christmas presents are works of art.
She ran a successful lifestyle blog
The Tig was where Meghan Markle wrote about everything from politics to fashion to self-love, and the name of her blog was inspired by a wine called Tignanello (via Elle). While much of the content of her blog revolved around food, fashion, travel, and interviews with inspiring women, Meghan did not shy away from difficult topics.
In one archived post titled "Champions of Change," she wrote about her mother's experience with racism. She detailed how her mother and grandparents were forced to eat outside of a restaurant because they were Black. "It reminds me of how young our country is. How far we've come and how far we still have to come," she wrote in the post. "It makes me think of the countless black jokes people have shared in front of me, not realizing I am mixed. Unaware that I am the ethnically ambiguous fly on the wall."
In April 2017, seven months before Meghan became engaged to Prince Harry, she shut The Tig down, leaving readers with a sweet and heartfelt final message which concluded with: "Above all, don't ever forget your worth — as I've told you time and time again, you, my sweet friend, you are enough." But don't be too sad if you're one of the many people mourning the end of The Tig. Some have speculated that she will be reactivating the blog in the future (via Daily Mail).
Meghan shares some similarities with her Suits character, Rachel
Meghan Markle played the role of Rachel, the powerhouse paralegal-turned-lawyer, on "Suits" —and Rachel is actually Meghan's real first name, with Meghan being her middle name. The two share more than just a name though; Meghan told Marie Claire that she relates to the character's personal qualities, too. "So automatically, Rachel and I, very similar: ambitious, driven, and always trying to take the bull by its horns," she said, adding that she and Rachel Zane also share a tendency to be hard on themselves.
Meghan also shared that much of her character's wardrobe was comprised of pieces she'd wear in her real life. "Rachel is like the ultimate best friend — who has a closet that I always borrow things from in my personal life," she told the publication. She and her on-screen character also shared the same jewelry, including family heirlooms like one of her grandmother's bracelets (via Marie Claire).
She's been a feminist since she was young
Meghan's involvement in the advancement of women's rights is a key part of who she is. From speaking out against her character's overt sexualization on "Suits," to advocating for women and girls' education, she has made it a point to invest in gender equality (via People).
Her feminism and sense of justice were clear from a young age. After seeing a commercial on TV that implied that it was a woman's job to wash the dishes, 11-year-old Meghan Markle wrote to Procter & Gamble about their sexist advertising, according to People. Her letter apparently made an impact, because days later the commercial was re-aired — minus the sexist verbiage.
Since then, she has continued to advocate for women's rights, working with organizations like UN Women and World Vision. And though her name is inextricably linked to her husband's, Meghan has made it clear that she stands firm in her own personal identity. In a 2019 speech in South Africa, for example, she stated, "On one personal note, may I just say that while I am here with my husband as a member of the royal family, I want you to know that for me, I am here as a mother, as a wife, as a woman, as a woman of color and as your sister. I am here with you, and I am here for you" (via People).