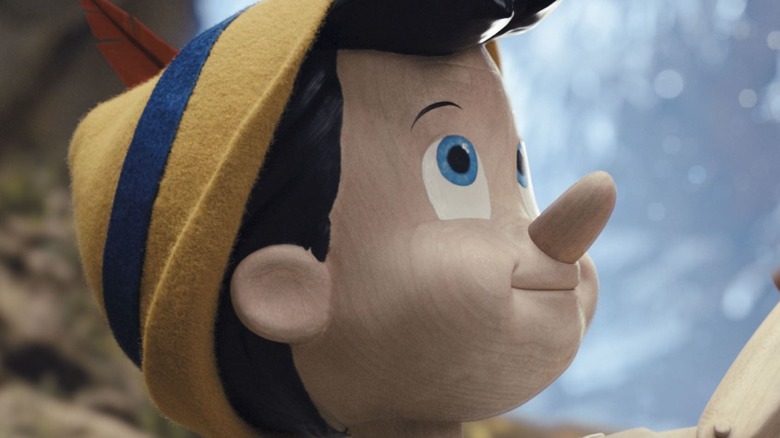 The "Pinocchio" story is one that has become famous across the world, with dozens of adaptations across film, television, and the theater. But arguably the most famous was the 1940 Disney animated release, which re-told the classic Italian novel with a few notable changes. Continuing Disney's recent trend of remaking classic animated movies into live-action films, the latest release brings the 82-year-old movie to life with a brand new cast of actors.
Like many of Disney's other movies, "Pinocchio" is a musical, and that means its cast is not only made up of successful actors but also talented singers who can perform various songs to a high standard. This is especially important considering that it contains popular music such as "When You Wish Upon A Star" that are known around the world.
So if you are watching the latest addition to Disney+ and wondering where you know the various faces and voices from, read on to see where you may have seen them before.
Tom Hanks – Geppetto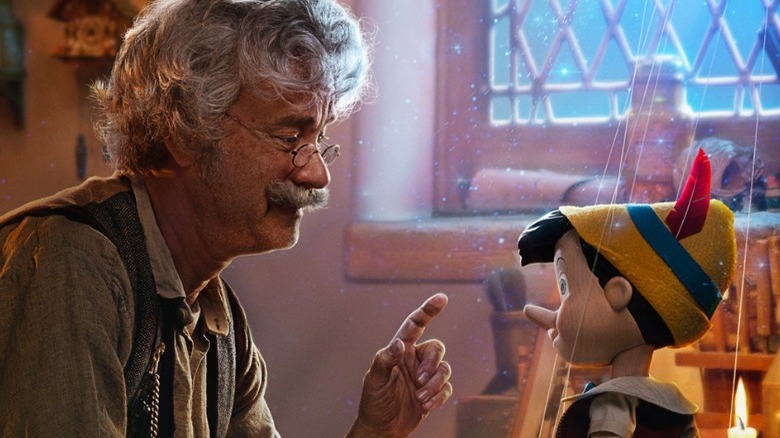 In "Pinocchio," Geppetto is the creator and father of the eponymous toy. A woodcarver by trade, Geppetto is portrayed by Tom Hanks in the live-action remake of the Disney film. Much the same in the animated movie as he is in the source material, Geppetto is an elderly man who wants the best for his wooden son and does everything he can to keep him safe and provide him with a good upbringing.
Hanks was a top target for the role since director Paul King was set to take the helm but had turned down the offer (via Deadline). The fact that Robert Zemeckis took over directing duties may have convinced Hanks to change his mind, considering their close relationship and previous collaborations on several previous collaborations on several films.
The actor has been a huge success since starting his career in 1977 and is rated fourth in the list of actors with the highest domestic gross in the U.S., with lifetime box office receipts of over $5 billion (via Box Office Mojo). He has also been the recipient of several prestigious awards, ranging from six Academy Award nominations — and two wins — to more than a dozen Emmy and Golden Globe awards. Outside of his highly acclaimed filmography, which includes "Toy Story," "Big," "Philadelphia," "Forrest Gump," and "Saving Private Ryan," Hanks is an avid supporter of space travel and NASA and has helped dozens of charitable causes.
Benjamin Evan Ainsworth – Pinocchio
Pinocchio is the titular protagonist of the film and the focus of Carlo Collodi's stories. A wooden puppet, he was carved by Geppetto and has aspirations of becoming a real boy rather than just a toy. Usually sporting brightly colored clothing and a large nose that grows when he lies, Pinocchio has become one of the most recognizable fictional figures and has seen dozens of adaptations. In the 2022 film, the puppet is voiced by Benjamin Evan Ainsworth.
The young actor has shown a passion for acting since he was a pre-teen, attending the Northern Lights Drama Theatre School in Yorkshire near where he was born in Yorkshire. The British actor was just 10 years old when he made his television debut in the ITV soap opera "Emmerdale."
In 2020, Ainsworth was cast in "The Haunting of Bly Manor" as the main character Miles Wingrave on Netflix. The young actor explained that he enjoyed working with the extensive cast and formed a particular bond with Rahul Kohli over their mutual support of soccer team Liverpool (via Discussing Film). Most recently he had a role in another Disney+ film "Flora & Ulysses."
Joseph Gordon-Levitt – Jiminy Cricket
Jiminy Cricket, who is played by Joseph Gordon-Levitt, is something of an invention of Disney, with the character loosely based on the Talking Cricket from the original 1883 book "The Adventures of Pinocchio." Taking an expanded role, where he acts as a mentor and sidekick to the main character, Jiminy was present in the 1940 animated film "Pinocchio" where Cliff Edwards voiced him. The character, whose animated form was designed by noted Disney animator Ward Kimball, has a more realistic appearance in the live-action remake along with a more pronounced green coloring.
Gordon-Levitt is a veteran actor across television and movies. During his early career, he was cast in the likes of "Dark Shadows" and "A River Runs Throughout," along with appearing in episodes of "Quantum Leap" and "3rd Rock from the Sun." The actor took a break from show business to attend Columbia University (according to the New York Times) but dropped out in 2004 before completing his studies. Since then he has found major success with roles in "500 Days of Summer," "Inception," "50/50," and "Looper." The actor has also voiced characters in video games, such as "Treasure Planet: Battle at Procyon" and "G.I. Joe: The Rise of Cobra."
Outside of acting, Gordon-Levitt has recorded several compilation albums featuring covers of well-known songs. He told NME in 2021 that he has aspirations to record his own solo album following a successful collaboration with HitRecord. He has also written and directed several projects, including the film "Don Jon" and the Apple TV+ television series "Mr. Corman." He has won numerous awards, including two Primetime Emmy Awards, and has been nominated twice for a Golden Globe.
Cynthia Erivo – Blue Fairy
The Blue Fairy is one of the central figures in every version of "Pinocchio." Also known as the Fairy with Turquoise Hair, she acts as a mentor to the puppet and aids him in his journey by providing advice and protecting him from various threats. In the Disney animated film, she is the one responsible for bringing Pinocchio to life and tasks Jiminy Cricket with acting as his conscience. Cynthia Erivo plays the character in the new version, granting Geppetto's wish and giving the puppet sentience.
Considering that the Blue Fairy sings the signature "When You Wish Upon A Star" it makes sense that Erivo was cast in the role. She has extensive experience in music, with a background in musical theater along with an album and several singles with the likes of John Legend. Her work has been widely acclaimed and has seen her receive numerous awards including a Tony Award, an Emmy Award, and a Grammy Award, along with dozens of other nominations.
In terms of television and film, she has appeared as a judge in reality shows such as "American Idol," "Strictly Come Dancing," and "Ru Paul's Drag Race" and had roles in "The Tunnel" and "The Outsider." She played Harriet Tubman in the 2019 film "Harriet" and is due to star in "Wicked" as Elphaba — otherwise known as the Wicked Witch of the West.
Luke Evans – The Coachman
Luke Evans plays the villainous Coachman in "Pinocchio." A major villain in the story, as was the case in the animated film and the source material (where he is known as the Little Man), he collects children from the streets and promises them a life of freedom and anarchy in Pleasure Island. Once they arrive, though, they mysteriously begin to turn into donkeys so that the Coachman can capture them and sell them as work animals to the nearby salt mines. Arguably the biggest antagonist in the live-action film, he is a devious trickster who should not be trusted.
The actor is no stranger to live-action Disney movies. He notably played Gaston in the 2017 version of "Beauty and the Beast" alongside Emma Watson, Dan Stevens, and Josh Gad. Evans has also coincidentally played Pinocchio before, voicing the character in the "Robot Chicken" episode "Real Boy, Real Death."
Outside of those roles, Evans has had a number of high-profile roles in the likes of "Fast & Furious 6," "The Pembrokeshire Murders," "Dracula Untold," and "The Raven." He was chosen to portray Bard the Bowman in "The Hobbit" trilogy. The actor is well known for his appearances on the West End and Broadway and has released an album in the form of "At Last" that includes a number of covers, with American Songwriter reporting that they alter the style of the original songs.
Lewin Lloyd – Lampwick
As in the 1940 animated Disney film, Lampwick is a young boy in "Pinocchio" who becomes a friend of the puppet when they are taken to Pleasure Island. Based on the character Candlewick from Carlo Collodi original works, he is a rough and ready figure who shows disdain for authority and wants nothing more than to do whatever he wants. He sticks close to Pinocchio throughout their time at Pleasure Island before turning into a donkey while the pair are playing pool in a bar — the last time that viewers get to see Lewin Lloyd as the human Lampwick.
As you might expect from such a young actor portraying a child, Lewin Lloyd doesn't have a particularly large body of previous work behind him. He made his television debut in the 2017 series "Taboo" playing temple in four episodes. He then had roles in projects such as "Fortitude," "The Alienist," and "The Aeronauts." By 2020, Lloyd had appeared in "Doctor Who" playing Syland in the episode "Orphan 55" but had a big break in "His Dark Materials," where he portrayed Roger Parslow across six episodes.
Kyanne Lamaya – Fabiana
Fabiana, played by Kyanne Lamaya, is a skilled puppeteer who takes on an important role in helping Pinocchio escape from Stromboli. Working in the puppet show for the nasty employer, Fabiana is in charge of Sabina, a puppet that she uses to befriend Pinocchio and talk to him when he shows a distrust of humans due to his experiences on his first day out of his father's home. She later appears when Pinocchio decides to go and find Geppetto rather than pursue a life of fame, prompting the three characters to say an emotional farewell.
Lamaya is a newcomer to the world of acting. "Pinocchio" is her first film role, with her agency The Artists Partnership confirming that she had previously only had one other acting credit before her appearance in the live-action Disney project. She twice played a character known as Evie in the BBC series "The Dumping Ground," a spin-off of "The Story of Tracy Beaker" where children are cared for after being abandoned. A talented singer, she performs "I Will Always Dance" in the "Pinocchio" film.
Giuseppe Battiston – Stromboli
Stromboli is the violent and cruel owner of the puppet show that Honest John sells Pinocchio to. He makes his employees work in slavish conditions and thinks of nothing other than making money. He has Fabiana under his control and, after discovering how popular and successful Pinocchio is, locks him away in his carriage so that he can force him to perform every night rather than go off to see his father Geppetto. Italian actor Giuseppe Battiston portrays the character for a few scenes before Pinocchio manages to escape with the help of Jiminy Cricket.
Battiston's may not be the most familiar to many viewers of "Pinocchio" as he is an Italian actor who has worked extensively in his native country. He has been acting since 1990 and has credits in more than 80 television and movie releases since then. Some of his most notable works include "Perfect Strangers," "Bread and Tulips," "The Passion," and "Li and the Poet." He holds a joint record with Leo Gullotta for winning the Academy of Italian Cinema's David di Donatello award for best supporting actor three times.
Keegan-Michael Key – Honest John
As in the 1940 animated feature, Honest John is an anthropomorphic fox who acts as a conman and minor criminal. Voiced by Keegan-Michael Key in this live-action version, the character first sees Pinocchio when the puppet is on his way to school and sees the potential of selling him to Stromboli to perform in a puppet show. Along with his sidekick Gideon, he tries to tempt Pinocchio into a life of entertainment so he can become famous and make Geppetto proud despite the protests of Jiminy Cricket.
Key is one of the most successful comedians and actors to come out of "Mad TV," forming a lucrative partnership with Jordan Peele for the Comedy Central sketch show "Key & Peele." He also appeared alongside Peele in "Fargo" playing an FBI agent in the 2014 season. No stranger to voice acting, he has previously voiced the hyena Kamari in Disney's 2019 live-action "The Lion King" as well as characters in "Toy Story 4" and "Hotel Transylvania 3: Summer Vacation."
The actor also made a cameo in "Weird Al" Yankovic's music video for the song "White & Nerdy." Key has won a Primetime Emmy Award, a Peabody Award, and an American Comedy Award during his career. With the likes of Jack Black and Judy Greer, Key has supported the Young Storytellers Foundation charity in Los Angeles, raising money for the non-profit in 2015 (via Variety).
Lorraine Bracco – Sofia
Lorraine Bracco voices Sofia, a friendly seagull who is another new addition to this particular adaptation of "Pinocchio." Sofia is a friendly figure and an ally to both Jiminy and Pinocchio, first encountering the pair after eating the garbage that Geppetto puts out for her every morning. She agrees to help Jiminy locate Pinocchio when he leaves for his first day of school and then later ensures the pair are able to find Geppetto out at sea when he sells all his possessions to buy a boat in order to find the lost Pinocchio.
Bracco's husky voice will likely have been familiar to anyone who has seen "The Sopranos." The actor portrayed psychiatrist Jennifer Melfi in the hit HBO show, performing opposite James Gandolfini for much of the series. This role saw her nominated for the outstanding supporting actress in a drama series at the Emmy Awards. She first came to the wide public's attention in 1990 when she starred in "Goodfellas" as Karen Hill. Over her career, Bracco has also made appearances in the likes of "Medicine Man," "The Basketball Diaries," and more recently in "Jerk."
Sheila Atim – Signora Vitelli
Signora Vitelli, played by Sheila Atim, is another character who has been created specifically for the 2022 film. She does not appear in the original story or the animated adaptation from 1940. Seemingly a member of the school staff, she leads the children to school each morning with a long rope and speaks to Geppetto on the morning when he sends Pinocchio off to the education establishment himself. However, that is the only time that she is seen in the film as Vitelli does not make an appearance when the young puppet finally makes it to school.
Atim is a Ugandan actor and singer who rose to prominence in 2013 as the star of "The Lightning Child" at the Shakespeare's Globe theater, a play that she co-wrote with Ché Walker (via Musical Theatre Review). According to MBU, she then went on to win the 2018 Laurence Olivier Award for best supporting actress for her performance in "Girl from the North Country." Outside of the theater, she has appeared on screen in projects such as "Bruised," "The Underground Railroad," and "Doctor Strange in the Multiverse of Madness." Atim was also due to appear in the "Game of Thrones" spin-off "Bloodmoon" before its cancellation (via The Guardian).
Jamie Demetriou – Headmaster
The headmaster is, as you might have guessed, the person in charge of the local school that Pinocchio tries to attend near the start of the film at the request of his father. Pinocchio eventually makes it to school after some misadventures with Honest John and the headmaster is seemingly shocked to see a wooden puppet entering the building with the rest of the children. After just a few seconds the character, played by Jamie Demetriou, throws Pinocchio out of the school and tells him that only real children can attend.
The actor and comedian started performing as a university student, traveling to the Edinburgh fringe festival (via The Guardian). He has since had roles in comedies such as "Toast of London" and "The Afterparty." One of Demetriou's most memorable recent roles was in "Fleabag," where he played one of the protagonists' love interests in the first season known as Bus Rodent. He went on to write and star in his own sitcom "Stath Lets Flats" on Channel 4 in the UK, a project that won praise from critics and won the BAFTA award for best scripted comedy, beating out "Catastrophe" and "Fleabag."
Angus Wright – Signore Rizzi
Angus Wright plays Signore Rizzi in the live-action adaptation of "Pinocchio." The character isn't a particularly important figure in the film and is not someone who appears in the original story. His main role comes when he tries to buy a specific clock from Geppetto near the beginning of the movie, although the woodcarver refuses to sell these prized possessions to Rizzi despite the money offered. He leaves the store disappointed when Geppetto offers him other items instead. Angus Wright portrays the character in the time he is briefly seen on screen.
Despite being born in Washington D.C. due to his father working as a diplomat, Wright is actually a British actor who has worked on both sides of the pond. Having studied at the Central School of Speech and Drama in London, he went on to perform in a number of theatrical productions before making his screen debut in the police drama series "Between the Lines" in 1993 (via United Agents).
More recently he has portrayed MI5 head Martin Furnival Jones in the highly acclaimed Netflix series "The Crown" and had roles in the likes of "Sex Education," "Endeavour," and "His Dark Materials." The actor has also continued his work in theater, appearing in several plays over the last few years, including "Hamlet" and "1984."