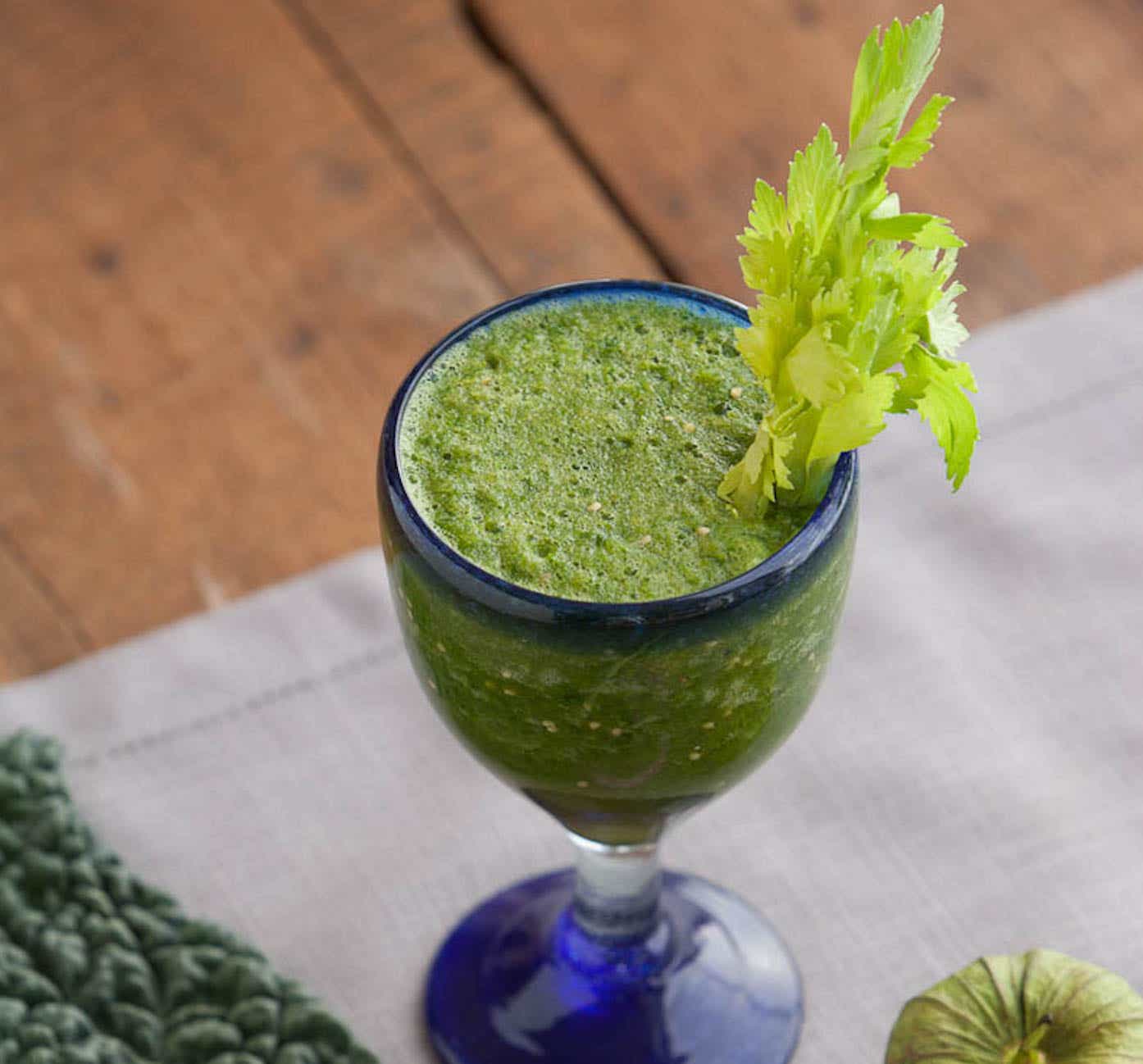 After giving us a lesson in nutritional psychiatry just in time for the holidays, Dr. Drew Ramsey gave us two feel-good, healthy cocktail recipes you can whip up from his book Fifty Shades of Kale…
Green Bloody Mary
Kale bleeds Green for you. Laden with chlorophyll, the molecule that is the foundation of the food chain. Recently, two Brooklyn hipsters were arguing that the art of the brunch drink has been lost. Return to civilization. The fiber and complex carbs give this light cocktail a slow burn promoting a relaxing, guilt-free afternoon.
Serves 2
Ingredients:
4 tomatillos
½ cup packed kale leaves
½ small cucumber, peeled, quartered
½ lemon, juiced
4 ounces vodka
1 tablespoon hot sauce
1 teaspoon Worcestershire sauce
¼ teaspoon celery salt
4 celery stalks for garnish
Directions:
Bring a small saucepan full of water to a boil. Add the tomatillos and cook 3 to 4 minutes, until their skin softens. Drain and peel. Discard the peels and place the pulp in a blender along with the cucumber, lemon juice, vodka, hot sauce, Worcestershire, and celery salt. Process until smooth. Transfer to 2 glasses filled with ice and add the celery stalk. Serve immediately.
Kale Pisco Sour
This drink comes from a gritty, hot basement disco in Bolivia where kale is the only dress code and everyone dances.
Serves 2
Ingredients:
2 teaspoons granulated sugar
4 ounces Pisco liquor
½ cup packed kale leaves
¼ cup packed mint
¼ cup fresh lime juice
1 real farm-fresh egg white
4 lime wedges
Directions:
Place all ingredients except for the lime wedges in a blender. Add 1 cup cold tap water and process on high speed until the kale is chopped and a thick foam forms on top. Transfer to 4 highball glasses and top each with a wedge of lime. Serve immediately.
From 50 Shades of Kale by Drew Ramsey MD and Jennifer Iserloh (HarperWave 2013)