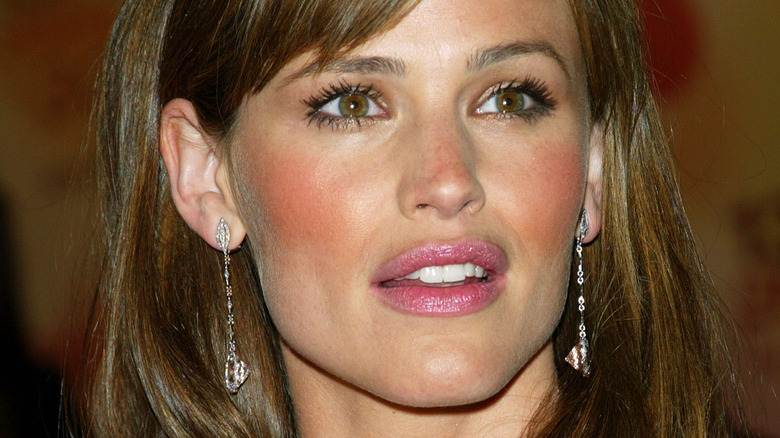 Jennifer Garner has a real girl-next-door vibe about her. She is often seen dressed casually, hanging out with her three kids and running regular errands. But this girl next door has 67 acting credits to her name, including starring roles in films such as "13 Going on 30" and the long-running series "Alias." Garner has also been the subject of much gossip and scrutiny over the years due to her high-profile relationships, most notably her marriage to actor Ben Affleck.
But Garner's love life was in the spotlight for years before she became involved with Affleck. Now that Affleck has reunited with ex Jennifer Lopez and the two were married in August 2022, Garner has been in the public eye again, with many wondering how she's holding up. Well, she seems to be doing just fine, with her career and love life thriving. Here is a look at a timeline of Jennifer Garner's relationships.
She met Scott Foley in 1998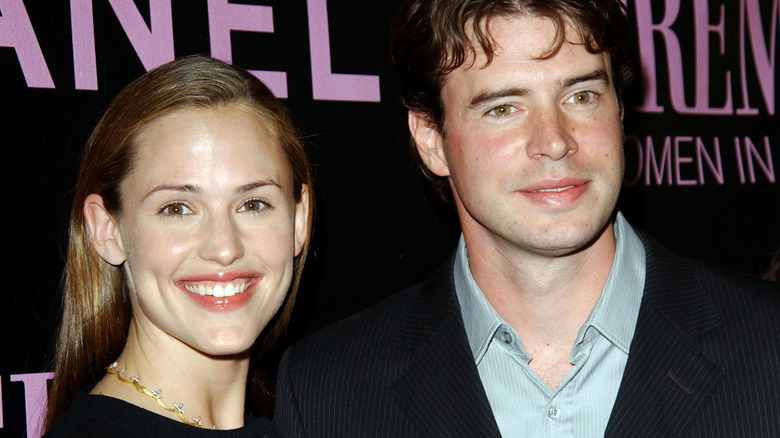 Jennifer Garner met first husband, Scott Foley, in 1998 on the set of "Felicity." Foley starred as charmingly nerdy Noel Crane on the WB hit show, and Garner guest-starred for two episodes as his girlfriend. Eventually, life began to imitate art. In an interview with Andy Cohen, Foley recalled the beginning of their relationship: "We met on the show and … we hit it off instantly and were soon dating."
The couple remained together for a total of five years, having married in 2000. "We were full-on grown-ups, but looking back, I'm aware we did not know what hit us," Garner said of the relationship in a 2013 interview with Allure. Rumors about the couple's demise began swirling after the 2003 Academy Awards when Garner arrived on the red carpet without Foley by her side. As it turned out, fans who speculated about the state of Jennifer Garner's marriage to Scott Foley were spot-on. Divorce papers show the official date of the couple's split as March 23, 2003, the date of the Academy Awards. The couple officially announced their breakup on April 1.
She told Parade, "I had a lot of growing up to do. I don't like to argue. But back then I couldn't have a fight. I couldn't work things out because I wasn't able to say what I needed to say. I didn't have a voice … But I had to come into my own … So I went to work on it. I started therapy."
Garner and Foley split in 2003
The divorce papers cited irreconcilable differences, and in a 2003 interview with TV Guide (via People), Scott Foley gave his side of the story. He denounced rumors of Jennifer Garner's infidelity, instead placing the blame on her newfound fame. "Jennifer became a huge celebrity. She became a huge star, and she deserved everything she got. There was no other relationship, there was no infidelity, nothing. People get divorced, you know?" he said. By that time, Garner had landed a starring role on the TV series "Alias" and would soon rocket to stardom with her iconic role in "13 Going on 30."
For her part, she also seemed to partly blame their Hollywood lifestyle for the breakup, telling InStyle, "Everything is speeded up here — it is a fast-lane life, and if something is not working, it is considered best to end it without much thought. If we lived where I was brought up [West Virginia], we would probably still be together." The divorce was finalized in March 2004. Garner said of Foley in her 2013 Allure interview, "We didn't have a shot. He's a really good guy, and we just imploded."
So, are Garner and Foley on good terms these days? On "Andy Cohen Live" in 2021, Foley said of Garner, "I mean, we do not keep in contact because she has her own family. I have mine. It wouldn't be something that we would search out." Foley has been married to actress Marika Domińczyk since 2007, and the couple have three children together.
Jennifer Garner dated Alias co-star Michael Vartan
In 2001, Jennifer Garner landed a starring role on the ABC series "Alias." On the show, Garner played Sydney Bristow, a grad student turned international spy. Michael Vartan played CIA agent Michael Vaughn opposite Garner. The two had great onscreen chemistry, and eventually their characters became romantically involved. Fans of the show shipped the couple hard.
Apparently, the chemistry was not limited to Bristow and Vaughn, as Garner and Vartan became a real-life couple as well. In August 2003, a publicist for Garner confirmed the couple's romance, telling Us Weekly they "were friends and recently started dating" (via EW). Sadly, the romance lasted only about a year, and the pair broke up in 2004. However, it was not an ugly break-up, and the couple remained close. Vartan told USA Today, "We're much better off as friends." In the same interview, he revealed that Garner told him about her engagement to Ben Affleck before it was announced publicly. He admitted, "On the surface, it could have been a recipe for disaster. But Jennifer and I were best friends first, during (the romance) and after." In a show of true maturity, he added that although he hadn't met Affleck at the time, he'd "heard nothing but wonderful things about him. Their love is very genuine. I'm hoping Ben will put me in one of his next movies."
The romance was short-lived but the friendship endured
It seems Garner and Vartan's friendship stayed strong throughout the years. In 2015, OK! reported that Garner had turned to Vartan for support when her marriage to Affleck was on the rocks. In 2018, Garner shared a sweet Instagram post for Vartan's 50th birthday. The throwback pic of the two from their "Alias" days was accompanied by the caption, "Can you believe this baby face is 50?! Happy birthday, #MichaelVartan.#alwaysanALIASgirl#sydneyandvaughnforever."
The message had fans hoping for a rekindled romance, but it was not in the cards. When asked by E! News if he would consider getting back with his ex, Vartan said, "I don't think so. If it didn't work once, there's a reason it didn't work." He added, "I am single. Single for life, unless she has four legs. That's a whole different story," referring to his chocolate lab. However, in terms of an "Alias" reboot, he told ET in 2017, "'Alias' remains one of my favorite memories of all time. When you work with people, especially people who are so incredible … you really become a family."
Jennifer Garner and Ben Affleck fell in love on the set of Daredevil
While Jennifer Garner initially met Ben Affleck in 2000 while filming "Pearl Harbor," it would be several years before the two became romantically involved. Affleck said in a 2017 interview with Playboy (via Us Weekly), "… We fell in love on 'Daredevil.' By the way, she won most of the fights in the movie, which was a pretty good predictor of what would happen down the road …" "Daredevil" came out in 2003 while Garner and Affleck were with their respective partners. Garner told Parade in 2010 that she and Affleck would exchange emails, and he won her over with his writing skills. "He's a very persuasive writer," she said.
The couple didn't go public with their relationship until October of 2004, when they were seen cozied up together at a Red Sox World Series game. At that point, Garner had broken up with Michael Vartan and Affleck had called off his engagement to Jennifer Lopez, who he had been with since 2002. The couple appeared to be blissfully in love, and Affleck proposed to Garner on her 33rd birthday, April 17, 2005.
Garner and Affleck were married in a private ceremony in the Caribbean in June of 2005. The wedding was officiated by Garner's friend and "Alias" co-star Victor Garber. Garner was newly pregnant at the time of the nuptials with her and Affleck's first child, daughter Violet.
Jennifer Garner married Ben Affleck in 2005
Violet Anne Affleck was born in December 2005, and their family continued to grow. Jennifer Garner and Ben Affleck welcomed their second daughter, Seraphina Rose Elizabeth Affleck, in 2009. In 2010, Affleck joked in an interview on "The Ellen DeGeneres Show," "I have three women in the house. I get to be wrong three times a day." He then added, "I am madly in love. I have the best family." The couple's son, Samuel Garner Affleck, was born in 2012.
The couple seemed very happy, taking opportunities to publicly gush about one another. Garner told InStyle, "I would do anything for that man, because I know it's not taken for granted." In a 2007 interview with Marie Claire, Garner said, "I don't know what makes it work. But it does. One thing that makes it not not work is that we're both pretty nice. He's not someone who's ever going to blow up on anyone … We can handle conflict in a very loving and adult way." And in 2013, Affleck won the Golden Globe for Best Director for his work on the film "Argo." In his acceptance speech, he looked out into the audience and told Garner, "I adore you, I love you. You're my everything."
Jennifer and Ben's painful split in 2015
While all seemed well on the surface, Jennifer Garner's marriage to Ben Affleck was plagued by difficulties. Among them was Affleck's drinking, which he admitted was a factor in the downfall of the marriage. He told Howard Stern, "I was like 'I can't leave 'cause of my kids, but I'm not happy, what do I do?' What I did was drink a bottle of scotch and fall asleep on the couch, which turned out not to be the solution" (via People).
Another troubling revelation came in 2015 when Garner and Affleck's nanny, Christine Ouzounian, told friends she'd had an affair with Affleck. "Christine is in love with him," a source told People. Affleck denied these reports, and a rep for the actor said, "The story is complete garbage and full of lies."
Garner and Affleck announced their split in June 2015, and their divorce was finalized in 2018. It seems both parties were heartbroken over the marriage ending. "The biggest regret of my life is this divorce," the Affleck told The New York Times in February 2020. In a candid interview with Vanity Fair in 2016, Garner said, "I didn't marry the big fat movie star; I married him. And I would go back and remake that decision. I ran down the beach to him, and I would again." She added, "You can't have these three babies and so much of what we had. He's the love of my life."
What does Jennifer Garner think about Ben's marriage to J. Lo?
It appeared as though Jennifer Garner kept her attention on her children amid the media frenzy surrounding Ben Affleck's rekindled romance with Jennifer Lopez. A source told E! News," Jen does not want to get involved. She has completely moved on. She continues to focus on her kids and that is her priority. When the kids are with Ben, she hopes that is his priority too." Violet, Seraphina, and Samuel were in fact a part of Affleck and Lopez's wedding ceremony in Savannah, Georgia, dressed in white and carrying the bride's train down the aisle, according to Daily Mail.
Garner was invited to the nuptials, according to Hollywood Life, but chose not to attend. An insider told the outlet, "Jennifer Garner is hard at work on a project in Texas and won't be attending the wedding celebration, but she's been totally supportive of her kids being there and is really positive in general about the whole thing." Instead, she spent the day shopping at a Sam's Club in West Virginia with her father and her current partner, John Miller. According to TMZ, Garner appeared unbothered and was all smiles as she posed for pictures with fans.
Jennifer Garner's love life now
Jennifer Garner has been dating businessman John Miller on and off since 2018. The couple is currently on and going strong. Miller, the CEO of CaliBurger, was still married when he met Garner, but divorced his wife, Caroline Campbell, a month later. Miller and Campbell have two children together. Garner and Miller broke up briefly in 2020 but reunited less than a year later. The reason for the brief split was that Miller was ready for marriage again, while Garner was not. Since getting back together, the couple seems to be happier than ever.
Between her relationship with Miller, her time with her kids, and her still-strong acting career (in August 2022, she was filming "The Last Thing He Told Me," an Apple TV+ limited series), Garner is flourishing. Friends of Garner's say she is happy to not be dating a celebrity for once. A source told Us Weekly, "She loves how little he cares for the limelight or the whole Hollywood scenester stuff… Very different from Ben and J. Lo's relationship in that way. You'll never see them ham it up for the cameras or fixate about what events to attend together, it's just not their style." Perhaps Jennifer Garner has finally met her match.