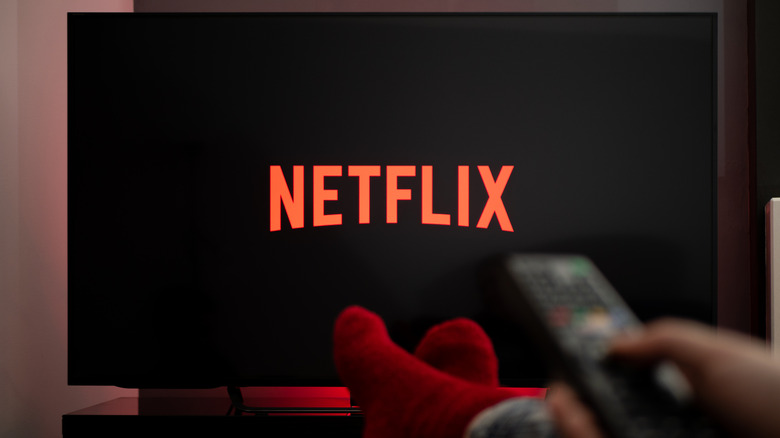 Streaming platforms are all the rage — and there are tons of them. HBO Max, Hulu, Disney+ … honestly, who even watches live TV anymore? But none of these streaming services would be around if not for the OG, Netflix.
Founded in 1999, it was once a service where you picked a movie and waited for it to be sent to you by mail — feel old yet? These days, Netflix is one of the top streaming platforms. It made such a name for itself that in 2012 Netflix began releasing original content (via The LA Times). Original content meant having the power to renew and cancel shows, just like any other production company. However, Netflix has a tendency to cancel their best shows, without a good reason (via Forbes).
Whether they're self-sabotaging or just straight-up sadistic, Netflix loves to anger viewers. So, after a little research, we found some shows Netflix has canceled over the years that made all hell break loose.
Anne With An E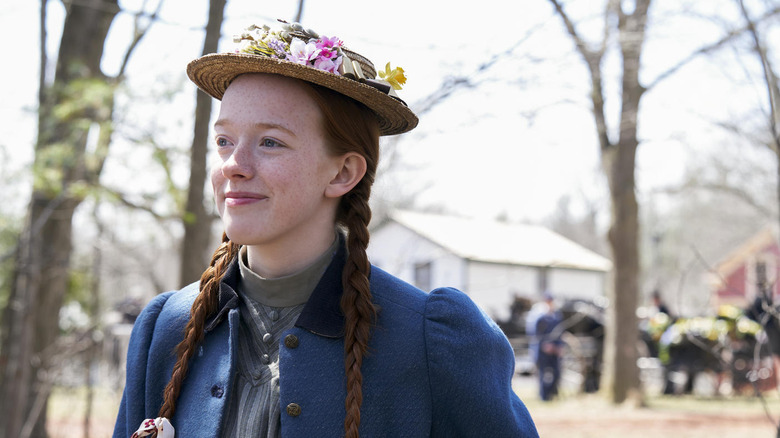 We figured we should get the most controversial cancelations out of the way first, starting with "Anne With An E." It's like ripping off a band aid — the sooner you do it, the better.
"Anne With An E," an adaptation of the classic novel "Anne of Green Gables," was one of Netflix's most beloved original series. A Change.org petition to have the show renewed garnered over 1.6 million signatures, if that gives you a sense of how beloved it is — or was. The show was canceled in 2019, and Netflix is still feeling the anger of its fans. The announcement of its cancelation came right before the release of Season 3, blindsiding viewers. Netflix's explanation was virtually nonexistent, which is what really got under people's skin.
The day "Anne With An E" was canceled is still engrained in some fans' minds, who still tweet about it to this day. "I still remember the moment when I found out that Anne With An E was canceled and I felt like screaming out. how could this enchanting series get discontinued?? Netflix you owe me an explanation," tweeted a fan. When we think about it, the way fans handled "Anne With An E" getting canceled feels similar to how Directioners reacted to Zayn leaving One Direction, which was treated like Doomsday. Some fans still have hope that the show will one day be renewed, but for now, it doesn't seem likely.
One Day at a Time
"One Day at a Time" (or ODAAT) is another very controversial cancelation that's taken viewers for a rollercoaster ride. "ODAAT" was one of few Netflix Original series that featured a predominantly Latinx cast, which is unheard of for most TV shows. The show covered mental health, the immigrant experience, and embraced LGBTQ+ stories. There was something for everyone. But in March 2019, Netflix announced it was canceling the show after three seasons, shocking fans (via The Hollywood Reporter).
In a series of tweets, Netflix tried to make fans understand. "To anyone who felt seen or represented — possibly for the first time — by ODAAT, please don't take this as an indication your story is not important. The outpouring of love for this show is a firm reminder to us that we must continue finding ways to tell these stories," Netflix tweeted, but fans were hardly convinced.
One fan responded by saying, "How can you tweet this & tell us that representation is important?? If you truly believe this, you would not have canceled #ODAAT. It shouldn't all be about money and numbers … viewers should matter … our voices should matter … representation should matter" (via Twitter). Luckily, "ODAAT" was picked up by PopTV, before being canceled yet again after its fourth season was cut short due to the pandemic (via Them).
Julie and the Phantoms
Now, this might be the most painful cancellation on this list. Produced by "High School Musical" icon Kenny Ortega, "Julie and the Phantoms" was a cultural reset. It followed Julie, a teen girl coping with her mother's death, and the three ghosts that she accidentally summoned. They form a band, Julie and The Phantoms, and let's just say it's adorable.
It was an overnight sensation, checking every box of the "popular teen show" formula. Cute guys, good music, characters to fall in love with, and ships you'd kill for (Alex and Willie deserved better). So you can imagine that fans were baffled after hearing that it wouldn't be renewed for a second season with no reasonable explanation (via J-14). Don't think for a second that fans forgave Netflix for their egregious crime. One fan tweeted, "… Netflix actually had the audacity to cancel Julie and the Phantoms." Another tweeted, "Anyone else just randomly gets irrationally angry that they canceled Julie and the phantoms?"
Still, fans remain hopeful that, like "One Day at a Time," another network or streaming platform will take the show under its wing. Come on Netflix, you've got to stop leaving popular shows on cliffhangers before cancelling them — it's just hurtful.
Insatiable
"Insatiable" is another show that faced the wrath of Netflix's axe. The show, starring former Disney star Debby Ryan, should've seen it coming, as a petition with 100,000 signatures asked the platform to cancel the show after Season 1 (via The Guardian). This petition came as a response to the show's premise, which was rooted in fat-shaming and fatphobia. For those who haven't seen it, "Insatiable" is about a former fat teen named Patty who became "pretty" after losing weight as a result from an injury that required her mouth to be wired shut. You can see how that could be seen as controversial.
The controversy, however, is what piqued people's interests, driving them to watch the show to form their own opinions. This is a prime example of the saying, "Any publicity is good publicity."
By the time Season 2 was released, the buzz fizzled out, which lowered its viewership. We all know that a company like Netflix solely cares about numbers, so even though they wouldn't outright say it, "Insatiable's" underperformance led to its cancelation (via ScreenRant). "Insatiable" is yet another axed show that was left on a cliffhanger, meaning fans never got the resolution they wanted.
Chilling Adventures of Sabrina
Released in October 2018, five days before Halloween, "Chilling Adventures of Sabrina" quickly amassed a cult following. It might've helped that the show's creator, Roberto Aguirre-Sacasa, is also the mastermind behind its infamous sister show "Riverdale."
"CAOS" was lucky enough to have two seasons that were split into four parts, before getting canceled in 2020. Fans were hoping that, like "ODAAT," the show would be picked up by another network — specifically The CW, which hosts its sister show (via Newsweek).
Though CW didn't pick up the show, they did partially integrate Sabrina into "Riverdale," which fans had mixed feelings about. One fan tweeted, "So CAOS gets canceled and they bring witches into Riverdale season six? Ok, I'll watch it, BUT only for Sabrina." Some were upset that "Riverdale" continued being renewed, despite its unwatchable plot. "RIVERDALE HAS SO MANY SEASONS AND YET CAOS GOT CANCELLED????" a fan tweeted. Granted, it's safe to say we all wonder how "Riverdale" is still on air.
Santa Clarita Diet
"Santa Clarita Diet" was canceled after three seasons in 2019, a rough year for fan-favorite Netflix shows. Starring Drew Barrymore, "Santa Clarita Diet" was a fun spin on the zombie trope, with Barrymore's character dying and coming back to life craving human flesh.
As most popular zombie content is super serious, "Santa Clarita Diet" was a refreshing change, so fans were gutted (no pun intended) to hear it was canceled. The decision was mainly due to the show's increasing budget (via CBR).
Naturally, fans wanted the show to make a comeback, and they weren't alone. Show creator Victor Fresco also wanted another season to give fans closure. "That's something I think we all would want to do if everyone was available. Emotionally, everyone on the show would love to do some kind of closure," Fresco said in an interview with LADbible. He added, "I felt bad because your job as a writer is to get people invested in your show emotionally. We did that and then the rug was pulled from under them. It was a hard thing to process." In the interview, Fresco revealed some ideas he had for the show's fourth season, which was as close to closure as fans could get.
GLOW
Canceling a show with a female-led cast was yet another misstep made by Netflix. "GLOW," based on the characters of a real '80s wrestling group named The Gorgeous Ladies Of Wrestling, was easily the best portrayal of female empowerment on-screen.
The news of its cancelation was incredibly shocking to fans, as Netflix had already announced it was renewed for a fourth season (via Glamour). This means fans were given the expectation of a new season, to only be told Netflix changed their mind. Netflix shifted the blame for the show's cancelation to the pandemic, which is a pretty easy cop-out.
This wasn't the only show Netflix did this to. "The Society" and "I Am Not Okay With This" were also renewed, then abruptly canceled due to "COVID-related circumstances," according to Deadline. For Alison Brie and the rest of the cast, the news wasn't shocking. "It's something that was not really made public, but what we all knew behind the scenes was that the date at which we might go back to shoot kept pushing and pushing and pushing [back]. So something like that is never a good sign," Brie said (via The Hollywood Reporter). She also called the cancelation "the great heartbreak of my career." Same girl. Same.
I Am Not Okay With This
"I Am Not Okay With This" is another show that deserved more than just one season. A show about a 17-year-old girl trying to navigate her new super-powers, "I Am Not Okay With This" felt like a new take on the classic horror film "Carrie." As we already mentioned, Netflix stated the show lost its second season due to "COVID-related" circumstances. Showrunner and co-creator Jonathan Entwistle said there were a few other factors that played into the show's cancelation.
"There was obviously the impending writers' strike, which was definitely a huge thing at Netflix," he said (via Insider). He added, "The show was due to start shooting in May/June and obviously it got delayed. We just realized that to COVID-proof the show was going to cost a lot more money."
While the explanation made sense, it didn't make fans feel any better about being left on such a massive cliffhanger. Several fans took to social media to express their feelings about the loss of Season 2, one saying, "[The show] got canceled after one season ending in a mind-blowing cliffhanger. I am not okay with this," (via Twitter). Like any canceled show, fans are still hopeful that "I Am Not Okay With This" will live again.
First Kill
A recent show to get the chop is "First Kill" — and boy, were fans mad. According to Deadline, Netflix said the series did not have the staying power like their other hits.
Fans didn't agree, going as far as to get #CancelNetflix trending on Twitter, with one fan posting, "Watched #FirstKill 15 times just for @netflix to cancel it. That's one subscription service I don't need #Cancelnetflix." We have to admit, that's pretty impressive. For many, "First Kill" resonated with them as one of few shows with a cute, queer storyline that centered Black characters and featured a romance between two female characters (via Time). Plus, it's about vampires — and who doesn't love a good vampire romance?
"First Kill" wasn't the only queer-centered show Netflix released in 2022. "Heartstopper," which followed two male characters, also made its debut around the same time. "Heartstopper" however, unlike "First Kill" was renewed for not one, but two seasons. This really enraged "First Kill" fans, as "First Kill" had 2.2 million more views than "Heartstopper" did within the first two weeks. "Renewing Heartstopper for two more seasons and canceling First Kill when it pulled in over 2.2million more views than Heartstopper in the first two weeks … I'm so unbelievably tired of this," said a fan of the show (via Twitter).
The Baby-Sitter's Club
Coming-of-age show "The Baby-Sitter's Club" also found itself left out in the cold by Netflix. The series, based on the novels of the same name, followed a group of middle school girls that start a babysitting business. It's rare that shows focus on middle school-aged characters, and show creator Rachel Shukert feels like she knows why.
"People are extremely uncomfortable with this period in girls' lives. … Girls are expected to go straight from 'Doc McStuffins' to 'Euphoria.' They're not ready for TV about having sex, but they don't want to be little girls," Shukert told Vulture — and she isn't wrong.
Pixar's film "Turning Red," whose main character is an eighth-grade girl, faced backlash for what some viewers called "adult content." One viewer wrote on Rotten Tomatoes, "The mere fact that Disney, a long trusted company by families, could just make a movie based upon adult topics like puberty and menstruation and market it towards little children and get away with it is grossly concerning."
Sense8
A sci-fi series that tackled transphobia, homophobia, and race, "Sense8" immediately resonated with viewers when it debuted in 2015. "Sense8" fans at least got a direct answer as to why the show was canceled. In an interview, Netflix Vice President Cindy Holland said, "At some point, if you don't have the viewership showing up to justify the expense of the series, you're going to want to end it" (via Digital Spy).
Though many shows remain dead in the water even after fans' pleas, "Sense8" was an exception. For once, Netflix decided to listen to fans and greenlit a two-hour season finale for the show in 2017 (via The Guardian).
One fan couldn't help but notice that the show's cancellation and subsequent renewal coincided with 2017's Pride Month. Now, we're not trying to be shady, but it seems like a lot of the shows Netflix cancels are either racially diverse, LGBTQ+ centered, or female-driven.
Teenage Bounty Hunters
"Teenage Bounty Hunters" deserved better. Its premise, two 16-year-old fraternal twins becoming bounty hunters, had enough to reel viewers in and have them hooked. So what happened?
Well, "Teenage Bounty Hunters" was one of those Netflix original series that silently dropped on the platform with very little promotion (via Paste Magazine). This isn't the first show struck down by a lack of promotion; "October Faction" was also canceled by Netflix after one season, and you've probably never heard of it because its promotional material is nonexistent (via Small Screen).
Fans were going above and beyond trying to find another network to host the teen comedy. We're talking well-researched proposals tweeted by fans to various networks. Talk about dedication. As for why Netflix canceled "Teenage Bounty Hunters," no one really knows. In the way they hardly promoted the show, Netflix also did little to explain the reasoning for letting go of the show after one season. It's sad to see such a unique premise lose the chance to be explored further.