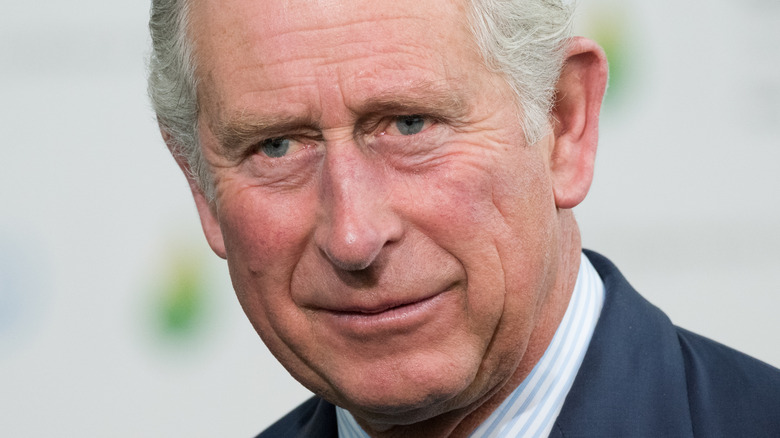 The following article includes allegations of sexual assault.
If any royal family has ever proven that royal life isn't all privilege and luxe living, it's the House of Windsor. The British royal family, particularly the descendants of Queen Elizabeth, are no strangers to controversy.
Queen Elizabeth and Prince Philip enjoyed 73 wonderful years of marriage before his death in April 2021 (per ABC News), and they raised four children: Prince Charles, Princess Anne, Prince Andrew, and Prince Edward. In a family full of interesting, complex relationships, the ones between these royal siblings are peculiar. Particularly, many have zeroed in on the relationship between Prince Charles and Prince Andrew. The 12-year age gap between them isn't the entire reason for their unusual relationship, however.
Up until the birth of Prince William, Prince Andrew was the second to the throne (per People). Though Princess Anne is nine years older than him, Andrew was given precedence as a male, a rule that didn't change until the Succession to the Crown Act 2013. There has historically been contention between the first and second in the line of succession, known as "the heir and the spare" (per PopSugar), and it'd appear that the Prince of Wales and the Duke of York have experienced this as well.
Charles felt that Andrew had a significantly more charmed childhood than his own
Throughout the years, Prince Charles has made it clear that a royal childhood isn't all it's cracked up to be. As a young boy, he sometimes didn't see Queen Elizabeth for months as she traveled on royal tours as a princess or with Prince Philip on naval assignments (per Vanity Fair). After her coronation, she became busier than ever, and while Prince Philip was able to be a bit more hands-on, she was not.
By the time Prince Andrew was born, Elizabeth was settled in as queen and had a more relaxed manner than she had previously. Andrew's birth was special because he was the first child born to a reigning British monarch since 1857 (per Britannica). Royal historian Robert Lacey told Town & Country that the monarch even "decided that she had done her duty by her country, and took the best part of eighteen months off work to produce and enjoy her 'second family,' the young princes Andrew and Edward, born in 1960 and 1964 respectively."
The differences in their childhood — and the close bond between Elizabeth and Andrew — was likely not lost on Prince Charles.
The brothers were often seen together during their marriages to Diana and Fergie
Things weren't always tense between the two brothers. They spent a great deal of time together when Prince Charles married Princess Diana, who would go on to set Prince Andrew up with buddy Sarah Ferguson (per People). Once the pair married, the two couples were out and about doing quite a bit together.
"There absolutely has been rivalry between Andrew and Charles but my understanding is that, that rivalry developed at a later stage in life and that actually, when they were young, handsome princes enjoying their early years of marriage, they were the 'Fab Four,'" royal expert Katie Nicholl told 9Honey. She noted that the couples went on vacations together and that the brothers enjoyed "more companionship between them at that stage in their life than perhaps at any other."
Sadly, neither of the marriages panned out and the camaraderie between the brothers also appeared to dwindle.
Prince Charles reportedly became frustrated as allegations against Andrew became public
Just days into 2015, Prince Andrew was named in a sex abuse lawsuit by Virginia Giuffre, who claimed Jeffrey Epstein lent her to the Duke of York in an act of sex trafficking when she was underage (per The Guardian). Andrew would maintain his innocence with the apparent support of the royal family, but behind the scenes, relations between the family were reportedly tense.
Rumors indicated that Prince Charles, in particular, was frustrated with the negative attention and associations Andrew was bringing to the family. At first, he handled that by not speaking to Andrew at all. "Charles considers the whole sex scandal degrading, damaging and very embarrassing," a source told the Daily Mail. "He thinks that his brother has made some very bad decisions but he has said nothing to Andrew, he simply hasn't communicated with him at all."
If you or anyone you know has been a victim of sexual assault, help is available. Visit the Rape, Abuse & Incest National Network website or contact RAINN's National Helpline at 1-800-656-HOPE (4673).
If you or someone you know may be the victim of child abuse, please contact the Childhelp National Child Abuse Hotline at 1-800-4-A-Child (1-800-422-4453) or contact their live chat services.
Prince Charles was likely involved in the decision to have Andrew step down
Everything came into motion in August 2019, when Jeffrey Epstein died by suicide in his jail cell, one day after documents detailing abuse claims against him were unsealed (per CNN). In November, Prince Andrew agreed to sit down for an interview with the BBC's "Newsnight" (via BBC). He defended himself against sex abuse allegations and commented on his friendship with Epstein.
Unfortunately for the Duke of York, the interview didn't do him any favors with the public, as there was intense public outcry against him in the aftermath (via BuzzFeed News).
After the interview aired, family-wide crisis management conversations reportedly took place that included the queen and Prince Charles (via the Daily Mail), and Andrew soon publicly announced he was stepping down from public duties in a statement shared by Buckingham Palace. "It has become clear to me over the last few days that the circumstances relating to my former association with Jeffrey Epstein has become a major disruption to my family's work and the valuable work going on in the many organizations and charities that I am proud to support," he said. "Therefore, I have asked Her Majesty if I may step back from public duties for the foreseeable future, and she has given her permission."
If you or anyone you know is having suicidal thoughts, please call the National Suicide Prevention Lifeline​ at​ 1-800-273-TALK (8255)​.
It appears Charles wanted Andrew to lay low amid the allegations
Prince Charles has likely wanted brother Prince Andrew to stay out of the spotlight since the sexual assault allegations came out against him, as his bad reputation could potentially tarnish the reputation of the whole royal family. "The prince loves his brother and has the ability to have sympathy for the slings and arrows that his brother endures, whatever the reasons may be," a source told The Times of London (via Yahoo!). "However, this will be unwelcome reputational damage to the institution. He has long ago concluded that it is probably an unsolvable problem."
Charles' stance could also be seen by the way Andrew has been left out of certain events, photos, and commemorations (per The Mercury News).
In August 2021, after the allegations had already become known, Andrew became the subject of a sexual abuse civil lawsuit by Virginia Giuffre. It appears the case will go to trial given as how the judge has shot down numerous attempts at dismissal (per CNN). This has led to Andrew losing his military styles and ability to style himself as His Royal Highness as of January 2022 (per Sky News). It has also led to the shutdown of his official social media platforms. "The Duke of York will continue not to undertake any public duties and is defending this case as a private citizen," the statement announcing the changes read.
How will their relationship be after Charles becomes king?
Prince Charles has refused to publicly comment on Prince Andrew's lawsuit, as has Prince William (per People). As the father and son gain power in the family hierarchy, many believe they will offer little, if any, sympathy and aid to Andrew as he navigates his legal battles and destroyed reputation.
Charles was once likely hoping to inherit a throne that was full of admiration for the royal family and free of drama, which sources agree seems increasingly unlikely. "Once he is king, he will almost certainly read Andrew the riot act, if he hasn't already, strip him of many of his duties and responsibilities, and put him under the royal equivalent of might loosely be described as house arrest — a life of unlimited luxury and pomp, of course, but under the reign of Charles III, the Duke of York's freedom to pursue his personal appetites will be significantly curtailed," royal writer Christopher Andersen told the Daily Beast in 2019.
Only time will tell whether the history of sore feelings between brothers really comes to a head in years to come. What's clear, however, is that, despite being two of the people closest to Queen Elizabeth, Charles and Andrew couldn't be more different.