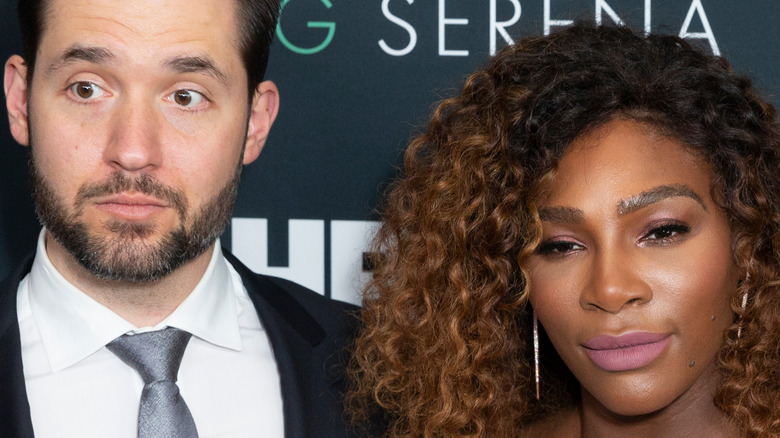 Given that she is one of the world's most talented and legendary athletes, it's not a huge surprise that people are curious about the professional and personal details of Serena Williams' life. This is especially true when it comes to her marriage to Reddit co-founder Alexis Ohanian, who she first met in 2015. The pair's first meeting happened by chance, as both were in Rome, Italy for work commitments — but the rest of their relationship has unfolded in a way that feels divinely intentional (via Vanity Fair).
Williams and Ohanian have a lot to celebrate together. Their daughter, Alexis Olympia Ohanian Jr, was born in September 2017 (via the BBC), two months before they tied the knot in New Orleans, Louisiana. In the years that have followed, they have weathered the ups and downs that many marriages face and have come out on top time and time again (via Vogue).
Here is a look at the marriage of Williams and Ohanian, who are the first to admit that their love story is a little unlikely. As Williams told The New York Times in April 2018, they are definitely opposites in many ways. Some of those are obvious, such as their race (Williams admitted, "I never thought I would have married a white guy, either, so it just goes to show you that love truly has no color, and it just really goes to show me the importance of what love is"), but others are less so.
Serena Williams and Alexis Ohanian met in Rome in 2015
Serena Williams and Alexis Ohanian might just be meant to be. Back in 2015, they both happened to be in Rome, Italy for work. Williams was in town for tennis, as she was playing in the Italian Open, and Ohanian was in Italy to speak at the Festival of Media Global conference (per Refinery29).
As the two shared in an interview with Vanity Fair, Williams and her friends were at the pool one morning when Ohanian chose a table right next to theirs, despite the fact that there were plenty of empty tables around. Williams' friends tried, and failed, to get Ohanian to choose another table. Williams eventually admitted, "No, we just don't want you sitting there. We're going to use that table." Ultimately, this led to a conversation between the two, and Williams ended up inviting Ohanian to her upcoming tennis match. Ohanian admittedly knew very little about the game, and even later unwittingly shared an Instagram photo of Williams making a mistake at the match. Despite their lack of a common denominator, they were both intrigued by one another, which formed a foundation for their relationship.
She invited him to Paris on a whim
After their first meeting in Rome, both Serena Williams and Alexis Ohanian were interested in learning more about one another. She was heading to France for another tournament that month, and she told Ohanian that he should consider traveling to Paris to see her play again. As he told Vanity Fair, he wasn't sure if she was serious, but decided to take her up on the offer.
Ohanian explained that to him, the worst-case scenario would be that Williams didn't connect with him once he arrived. He said, "Even if she blows me off and we don't even hang out, I'm still going to have an amazing time in Paris, and I'll have an even better story for all my childhood friends." The two met up before the tournament and drove to the Eiffel Tower, where Ohanian bought candles for Williams. They ultimately spent six hours walking the city together.
Williams and Ohanian have had the opportunity to return to Paris year after year, either for Williams to play in a tournament or to visit as a family. In June 2021, they took their daughter along with them and shared photos of the preschooler dressed as Belle from "Beauty and the Beast" while visiting the famous Palace of Versailles (via People).
The couple had a Beauty and the Beast-themed wedding
Serena Williams and Alexis Ohanian had a pretty major year in 2017. Williams won the Australian Open while pregnant with their daughter, she gave birth in September, and then the two got married in a "Beauty and the Beast" themed wedding in November 2017. The two invited nearly 250 people to their wedding in New Orleans, Louisiana, including celebrity guests such as Beyonce and Kim Kardashian.
The wedding was also attended by Anna Wintour, and Vogue had exclusive coverage of the event. Williams told the magazine that New Orleans was a special city for Ohanian, which is why they chose it for their wedding location. She explained, "It's his favorite city besides Brooklyn. It's got a heavy European influence; it's fun and has amazing food. He just loves the vibe."
The date of their wedding was also important. Ohanian's mother had passed away nine years prior, and Williams and Ohanian chose to get married on her birthday, November 16. As Williams said, "Obviously, we wish that she could be here for this, but choosing her birthday as our wedding date was a nice way of making sure she's still involved and made us feel more connected to her on our day" (via Vogue).
Serena Williams and Alexis Ohanian make time for date nights
In September 2021, Serena Williams surprised fans by opening up her Instagram Stories to questions about her relationship with her husband Alexis Ohanian. After being asked what she and Ohanian like to do together when they have date nights, Williams revealed that the answer is something a lot of us can relate to: The pair have enjoyed taco date nights together, and they agree it's something they need to do more often (per Hello! Magazine).
Taco night isn't the only thing that gets Williams and Ohanian out of the house. In October 2021, they each shared different photos from the same night on their own Instagram pages. Ohanian captioned a black-and-white photo of the two "Rare datenight in the wild," and Williams simply wrote "About last night…." alongside a photo of the pair together. Williams' followers were thrilled with the photo update from the evening, and one noted that Ohanian clearly was happy to be with his wife. As the person put it, "Alexis always looks so happy to be with the hottest girl in the room" (via the Mirror). They also stepped out together in the summer of 2022 for the premiere of "Thor: Love and Thunder" (via Instagram).
They try to see each other as often as possible
If there is one word that can accurately describe Serena Williams and Alexis Ohanian at the same time, it's "busy." Despite leaving Reddit, the social media platform he co-founded, in June 2020, Ohanian has a number of professional and personal duties and obligations around the world (per CNN). Williams, who announced her retirement from tennis in August 2022, is focused on her VC firm, Serena Ventures, her role as a part owner of multiple teams, and her family (via Front Office Sports).
With all that in mind, it's not too surprising that Willams and Ohanian pull out their planners and calendars at the beginning of each year to map out their schedules. Ohanian wrote in an essay for Glamour that it's important to the couple that they coordinate their time, especially as they prefer to not go longer than one week at a time without seeing one another.
Alexis Ohanian didn't know anything about tennis when he met Serena Williams
It's fair to say that when they met, Serena Williams and Alexis Ohanian knew very little about the world the other inhabited. Ohanian has been open about the fact that he didn't know a lot about the sport of tennis when he first met Williams in Rome. In fact, he told Vanity Fair that he didn't even think much about it. As he said, "I really had no respect for tennis."
Ohanian wasn't the only one in the dark. While she might have pretended otherwise during that first conversation, Williams had no idea what Reddit — the social media platform that Ohanian co-founded — was. In fact, she even told Ohanian that she had visited the site earlier that very day. When he asked her, "Oh, were you? What do you like about it?" Williams replied, "Wellllll…" before her friends jumped in to save the day (via Vanity Fair).
Despite those differences, Ohanian and Williams began to learn about one another — and, eventually, to fall for each other.
Serena Williams announced their engagement on Reddit
Serena Willams and Alexis Ohanian got engaged in December 2016. As far as proposals go, this one was pretty romantic. Ohanian had Williams flown to Rome, Italy to stay at the very hotel where they first met, despite the fact that she had no real reason to be in the city at all. After enlisting the help of her team and her friends, the tech star and investor arranged for the entire hotel to be cleared out before he began telling Williams the story of how they met. After that, he proposed (via Vanity Fair).
Despite having no idea what Reddit was only a year earlier, Williams took to the platform to share the news of their engagement a year after she and Ohanian met. Williams posted the news in the subreddit "I Said Yes," and included a poem that told the story of the night Ohanian proposed. She wrote, "I came home/A little late/Someone had a bag packed for me/And a carriage awaited/Destination: Rome/To escort me to my very own 'charming'/Back to where our stars first collided/And now it was full circle/At the same table we first met by chance/This time he made it not by chance/But by choice/Down on one knee/He said 4 words/And/r/isaidyes" (via Reddit).
Alexis Ohanian admits he makes mistakes in their marriage
While Serena Williams and Alexis Ohanian have a marriage and relationship that many aspire to, Ohanian has been open about the fact that he's not perfect. Stars: they're just like us! While speaking to Us Weekly, Ohanian explained, "I am far from the perfect partner. I think it's really important, especially in a long-distance marriage … That you make the most out of the opportunities that you have."
The comment came after it was reported that Ohanian had whisked away his wife to Venice, Italy after she said she wanted Italian food for dinner. Ohanian himself sparked the story after sharing a photo on Instagram of himself and Williams on a gondola in Venice and captioned it, "She wanted Italian for dinner, so…"
Williams has also been open about the work that marriage requires. In a video interview for Bumble, she explained that the couple has made their own marital happiness. She said, "Marriage is not bliss, but it can be if you work at it." When asked what she has learned so far about love, Williams added, "I learned that love is an amazing feeling, and if you have an opportunity to feel it, then it's a special thing" (via Marie Claire).
Alexis believes being a good partner is the most romantic thing he can do
Alexis Ohanian has also been open about how he defines being a great partner to someone you love. As he told Us Weekly in July 2018, while it's nice to be able to give his wife impressive gifts and for his family to take spontaneous trips to Europe, that isn't what matters most. He said, "When I think of the most romantic things I've done for my wife, I actually think they're the times when I was just there as a father to our baby, or as a husband." Ohanian added that ultimately, he feels the best thing he can do for Williams is just be a great partner as often as he can.
Ohanian went on to say that getting married and having a baby has changed and informed how he sees many things in the world. As he put it, he understands shows like "Game of Thrones" more because of the strong connections he has with Williams and their daughter. He said, "I really instinctively get the idea that someone would do anything for their house. I would do anything for my wife and child" (via Us Weekly).
Serena Williams has admitted she and Alexis Ohanian are opposites
Serena Williams opens up about her marriage and life with Alexis Ohanian in a big way in her five-part HBO documentary series "Being Serena." In one episode, Williams dives into her relationship with Ohanian and how different they are. She explains in the documentary that sometimes even she doesn't understand why they work so well, but that they just do. She said, "Alexis and I are completely opposite. I'm an athlete. He's a business guy. I'm Black. He's white. We're total opposites. I don't know why we're such a good fit. I think we just complement each other. I think we understand hard work in different ways" (via the New York Post).
Williams broached the topic again in an interview with The New York Times, where she admitted that she's told her husband that their relationship might be a lot different if they were the same race. For one thing, they might not talk about the injustices that are perpetrated against Black Americans so often; at the very least, they would talk about them in a different way. Williams added, "I never thought I would have married a white guy, either, so it just goes to show you that love truly has no color, and it just really goes to show me the importance of what love is."
Serena Williams says Alexis Ohanian lets her shine
Serena Williams and Alexis Ohanian tend to keep their relationship out of the spotlight, but her degree of fame around the world often means there are plenty of people who want to know as much as possible about her professional and personal life. From time to time, one or both will open up about what keeps their marriage going strong.
In January 2019, when she was interviewed by Allure, Williams said that Ohanian enthusiastically allows her to shine. She explained, "Oprah said, 'Never let anyone dim your light.' That really stuck with me. Alexis doesn't dim my light. He doesn't try to dim my light. He puts me in the light, even if I don't want to be." Williams went on to add that Ohanian helps her reach places she had never previously considered, and that she was always aware of the fact that her past relationships resulted in a dimming of her own light.
The fact that this is important to Williams is no surprise. As one of the world's most celebrated athletes and truly one of the greatest of all time, Williams has a lot of shining left to do — and it seems Ohanian is the person who can help her do just that.