Whether you're a long-time fan or a new diner, trying these Olive Garden secret menu items and hacks will make your dining experience even more enjoyable. Hacking the Olive Garden menu is all about looking at the menu to determine all the available ingredients and imagining the possibilities. You'll find that most of the secret menu items either involve resurrecting old menu favorites or adding something extra to a current menu item.
Even if you've been eating there for decades, once you learn how to hack the Olive Garden menu, it will suddenly expand before your eyes, offering you far more than you see on the page in front of you. While we can't promise the dishes will be authentically Italian, you'll likely end up with a more enjoyable meal full of the flavors you like the most. And if you're looking for a way to eat cheaper at Olive Garden, we have hacks for that as well.
Make saucy menu modifications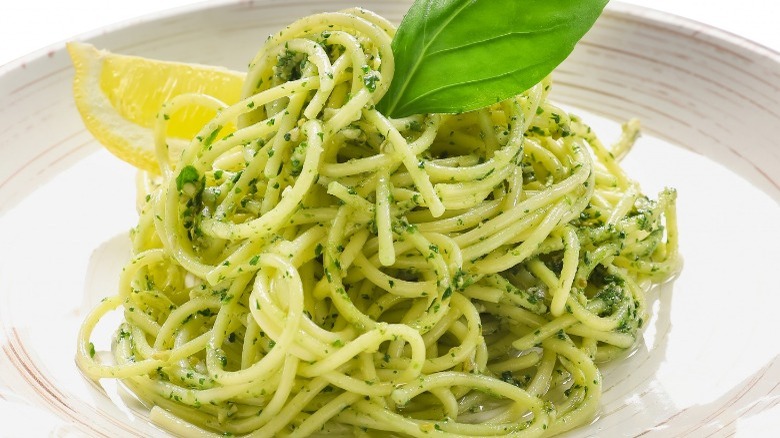 If the sauce that comes on the dish you want doesn't fit your diet or isn't to your liking, you can always ask for a different sauce instead (via Reddit). Olive Garden has five main sauces on its menu: alfredo, marinara, five cheese marinara, meat sauce, and creamy mushroom sauce. Swapping out one of these sauces gives you access to a variety of Olive Garden secret menu items and hacks, allowing you to create dishes like chicken fettuccine marinara or eggplant alfredo.
When browsing the online menu, take notice of which sauces are available on each entree. Chicken marsala comes with a mushroom and marsala wine sauce. Additionally, you'll find garlic herb butter on the herb-grilled salmon and garlic sauce on the shrimp scampi. And the grilled chicken Margherita offers up two more possibilities with basil pesto and lemon garlic sauce. So, that brings the total number of available sauces up to 10.
Many people don't realize that you can order sauces with your breadsticks (via TikTok). So, why not ask for a basil pesto dipping sauce instead of marinara or alfredo? The menu is constantly evolving so be on the lookout to see if there are any new sauces to try on your next visit.
Getting all the vegetables you want and none that you don't
Whether you're a vegetable lover, a vegetable hater, or have special dietary needs, you can make the Olive Garden menu work for you. The first step is to find which Olive Garden menu item you want. Then, it's time to deconstruct and reconstruct.
If you don't like what comes in a dish, ask for a substitution. For example, if you order the shrimp scampi, it comes with asparagus and fresh tomatoes. If the idea of having asparagus pee seems unappealing to you, switch out the asparagus for another vegetable you like.
There's no need to play Russian roulette with your vegetable options. Ask for the exact vegetables you want to avoid needing to push unwanted veggies aside. We suggest looking at the pictures in the online menu to see which veggies are available. Then, ask for exactly what you want. Don't just look at the entrees, but look at the salad, soup, and appetizers for ideas as well. As you browse through the menu, you'll likely see options like artichokes, asparagus, bell peppers, broccoli, fresh tomatoes, garlic, kale, mushrooms, olives, red onions, spinach, squash, and zucchini. What's available in the kitchen depends entirely on which items are on the menu, so check what's available every time you visit
Hacking the Olive Garden menu if you're gluten sensitive
When your friends want to go out to Olive Garden and you're gluten sensitive, it's easy to panic since pasta and bread contain gluten (via WebMD). Luckily, Olive Garden has done an excellent job providing options for people who don't tolerate gluten well.
The restaurant has policies to prevent cross-contamination if you tell your server you have gluten issues. Unfortunately, preventing cross-contamination is not guaranteed. Olive Garden also doesn't claim to have "gluten-free" ingredients as defined by the Food and Drug Administration. So, the restaurant may still be out of reach for those with the most severe gluten reactions (via Olive Garden).
The most obvious option for eating at Olive Garden when you're gluten sensitive is to choose from the gluten-sensitive menu, which includes non-pasta menu options like the herb-grilled salmon or sirloin and Zuppa Toscana. To open the menu a little more, substitute pasta in any dish with gluten-free rotini, which Olive Garden says contains brown rice flour instead of wheat flour. And you can still eat the salad if you leave off the croutons. Luckily, Olive Garden's lip-smacking salad dressing doesn't contain gluten (via Olive Garden).
We know brown rice flour pasta is an acquired taste. So, if you'd prefer to avoid it, you can try swapping broccoli for the pasta (via TikTok). Imagine a plate piled high with broccoli and covered with your favorite meat and sauce. It's still highly satisfying but without the pasta.
Ordering an Italian soda off the secret menu
Italian sodas aren't really Italian, but neither is Olive Garden. While they no longer have Italian sodas on the regular menu, you can still order one from the Olive Garden secret menu. They're an excellent option for a sweet, flavored beverage without caffeine or alcohol.
The surprising truth about Italian soda is that, despite its name, it originated in the USA rather than Italy. The Torani flavored syrup company first introduced Italian sodas in 1925 to promote its product. The founders of Torani immigrated from Italy and used syrup recipes from Italy, so you'd be forgiven for thinking it's an Italian drink (via Torani).
The recipe for Italian soda is simple, only requiring soda water and flavored syrup over ice. So, it's easy to order this secret Olive Garden menu item. You can ask for an Italian soda with any flavored syrups they use in their cappuccinos or mixed drinks.
For example, the peach bellini contains peach puree, and the strawberry bellini from the cocktail menu contains strawberry puree. So, you can ask for a strawberry or peach Italian soda. You can also ask for a raspberry lemonade Italian soda since the raspberry lemonade comes from frozen Minute Maid raspberry lemonade concentrate (via Reddit).
How to eat cheaper at Olive Garden
Most hungry college students know the trick of ordering soup, salad, and breadsticks for weekday lunch for well under $10. According to a former employee, ordering anything else on the menu (like a soda) will keep the breadsticks flowing (via Reddit). Of course, they'll eventually cut off your supply (via Reddit).
However, if you want to dine in cheaply at Olive Garden without resorting to soup, salad, and breadsticks, there are still a few things you can do. The biggest Olive Garden hacks involve signing up for coupons or ordering family style.
You get enough unwanted emails already, but signing up for the Olive Garden eClub can net you valuable coupons. You can also text "OGNEWS" to 29002 to sign up for cell phone texts. And, if you sign up for the Olive Garden eClub, they will give you a free dessert on your birthday. Luckily, asking them to sing you happy birthday is optional (via Olive Garden).
If you're trying to feed your whole family, buying a family-style meal to take home rather than individual portions saves a lot. For example, a family-style lasagna bundle costs just under $60 and serves four to six people. If you bought six individual servings of lasagna, you'd spend around $100 (via Olive Garden). So, buying it family-style to take home saves around 40%.
Save money by ordering takeout from the kid's menu
The Olive Garden hack that has taken TikTok by storm is ordering cheaper takeout from the kid's menu. While the kid's menu is for kids under age 12, you don't have to prove you're ordering for children when ordering takeout. This hack admittingly makes a mockery of the honor system if you don't have kids.
Amazingly, you can get a kid's size entree for just over $6. It includes a side and a drink, and you can add meat for around $2 more. Olive Garden also offers an extra take-home entree for $6. So, it's easy to order a feast for the whole family for a very reasonable price (via TikTok). You just have to warm up the take-home entrees when you get home.
The National Heart, Lung, and Blood Institute (NIH) cites the increasingly larger portion sizes in American restaurants as contributing to obesity rates. So, ordering off the kid's menu is an excellent option for portion control.
However, if you're worried that you won't have enough to eat, some people combine the entrees from two kid meals. Customers who have tried this strategy say they end up with more food than one adult entree. Plus, it comes with complimentary drinks and sides that you don't get with the adult entree (via TikTok).
Spike any Olive Garden beverage
It's always nice to finish off a long day or week with a refreshing alcoholic drink. However, there's no reason you have to be limited to just beer, wine, or the handful of Italian-inspired cocktails on the Olive Garden drink menu. A fun Olive Garden hack is asking your server to spike any beverage you order. Spiked strawberry lemonade is already on the menu to lead the way.
Olive garden's non-alcoholic beverage choices include fountain drinks, lemonades, and flavored and non-flavored iced teas. To determine your drink-spiking options, use the alcoholic base drinks from the cocktail menu as your guide. Choose from tequila, triple sec, amaretto, rum, blue curacao, vodka, or any other liquor you see on the menu.
The easiest pairing is your favorite non-alcoholic beverage with your favorite available liquor. Of course, you can always apply the Italian soda hack and then hack it again by spiking it with your favorite liquor. To enjoy spiked lemonade, ask for lemonade and vodka or a blue lagoon (lemonade, vodka, and blue curacao). Tea drinkers can enjoy a boozy Arnold Palmer (tea, lemonade, and vodka).
Order chicken fettuccine Florentine from Olive Garden's secret menu
It's always disappointing when your favorite menu item disappears. However, according to a former employee, those menu items aren't really gone as long as the kitchen is still stocked with the ingredients to make them (via Reddit).
The concept of naming a dish "Florentine" came from the French Queen Catherine de Medicis, who was born in Florence and often asked her Florentine cooks to add Florentine spinach to dishes. Such dishes came to be known as being "a la Florentine" (via Culinary Lore). Thus, turning chicken alfredo into chicken alfredo Florentine is as simple as the chef adding spinach to the dish.
Chicken alfredo is a delectable indulgence, full of cream, parmesan, and butter. However, adding spinach to make the Olive Garden chicken fettuccine Florentine secret menu item can make a not-so-healthy dish healthier. After all, spinach is an excellent source of vitamins and minerals, such as potassium, lutein, Vitamin K, Vitamin A, iron, and folate. It's also full of fiber (via WebMD).
As long as you see other items on the menu that contain spinach, like the spinach artichoke dip or other florentine dishes, you should be able to order chicken alfredo Florentine from the secret menu. The simplest way to get this Olive Garden secret menu item is to order chicken alfredo and ask to add spinach.
How to order vegetarian like a pro
Ordering vegetarian at most restaurants is frustrating, but not at Olive Garden. The Olive Garden vegetarian menu is already impressive, and hacking it to get a filling vegetarian meal is easier than normal.
Many restaurants aren't transparent about which dishes have hidden meat and which ones don't, but Olive Garden provides specific vegetarian and vegan menu information. However, it's still important to let your waiter know if you're a strict vegetarian or suffer from a meat allergy like alpha-gal so that the chef can avoid cross-contamination (via Olive Garden).
While Olive Garden only lists four entrees as being vegetarian, that doesn't mean that those are the only vegetarian options if you know how to hack the menu. All you have to do is look through the menu to find what looks good. You can use Olive Garden's vegetarian menu guide to determine which sauces and pasta are vegetarian-friendly. Then, ask to substitute "garden veggies" for the meat in the dish. If you'd prefer more control over which vegetables you get, any vegetable that you see on the menu in other dishes is up for grabs. Of course, ordering the dish with alfredo sauce, creamy mushroom sauce, or five-cheese marinara sauce is already going to provide you with plenty of dairy to make the dish more filling. You can also ask for the dish with mozzarella cheese, and don't be shy about how much cheese you ask your server to grate over your dish.
How to hack the Olive Garden menu if you're vegan
Most mainstream chain restaurants don't have great vegan options, but a vegan hacking the menu at Olive Garden will leave happy and full of Italian food goodness. Vegans don't even have to forgo one of the biggest pleasures of Olive Garden: soup, salad, and breadsticks.
Ordering soup, salad, and breadsticks requires a little bit of modification as a vegan, but it's still doable. The restaurant's minestrone soup is already vegan, but be sure to tell the server that you're vegan so they don't grind cheese over the top. And you'll also be thrilled to learn that the buttery garlic topping on the breadsticks is made from vegetable-based margarine, so they're already vegan (via Olive Garden). When you order the salad, simply order it with olive oil and balsamic vinegar, omitting the croutons, cheese, and normal dressing (via Reddit).
The easiest vegan Olive Garden entree option is to create your own pasta or alter a dish already on the menu to fit your dietary needs. Olive Garden eggless pastas include angel hair, fettuccine, rigatoni, small shells, or spaghetti. Be sure to steer clear of the gluten-free rigatoni, since it contains eggs. Choose marinara or tomato sauce and ask for "garden veggies" or any combination of veggies you like that you see elsewhere on the menu.
Why you want to try mixing Olive Garden soups
If you've ever mixed every drink at a self-serve fountain drink center to make a "suicide," you might be the type of person who would enjoy the Olive Garden secret menu soup item, called the "soup suicide." While combining every soup on the Olive Garden menu sounds somewhat questionable and doesn't look so great, former employees say it tastes pretty good (via TikTok).
The soup suicide combines all four soups: chicken and gnocchi, pasta e fagioli, minestrone, and zuppa Toscana. So, you end up with a made-fresh-daily soup that contains roasted chicken, gnocchi, spinach, white beans, red beans, tomatoes, pasta, veggies, spicy Italian sausage, kale, tomatoes, broth, and cream. When you look at the ingredient list, it really does sound like a decent soup.
You can ask your server for any combination of two to four soups, which provides 35 total combination possibilities (via Omni Calculator). You can combine only creamy soups, combine only brothy soups, mix a brothy soup with a creamy soup, or just order combinations with ingredients that you like.
For a creamy soup, ask for a combination of chicken and gnocchi (roasted chicken, gnocchi, spinach) and Zuppa Toscana (spicy Italian sausage, kale, potatoes, creamy broth). Or to add meat to your veggie soup, request a combination of pasta e Fagioli (white beans, red beans, tomatoes, tubetti pasta, broth) or minestrone (veggies, beans, pasta, tomato broth) with one of the creamy soups.
Get warm Italian doughnuts with alternate dipping sauces
Another of the Olive Garden secret menu items and hacks you shouldn't ignore involves its warm Italian doughnuts. The doughnuts come with a warm chocolate sauce, but you can request other dipping sauces to make eating them even more fun.
If you're wondering what doughnuts are doing on an Italian dessert menu, they're actually called "zeppole" in Italian. A baker from Naples first popularized them as a March 19th St. Joseph's Day treat in the 19th century. Traditional zeppoles have a cream, custard, or jelly filling to go with their sugary and fruity topping (via New England Historical Society). However, Olive Garden's version isn't filled, has a simple sugary topping, and comes with a dipping sauce for flavor.
If you're not a fan of chocolate or just want a different dipping option, looking at the rest of the Olive garden dessert menu can give you a good idea of other dipping sauces you may be able to order. The restaurant almost always has raspberry sauce available. And you can ask for strawberry sauce if the dessert menu contains a dessert with strawberry sauce like a strawberry cream cake.
Keep in mind that some of the menu items are seasonal, so you may be able to find another type of sauce occasionally. For example, there have been options available in the past like caramel apple butter from the caramel apple butter latte and caramel sauce from the pumpkin cheesecake.